Food-Inspired Dog Names: 100+ Culinary & Cuisine Name Ideas for Puppies
Whether you are a foodie or not, you will love our list of food-inspired dog names. Because food is such a vast and rich world, it is one of the best sources of inspiration to find the ideal name for your four-legged friend.
We have obtained plenty of dog food name ideas – precisely over 100 – taking inspiration from the best food brands, most delicious dishes, and exotic ingredients. Everything food!
You can use our ideas to match the personality or other unique traits of your dog. Overall, we also include sections with special suggestions, so use our dog name list as a guide as well.
Food-inspired Dog Name Ideas Inspired by Desserts
If you have a small dog like a Chihuahua or Pug, then you could call it Muffin. The reasons are evident, and it is an even better choice if your pet has a sweet temper. Nonetheless, remember that this name is for a female dog.
Is your dog very affectionate and lovely? Then you should consider our following suggestion, Biscuit. Once again, the reasons for this name are self-explanatory. Once again, a name for a female pup.
What about small male puppies? You could choose Brownie, and if your dog is brown-coated, then it makes even more sense. Nonetheless, as long as it has a sweet personality, it will fit the bill.
In case our previous recommendation did not surprise you, we are sure this one will do it, Pudding. Once again, the perfect name for a sweet male puppy.
Did you like Brownie but you have a female pup? Let us come back once again to that topic because we have a great alternative for you, Blondie. It is a light-colored brownie, and it makes an excellent name in case you want to highlight such a trait for a Labrador for instance.
Does your puppy love to play? If you think it is its most remarkable trait, then you should name it Waffles. The perfect name for playful and goofy dogs that have lots of energy.
If your pet loves the cold, then you could choose Sorbet, which is a frozen dessert. It would be an ideal choice for an Alaskan dog like the Alaskan Malamute.
Finally, if you are looking for a short and exotic name, then you could go for Truffle. It is an expensive mushroom and a delicious chocolate dessert, and it even sounds funny. Therefore, it makes an excellent choice.
List of Food Dog Names
Here are several options of food dog names for you to choose from:
A perennial plant.

A rich sauce.

First choice in Scottish.

What dog doesn't love bacon?

A bread.

A minty herb.

Famous dish with 2 English muffins and poached eggs.

Cute name for an affectionate dog..

A light-colored brownie.

Flaming torch.

A delicious, moist, chocolate dessert.

An antipasto.

Flour tortillas.

A winter squash.

A sweet confection.

Chocolate candy.

A salad, and a dictator.

A shot of espresso.

Awesome name for a sweet dog.

Pastry.

A coffee drink.

Great name for a brown dog.

Perfect name for a yellow dog.

Perfect name for a miniature dog.

Beloved in Latin.

Terrific name for a tan dog.

A yellowish-brown spice.

Merciful in Latin.

Produces an aromatic, bold flavor.

Fabulous name for a high-energy dog.

A popular brand of tequila.

Sweet personality.

A spice.

An aromatic herb.

Chocolate.

A strong coffee drink.

Bottled water brand in France.

A fruit-flavored carbonated soft drink.

Bottled water brand in Fiji.

A brown dog's dream name.

A spice plant that.

Small dumplings.

Brand.

A popular Irish Stout beer.

Sweet name for an affectionate dog.

A Greek delicacy.

Funny.

Brand.

For a sweet dog.

Contains high fiber and water.

The state fruit of Idaho.

A popular brand of Tennessee whiskey.

A medium-sized chili pepper.

A popular brand of Irish whiskey.

Brewed coffee.

Colorful name for an energetic pooch.

A fruit from New Zealand.

For a sweet, black dog.

Name for a orange dog.

A popular mixed drink.

Cute name for a white dog.

A classic drink.

Brand.

Fat.

Sweet as chocolate in Arabic.

Cool name for a small dog.

A mexican snack.

Cute name for a small dog.

Produces a sweet, warm flavor.

Plant with green pods.

Egg with different ingredients.

For a black and white dog.

A root vegetable.

Cool name for a Southern dog.

Cute name for a small dog.

A hickory nut.

Awesome name for a hot-tempered dog.

Refreshing herb.

Brand.

Variety of salami.

A red wine.

A nut.

Amazing name for a spunky dog.

Sweet and enduring.

Adorable and sweet.

Chinese-style wheat noodles.

A wine.

A sandwich.

Brand.

A herb.

Orange-yellow expensive spice.

Produces a hint of peppery flavor.

A type whiskey from Scotland.

For an Eskimo Husky breed.

Fortified wine and means beloved in French (Chérie).

Brand.

A frozen dessert.

A layered pastry.

Great name for a Dachshund dog.

Endearing name for a white dog.

Japanese dish.

Cuts of steak.

A mexican snack.

A fruit-flavored powdered drink mix.

Grated potatoes.

A rich, chocolate dessert.

Brand.

Goofy and playful.

For a dark brown dog.
Foodie Dog Names Inspired by Brands
Since we have lots of food brands, we used such a source to gather several name ideas. You will find our best picks below, along with recommendations on how to use them.
If you have a brown-coated dog like the Bloodhound, Shar Pei or Shiba Inu, then you could name it Godiva, like the famous chocolate brand. Bonus points if your dog is especially affectionate and elegant. In that case, your pet will fit the name perfectly.
If you want a foodie dog name that sounds cool and is different from what you hear every day, then you should go with Rollo. It is a well-known brand, and it even sounds foreign, so it will let your dog stand out from the crowd.
Are you looking for a funny food puppy name? Then why do not you try with Twix? The famous and delicious chocolate bar. It would be an even better name for a dog with plenty of energy and that loves to play all the time.
Do you have a female pup? Then you are going to love our next recommendation, Hershey, like the famous chocolates. It is short, sweet and beautiful, and on top of that, it sounds feminine right off the bat.
Finally, if you want another cool female pup name under this category, then we recommend you to consider Mary Jane. It is slightly longer but still decent since it sounds cool, feminine and original. You can rest assured that not many dogs will have that name, and therefore, your pet will stand out from the crowd.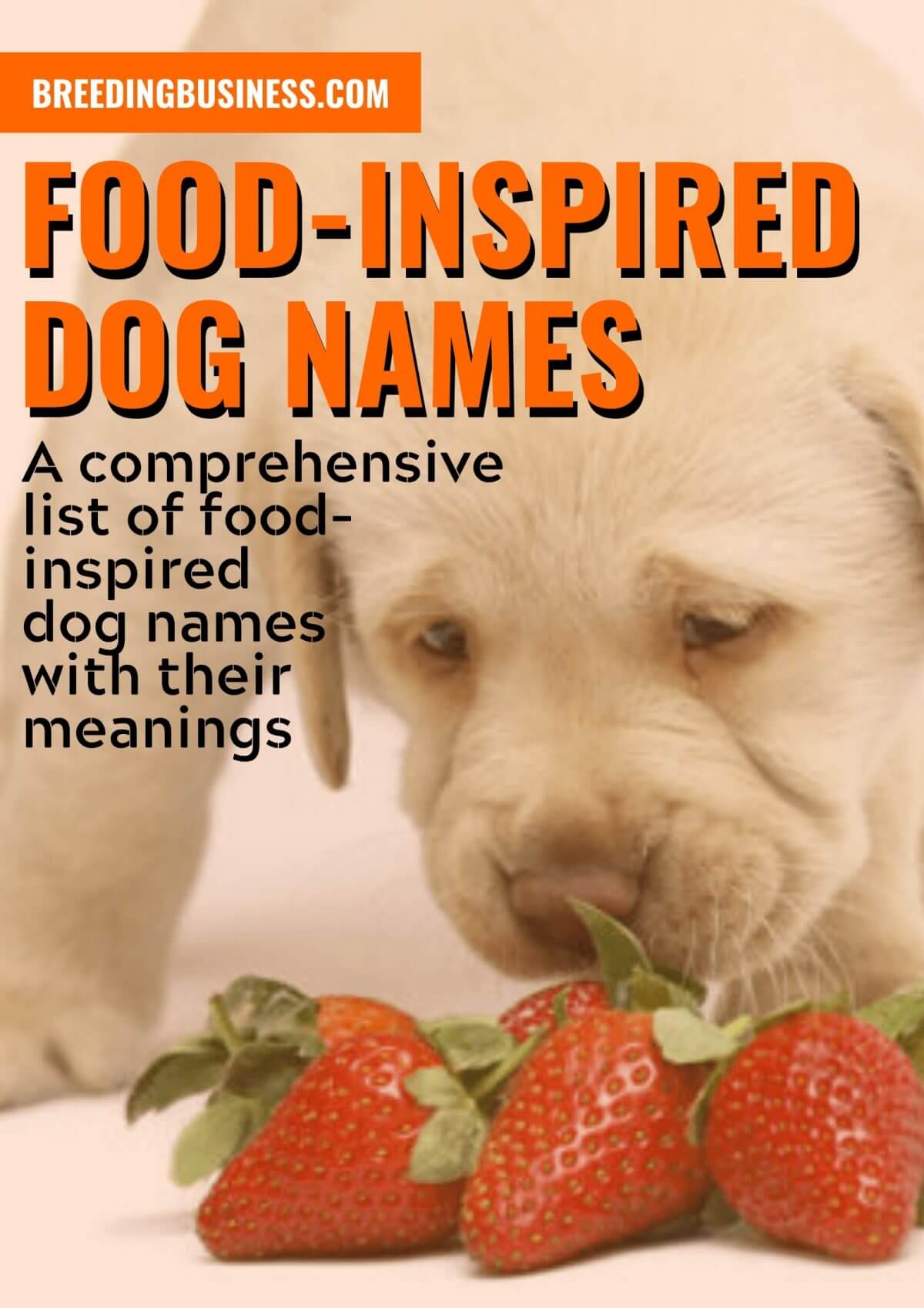 Dog Names for Foodies Inspired by Drinks
Are you a fan of soda and your dog is orange? Then you should consider naming it Fanta, like the famous orange soda. The following breeds will fit the name the best: Basenji, Akita, Airedale Terrier, and Australian Cattledog. Since their coat is orange, they will match the name perfectly.
Do you have a lively dog and you are a fan of fresh cocktails? Then you should consider the name Margarita, just like the cocktail. It is a wonderful name for a female puppy, and the reasons are evident.
Did you like our previous suggestion? Then, here you have an excellent alternative, Martini. Once again, it is an excellent choice for any female pup.
Are you a fan of coffee and you have a brown/chocolate dog? Then you should consider naming it Cappuccino, especially if it has a multi-colored coat that includes brown and white.
If you are a coffee fan but your dog is black, then you should consider Espresso. It is an elegant, original and bold name. You can bet on it that your dog will fit it perfectly.
Now you have a full list of excellent culinary dog food names, along with spot-on suggestions on how to pick the right one based on the personality, gender, appearance, and breed of your dog. Nonetheless, if you have more questions, feel free to comment, since we are here to help you to pick the perfect food-inspired puppy name!