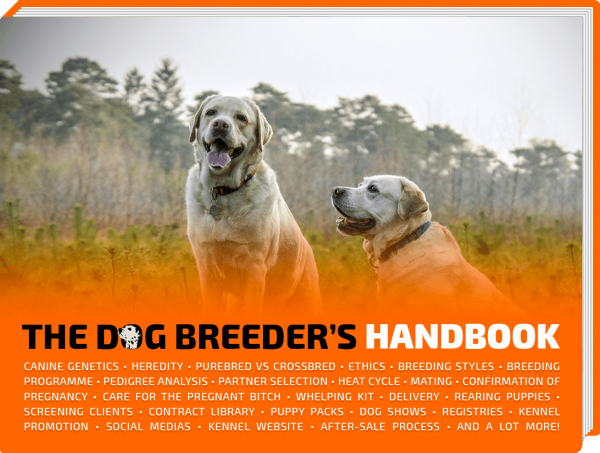 Our Bestselling Dog Breeding Guide!
Join thousands of dog breeders and read over 200 pages to learn the most updated dog breeding knowledge: canine genetics, breeding techniques, care to a pregnant bitch, rearing newborn puppies, marketing your kennel name, etc.
Dog Breeding Isn't Easy
But It Got Much Easier!
Being a dog breeder is hard work. Beyond choosing and caring for your dogs, you need to think about local licensing, health and safety rules, and eventually sell your puppies to the right homes. Many dog breeders don't make it because they ignore or underestimate the workload, stress and expenses linked to breeding dogs.
You know that you can't cut corners on your breeding, but also on your overall strategy. You know that having an online and social media presence isn't optional in today's world. You know that the most successful dog breeders are not just good breeders, they are reputable breeders. If you didn't know all that already, you do now. Knowledge is power, and we want to help you use it.
How To Breed Dogs — The Definitive Guide What's In The Dog Breeder's Handbook
The Dog Breeder's Handbook is a complete and unabridged resource that will walk you through the entire process of breeding dogs, as a business or just to see your bitch enjoy motherhood.
What Will I Learn From It
From finding the right mating partner, all the way to the clauses to include on puppy sales contracts, we cover all aspects of what breeding dogs really is about in this new era.
plan a realistic breeding programme for your kennel
set up clear breeding objectives for your bloodline
understand the latest discoveries in canine genetics
use modern breeding techniques backed by science
select the right studs for your next matings
care for the pregnant bitch before & during pregnancy
confirm pregnancy and prepare the whelping kit & box
supervise the delivery using simple tips that work
ready yourself to offer assistance if emergency occurs
provide adequate care to the recovering bitch & whelps
rear the puppies and offer the socialization needed
adjust your dogs' nutrition to a healthy yet economic diet
increase your reputation with dog shows and registries
bring your social media strategy up to the next level
increase profits while keeping an impeccable breeding
improve your after-sale process and follow-up
manage your bookkeeping & company tasks
Before You Get Started

The Importance of Passion

Great dancers are not great because of their technique, they are great because of their passion. Same for dog breeders, the drive, the focus and the passion are what will get your to the top.

Why Breeders Fail

Breeders are amazing at breeding dogs, but this is it. To make this a sustainable and successful activity, you need to understand the keys to entrepreneurship.

Why Do You Want To Breed?

For true success ask yourself these four questions: Why? Why not? Why not me? Why not now?. Be honest with yourself.

Full Time or Part Time?

Always start slowly and work hard to grow bigger, quicker. But I always say "if the marathon is a part-time interest, you will only get part-time results."

Start Your Dog Breeding Business

Choose Your Breed

There is no best dog breed. This section will explain you how to choose the best breed in your situation based on a market research, the breeds' genetics and the breeds trending as you also have to think few years ahead!

Design Your Kennel

Whether your dogs have their own space or share it with you and your family, each dog breed has its own set of requirements that have to be met, from the accommodation to their safety and supervision.

Find Your Veterinary

Vets and veterinary practices differ in size, facilities, range of services, staff size and obviously, in prices. Your vet will almost become your best friend as you get to know him, so choosing the right one is primordial as you want to feel comfortable bothering him at any given time.

Set Up Your Company

The biggest barrier to starting a company isn't ideas, funding or experience. It's excuses. So we've broken down this startup checklist into primary tasks you need to do now, and those that you can do later.

Dog Breeding Business Plan Guide

It is well known that a goal without a plan is just a wish, this section will give you the step-by-step instructions and ask some thought-provoking questions to get you started and finished with your business plan.

Bookkeeping & Accounting

Many new dog breeders, or any business owners for that matter, are intimidated simply by the mere idea of accounting and bookkeeping.

Breeding Stock Management

Establishing Your Own Bloodline

As a dog breeder, your breeding stock is going to give your business its direction. Breeding your own bloodline is very different to being just another breeder — looking after your own bloodline means continuing the development and refinement of the finest characteristics of the breed. The breeding of outstanding dogs is an Art, with a bold scientific base.

Styles of Breeding & Breeding Plan

They are diverse and each will be suitable to certain situations: inbreeding, linebreeding, backbreeding, outcrossing, outbreeding, grading up, etc.

As an ambitious dog breeder, we explain each breeding style clearly and help you juggle between those methods to get the best results.

Hereditary Conditions

Most dog hereditary conditions are minor and cause very little trouble to dogs victim of these. However, some inherited medical conditions happen to be extremely painful and life threatening.

Breeding Stock

The founding stock is your breeding business' blood so you need to start with the absolute best specimens you can afford in order to start establishing your very own bloodline.

Mating

Successful mating seems easy but ask any breeder who failed several times how hard it is to actually make it happen when you want it to.

Gestation (Week by Week, in details)

Canine gestation is of 9 weeks or 63 days on average from the day of ovulation.

Delivery & Whelping

The drop in her rectal temperature will confirm that the labour is on its way so you can take all the precautions for a smooth delivery.

The Whelping Kit

Dog breeders should not interfere with their whelping bitch while she is giving birth, however, as a responsible breeder you should always be ready to offer assistance if anything goes wrong during labour or right after.

Caring for the Newborn Puppies Right After Whelping

Some new breeders or occasional breeders are having a tough time going through their first litter. Often wondering what a newborn puppy should weigh, how do they look like and what to look out for? We provide all the help required to remove your anxiety.

Rearing the Puppies

For the first weeks of any dog's life, the puppy is a blank page, and the beginning of its life story will define it forever.

Feeding Your Dogs

When you start looking at different options to be feeding your dogs, you will quickly face a mountain of choices that all have their pros and cons.

Homemade Food Template Recipe

This is a template and aims for an ideal meal, which obviously rarely happens for us humans and also for dogs. Do not put too much pressure on yourself, a bad homemade dog meal will usually be better than a premium manufactured dog food.

Become a Reputable Breeder

The Website

Websites are ubiquitous today. It's like a business card. You cannot operate successfully without having one. All your customers expect you to have one. If a potential buyer is choosing between you and another breeder, a good website will often be the tipping point.

Social Medias (with Toolbox)

Online marketing evangelists have spoken: "Create great content that appeals to your customers and you'll profit."

Search Engine Optimisation

If you're not on Google, you don't exist. Search Engine Optimisation (SEO) is the process of making your website accessible for the consumer by using different techniques to earn high ranking positions on Search Engine Results Pages (SERPs) for various keywords related to your business and target audience.

Are Paid Ads Any Good For Breeders?

We walk you through the different options you can use as a dog breeder to move forward quickly; including Facebook Ads, Facebook Dark Posts, Google AdWords, Twitter Sponsored Tweets, Ads on message boards and other dog-related websites.

Pictures & Videos

The clearer, crispier, quality pictures you showcase, the easier it is for interested buyers to evaluate your dogs and make purchase decisions.

Registering Dogs

Because nine buyers out of ten will require or immensely appreciate that the parents have all the registration paperworks and certificates, you should do it as soon as possible even if you do not really care bout it. It has become a must so just do it, and do it right…

Dog Shows & Dog Sports

Dog sports, dog shows and dog events are wonderful ways of showing how great your dogs are and it is a showcase for your dog breeding business.

Why Attend Dog Competitions?

We help you choose the right competition, and by attending these events, even locally, you will multiply your margins and waiting list for your next litters.

Pet Insurance Plans

Vet bills can suddenly become a problem when accidents happen, and they can ruin your business if it affects your best breeding dogs.

Sell Your Dogs

Classified Ads

Dozens of websites in each country offer classified ads to dog breeders who want to publish their ads to hopefully manage to sell their puppies.

Message Boards

Message board are as old as the Internet itself. They are a wonderful platform to be active on, and as a direct consequence, an amazing platform to sell your dogs sometimes before they are even born.

Facebook Groups

Facebook Groups are better defined by Facebook itself: "Share what you care about with the people who care about it most."

How To Increase Prices & Sell More

The keys to increase your revenue stream with simple yet efficient tips and strategies. We help you generate consistency of income so you can turn your passion for dogs into a sustainable activity.

The Perfect Puppy Pack

The Puppy Pack is given by the breeder to the new puppy's owner at the time of the sale. It is prepared by the breeder and contains toys, samples, leaflets, and anything l the new owner could find useful.

Contracts

An important part of the sale that most breeders do not even go through is the contract of sale. It is here to protect both, the breeder and the buyer, by confirming the transfer of ownership of the puppy from one to the other against a sum of money.

After Sale Follow-ups

Your relationship with every puppy you have produced is here forever. Each client is your breeding business' ambassador and each client will represent you and your dogs wherever they go, whatever they do, whenever they show. You now get why the follow-up is vital.
Excel Financial Spreadsheets

Use our Excel Templates to precisely generate your spreadsheets and analyze your financial plan.

Dog Breeding Contract Library

Ready-to-use puppy sales contracts, sterilization agreements, stud service contracts, frozen semen, etc.

Homemade Dog Food Recipes

A selection of easy-to-adapt and cost-efficient homemade dog food recipes for a better health.

Advanced Dog Food Guide

An 80-page guide answering most of your dog nutrition questions: health, supplements, raw, kibble, and more.

Dog Health Guidebook

A straightforward guide to your dog's health. From bathing a dog to preventing boredom or the importance of dental treatments.

9 Ways To Calm a Bitch in Heat

A bitch in heat is a little anxious about everything she is experiencing. Here are some remedies.
We've got special bundles for you!
Whether you're having a one-off litter or breed more professionally, we've got the right package for you!
Digital Ebooks (PDF) ♥ Read On Your Computer and Smartphone ♥ Encrypted Transaction