Owing to the popularity of American Bully dogs, American Bully kennels are growing in numbers as well. The American Bully Kennel Club was the first kennel club to recognize this relatively new dog breed. They are even newer in the category of companion dogs.
Remember to check out our bestselling American Bully guidebook to better your knowledge of ethical dog breeding, nursing, and kennel marketing.
Top 10 American Bully Kennels
As the American Bully received more and more recognition, we found numerous kennels putting up American Bully dogs for sale. However, increasing the number of top kennels of American Bullies doesn't necessarily make it easier to find one.
The truth is that in such a competitive market, finding a trustworthy breeder is difficult. Therefore, you should only reach out to the top kennels of American Bully dogs. Moreover, if you're a dog breeder yourself, then having more knowledge about these top American Bully kennels will help you start your own breeding business.
If you're interested in owning an American Bully, you can get in touch with some of the best American Bully kennels. We have put together a list of the top 10 kennels of American Bully that offer the best dogs in the world.
1. Kurupt Bloodline
The Kurupt Bloodline is an amazing addition to the American Bully family. This amazing American Bully bloodline includes larger dogs, referred to as freakish. Their aim is to produce big animals who look intimidating, yet have the most loving personality. The famous Bossy kennels are one of the breeders of this bloodline. This is one of the top XXL Bully kennels in the USA. What's more, they specialize in the XL and giant size in American bullies as well.
Moreover, these dogs trace back to Pitbull fighters from 100s of years ago, although the Kurupt Bloodline is much bigger in size. Even though this bloodline has a long undocumented history, but we do know about the most prized dog of this bloodline. The Kurupt Blood Panic (sometimes referred to as Panic) is a huge male American Bully which has a 27-inch gigantic head. Panic's specimen is not only used for breeding this bloodline but is also sold all across the world to other Kurupt Bloodline kennels and breeders.
The Kurupt Bloodline has a very stable reputation in terms of ethical breeding. However, one issue with this bloodline is that not all people recognize it as an authentic American Bully. But the Kurupt bloodline was introduced only a few years ago. So, we can understand people's reluctance for accepting it.
You can find out more about this bloodline on this Facebook page.
2. Razors Edge
Today, Razors Edge bullies are one of the most commonly known in the world of dogs. There was a time when finding Razors Edge Pitbull kennels was impossible. However, Dave Wilson changed the world of American Bully kennels. He started out when bullies did not exist at all, but today, with all his passion and hard work, he has managed to get Razors Edge Bullies named among the top kennels of American bully dogs.
Dave started out by preparing game dogs with the aim to make them athletic and strong. He bred some of the best American Pitbull Terriers, but soon, a ban was imposed that hindered him from doing so. This is when Dave started experimenting and applying his knowledge of genetics into play. However, his aim was to go for something 'more bully, less terrier'. So, after a lot of digging, he found the perfect dog to start his Razors Edge Bloodline.
This was a dog from Kimmar Kennels who has now produced some of the best American Bullies in the world for this bloodline. As these dogs are thick and strong, so people who love an ideal bully are a fan of this bloodline. Usually, XL and XXL bully kennels breed this bloodline.
If you want to get in touch with other Razors Edge Bully enthusiasts and breeders, then you can connect with them on this Facebook page.
3. Gottiline Pitbull Bloodline
Here's another top American Bully kennel that might interest you. Like most iconic American Bully bloodlines, this one started with the purchase of another bloodline's stud too. Richard Barajas is credited for the start of this bloodline. After his dog died, he got another one from Grey Line Kennels named The Notorious Juan Gotty. This legendary stud traces back to Showtime, who was the foundation female of Grey Line Pitbulls.
Richard bought Gotty in 1997. Due to their muscular appearance, these dogs were named Gottiline Pitbulls. The bloodline first gained fame in America before moving on to the Philippines, China, Japan, and Canada. In the Gottiline breeding program, they aim to produce big, bulky Pitbulls. In particular, this bloodline's dogs are famous in weight-pulling sports.
With their fierce look and wide-built, these dogs look pretty intimidating. However, their personalities are the total opposite. This bloodline is famous for having a calm temperament and a friendly aura. Over time, the original Gottiline appearance has changed drastically.
If you're into this bloodline, contact this kennel on their website.
4. Remyline Bloodline
The Remyline bloodline was initiated from a Razors Edge American Bully and was started out by Fabian Chichester in 2004. This bloodline has produced high-quality dogs for the past 15 years. People in the market often go crazy for an American Bully belonging to this bloodline.
In the beginning, they used a male bully from the Razors Edge named Lowjack's Remy Martin and a Pitbull Terrier female named Bella. However, they didn't intend to start a new bloodline. But the resultant male bully was so perfect that the demand for his semen increased. Now, that stud was named Remy, and that's how the Remyline bloodline started. Today, there are over 1000 Remyline bloodline bullies. Yet, American Bully Kennels in the USA still line up for the specimen of this breed.
Above all, there's one thing that sets this bloodline apart from others — Fabian created the entire bloodline with the same male, something most breeders don't try. As a result, every single dog from this bloodline has a consistent and similar look which attracts more and more people. Now, a lot of other kennels try creating a Remy of their own by breeding Razors Edge bullies. However, what they don't realize is that the original Remy came from two very specific dogs which only Fabian was lucky enough to find.
You can get in touch with the existing Remyline breeders here. Also, this is where you'll find some of the top kennels of American Bully.
5. Colby Pitbull Bloodline
Colby Pitbulls are among the XL to XXL dogs. This bloodline is over a century old. However, you can still find a 100% pure breed pup in it. These dogs are very strong and sporty, however, their temperament isn't the calmest. This makes them unsuitable as home pets or lap dogs. On the contrary, they are the perfect sport dog due to their healthy nature.
Nowadays, pretty much all the classic American bully breeders breed Colby Pitbull dogs due to their high demand. However, these dogs do not have a similar appearance to the American Pit Bull with a wide-body and a short stature. In contrast, dogs from this bloodline are muscular, big, and have long legs, just like American Bullies. You can read more about this bloodline here.
6. Bully Camp Line
In the world of American Bullies, Mr. Miagi is a household name. This stud is actually from the Bully Camp Line. Iconic and exotic American bullies often can be 50% Bully Camp Line and 50% Razors Edge. Altogether, the two legendary bloodlines have created some of the best and most loved bloodlines in the modern-day.
George Soto is the CEO of THEBULLYCAMPLINE. Moreover, he owns Mr. Miagi and definitely puts him to good use with all the breeding. Not only does his kennel have a very respectable reputation, but there's also a high demand for the pups of this bloodline. They have very intelligently bred genetics that give the dogs a short and extremely wide-body structure with perfect features. All around the world, breeders use direct descendants from this bloodline to create their own.
George Soto conducts a show where the audience gets to admire the perfect dogs of his kennel. If that's not convenient for you, then you can visit his official Instagram to see some of his pups. Moreover, George also runs the International Bully Registry as well.
7. Golden Line
The Golden Line Kennel produces some of the most loved American Bullies. Some kennels produce XL Golden Line Bullies while others go for pocket or micro American Bullies. The Northwest Golden Line is a famous kennel for this bloodline. However, they only produce smaller-sized Golden Line dogs. This kennel is located in Oregon, hence the name Northwest. A passionate and enthusiastic family runs the Northwest Golden line to produce fantastic American Bullies.
The Golden Line bullies from this kennel have thick bones. They also have a characteristic wide and short body structure. Moreover, this kennel ensures good temperament in its dogs as well. They basically produce the perfect lap dogs that people with smaller apartments can also own. Not just that, but this kennel also produces some other bloodlines. However, Golden Line is their specialty. Their stud, Sancho, is a famous Golden Line bully with a thick and wide body.
You can find out more about this kennel here!
8. Kingpin Line
If you're looking for American Bullies with sporty and fierce genetics but a loving personality, then you might be interested in the Kingpin line. These dogs have a passive personality which makes them fit for keeping in an apartment. J Lomeli owns The Untouchable KINGPINLINE and is a major contributor for it. Interestingly, the famous American Bully, Mr. Miagi, had a Kingpin sire. This confirms that this bloodline has been around for decades and is among the best ones.
Here's J Lomeli's Instagram where you can admire his pups and find out more information about his American Bully kennel. From the 27,000 followers he has on Instagram, we're guessing that he is an ethical breeder with a good reputation. On the other hand, if you want to contribute to this bloodline, then you can also get high-quality semen of the studs owned by J Lomeli.
9. Edge of Gottiline
If you prefer a pocket or micro American Bully, then Edge of Gottiline is the place to go. This kennel specializes in short and wide Pitbulls. Moreover, blocky heads, massive structure, thick bones, wide chest, and a low stature are some other characteristics of the pups from this kennel.
In other words, they're masters at producing modern Gottiline dogs. Above all, they use pedigree studs and females to produce the best litter. Some of the most famous Gottiline Pitbulls of the world come from this kennel such as Bullseye, Sour Apple, and Victoria.
Edge of Gottiline Bullys is based in Southern California. You can find out more about them on their website.
10. Nakamoto Bullies
Nakamoto bullies are standard American Bully breeders based in Southern California that deal in exotic bullies. This family kennel is named after the son, Jack Nakamoto Jr. The breeding ventures of this family go quite back in time with the mother breeding Pitbulls since the 1980s. However, she started breeding American Bullies in 2010 along with her son. In short, the fact that they work as a family and have so much experience ensures their passion and quality of American bully breeding.
The family welcomes anyone to visit their 60-acre kennel and see their dogs. They breed mainly from TheBullyCampline Karate Kid (which is one of the best Miagi kids) or from a pedigree Nakamoto bully. The high-quality exotic dogs from this kennel are shipped to people around the world. Moreover, this family uses vet-certified breeding methods. So, you can rest assured that their American Bullies are healthy and produced in the best of conditions. If you're an American Bully lover, you can contact them for purchasing pups.
However, there's special news for kennel owners – people from Nakamoto Bullies also offer stud service for other breeders. So, you can start your own line by using their stud service. You can visit their website for more information.
About American Bully Kennels
The American Bully breed comes in four main varieties:
Pocket,
Standard,
Classic, and
XL.
There are also some bully types who do not receive official recognition. But these types aren't as common as well. The American Bully dogs come in all sizes from small to large.
The average lifespan of an American Bully can range from 8-12 years. However, they are healthy for the most part, and only a few sicknesses common in this breed are fatal. The most common health issue these dogs face is related to their body structure which eventually decreases their lifespan as well. They weigh around 30 to 40 kg on average. We have written about American Bully breeding errors plaguing the breed and we hope all breeders take inspiration from the guys listed in this article.
Although their appearance gives them an aggressive look, American Bullies are actually the opposite in terms of their personality. American bullies are protective, loyal, and especially friendly with kids. This makes them the ideal companion for man. More recently, people from all over the world have started accepting American bullies as family and pet dogs because they're intelligent and easy to train.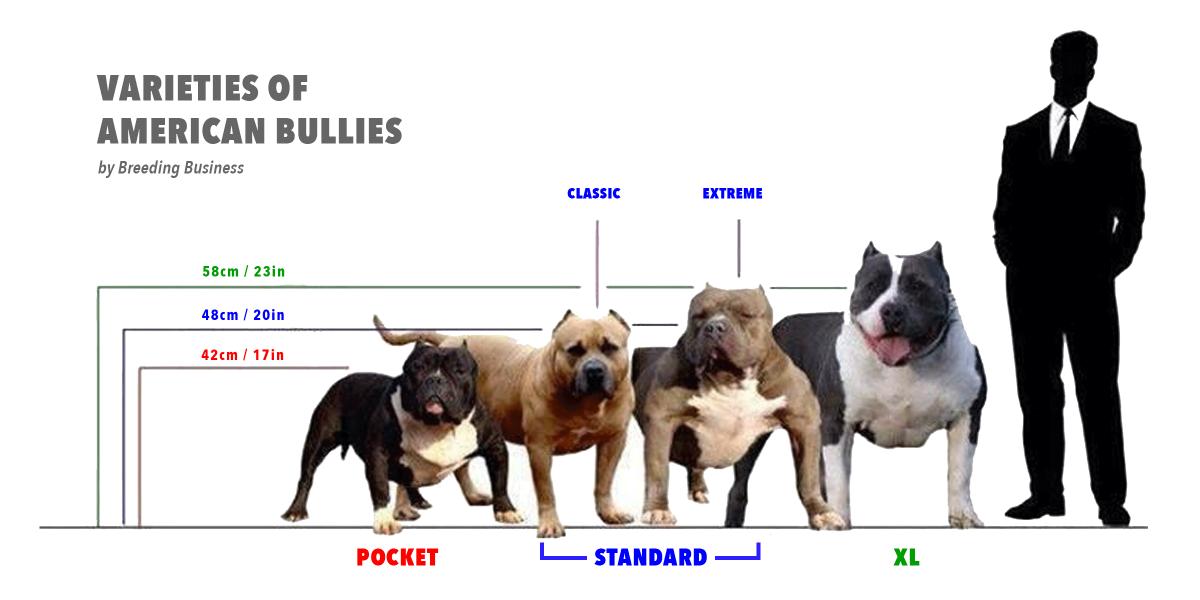 Top American Bully Kennels: FAQ
What two breeds make an American Bully?
Generally, breeders use American Staffordshire Terriers and American Pit Bull Terriers to make a standard American Bully. However, the genetic makeup of an American Bully can contain more than two breeds of dogs, such as Mastiff, English Bulldog, American Bulldog, and Terrier. As a result, American Bullies differ in size, appearance, and other characteristics.
Is an American Bully high maintenance?
American Bullies are low-maintenance dog breeds. Since they have short coats, they are easy to groom with a firm bristle brush. You may brush their coat at least twice or thrice a week to keep it healthy and to avoid fur all over your house. Additionally, American Bullies are considered average shedders.
How much do American Bullies cost?
Purebred, high-quality American Bully costs between $1000 – $10,000. The price depends on the quality of breed and class of the parent dogs. The health certification of the American bully and other factors, such as vet bills and purpose of purchase can add to the cost. Less popular bloodline and not purebred bullies can cost around $500 – $800.
Do American Bullies overheat?
American Bullies are brachycephalic breeds, therefore, they have a high tendency to overheat. Brachycephalic dogs have short muzzles and flat faces which makes it difficult for them to cool themselves down. Excessive panting is the first and most obvious sign of an overheating bully.
Is the American Bully aggressive?
An American Bully is known to be a companion or family dog. It is generally good with children and other family members. Although American Bullies are very muscular, they are loving, loyal, confident, and gentle which makes them ideal pets. Nevertheless, it is advisable to socialize your dog at an early age. Obedience training and simple commands can also help prevent unwanted behaviors.
---
In this article, we've tried to cover all the top kennels of American Bully. All over the world, people trust these kennels for using ethical breeding practices.
If you want to breed American Bullies, then bear in mind that this is not an easy job. Being a successful dog breeder, especially of a challenging breed like the American Bully can take years of hard work and sweat. A lot of kennels come and go, but only a few American Bully Kennels survive through time.
What seems like a simple business starting from a male and female American Bully is often beyond challenging to maintain. Imitating another successful kennel will get you nowhere. Use your own research and knowledge to come up with successful ideas.
However, what's important is that your American Bully kennel uses ethical breeding practices. Also, learn about other bully breeds to decide on a clear vision for your bloodline. No business is ever successful without hard work and ethics. These two qualities are the building blocks of all these top American Bully kennels and the only reason why customers are attracted to their dogs. In other words, they have survived for decades in this tough market on the basis of their principles. This is something that all other kennels and businesses should strive to do as well.