Joint problems in dogs are extremely common. For example, osteoarthritis affects 1 in 5 dogs, and its prevalence increases with age. It is therefore very likely that your pooch will develop joint problems as they grow and age. This leaves concerned owners wondering how they can help to support their pooch – are there any knee braces for dogs? And what are the best dog knee braces?
More research needs to be done before all vets can confidently suggest using dog knee braces. However, anecdotal reports suggest that some dogs do benefit from wearing them due to the warmth and compression that they offer. Ready to find out more about knee braces for dogs? Let's get started!
What are Dog Knee Braces
With veterinary supervision, a knee brace may be a useful aid for your dog's joint problems. Some senior dogs are not suitable candidates for surgery, so opting for alternative pain management such as using a brace may offer some relief for your pooch. This is because a dog knee brace, in theory, improves weight distribution, provides additional support, and keeps the joint warm by providing insulation. Knee braces may also promote healing by supporting the joint, which can help with traumatic knee injuries. However, there is not enough research done on knee braces for dogs to support these claims without a doubt. Always make sure that you investigate other ways to manage your dog's joint pains alongside using a brace if you choose to use one!
Prevalence of Joint Problems in Dogs
Does your dog struggle to stand in the morning, or seem to have difficulty with everyday activities? If so, your dog may be one of many with joint problems. Among the most common dog joint problems are osteoarthritis, osteochondrosis, hip and elbow dysplasia, and joint injuries. Many types of joint trauma lead to the development of joint disorders, including cranial cruciate ligament tears, joint fractures, and joint dislocations. Depending on the cause of your dog's joint problems, there will be a range of symptoms that may be obvious or subtle. Symptoms might include lameness, wasting of the leg muscles, pain during movement, and difficulty moving.
What Should I Look For in Dog Knee Braces
If your dog has joint problems, don't panic and buy the first brace you see. It's important to invest in a brace that not only supports your dog's joint, but also has a snug fit, provides ample support, and is made with a suitable material.
Snug But Comfortable Fit
A dog knee brace will not offer any support if it's the wrong size and is not snug. Because of this, it's important to get the right size for your furry friend. Most manufacturers of these products make them in a variety of sizes, so be sure to browse their options before investing in a brace. You should also choose a brace that's made for the limb in question – a hind leg brace will offer a better fit for that leg, for example.
Ample Support
Your dog's joints need plenty of support if they have joint problems. Be sure to invest in a brace that is made with multiple straps and is made with durable material. You don't want the brace to bend or break as your dog moves.
Material
Some of the best dog knee braces are made with neoprene! Neoprene is water-resistant and machine-washable, tear-resistant, and extremely durable. Neoprene joint braces provide compression and heat retention, keeping the area warm whilst also increasing blood circulation to promote healing.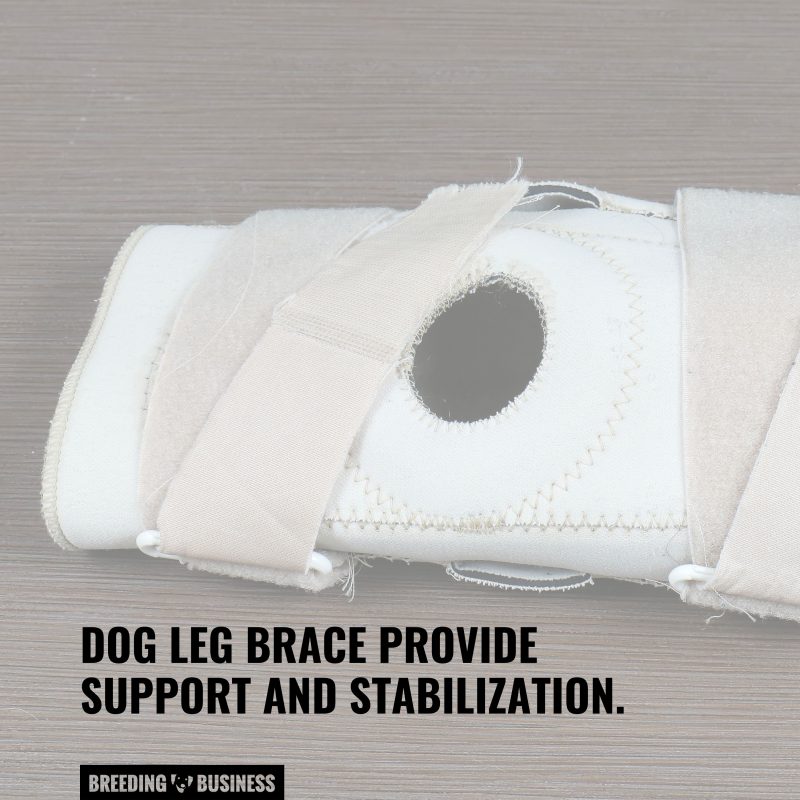 We've asked experts at The Vets on what buyers should be careful about when choosing knee braces for their dogs:
Get a custom-fitted brace – In one study, nearly 50% of owners reported their dogs had sore skin from their knee brace. Choosing a custom-fitted brace makes this less likely. You may also need to have the brace adjusted as your dog's weight-bearing changes and their muscles grow stronger.

Braces don't work for everyone – It's important to understand that around 1 in 10 dogs will need to have surgery because the brace doesn't work or the dog doesn't tolerate it. Whilst a brace may help some dogs avoid surgery, it's not appropriate for all dogs – so be guided by your vet and be prepared to change your mind if your dog isn't coping.

What about the other knee? – One of the problems with knee braces is that many dogs remain mildly lame on their injured knee, putting more strain on the remaining knee. Since cruciate injury usually happens to ligaments already weakened by disease, the extra pressure can be enough to 'snap' the ligament on the good leg.

Dr Joanna Woodnutt MRCVS, of The Vets (LinkedIn)
5 Best Dog Knee Braces
When shopping for knee braces for dogs, there are several things to consider. Here, we discuss the sizing, material, compression, and stability of each dog knee brace to help you come to a decision.
1. NeoAlly Dog Canine Front Leg Compression Braces
NeoAlly's Dog Front Leg Braces are the ideal support for dogs with weakness in their front legs! Whether your pup has weak wrists or is struggling with osteoarthritis, these supports offer stability and ample compression for dogs of all sizes. These supports are available in XXS/XS 3.7", S/M 3.75"-6.00", and L/XL 6.00"-8.00". They are made with perforated neoprene and nylon and are secured by two to three reflective velcro straps.
Customers love how easy it is to put on and remove these supports. They also love the durable, tough velcro that holds them in place. Dogs retain full mobility and find themselves moving with confidence whilst wearing these front leg supports. The range of sizes available also makes the supports suitable for dogs of all breeds and sizes.
For some buyers, these braces do not offer enough support. The metal inserts are sometimes weak and the material too flexible to provide ample support. Some buyers also report inaccurate sizing. However, these supports are easy to return, and buyers also report an easy refund and exchange process.
2. NeoAlly Dog Leg Brace [Short Version] for Small or Short Legs Canine Rear Hock Support
NeoAlly's Dog Leg Braces offer support to the hocks of the hind legs. These braces are made with premium quality neoprene and nylon and sport two reflective velcro straps per support. Like their other products, NeoAlly's Dog Leg Braces come in several sizes to fit any dog. These sizes include XS, S, M, L, and XL.
Customers and praise these braces for bringing confidence and mobility back to their dogs. Many dogs find themselves able to walk, jump, and play with more confidence whilst wearing these hock braces, thanks to the support that they offer. These braces are also easy to put on and take off.
One downside to these leg braces is the abrasive stitching. Some owners report that these braces rub and pinch at the legs of their dogs, and the abrasive parts needed to be cut out. Others report that these braces are not strong enough for their dog's problems, offering less support to dogs with torn ACL than others might.
3. Labra Co. Dog Canine Front Leg Compression Brace
Labra Co's Dog Canine Front Leg Compression braces offer support to the front legs. These braces are made with neoprene and are fastened using velcro straps. These braces come in two size groups: small/medium and large/extra large. While the small/medium size is best for small dogs and those with thin legs, the larger size is best for large breeds and dogs with thicker legs.
Customers love the support that these braces offer to dogs with arthritic wrists. With the compression and warmth that these braces offer, many dogs find themselves back on their daily walks with fewer problems. The brace is also washable, easy to put on, and just as easy to remove, making it convenient as well as useful.
These braces offer more compression than support, according to some customers. Some bring up the lack of a splint inside the brace and find that it does not offer enough support for dogs with sprains and strains. Another issue is the durability – many dogs are able to rip off and chew this brace with ease.
4. Ortocanis Original Knee Brace
The Ortocanis Original Knee Brace provides lateral support to the knee. This brace is made with neoprene and nylon for a comfortable but supportive fit. Unlike the other braces on our list, this brace fits over the back to provide extra support. It also comes in several sizes, including mini, XXXS, XXS, XS, S, M, L, XL, and XXL.
Pet parents love how snug and comfortable this knee brace is. Most dogs adjust well to wearing the brace. Also, its durable material makes it difficult for dogs to take off by themselves. This brace is popular for dogs with luxating patella thanks to the extra support it offers by fitting over the back.
Some owners find that they struggle with keeping the backstrap in place. For this reason, the manufacturer also sells a fastening belt pack (sold separately) for dogs with sloping backs. When considering this brace, be sure to keep in mind that this belt pack is sold separately and will not come with the brace when bought.
5. Pet Lovers Stuff Dog Rear Leg Brace
Pet Lovers Stuff's Dog Rear Leg Brace is a useful addition for any dog struggling with arthritis, sprains, and strains of the hind legs. Although this brace is not for the knee, it claims to help support the leg as a whole by relieving pressure off of the knee. The brace is made with medical-grade neoprene, is reinforced with metal spring traps, and is fastened using four velcro straps.
Happy buyers love the effectiveness of this brace. Many dogs who wear it find themselves able to stand and walk for longer, allowing them to enjoy daily walks like they used to. The brace is also easy to put on and most dogs adjust well to wearing it, suggesting that it is comfortable for dogs.
The most common problem for buyers is the sizing of the braces. Some people report that the braces seem too tight or too loose depending on if their dog is sitting or standing, and others find that the brace slips off easily.
Dog Knee Braces: FAQ
Have any more questions about the best dog knee braces? Feel free to read through our Frequently Asked Questions section for more details. If in doubt about your dog's joint health, always ask your vet for advice.
How do dog knee braces work?
Similar to a human knee brace, a dog knee brace is a tool for managing the discomfort of osteoarthritis, joint trauma, and other joint problems. In theory, a brace may help to reduce the pain associated with these problems by shifting the dog's weight off of the most damaged part of the joint. In this way, a brace can improve a dog's ability to get about and help them to walk farther comfortably. However, the anatomy of the dog does not lend itself to knee braces – even custom-made braces will still allow some movement of the knee front to back. For this reason, a dog knee brace cannot immobilize the knee the same way that a human brace would do for a human. In this way, not all dogs benefit from wearing a dog knee brace.
Can a dog recover from ACL tear without surgery?
Dogs can recover from an ACL tear without surgery within 6 to 12 months. However, several factors have an impact on a dog's recovery time, including whether they attend rehab or not, and their size and weight.

A small dog is more likely to recover faster – one study reports that 85% of dogs weighing less than 30 pounds recovered by six months, whereas those weighing more than 30 pounds did not. Both groups needed at least 6 months to show improvement in their symptoms. This is important to note because dogs weighing under 30 kg and those with minor ACL tears are not always good candidates for ACL surgery. Instead, dogs who cannot undergo surgery should be kept well-rested, given pain relief, and rehabilitation therapy as directed by a vet.
How to improve the general joint health of dogs?
One of the best ways to improve your dog's joint health is to manage their weight. Just like in humans, excess weight can put extra strain on the joints. So, if your dog is overweight, consider speaking to your vet about a weight loss management plan for your pooch. Similarly, keeping your pup active is important for their joint health. Gentle, regular exercise is extremely healthy for your dog. Not only does it keep their joints moving, but it helps them to remain a healthy weight, too. The key is to manage the amount of exercise that your dog gets so that they don't overexert their joints.

Lastly, be sure to give your pooch a healthy, well-balanced, complete diet that is suitable for their life stage. You may also supplement your dog's diet with healthy fruits and vegetables or fish oil to support their joint health.
Are joint problems a reason to put down a dog?
Joint problems in themselves are not a reason to put down a dog. Rather, your dog's overall quality of life should be considered with the help of your vet. Does your dog still enjoy things that normally excite them? Are they able to go for walks, exercise, and play, within reason? If not, it's best to speak with your vet about your options. A dog with joint problems may become a candidate for euthanasia when they are no longer able to walk and are in obvious pain with the smallest of movements. Being unable to move can be life-threatening and indicates poor quality of life.

Knee braces for dogs are helpful to some, but not to all. It's best to talk to your vet about your options before trying a brace on your pooch.