Organize the breeding of two dogs at the beginning of a long adventure! As soon as the mating went on, and the pregnancy is confirmed, you must engage with your network to find potential buyers. Knowing how to sell your puppies online is the key to a successful long-term breeding plan.
Indeed, rare are the breeders who can instantly sell all their new puppies to forever homes they already know. Networking has its limits, especially because oftentimes, a couple of puppies attract all the attention while the remaining ones get a lot less excitement from prospective buyers.
Selling puppies online is an Art — it requires the tips and strategies we have laid out in this article. Customers and wanna-be pet owners are a lot more informed and demanding than they used to be during their puppy search. Your ads must be comprehensive, but not too long. We'll tell you where can you sell your puppies online, and whether you should go with classified ads or your own website.
Is It Legal to Sell Dogs Online?
To this date, there is no specific law or regulation pertaining to the sale and purchase of dogs and puppies online, apart from ordinary contract law if you sign a puppy sales agreement. Therefore, it is indeed legal to sell a puppy or even an entire litter of puppies online. Actually, the age of the dog(s) in question does not matter whatsoever.
Certain states in the United States of America, but also some other jurisdictions, are having a regulation asking professional dog breeders to sign up for a commercial breeding license. It is a requirement for you to read the currently applied set of texts on commercial breeding in order to be clear on the threshold limit from which you must subscribe for this mandatory license. This is generally a number that corresponds to the number of puppies sold, or the number of breeding bitches a breeder owns or owned for the year.
Where to Sell Puppies Online?
Dog breeders are offered a wide array of choices to ethically and quickly sell puppies online. Puppy sales platforms, classified ad services, Facebook Groups, and even their own kennel websites are the best ways to sell dogs online.
When thinking about selling your dogs online, you first need to decide what channels will you publicize your puppies for sale on. You can stick to only one channel, or work on several. What matters is for you to get these different jobs done efficiently:
Do not just put your high hopes on the channel; what matters is what you put in it. Platforms, classifieds, and Facebook Groups are helpful because they already have targeted traffic on them; but if your ad or copy is of poor quality, you will never find any success in your endeavors.
Online Puppy Sales Platforms
Specialized puppy websites allow dog breeders to sign up, generally for a small monthly fee, and post their dogs on their own public mini-site. Such platforms are great for occasional dog breeders who do not have the technical savviness required to run their own website. Simply sign up, fill in their online forms, upload photos or videos, set your prices, and you are showcasing and selling your dogs online. Yes, it's that simple.
Basically, if you are wondering how to sell puppies fast, puppy sales platforms are ideal. For example, VIP Puppies allows dog breeders to sign-up in seconds for $15 a month (at the time of writing) so they can set up their very own kennel's storefront. There are no hidden costs.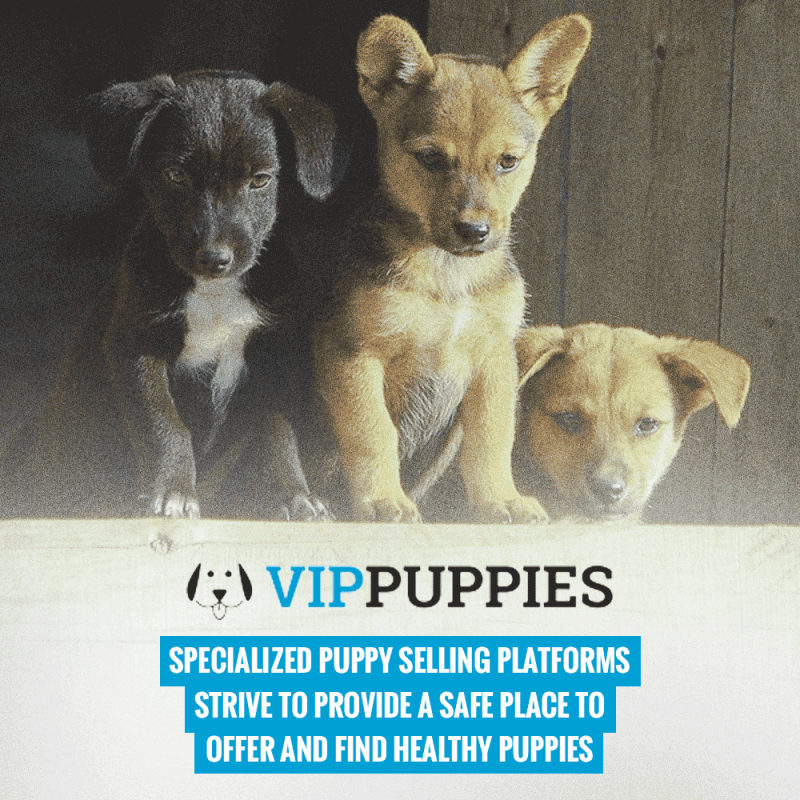 Own Kennel Website
Some people prefer to run their own website throughout the year to post updates about the dog shows they have attended, expected litters, and other thoughts. And if signing up to a web host, getting your own .com, and spinning up WordPress with a breeder plugin does not scare you, then it's a very economic solution, too.
The only issue with such official kennel websites is that they often become graveyards. Many dog breeders are very excited at the idea of building their kennel website, but that excitement fades away a few weeks later. The only updates are when puppies are available, which is totally acceptable but this does not send good signals to potential buyers.
Knowing what content to publish on your kennel is not easy especially once you've been over the basic pages such as About Us, History of the Breed, Contact Us, and so on. We've written a great guide to blog content for kennels and another one listing the most common mistakes found on dog breeder websites.
Classified Ads
[adwithin]
Many dog breeders, perhaps most, prefer to not even bother about setting up their website using their own setup or using a specialized puppy platform. Instead, these breeders prefer to use famous classified ads services ranging from Craiglist to local services. Need not to say how poor the quality generally is on classified ads when the breeder doesn't have a website too.
In all honesty, advertising solely on classifieds seems a little desperate. Additionally, unless you are ready to halve your prices, classifieds will not be suitable for you. They are marketplaces that drag prices down and the prospects viewing such ads are not ready to shell out larger amounts of money for a pet. Serious puppy buyers prefer to Google breeders of their breed and compare them on their breeding programs, older litters, and a real website is great at conveying such valuable information.
Now, do not get me wrong, classified ads tend to be free so it's actually a good idea to channel down traffic to your own website or minisite from classified ads platforms if they allow that. Or, you can tease prospects on classified ad services and once they get in touch with you, send them your website's link back. It's a good way to filter out the weed as those bad owners won't even bother browsing your kennel site.
Facebook Groups
Facebook Groups is a growing component of Facebook and these groups are now widely used by like-minded people to get together, exchange information, sell puppies, ask for advice, etc. The key is to find a handful of Facebook Groups that are good for you. Generally, you must select groups that are targeting your state or location and the breed of dog you work with. In some busy areas, you may find groups that link up both such as "Chihuahuas of Brooklyn, NY". In most cases, you will find groups that specifically are about dogs in your area, and then, separate groups about your breed but perhaps in a less specific area. Join both!
Avoid joining a group to only post your ads as interested members will see you are only here to sell your dogs, not to participate and be an engaged member in this community. Instead, start answering random questions, and even you should ask questions about anything related to your dogs and struggles with them. You will raise your reputation and the group members will trust you a lot more the next time you post up an ad to sell your beautiful puppies.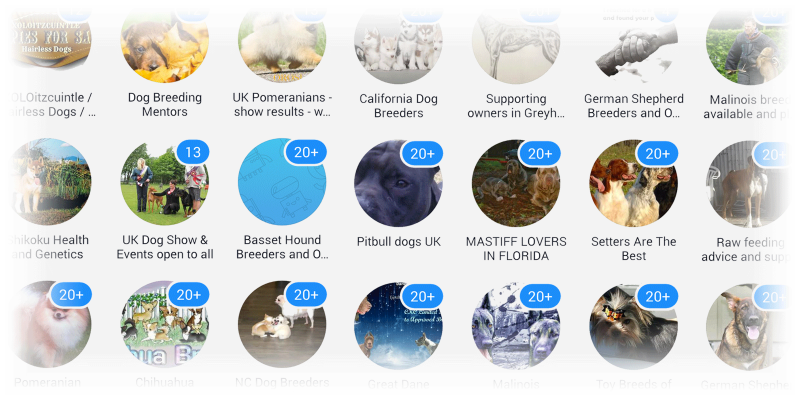 Top 5 Best Writing Tips For Puppy Sales Ads
Once you are ready to actually put your puppies on the online marketplace, the hard part has yet to come. You need to write up the dreaded ad, select some great pictures, change the wording of crucial parts like pricing, and so on. Plenty of breeders are responsible and produced quality litters yet, they failed at that last important hurdle: advertising them properly. Without a beautiful, clear and digestible mini-site or classified ad, nobody will be enticed to contact you.
Here is our simple yet incredibly effective set of guidelines consisting of the top 5 writing tips for puppy sales ads!
1. Be Comprehensive
As a dog owner advertising your puppies to somebody who knows zero about you, your kennel, the parents of your litter, you must offer as many valuable pieces of information as possible for them to make a decision. You do not want to be a people pleaser in your ads, you want to be brutally honest so only the right people keep on reading, and eventually, contact you.
2. Be Short
Most ads go on and on and on, without much substance or anything of real interest for puppy buyers and prospects. You do not want to go to lengths for things that matter very little. Be comprehensive and precise. It may seem a little cold and clinical but trust me, people browsing puppy ads will read many of them so their attention span is short. The first sentences should be trimmed down so the reader at least sticks with you for a while. The rest of the ad can be more expressive but work on your writing skills to keep the reader entertained and captivated.
Unfortunately, you cannot just write up a 3,000-word description in your ad or website. Nobody would read it. So your comprehensiveness should remain short and to-the-point. Ask yourself what would you love to know about a dog you may want to buy?
The puppy's name, age, breed, and appearance
The parents' pedigree and awards, if any
The price and any other fees
The results of health checks of the parents and ancestors
The differences between all puppies in that same litter
If there is a contract to sign and the main clauses
Each puppy is different and if your kennel's breeding program produces high-quality scent dogs or agility dogs, you do want to explain that in details in your ad. No two ads should be the same for puppies!
3. Say What's Wrong
It will be hard but you have to do it… You have to say what is wrong in every puppy you produce. Perhaps one pup is too quiet or has a weird unexpected marking or color, or perhaps two puppies seem to be the runts of the litter, etc. There is no shame to say, in all objectivity, the potential or clear flaws a puppy is showcasing. You are being upfront so prospects won't waste your time at a later stage since there is no surprise anymore. Plus, you are raising your reputation in two ways.
First, you are telling the buyer that you are objective and know how to spot a flaw, even tiny, in dogs. This makes you a knowledgeable breeder who knows what to improve at each generation. The buyer will rightly believe that these puppies will become better versions of their parents because you have shown that you know how to spot, and therefore fix, small defects.
Secondly, you are showing the prospective buyer that you are trustworthy and they should feel good doing business with you. Many people sell dogs online and hide horrible defects and health concerns just to get rid of their puppies. Not you. Instead, you are proving that you are honest which will comfort the puppy buyer to go ahead with you. Even if you are pricier than another ad they saw earlier, this added trust will be the difference between them buying from somebody else and them closing the puppy purchase deal with you.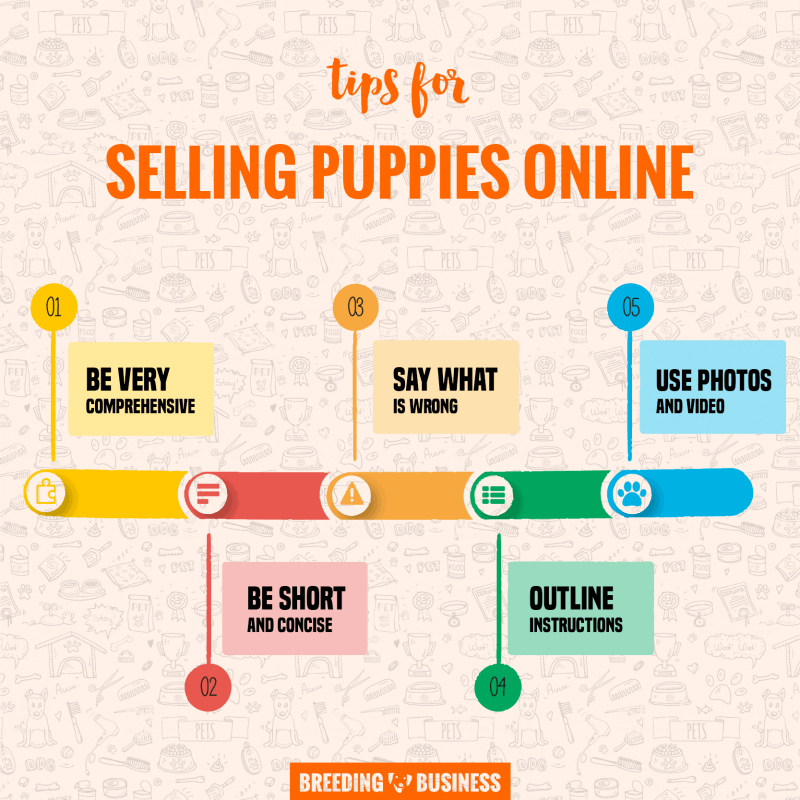 4. Explain What's Coming
Imagine the puppy buyer is happy with your ad and loves the puppy, what should they do next? Be clear with your instructions. Breeders have various communication channels (social media accounts, email, website form, phone, etc) and buyers do not really know what to do unless they are told.
Some breeders require a questionnaire along with the first email from the buyer, while others will ask for a phone call. Inform the buyer on the next steps from now to the puppy sale agreement.
How do you want to be contacted?
What do you want to know about the prospect?
What methods of payment do you accept?
What age is the puppy allowed to be picked up at?
Is there a sales agreement with special clauses to sign?
Do you require an in-person meet up with the prospect?
Is the meet up at your home or in a neutral environment?
Will the puppy's parents be present at a meetup?
In other words, draw an outline of the remaining steps to take for both of you until the final meeting where your puppy will become the buyer's new companion. If you have a lot of steps in between, you may want to give a more comprehensive list after your first exchange, perhaps as an attached document. That way, you are clear and not scaring the prospect buyer with too much paperwork or admin.
[adwithin]
To conclude, when wondering how to sell puppies online, fast or not, you will be faced with several choices. Some offer you a marketplace with interested prospects such as Facebook Groups, classified ads services, and specialized puppy platforms. On the contrary, if you want full control over your content's depth and form, you can run your own website for a handful of dollars a month. The only issue with your own website is that nobody will send you any traffic so you will have to leverage your search engine marketing skills, other social media channels, and classified ad platforms to drive traffic to your puppy pages.
5. Use Photos and Videos
Future buyers want to see what their future puppy will look like so post photos and videos of the puppies you are selling. Do not try to set up a Hollywood-like production; just snap great moment and upload them! Try to take your puppies at their best, but also show their flaws (some pup buyers surprisingly love their future pups based on their flaws). And remember, what is appealing to you may put somebody else off, and vice versa.
Photos are good for mug shots and basic front, back, and side shots. Whenever possible, use video to show how your puppy interacts with its littermates and the people at home. Make sure the video's subject puppy is clearly recognizable with a colored collar for example…