Nowadays, every single business should have an online presence, starting with their very own website. Dog breeders are no exception to the rule. What differs from one business to another is what information websites from each industry should contain.
Contact details, puppy available, upcoming litters… This is pretty basic, right? We'll still give you few tips to improve these sections but there are so much you can add to your dog breeder website, and it will make it more appealing, your reputation more solid and your dogs more popular.
If you haven't got a website yet, we have previously published a step by step guide to show you how to create your own dog breeder website in 3 super simple steps (with screenshots!)
What Is The Cone of Experience?
To start this article the right way, we must know what visitors and in this case, potential buyers, are after. Then, we must captivate them so we have their full attention. Indeed, the worse that can happen when you have a dog breeding website with great content is to welcome a user on any page and have him or her leave within seconds—we call that a bounce.
People in general are retaining very little when they are not fully focused. To get a visitor's attention you must use what Edgar Dale came up with, the Cone of Experience. There is no need to focus on the numbers, they are arbitrary given but instead, we just want to squeeze the juice from this model.
People get captivated by what they do, watch, hear, and read, in this order. This is what we must remember: to get your visitors' focus, start by presenting them appealing information and once they are into your website, you can narrow things down, become more precise and thorough in the information you are providing to your reader.
What Layout Should All My Pages Follow?
Each website has its own creativity and it is up to the web-designer or webmaster to decide the overall structure of each of its pages.
Yet, if you look at most websites and I include Breeding Business here, you will notice few similarities and they are not simply a matter of chance. Webmasters, bloggers, and website editors, we are just like you: we have a website, we write interesting content, and we want you to read it and enjoy it. So we decrypt studies and trends and adapt to them so our visitors get captivated by our website.
A great post on Hubspot gives many insights they gathered from several scientific studies, and some of them are extremely clear:
90% of information transmitted to the brain is visual
Visuals are processed 60,000X faster in the brain than text
40% of people will respond better to visual information than plain text
46.1% of people say a website's design is the number one criterion for discerning the credibility of the company
You get the gist, you need to start by putting a great fat juicy picture on top of each page! Scroll back up, we put one, just like we put one in most pages here. It is how you start hooking up your reader. But even pure text can be visually appealing:
Paragraphs instead of a huge block of condensed text
Chapters and sub-sections will structure your article
Bullet lists are great to breakdown a list of information (yep, just like this one!)
Formatting helps the reader identify what matters the most (bold, underlined, italic, quotes…)
We've also written a quick list article of the 7 most common mistakes found on dog breeder websites.
From Visitors To Readers, Watchers, and Followers
So the idea is to use visuals to captivate visitors' attention so we can convert them into readers. Once they start reading the article you should give them what they want: your content should start with a summary of what will be covered in the rest of the page, and obviously, it should be linked to the headline(s) and visual(s) above.
To keep the page visually appealing, make sure your content is substantial, written properly, and decorated with charts, tables, illustrations, and videos. Yes, videos are the new photos, and every single breeder out there should get their smartphone from their pocket and shoot short videos of their dogs and puppies. No need to shoot long footage, just 30 seconds and upload it on YouTube! In a few clicks, you can then embed your video on your dog breeder website, or on social media like Facebook.
Once people read through one page, it is verdict time: they will be back and contact you if they liked your page, and if not, you will probably never see them again. This is how important your breeding website is, both the way it looks and the content should be of great quality if you want to attract the right buyers and dog lovers.
However, if you succeeded in pleasing them, they will be following you. But for that, you must post regularly! You are a breeder, not a blogger, so you won't need to write 5 articles a week. But a weekly article about the breed will demonstrate that you genuinely have knowledge of your breed, and another weekly update on your dogs (litters, shows, what happened during the week, etc.) will keep people interested in the life of your breeding business. People don't just want to buy a puppy from a store, otherwise, they would just go to a pet store! If they want a real breeder, it is because they want quality, knowledge, and information. So give them all of that and they will follow you!
What Page Structure Would I Recommend For Dog Breeder Websites?
Well, to give a generic layout that you can then adapt to your own website, content, and activity, I would recommend the below for the home page.
Logo and name of your website/kennel
Navigation and menus
Highlight your breed (full-width banner)

Bold and explicit image (that belongs to you!)
Title

Summary block(s) about your breeding activity
Latest news from your kennel (upcoming litter, etc)
See the image below for a great example of what a visitor should see when they land on your homepage. That will make them want to scroll down and see what else is available (info about your dogs and puppies, contact details, articles you have published on your blog, etc.)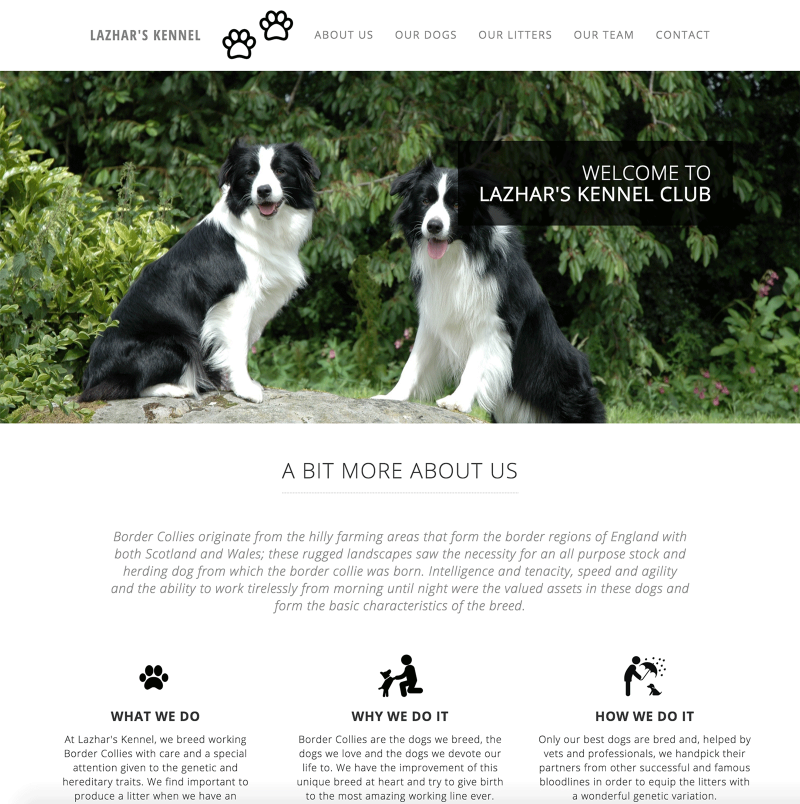 If you do not want to post articles about the breed and have a one-page website, you should have a look at our One-Page Dog Breeder Website Template!
For other pages than your website's homepage, you must follow pretty much the model applied by most websites: use a large featured image as we did her, a bold and large title, and your content (article, news, post, etc.) Make sure to use our aforementioned advice on the formatting of the text and the illustrations you should use!
What Pages Should Be On a Dog Breeder Website?
Now we know what principles, structure, and layout each of your pages should follow, we need to see what pages should be published and available. There are basic ones (homepage, about us page, contact us, etc.) but you can also provide a lot more value to your visitors without having to face a too heavy workload!
Homepage
Your visitors will usually land here so give extra care to everything presented on this page. Each part must be important enough to be featured here and invite the user to click and browse through your other pages.
Ideally, you want a short page, without too much content, quite clean. A good homepage, for example, is Glennvine Rottweilers' homepage. There is enough content to captivate you, but not enough for you to just leave the website. You definitely want to click on the other pages to know more. Eventually, if the content offered on the other pages appeals to you, you may want to contact and enquire about a puppy.
The color must match your dog breed. A Rottweiler website should be dark and manly, obviously, there would be nothing wrong with a white background or any other color. But just try to be consistent.
About Us, Background, and History
Not every visitor will go on your About Us page, but every buyer will. Make sure you polish it, this is a text-based page where you must answer some important questions:
who is the person or team looking after the dogs?
how did you fall in love with the breed?
how long have you been breeding dogs?
why are you breeding this breed and not another?
what do you do with your dogs (shows, sports, trekking, etc)
Basically, imagine you are having tea with your potential buyer and you must answer their questions before they ask them to you. Do not discuss your dogs individually here, it is a page that must go over the human side of your dog breeding business.
Our Dogs
Once the visitor knows about the people running the kennel, and raising the dogs, they need to know about your dogs.
This is where you should give details and pictures of each dog you own, especially your studs and breeding bitches you use. Give their story, do not break it down like an ID card. Don't be too long for each dog but give enough substance to satisfy the reader.
name, sex and age of the dog
parents and pedigree
titles and participation in dog events and competitions
how you got the dog (from another kennel? bred yourself?)
the unique thing about this dog (special marking, good at one original trick, guide dog…)
It does not need to be exhaustive, they are not buying these dogs as they are yours. But visitors want to know about your dogs and how they are being raised, what they are used for, how they look, etc.
About The Breed
Always add a text, written by yourself, about the breed.
The worst mistake here is to copy and paste the breed standard, and that's it. I would hope your visitors already read through the breed standard if they are interested in the breed. Perhaps add a link to it and put it on a different page.
Instead, add what your bloodline is like, the temperament of your dogs, and the direction you are taking with your breeding plan. Explain your short and long-term objectives, the actions you are taking to prevent breed-specific genetic conditions, and other important information about THAT breed.
Give tips about "The Perfect Welcome Home Experience" for the ones who will buy a puppy from you. What kind of toys do well with this particular breed? Use our free printable checklist containing everything new buyers should have before the arrival of the new puppy.
In short, don't give them the basics here, and if you really want to, post them separately and add a link to that page. Instead, write something personal that you feel and expect from the breed.
Photos, Galleries, and Videos
We have a whole section about photos and videos in our bestseller, The Dog Breeder's Handbook, with for all tips a picture of what to do, and what not to do.
Simply put, add videos and photos regularly. It is super easy to upload videos on YouTube these days and they are much more interesting than a text description.
Be careful with the basics: have a nice background, do not pose too much, and use good natural lighting. Most cameras do the job these days by taking great high-definition shots and with the free photo and video editing software available these days, you can give your creations a professional touch in few clicks and few seconds.
Blog and Latest Posts
This is what I am fighting for. Most dog breeders update their website when they have something to sell. Why, why, why…
Can't you write one or two 500-word articles a week about the life of your kennel, your week, your dogs, or the breed in general? If you are a dog breeder, you have acquired a certain level of knowledge. Share it! People and potential buyers will see that you are giving a lot of love to fellow passionate and they will appreciate everything you are giving to your visitors.
That way, they will choose you over anybody else for their future puppy because they know you are knowledgeable, available, sharing, and caring. You don't need long articles like this one (wow, you've read down to here, well done!); you simply need quick recap of what's happening in your kennel! Some basic examples of posts you could create right now:
The activities and exercises YOUR BREED loves
to do!
Chewing toys adapted to YOUR BREED!
Our results at the National Breed Event 2015, so happy!
Welcome home, Maya! (Maya being a new dog of yours)
What our dogs, pregnant bitches, and puppies eat
Etc…
A great book on this topic is Jab, Jab, Jab, Right Hook by Gary Vaynerchuk. To sum it up: offer content several times (all the jabs) before asking for something in return (right hook) and it works for a website, on social media, or even with friends. Give, give, give, then ask.
Upcoming & Planned Litters
Self-explanatory, post here the available litters and the ones planned. It is always good to inform visitors about a future litter that has not been mated. Why? Because you can build a waiting list and start taking orders.
Provide numerous details on who the parents are, the pedigree, the sex and markings of the pups if they are already born, etc.
We recommend not to provide a price on your website, it just looks tacky but if your dogs are top-quality champions and you keep receiving emails asking for a price, perhaps you can indicate a rough estimate to prevent the average buyer from asking the price of what they cannot afford.
Here as well, you want to provide photos and videos of the parents and the puppies when possible.
Feedbacks From Previous Clients
A page where you copy and paste testimonials, feedbacks, and pictures of previous puppies that are now in their forever homes.
This page is tricky because you could just make up many feedbacks just to make yourself look good.
Offer to provide owners' contact details upon request so they can ask themselves. Potential buyers never really ask, but if they do, let them check.
Contact Page
Very common, it is a page found in 99.99% of all websites and you pretty much know what to put on it, without me telling you…
Your email address, preferably a professional one dedicated to your dog breeding ([email protected] looks better than [email protected]), you can use Google for Work to set this up in 10 minutes
Your mobile phone number, and precise when you prefer to receive the calls or text so you don't get bothered in the middle of the night, perhaps use a breeding-only mobile phone
Your location and/or address with a Google Maps embed so they can visualize where you exactly are. It is easy to do, find your address on Google Maps and use our screenshot below to see how to do it quickly!
Hopefully, you managed to read this post until the end, take what you need to take from it, and improve your website so your visitors become followers, and your followers become your new puppy owners! Once your virtual business card (your dog breeder website) is up and running, you can put your breeding business on Facebook.
Share this article with your friends breeding dogs, and let us know if you have a special something that you add to your dog breeder website to enhance your readers' experience!
If you want us to create your bespoke dog-related business website, please let us know and we would be happy to do it from A to Z as explained here.