Unfortunately, there are times where you may encounter a breeder who does not keep their dogs as they should. They may be living in unhygienic conditions which lead to poor health. Or perhaps the puppies they sell are injured. Regardless of the reason, you may need to know the protocol of filing breeder complaints.
You can file complaints about breeders directly to the affected kennel club. Alternatively, you can make posts on social media or contact the appropriate US society. We will explain how to contact each of these departments as well as when the appropriate occasion is.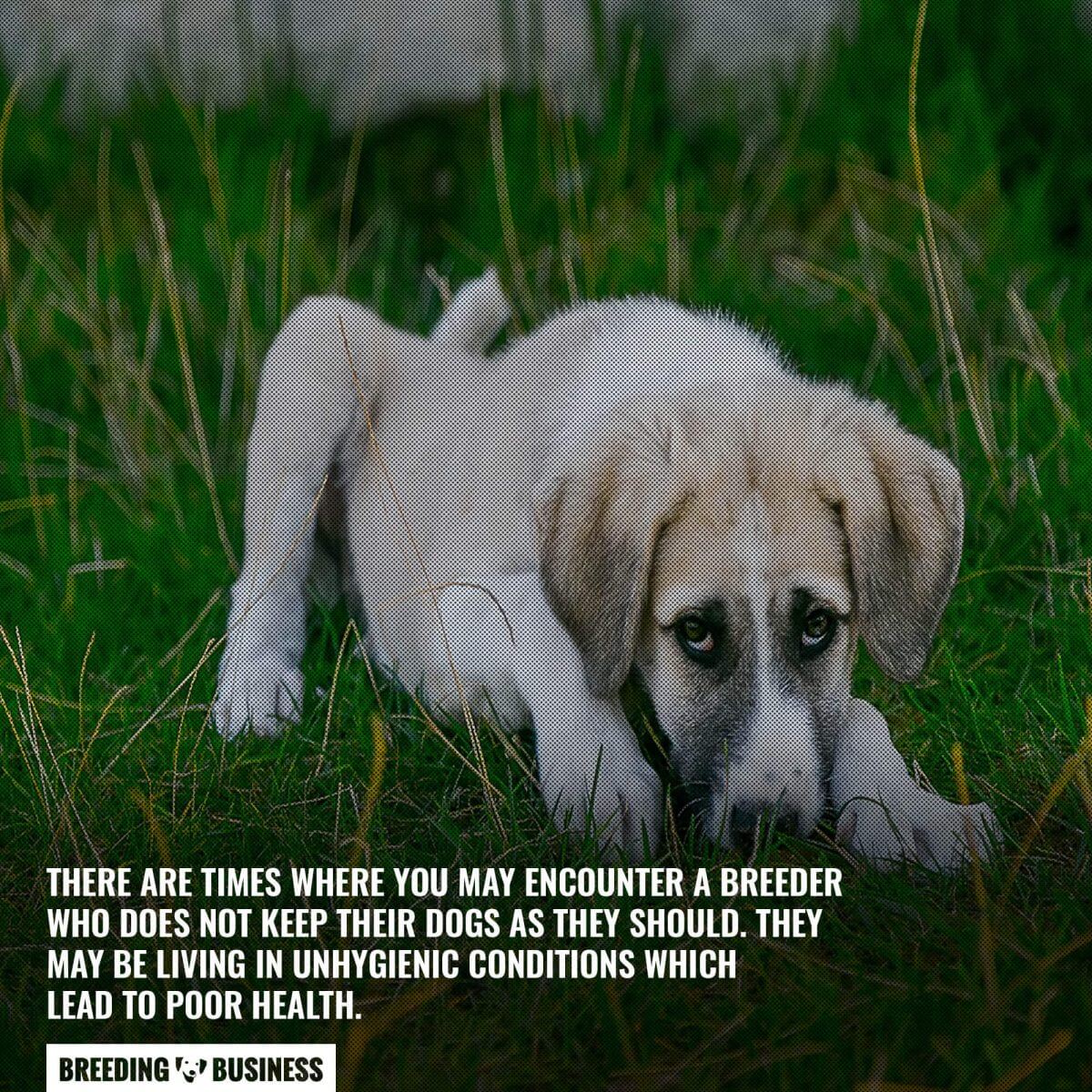 What are Breeder Complaints
Breeder complaints are filed to the appropriate authorities when a breeder is not performing their job correctly or ethically. Breeder complaints can be targeted towards the breeder's performance with communication, finance, and even fraudulent claims. If you are sold a dog that is advertised to bred from a certain lineage, such as two champion racing dogs, then a complaint can be filed if this is not true. Another problem may be with the breeder's communication. Perhaps they ignore any concerns you contact them with or are rude when they reply. Any financial concerns should be immediately filed as complaints, such as unreasonable demands or asking for financial interest that has not been agreed upon.
Ethics and care of the dogs should be any breeder priority, however, backyard breeders will not have the same opinion. The dogs you see or visit may be underweight and appear emaciated. Other health issues may include visible fleas or skin problems. The issues of care may span to a lack of cleanliness. The dogs may be located in an area with old fecal matter and urine. Or you may worry about if the owner is being aggressive with the dogs if they display excess aggression, fear, or have wounds or injuries.
If any of these signs appear, you may want to report them as well as issue breeder complaints. Breeders can even be reported if after adopting a dog they begin to appear sickly, this may show more disclosed elements of poor care. A vet will be able to diagnose the reason for the behavior and reactions, but if it turns out they played a part, you may need to consider contacting the appropriate authority.
Where to File a Breeder Complaint
Although you can easily contact differing kennel clubs, it is not always that simple when filing a complaint. The severity of the issue alongside the area you live in can influence where you should file the complaint. If a breeder is registered with a specific kennel club, such as the AKC, you can go directly to them to report a complaint. Another option may be to contact the USDA (United States Department of Agriculture) as some dog breeds are regulated by this federal department.
If you are concerned about the treatment and welfare of a breeder's dogs, you may want to also consider calling the police or the ASPCA to report possible neglect. However, without issuing a complaint to the appropriate governing bodies, other buyers may still visit them. This is because they may be unaware of the treatment of these dogs. The complaints can lead to kennel clubs removing these breeders' names and even social media noting warnings about them. This should prevent future buyers from considering a breeder with poor standards of animal care or management.
How to File a Breeder Complaint
Here are all the recommended authorities to place a complaint with and the proper method to do so. Each department handles different types of complaints that we will explain.
US Department of Agriculture
You can contact the US department of agriculture if you are concerned about the welfare of a dog or multiple dogs owned by the breeder. This application form is only for the concern of animal care and not for inappropriate breeding sales. Anything from malnourishment to a high level of noticeable fear in dogs can be put forward and submitted to the USDA. In order to submit a complaint, click on the following link. You will be taken to the complaints page where they ask you to include these points in the complaints box:
The date you saw the dogs
That the animal you saw was a dog
The dog's behavior
The dog's condition
How the dog's living space looks (how clean and safe is it)
The actions and behavior of the breeder
Where the breeder is located
After you have filled in the complaint, you will also need to fill in the city and state which the breeder was located in through a multiple-choice box. Alongside the name of the USDA licensee/registrant (if known) and the USDA license/registration number (if known). You have the option to allow further contact after the report or remain anonymous.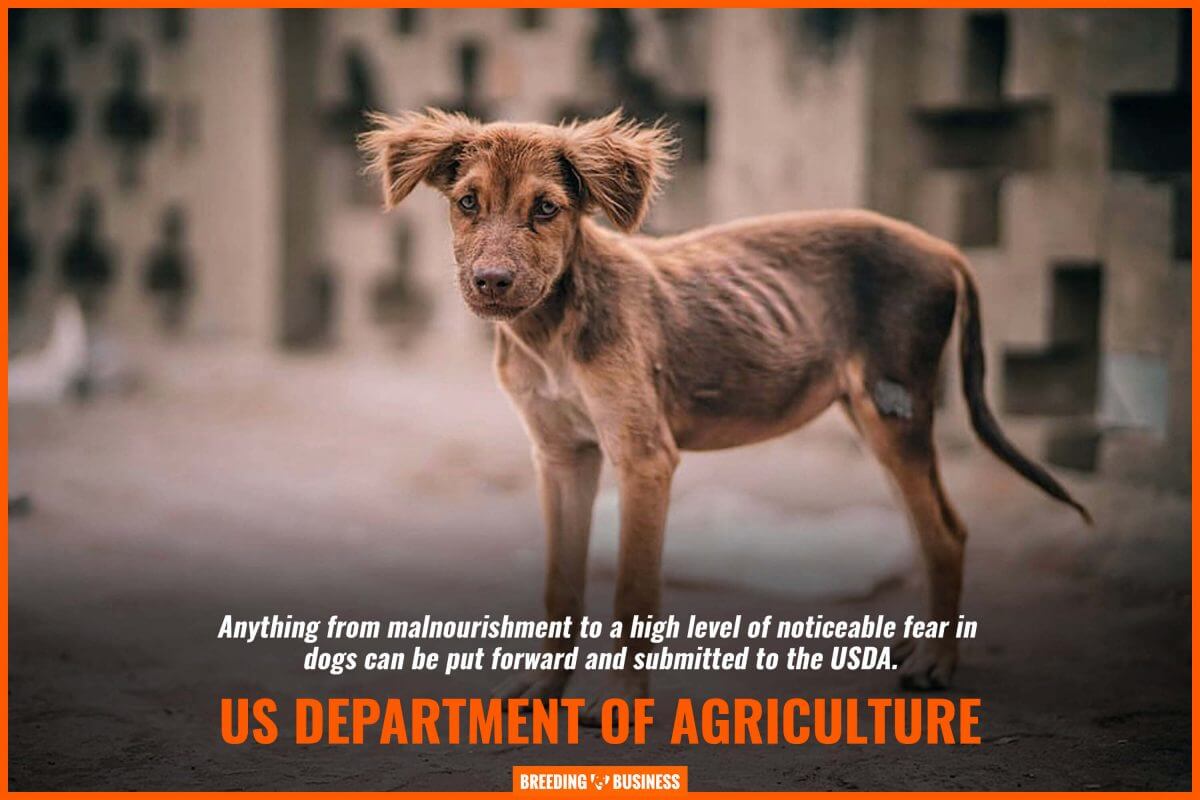 AKC
The American Kennel Club is one of the largest kennel clubs in America. Any breeder that is registered to the AKC is both representing the AKC and is being advertised by them as well. By sending a complaint about their dog care or business ethics, the AKC can further follow this up. If they find this to be accurate, they can prevent any advertisement or acknowledgment of the breeder to prevent anyone else buying from them.
To complain and report a breeder to the AKC, press on the following link. You will have to write a detailed letter about your concerns and complaints. You have to display any evidence and documents you have of interactions with the breeder. Furthermore, you need to include your and the breeder's names, addresses, and contact details. Fax or mail the letter to the following address:
American Kennel Club
Customer Registration Support Dept.
PO Box 900066
Raleigh, NC 27675-9066
Fax – 919-816-4250
UKC
The UKC recommends reporting any serious or legal breeder concern to law enforcement first. After this, they encourage any concerns to be reported to the UKC for examination as they wish to only represent breeders with high welfare and customer policies. However, the UKC "will not become involved in contract disputes, or act as an arbitrator in dog deals". The UKC is another well-known Kennel Club in the United Kingdom. If you wish to report a UKC registered breeder, click on the following link. You will need to to write a letter to the following address to report any concerns:
United Kennel Club
Attn: Problem Resolution Department
100 E. Kilgore Rd
Kalamazoo, MI 49002 Fax: 269.343.7037
The UKC requires that all complaints are handwritten and signed. They must also contain the names of the breeder, yourself, your address, any supporting files and as much detail as possible. The complaints will be recorded and taken to the Disciplinary Action Committee if it requires so.
KC
The Kennel Club is one of the largest UK Kennel clubs and has many breeders registered to it. It is renowned for being the oldest Kennel Club in the world. The Kennel Club has a full form that you are required to fill in and send back to them, follow this link to access the form.
It is very thorough and requires a lot of information. It is known as the assured breeder scheme complaint form and has five sections to complete including your name and address; dog details; contact details of KC assured breeder; complaint information; and your signature. During the complaint section, you need to thoroughly detail the information of the complaint as well as attempts you've taken to resolve the problem and your idealized resolution. There is an expectation from the Kennel Club that you will have attempted to reach a resolution unless the issue is something serious or requires higher intervention. Send this form to the following address:
The Assured Breeder Scheme The Kennel Club Clarges Street
Piccadilly London W1J 8AB
Humane Society of the US
The Humane Society of the US is an animal protection society. You can contact them if you feel any of the dogs in a breeder's care are in poor health due to their actions. This could be you suspecting the production of a puppy mill or backyard breeder, or it could be linked to the puppy's behavior and living surroundings. Regardless of the reason, it is always worth reporting a breeder if you feel a dog is at risk of poor treatment and care. To file a complaint, click the following link.
This form requires a lot of depth from the usual details of name and address to the amount of research you had put into place before visiting the breeder. It asks questions concerning all areas of your discovery of the breeder to the care you witnessed. You are required to submit the form online along with any documents or forms you can submit as evidence or proof of interactions.
FCI
There is no direct complaint form created by the Federation Cynologique Internationale. Instead, if you wish to report a complaint about a breeder to the FCI, consider the following contacts:
Social Media
Social media is a great way to get awareness in any community. Posts on social media are unlikely to prompt legal action against the breeder, but they will spread the word of the breeder's nature. This, in turn, should prevent a potential buyer from looking at this breeder's dogs. If you are interested in preventing new buyers from looking at breeders' content alone, then just use social media. If you want to achieve this alongside legal action, consider contacting the correct kennel club or society as well.
There is not one social media that we recommend above others, however, there are certain areas of social media that will attract more awareness. If you are posting on Facebook, we recommend joining a dog breeding group to get the word out among groups that need to know. In other social media you should consider using hashtags so the post gets more attention. Just make sure that you are not jumping to conclusions or being unnecessarily rude. Be professional but firm and honest.
Breeder Complaints – FAQs
To make sure we have answered all your questions about how to properly submit breeder complaints, we have composed this FAQ. These four questions should answer everything you need to know.
How do I Complain About a Dog Breeder?
The first step is to consider addressing the breeder directly, if you have any concerns, perhaps the breeder will implement change or apologies. This may not be an option or you may not feel it is appropriate because of the situation, you then need to start filing complaints. If they concern the health of a dog or multiple dogs, you should consider the Humane Society of the US and the US Department of Agriculture to report poor dog welfare. You can also consider contacting the kennel club that the breeder is registered to as they will further search the problem and apply disciplinarians if required. If the concern directly affects their contact with you or business ethics and protocols, you should contact their kennel club and even social media.
How do you know if a Breeder is Legit?
You should pay attention to if they are registered to a kennel club and if they have many positive reviews. Kennel clubs employ high standards of ethics and the registration of a breeder often reflects one who aims to uphold these standards. Backyard breeders attempt to avoid any paperwork for maximum profit and ease of sales. You should also look at their reviews. Are they well-known and are many owners positive about their care? The more positive reviews, the more trustworthy a breeder is.
If a breeder discusses a breeder contract, this is also a great sign of high care. Breeder contracts will usually ask for high standards of care and evidence of it being displayed throughout the time of ownership or a year at a minimum. Any reputable breeder conscious of the care of their dogs after the ownership has traded hands shows a breeder that truly cares about their dogs.
Does the Breeder Have to Take a Puppy Back?
Legally a breeder does not have to take a puppy back, morally a breeder should be willing. There are occasions where owners have unexpected circumstances such as a job loss or a family member's death which requires the dog to move homes. Taking the dog back would be the best decision for them and therefore the breeder should be willing to do so. Check out our article dedicated to whether a breeder should have to take a puppy back.
How do I Report a Bad Breeder in the UK?
If you wish to report a bad breeder because of poor care and welfare, contact the RSPCA. If you want to report a breeder generally, it is best to contact their registered kennel club and even social media. The UKC and the KC are two of the largest kennel clubs in the United Kingdom and most breeders represent one of these two clubs. Refer to our explanations earlier for the direct protocol of reporting a complaint to the UKC and the KC.
As buyers and fellow breeders, none of us want to go looking for poor breeders, but you will come across them occasionally. Knowing what steps to take if you feel their actions need to be reported can make a stressful situation much easier. Every dog and new owner deserves respect and kindness from our community, changes need to be made if this isn't the case from a breeder and this is the way to do so.