Only large-scale and professional dog breeders require a kennel license to carry on with their kennel activities. However, the definition of what is a professional dog breeder is different depending on the state you reside in.
Some states require you to obtain a dog breeding license if you breed more than two litters a year. While other dog breeder licenses are primarily based on the amount of revenue generated. Licensing is a complicated topic, just like taxation is, but you must ensure your compliance with your state law and any other regulation in place. Some breeders also want to be licensed in order to show how reputable they are – it can be deceitful, too!
Disclaimer. We are not providing you with legal advice. You must consult a professional in regard to any official or state-sanctioned matter such as dog breeding licensing.
Who Issues Dog Breeding Licenses?
Individual states, as well as federal bodies (e.g. USDA), are in charge of issuing commercial dog breeding licenses and inspecting kennels. This is more of a complex issue for providing a direct answer due to the fact that it depends on the state you live in. Some states require only one authority to issue said license, making it easier. While others states require all authorities to sign off a license.
At least 19 of the states have specified standards of care for breeders or larger kennel operators (e.g. Connecticut). Administrative regulations are issued by state agencies and failure to comply with these state laws can result in revocations of the breeder's license, civil fines, or criminal penalties.
[adwithin]
In general, breeding licenses are required when an individual takes part in a breeding practice for the sole purpose of profit, on a large scale. In some states, like Florida for example, you may need to abide by local laws, however, breeders should always follow the federal and state laws as well. The type of license issued depends on the number of dogs bred as well as the amount of profit generated.
Keep in mind that the AKC does not deliver any type of breeding licenses. They are merely a registry for dogs. Even if they have their own optional accreditations, as many kennel clubs offer, it still does not count as a license. These accreditations do not serve the same purpose as an otherwise, potentially mandatory state license does.
Animal Welfare Act
The federal law governs pet breeders through AWA (Animal Welfare Act). This legislation protects both dogs and cats under and regulates their living conditions.
These laws are applied to breeders who gross $500 or more in profits each year while retail breeders are exempt from such statutes. The AWA requires licensing through the United States Department of Agriculture. Whereas, on a state level, laws are applied to both retail and wholesale pet dealers that sell more than two litters each year.
Local Laws
Commercial breeding laws on the local level issue two types of licenses. Commercial licenses are issued to those that make more than 25% of their income and some local laws charge fees determined by annual sales. In some states, hobby breeder license holders, who breed dogs and cats on a private residence, are limited to only two litters per year.
Do I Need a License to Breed my Dogs?
A formal license to breed your dogs is usually not required. However, it really depends on the state you are currently breeding in. Indeed, each state has its own guidelines local breeders must follow. Breeders need to take into account the fact that the number of dogs being bred makes a big difference. This number often tells whether a mandated license will ultimately be required.
In general, if you're breeding a rather large number of dogs within a given time frame, like within a year for example, then you might be obligated to obtain a commercial breeder license. Many states will also look at the overall number of dogs or animals any potential breeder is breeding at any given time. These thresholds may vary from state to state.
This does not apply to "hobby breeders" who happen to just breed a litter or two every few years. Most dog owners who do not spay and neuter will inevitably face the situation in which one of their dogs begins to breed. Though, most of the time during these standard practices, puppies are given away or raised at home but are not being sold and used for profit.
However, once a breeder breeds a large number of litters, they run the risk of being evaluated and audited. If you are conducting considerable business, you will most likely be asked to get licensed. Additionally, the IRS may be interested in the revenue generated from dog breeding and whether or not you have been properly taxed on the said profits.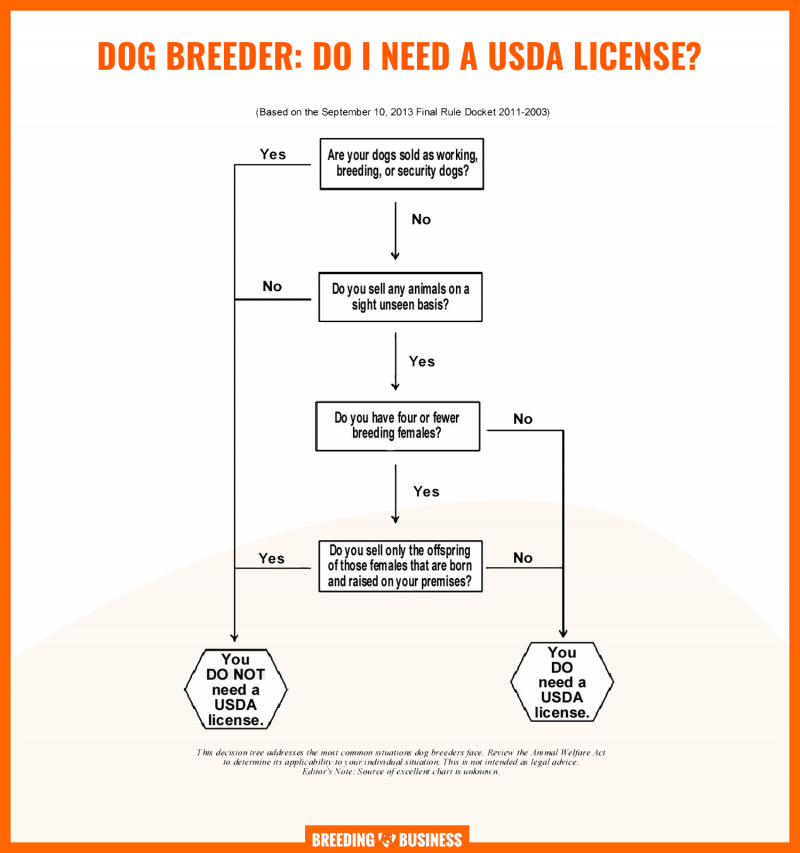 Licensing Process for Commercial Dog Breeding
In order to become a licensed commercial dog breeder, one must follow the necessary process to obtain said license.
From filling out certain forms to receiving the confirmation (or rejection), certain steps need to be taken and various factors need to be evaluated. Many conditions need to be fulfilled in order to obtain an official dog breeding license.
This process will require a lot of time and patience from the breeder which may take up to a few months to complete. Therefore, a breeder must always be aware of the lengthy timeline and plan accordingly. In the process of applying and waiting for a license, breeders should be able to continue with their regulated activities.
Forms & Materials
[adwithin]
The first step in obtaining a commercial dog breeding license is to request the licensing forms at the Animal Care Office in your state. Also, request or download a pre-license information packet that will help you navigate through the paperwork. This packet will provide you with all the initial procedural processes you need to start such as required documents, fees, and general information all breeders must know. At this time, it may be smart to evaluate your facility to make sure it does not compromise any AWA standards and work on correcting any errors.
Application
Next, you must fill out an application for a dog breeding license. Complete the required application and turn it in at the Animal Care Office in your local area responsible for your state. A complete license application includes:
a $10 application fee, and
a Taxpayer ID Form.
These are all necessary material that will be needed in order to apply. These items will then be reviewed by the Animal Care Office of your state before it is sent to an inspector. These required forms can be found here.
Pre-License Inspection
The inspector that is assigned to your application will review all the documents. He will contact you within 10 days from the date they received the application from the Animal Care Office in your area. Only then, the office will schedule the pre-license inspection. You are always free to contact the inspector during this waiting period if you have any questions. These pre-license inspections are the only ones that will be scheduled with an inspector.
After you are licensed, all of the other inspections will be unannounced. Therefore, at this point, it is important that you carefully prepare all your records as well as your facility with the Animal Welfare Act, ensuring you pass the initial inspection.
Time Limit
From the date of the initial inspection, the Animal Welfare Acts Regulations informs that a breeder can have three inspections within a 90-day period in order to demonstrate his or her compliance with the act and regulations.
Therefore, you have 90 days from the inspector's first inspection OR three inspections once the inspector has visited your facility for the initial pre-license inspection, which one of the two comes first, to demonstrate one's compliance with the terms.
If you are ever unsure on whether when you can start conducting regulated activities, then contact your Animal Care Office in your local area.
Preparing for Inspection
The best way you can accurately prepare for the inspection is by being aware and understanding the regulatory standards as well as ensuring your facility complies with official AWA requirements. The inspector will inspect the facility in order to determine if it meets the AWA requirements.
You can find a copy of the Animal Welfare Act regulations in the pre-licensing information packet from USDA APHIS Animal Care. There, you can see the minimum requirements for care, housing, and the general welfare of animals in your facility.
Records
Applicants are expected to provide documentation and records for the inspector's review. These records include a Program of Veterinary Care (APHIS Form 7002) which is a written plan that has been signed by your Attending Veterinary. An exercise Plan from your vet as well as health records will be needed in order to demonstrate health and physical activity plans and statuses.
You will also need to provide an Acquisition of Dogs and Cats on Hand (APHIS Form 7005) as a record to show how the animals on the property were acquired. Finally, a form called Disposition of Dogs and Cats on Hand (APHIS Form 7006) to provide information regarding when animals leave the facility.
Identification
Identification of the animals used for breeding is required by regulations and required on APHIS Forms 7005 and 7006. The dogs must be identified with collars and tags including their USDA number, a microchip, or tattoo. Official license numbers are issued once the breeder is licensed so identify as fully as possible for pre-license inspection and complete once the license is received.
Facilities
Important requirements from applicants include housing details, sanitation processes, and proper husbandry practices. Applicants will have to show that they comply with the regulations in relation to these factors before any licensing can be confirmed.
Inspection
On the day of the inspection, the inspector will ask to be shown around the entire kennel. Inspectors examine the animals and their surroundings in as many details as they wish. They review information and records on the application before moving on. It's normal for inspectors to take photos and videos.
[adwithin]
Then, your inspector provides an educational presentation, discuss vet, husbandry, and exercise plans for the animals as well as answer any questions that the breeder may have. The length of time of an inspection depends on the size and type of facility, the number of animals, and a variety of other factors like the number of records.
In the event that the inspection resulted in non-compliant items shown to the inspector, the breeder will be denied a license which is generally due to:
not complying with federal act or regulation,
found violation(s) of state legislation,
a previous license revoked or suspended, or
failed to submit a proper application.
After the exit briefing, if there are no non-compliant items during the inspection, you will be eligible for the license.
How to Renew a Commercial Breeding License?
The USDA license will be valid for one year from the date that it is issued. The expiration date of the license can be found on the certificate. The renewal fees and application need to be received before or on the date the license expires in order for an applicant to be in good standing.
In the event that the license is terminated due to the failure of proper renewal, the licensee must re-apply for a totally new license. Meaning submitting again a pre-license application. You will have to go through the entire pre-license inspection process again.
It is your responsibility that all the renewal materials reach the Animal Care Office such as:
a completed APHIS Form 7003
a signed item 12 acknowledging the regulations,
an application fee of $10
a license fee which is determined by a fee calculation which comes included in the license renewal packet, and
a Taxpayer Identification sheet.
Once submitted, the commercial breeding license renewal process will take place and make sure you receive a written confirmation within a few weeks. Contact your licensing office if you hear no news after two to four weeks.