As a responsible person breeding dogs, each puppy or adult dog you sell or buy should be accompanied by a well-written contract that both parties understand and agree to. This is to protect the buyer and the seller against terms that are not respected for example.
Why Do I Need a Contract To Sell Puppies & Dogs?
You do not need one like you do not need an umbrella when it is pouring: it is just better with it. It would not be ideal to simply sell the dog with promises about its pedigree, health, and registration, without putting it in writing. The buyer may not believe you and even if they do, they can turn around and accuse you of not having told them that the dog was the victim of this and that.
A contract protects both the buyer and the seller by stating the terms of this agreed transaction from the price to providing the guarantees of the dog's pedigree, vet checks, health screening, vaccinations, registration, etc. All that so the buyer cannot turn around a few months later accusing you of withholding information, and you cannot turn around a few months later asking for me money for example.
The document also overrides any previous agreements and understandings between the two parties and sets the foundation for a cordial and respectful business agreement.
The Perfect Puppy Sale Contract
Unfortunately for you, it does not exist. You have to create it yourself. Different breeders and different buyers have different needs and require different clauses. If a client buys you a puppy because his parents are champions, they will require different terms and clauses that if you are selling a family puppy to the regular household. Each puppy in the same litter sometimes requires different contracts.
There are, however, skeletons and templates that will help you visualize and see the main clauses a contract of sale for dogs and puppies must include. Depending on your situation (the breed, the purpose, and type of the dog), it is essential for you to edit the template(s) you have chosen. For the most basic sales, you can just do with the template directly.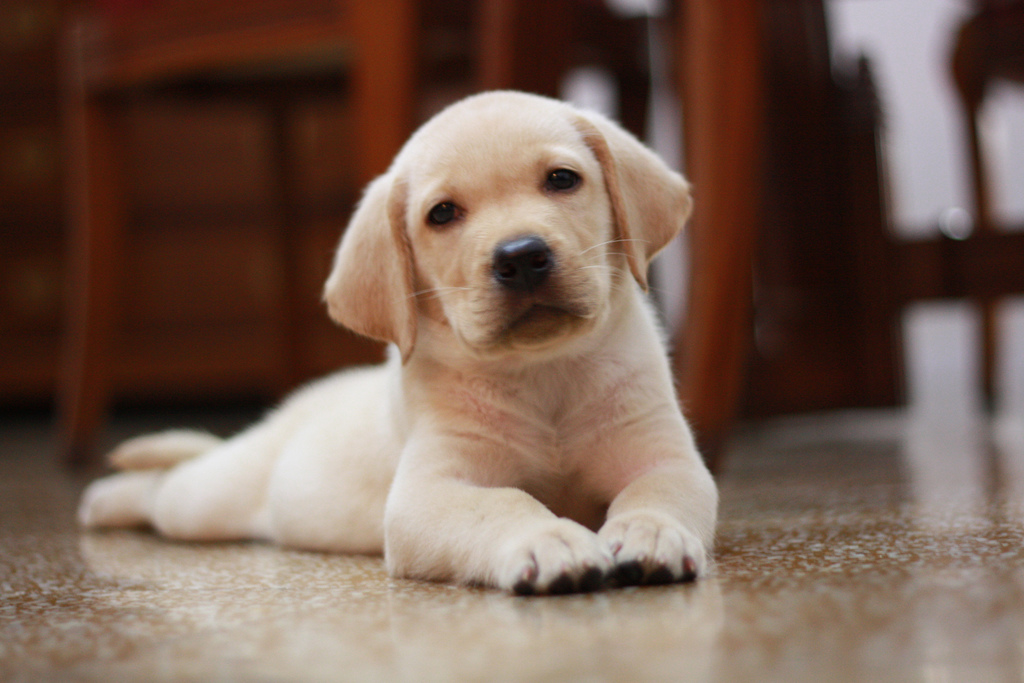 What Basic Clauses a Good Puppy Sale Contract Should Include?
Although each contract should be unique and adapted to the given transaction, there are clauses that should figure in 99% of dog sale contracts, simply because they are basic and every dog-friendly person would expect them to figure on a contract.
Both Parties' Details
To start, you must define who the buyer, the seller, and the breeder are. For any contract made in the entire world, there should be the definition of who is who. Name, address, status (individual, company) and contact details must be clearly written in here.
The Dog's Details
This section describes the subject of the transaction: the dog, or puppy. It must include the puppy or dog's name, sex, date of birth, color, breed or description of the breed and should precise if the dog is registered at the Kennel Club, the International Sheep Dog Society, or any relevant registry and identification company.
If you are the breeder, make sure you also provide all your customers with a copy of the puppy whelping forms along with the growth chart so far.
Identification
If the puppy is microchipped, you should add these details here as well. For each certificate (pedigree), registration (kennel clubs) or identification (tattooed, DNA profiled or microchipped), you must provide a copy or the original of the papers and make sure it is said on the contract that the papers have been provided.
Pedigree & Registration
If the pet is sold as a purebred dog, the pedigree certificate and relevant references must be enclosed with this contract or in the puppy pack.
Parents
If the parents are known, provide as much information as possible. If the parents have been genetically screened and cleared of inherited canine medical conditions, mention it under this section and provide a proof of your claims. List the parents' titles if they have received awards or won championships.
Health & Vaccinations
As an ethical dog breeder, you pledge to have given all the attention, care and precaution needed by the dog while it was under your responsibility. Provide here each hereditary medical condition found in this particular breed and give the results of any tests, checks, and screenings you have made. Provide details of the veterinary practice and/or laboratory where it has been done so you pass all relevant information over to the new owner.
Inform the new owner of the vaccination course for this dog and dog breed. List any injections the dog has already received and precise the dates so the puppy's owner does not give the next injections too soon or too late.
On the contrary, if the dog did not go between your vet's hands, specify it and clearly write that the dog is sold "as is"and that the puppy owner agrees to bring the dog to a vet and has 7 (or more, less) days to bring it back if anything is wrong.
Quality & Potential
Many dogs are bred for specific tasks, abilities or purposes: guide labradors, security guards' Dobermans, protection rottweilers, hunting dogs, herding dogs, showing dogs, etc. Depending on the terms and conditions of this sale, you must indicate if you guarantee the potential of this dog in a specific category or not. Has your border collie been confirmed as a legit and certified herding dog? If not, have his parents been trialed and confirmed?
Obviously, the more guarantees are mentioned in writing, the more expensive the dog will be and the bigger your margin will be. But do not lie or make the reality look better than it actually is or the buyer may turn around a few months later and complain.
Training
Perhaps the dog has been passed working tests or trials but has followed a training course. If so, mention it but also provide proofs and contact details of the trainers to back your claims up and to document the extent of the training.
Pertinent Remarks
The dog being sold might have a specific color or very rare marks/patches: take pictures, describe them and explain why they are important. Perhaps they increase the price or perhaps they deflate it as they are flaws.
Only concrete comments have their place here, there is no need to say the puppy is adorable and calm. It does make no sense in a contract.
The Transaction's Details
This section is more about the transaction in itself than the dog, or the subject: this section should talk about the price, the conditions of the sale, the payment, the return of the dogs, the future mating, etc.
Price
Quite clear, here is where you give the price the buyer will pay the seller in order to become the owner of this puppy/dog.
Not much to say about it apart from paying methods that are not monetary. You may sell this dog but instead of $1,000, require no monetary payment but the first choice of this dog's next/first litter. This happens a lot in the show world where puppies of champions are very important for their future offsets.
[pullquote-right]Better a lean agreement than a fat lawsuit.[/pullquote-right]
Payment
Explain how the payment process should happen, the payment methods, the payment's due date, etc.
Delivery & Shipment
Perhaps the dog will be picked up by the buyer on the very same date the contract is signed but if not, precise how the dog will be shipped to the buyer: company, express service, accident and loss guarantees, etc.
Right to Return
Give your buyer a delay of a few days (usually 7) to use his right to return the dog in case of a medical defect. You should fix the conditions of such a return such as a timeframe given to the buyer but also which medical conditions are valid and which ones are not.
If you want to check the dog yourself before accepting the return, put it in writing here that the dog will need to undergo a medical check at your vet and the resulting outcome will allow or not the return of the dog to you, the seller/breeder.
Rehoming of the Dog
Some breeders want their dogs to come back to them if, at any stage during their life with their new owner, the owner needs to get rid of the dog.
[adwithin]
Other Conditions of Sale
Endless conditions can be attached to a transaction so it is impossible to list them all, but here are some examples:
The dog will have to be neutered/spayed before its first anniversary (XX/XX/2017)
This bitch cannot be bred to a stud without the breeder's consultation and agreement
The stud must take part in 4 dog conformation shows each year for the first 5 years
The breeder (you) must be informed of any litter the bitch is having
Make sure your clauses here are not abusive as it could break and ruin the validity of this contract. Ideally, you want to have a lawyer proof-reading it but let's be realistic, you won't get a lawyer just for that unless you are selling your dogs for thousands because they won Crufts and other famous shows. So simply stay down to Earth and do not ask for too much, and if you do, be sure that it is legally acceptable.
Agreement & Signatures
This last section is the written agreement dated and signed by both parties declaring that on this precise date they have read and agreed to this contract and fully understand its conditions. Everybody signs it, keeps a copy for himself and the deal is done! Congratulations!
Templates of Dog/Puppy Sale Contracts
Like explained few paragraphs above, the perfect puppy sale contract template does not exist and cannot exist. Each transaction is unique and has different needs but we always recommend beginners to use skeletons or well-made templates of dog sale contracts to start with. It is easy to adapt and change them to match what you're looking for better.
The Dog Breeder's Handbook & Contract Library
Most of you know, Breeding Business has created one of the most popular dog breeding ebook out there. It is up to date and packed with the latest canine genetics discoveries, breeding styles, but also contracts, follow-up, puppy packs, etc.
When downloading The Dog Breeder's Handbook, you have included the Contract Library at no extra cost whatsoever. You'll have these at hand:
Go-To Puppy Sale Contract — the go-to puppy sale contract for most people in the most situation with infinite possibilities of changing clauses to suit your context
Skinny Dog Sale Agreement — a skinny, bare version of a puppy sale agreement
Stud Service Contract — the regular stud service contract for most people
Skinny Stud Service Agreement — the bare version of the above
Breeding Agreement — simple contract for regular stud dog breeders
Stud Service Contract With Frozen Semen — lengthy contract full of details made especially for those who will send frozen semen
Sterilization, Spay & Neuter Agreement — a contract to bind the new dog owner to spay or neuter the puppy and not breed from it in the future
Comprehensive Dog Adoption Contract — if you sometimes give your dogs for free (seniors, for example) you need a fully detailed contract covering all grounds, from return policy to a no warranty notice
We believe every dog breeder should have these ready on their computer as it is not something to be taken lightly. For your convenience, these templates of dog breeding contracts are available to download in both Word Document or PDF. Feel free to check out our dog breeding bible!
Kennel Club's Guide to Content of a Sales Contract
This is the UK's Kennel Club's guide to what a puppy sale contract should contain: we have pretty much detailed it in this article but this will give you examples of wording you can use. This is a must-read, and if you need few bits and pieces, you can copy and paste them into your own contract. Click here to download it now (it is a PDF document.)
BVA AWF & RSPCA's Puppy Contract
Wow, this is a huge PDF document containing two parts: the contract in itself, that you cannot edit but you can print and complete with the buyer and then, the guide that explains each question and each clause of the contract. This is a long form that requires some substantial time to fully understand and fill in. The great side is that the buyer will make an informed decision about the puppy he is about to take on, and the costs and responsibilities that go with that. Visit the Puppy Contract download page now!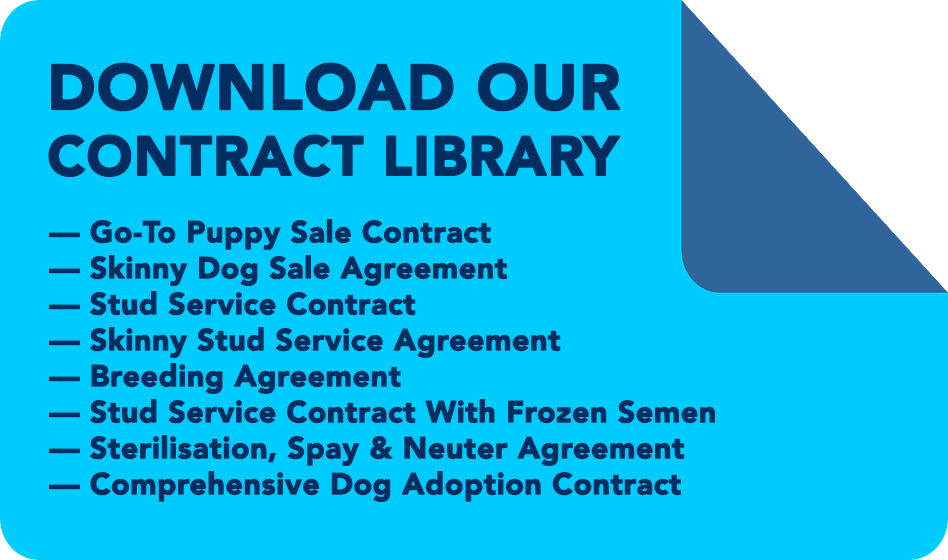 A Skinny & Basic Puppy Contract Template
After the above detailed contracts, this is a very skinny puppy contract template that is easily printable and changeable on Word. It gives you the basic outline for a contract and can suffice most sales once all the information is filled in correctly. You can adapt it to your own sales conditions if need be.
__________________________, Seller, sells to
__________________________, Buyer, the dog described in paragraph 2.
The dog being sold is:
Name __________________________
Breed __________________________
Sex __________________________
Birthdate __________________________
The full purchase price is $ __________________________.
Buyer has paid Seller:
[ ] the full purchase price.
[ ] $_______________, balance due on _______________________.
Seller is the legal owner of the dog described in paragraph 2.
Seller believes that the dog is healthy and in good condition except for the following:
______________________________
______________________________
The dog has had the following vaccinations:
Vaccination Date Veterinarian
______________________________
______________________________
______________________________
______________________________
______________________________
The dog will need these vaccinations next:
Vaccination Date
______________________________
______________________________
Seller obtained the dog from:
______________________________
______________ on ______________
The dog has had the following special training:
______________________________________________
______________________________________________
The dog [ ] is purebred [ ] is not purebred.
The dog [ ] is registerable [ ] is registered
with the American Kennel Club.
[ ] Buyer agrees to take possession of the dog immediately.
[ ] Seller will ship the dog to Buyer.
Date of shipment: ______________________________
Method: ______________________________
To be paid for by: ______________________________
[ ] Dog will be insured for $ ______________________________
Other terms.
_________________________________________
_________________________________________
_________________________________________
___________________ Seller ___________________ Date
___________________ Buyer ___________________ Date