Record keeping charts for breeders are valuable data sheets helping oversee the growth of each puppy thanks to various templates including whelping records and puppy weight charts. Especially when the size of the litter is large, ethical dog breeding practices will require a proper follow-up of each whelp.
Dog breeders doing it all in their heads increase the chances of mistakes because of bad memory and approximations. Numbers entered in record-keeping charts don't lie and should always be your preferred way of doing it.
Record Keeping for Dog Breeders
At first, dog breeders find record-keeping charts a little overwhelming and somewhat of an overkill. A breeder will wonder what do I need to record, and how often, and how to do it properly?
The truth is, once you've got your data sheets and charts ready, it's a piece of cake because it's pretty much self-explanatory. The data you will record for each litter of puppies can be broken down as follows:
The litter's details — information about the litter and the mother's pregnancy
Each puppy's identification — a puppy's ID card with a description of the puppy
Each puppy's health chart — a puppy's weight growth and health observations over time
We've created free printable puppy record templates that we can download and use right now (no signup required).
Alternatively, you can buy some on Amazon for very cheap and they will look much better as per the below picture.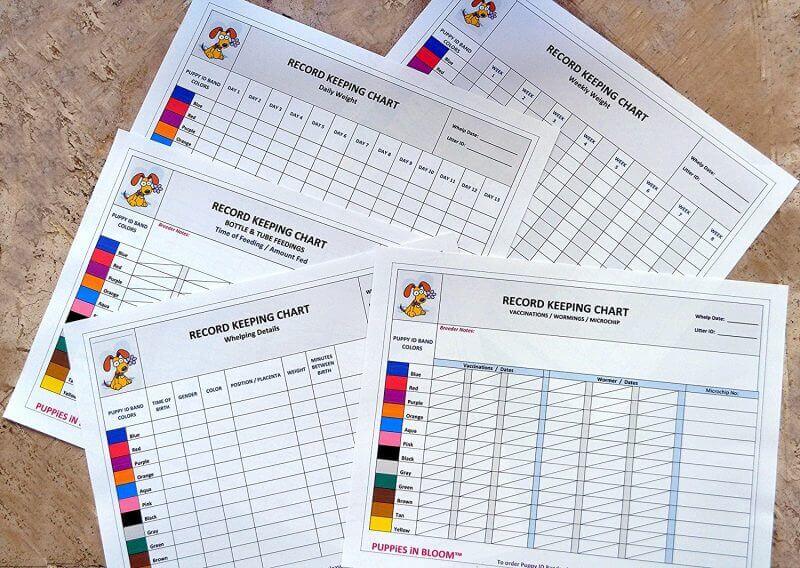 On one hand, the litter's details chart and each puppy's identification chart should be somewhat timeless, so you just create that that one time and they will remain correct pretty much forever. They are just details about each litter and each puppy in each litter. They are more of an identification card than an actual evolution chart.
On the other hand, each puppy's health chart is a spreadsheet that you will enter data in regularly — daily at first, and then weekly. The most important piece of information is the weight of the puppy over time because most health concerns translate into a stagnating or decreasing weight.
Details of the Litter
The easiest sheet to fill in is the one listing the details of this particular litter; it's generally created during your bitch's pregnancy to also reflect how the mother felt throughout the pregnancy, labor, delivery, and nursing stages.
Additionally, take note of the important dates such as:
when the mating occurred,
when the pregnancy started as confirmed by the vet,
when the delivery should occur,
when delivery occurred, etc.
This sheet exists to give you and your vet a complete overview of all important events that happened during this litter.
Imagine if your pregnant female is feeling ill and stops eating, you can quickly see what happened over the last days that could have potentially caused her current state and fix it immediately. Make sure every single vet visit and blood work is recorded as well as all medications and supplements; with dosage, date and time given for each.
Puppy Identification Cards
A puppy identity card contains any puppy-specific information such as its:
name,
gender,
date and time of birth,
coat coloring and pattern,
veterinary checks,
and any medication or supplementation.
Obviously, a puppy will grow and there are going to be visual changes with its coat, for example, but these changes are relatively subtle. And worst case, you can correct it.
When you breed dogs, you should always have a bunch of puppy ID collars of different colors ready. These tiny collars, each of a different color, will help you identify with no possible error which puppy is which. Some breeds have very uniform-looking litters of puppies and make the visual recognition very hard for the breeder, which in turn makes the follow-up hard, too.
A puppy identification card also contains the puppy's ID collar color which helps to identify the puppy with precision, leaving no room for confusion and mixups.
Puppy Weight Charts
Arguably the most important puppy record templates, puppy weight charts exist to keep track of each whelp's weight and health from day one, until the day it joins its new family. It's a very simple spreadsheet (with a lot of lines) because newborn puppies should be weighed in daily in the first few weeks — and their growth should follow a breed-specific chart.
Daily, or weekly, you will enter each puppy's weight and regularly check how is the growth going. We've reviewed the best dog weighing scales if you don't have one yet. If you notice a drop, stagnation or slow progress in a puppy's weight chart, head to your veterinarian as soon as possible. Make sure you bring all the above records to help the vet figure things out.

Additionally to keeping puppy weight records, you should also note any health observation you make, such as if you think the puppy is:
a little shy
not fighting for food
eating less than others
full of energy
dominant
This is helpful if a puppy is visibly weak or ill after three weeks. Indeed, knowing whether it once was very energetic or has always been feeble will help to assess the situation with more accuracy. Make sure you also log the object(s) of each vet visit and the outcome, including medications given.
In Summary
Record keeping charts for breeders can take many forms. It really is up to you how you want to save each piece of information on your charts.
The essential pieces of information about the litter and each puppy should be clearly understandable. Unlike having one child, dogs have a whole litter of puppies that will need to be observed and assessed individually over the next months. Record keeping forms and charts are just an easy printable template for you to keep track of each puppy's growth and evolution.
Download our free puppy charts and free whelping forms or just buy some on Amazon as they tend to look better and are rather cheap.