Dogs heat themselves quite well but during wintertime, it is not enough especially when your dogs are left in non-heated outdoor kennels. This is why we decided to list the absolute best dog house heaters so your dogs can be happy during winter, too!
(Yes, it is definitely possible, I promise…)
The issue with most of the best dog house heaters for winter is that they are either unsafe for daily use, or they just don't do the job well enough. Dogs, especially at a young age, are very fragile beings. When kept outside, dogs do need a little help to keep their body temperature high enough to operate normally.
We've compiled a list of the top 8 best dog house heaters for winter and reviewed each of them below:
When Should I Heat a Dog House?
The weakest dogs are the ones that require warmth throughout the coldest days of winter, especially at night. The weakest include older dogs because of their slower metabolism that doesn't produce as much heat as young and adult dogs.
Pregnant and whelping bitches also need constant warmth before, during, and after the actual delivery, far from any cold air (it can be lethal for the bitch and the puppies.) Invest in a dog heater to save a lot of money on vet bills, especially if you have not invested in one of the best insulated dog houses.
Short-haired dogs are creating a debate among veterinarians and specialists. On one hand, some argue that shorter hair means reduced insulation so they should be offered some extra heat using some of the items we're recommending below.
On the other hand, some vets are explaining that dog breeds such as Doberman Pinschers, Greyhounds, Dachshunds, Boxers, and the likes have different hair structures compared to other longer-haired dogs breeds. These breeds usually don't require extra heating since their insulation is as good as all other breeds.
The consensus seems to be in between. Short-hair dogs tend to have hairs that are hollow inside with air pockets that help improve insulation. However, it would not reach the level of protection against the cold that other breeds can get.
How to Choose the Best Kennel Heater?
Not all pet house heaters have been engineered the same. Some heaters should only be used indoors, while others provide sustained heat but require some manual installation and some safety measures to be taken by the dog owner. We've also written a separate guide on kennel heat lamps which are left out on this blog post purposefully.
Here are the most important features to consider when choosing a dog house heater for winter.
Heating Power
A dog owner in Alaska will have different needs than one in Florida. Whether a dog stays outdoors or indoors will influence your choice, too. Remember that you do want to warm up the dog house but not set it on fire. You should go for a gentle heater instead of being too aggressive.
Go ahead and make the kennel a properly insulated dog house, too so the heat doesn't dissipate but stays within.
Safety Mechanism
A dog house is rarely huge. Therefore, a heater should embed a thermostat that would measure the current ambient temperature at all times to avoid overheating. Remember that dogs cannot sweat so they find it hard to get rid of excess body heat. While you're focusing on warming your dog up, make sure whatever appliance you buy stops the heating when it gets too warm.
The second safety measure to consider with any heater for kennels is the proper distance of your dogs from the heater. If the dog gets centimeters close to the heater, it may burn its coat and skin. Some heavy-duty kennel heaters come with such distance protection already taken care of. Other off-the-shelves products may not provide such reassurance.
Outdoor Usage
Any dog box heater should be used in an environment where its usage is totally safe as per the manufacturer's instructions. Using an outdoor dog heater when it's only meant to be used in a garage or at home is hazardous and can lead to unwanted incidents.
Harsh weather elements can become problematic due to the need for a source of electrical power to run the heater. Rain, snow, and storms can create huge risks so make sure you have the systems in place for keeping your dog and home safe and secure.
Adjustable Thermostat
Pet house heaters should have an adjustable thermostat. This is one of the important features that you must consider when buying dog heaters. Since the weather is obviously unpredictable you might want to purchase a dog heater that has an adjustable thermostat.
Having this feature will help you adjust your dog's heater from time to time depending on their needs. Some heaters for dog kennels even have multiple heat settings that allow you to customize temperature.
Insulation
Installing insulation in your dog's kennel will definitely help you keep your dogs safe and warm. This will also give them protection from extreme cold weather and changes in temperature. Besides this, basic insulation will sustain the temperature inside the kennel that will surely give comfort to your dogs.
The most common heat insulations are fiberglass, mineral wool, cellulose, polyurethane foam, and polystyrene (styrofoam). But if you don't have these in your home, you can also use the following as alternatives:
Wood
Plastic
Rubber
Cork
Fabric
It's important to have insulation to keep your dog healthy and prevent any exposure to extreme cold and heat that weakens your dog's immune system and leads to sickness.
Weight & Size
The size of your pet house heater should be compatible with your dog's kennel. Let's say you own a huge wooden dog kennel, then you should purchase a bigger heater that can insulate and provide heat to your dog house.
To determine the cubic meter of your kennel, you can multiply the height x length x height.
8 Best Dog House Heaters & Heating Pads
Once you are done with the basics, it is time to get yourself a proper dog house heater and you have to choose between a few options: a dog-only heater, a dog heating pad or mat, and a regular heater that is safe to use around dogs.
Here are our buying recommendations in these categories!
1. K&H Lectro Kennel Heated Padded Bed
In my eyes, this is the best dog heating mat since it is built to work indoors and outdoors, and in case anything happens you can redeem their 1-year guarantee.
Thermostatically controlled to warm a pet's normal body temperature, the K&H Lectro Kennel Heated Pad warms due to the insulation your dog's body provides when lying on the pad. It keeps a constant warm temperature while your pet is snuggled on the mat. The heater can emit heat if the insulation isn't sufficient to maintain a comfortable temperature for your dog.
This is why this dog heating pad uses very little energy and won't cost you or the environment much in the long run. A cheaper dog heated mat should cost you more after a few weeks of use with the electric bills.
Made using very soft materials, the K&H Lectro Kennel Heated Pad is orthopedic, and even works in sub-zero freezing temperatures. It is the perfect mat for senior dogs and puppies who need perfectly warm and snuggly dog bedding.
2. K&H Manufacturing Lectro-Kennel Heated Pad
Delivered with a free fleece cover for extra warmth, this best dog house heater for winter will keep your puppy or dog warm at a very reasonable cost. Designed for outdoor use, it has been safely designed to ensure your dog remains comfortable in his kennel or dog house, even during the coldest days of this winter.
Only using 80 watts for its electrical supply, this dog house heater is planet-friendly while being one of the best kennel heaters to use in your barn, garage, or covered kennel. Simply place it on the floor and let the magic happen! Within minutes of turning it on, your dog(s) will feel the warmth.
Not just efficient, it is smart too! This heating pad for dogs is thermostatically controlled to never go beyond your dog's body temperature. That way, it will automatically stop or decrease heating when your dog has reached its normal temperature. Obviously, it automatically resumes as soon as there is a small drop in temperature from your dog.
3. Akoma Heat-N-Breeze Dog House Heater
Sure, it is not a cheap product but it is well-built: when I received the product, I noted its sturdy construction. After opening the box, just place it on your table and plug it in. Make sure the thermostat is set to the off position and begin to turn it on. The thermostat will click and the unit will quickly start heating up. This is followed by 2 to 3 minutes of that new oily-type smell but it quickly dissipates.
The heating unit does get warm to the touch and I mean warm, not burning. The top and front are warm and the bottom is cool to the touch. I ran it for about 1 hour on my counter with the thermostat on high. By the way, the thermostat basically controls just the on or off settings. When it's on, there is no half heating or 25%. Heat shields protect your pet from getting burned, and it does work very well so no need to get stressed or worried about it.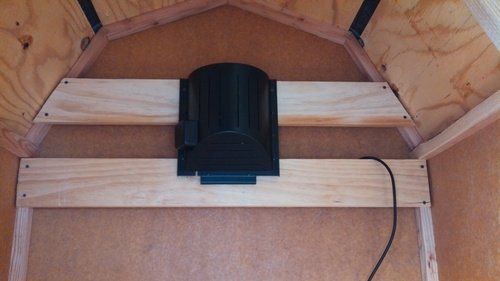 If you're planning to purchase a pet house heater, make sure to insulate the walls, floor, and ceiling of the dog house. That way, you can turn your heater on a lot less and even set the thermostat to the lowest setting if applicable. Insulation works with special foams, or by thickening the walls using wood.
4. Vornado AVH2 Whole Room Vortex Heater
Not built for dogs specifically, this heater has been built for nurseries and kid-friendly environments. So yes, it is even safer and better.
A great feature is that the Vornado AVH2 Heater will run on lower power and only uses as much wattage as is needed to heat the room. My other heaters would run full blast until it hit the desired temperature, then turn off, repeat over and over. With this one, you'll save a lot of money on your electricity bills.
The Vornado AVH2 Room Heater has three rocker switches for the power switch, heat level, and fan speed; it has a dial for temperature. There are no toggles or random digital settings. That means you can cut power to it, then restore power, and it's right back to where you left it — same settings, everything.
Very sturdy construction meaning that you are offered a heater that can be trusted when left with dogs and other pets around. Its solid construction is completed with advanced safety features to prevent it from tipping over. It has an automatic safety shut-off system for worry-free use, especially when you are leaving the heater out of your sight.
5. De'Longhi HMP1500 Mica Panel Heater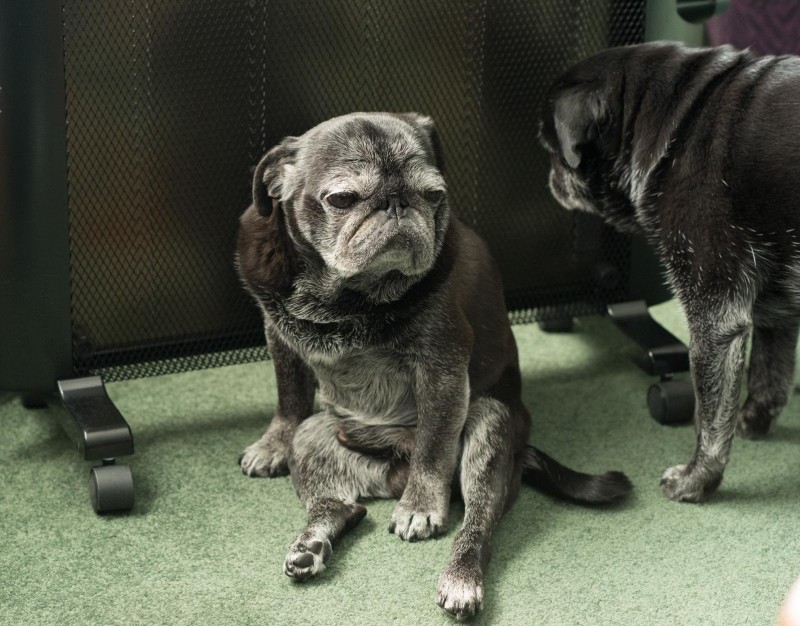 A lightweight and sleek way to heat your room or kennels, the De'Longhi Mica Panel Heater has Micathermic technology for efficient, safe, consistent, and discrete heating. No more noise, no more danger, no more shame. This is a stylish heater for dog breeders who have their dogs indoors or in a garage, away from the elements.
Mica technology also provides multidirectional warmth to ensure a consistent temperature in every corner of the garage or room. To prevent overheating, the De'Longhi Heater has a thermal cut-off feature that turns off the heater automatically if it becomes too hot. Power and caution lights ensure safe operation, while an internal switch triggers automatic shut-off if the unit tips over or becomes unstable.
It provides all of the great radiation and the type of heat which maintains the temperature of the room quite well, without having to wait forever to feel comfortable. The low profile gives many options on where to put the heater.
For our UK-based readers, the best substitute for the De'Longhi Mica Panel Heater would be the Futura 2000W Electric Heater.
6. EconoHome Wall Mount Space Heater Panel
This home heater can also be used inside your home or in your dog's kennel. Using this energy-efficient heater panel, you save up to 50% of your heating costs. The Econohome heater panel consumes 0.4 kW/hr that's less than ⅓ of the electricity compared to other conventional space heaters.
It has an updated crack-resistant version that features an upgraded durable triple reinforced and is made with a superior calcium silicate material. This prevents any overheating and makes this heater panel safe to leave unattended.
It's also easy to install and has a unique paintable design that can blend in your dog kennel. Also, it has no noise, no fans, and no vents so your dog's hair won't circulate in the room.
This heater is also ideal for a 120 sq. ft room, it operates at a constant temperature and circulates heated air around the room.
7. FIADA Flat Heater with Anti Bite Cord and Waterproof Control
A great heater for home pets and animals, the FIADA Flat Heater uses 100 or 200 watts that can heat up to 140~167℉/60~75℃ – which is a comfortable temperature for your pet and won't burn hairs.
This dog heater meets UL standards and has a built-in thermostat that helps you adjust the temperature easily. The plug wire is durable and is made from anti-bote materials that prevent overheating and electrical fires. It also has a thermally sensitive sticker that will alert you to the condition of the temperature.
You can also install it in two ways – standing style or a wall-mounted style. Unlike other high-wattage heaters, this flat heater produces zero noise and lights which won't disturb or scare your dogs.
8. Pecute Pet Heating Pad with Chew Resistant Cord
Compared to other pet heating pads, the Pecute heating mat has 6 layers of protection structures – waterproof PVC, soft fireproof sponge, fire retardant cotton, heating wire, soft fireproof sponge, waterproof PVC.
Its 1.8 anti-bote iron cable, chew, and pull-resistant is free of electric shock which makes it 5x safer to use in your dog's kennel. A 2 built-in 55°C/131℉ overheating protectors that help prevent high-temperature combustion and slow thermal balance.
The Pecute heating pads are sealed with an eco-friendly medical soft PVC that are not easily scratched, IPX4 waterproof grade, urinary, and power leakage proof. It also has a built-in fire retardant cotton and uniform wiring which makes the heat transmission more uniform and reduces any electrical risk.
So far, this may be the safest heating pad in the market. If you want to make sure that your pets are safe and comfortable in their kennel, this dog heater is a must-buy!
The Basics of Heating a Dog House
Before investing in a top-of-the-line dog house heater, you should start by checking and setting up the basics. There are a few things that everybody can do that cost nothing or very little. Save some money when it comes down to picking the best heater for your dog house by reading through these basic tips.
Dog House Flooring — ideally you want to have an elevated dog house floor, away from the actual ground. That way, your dog's house floor will not be influenced by the ground temperature. Insulated wood is your best choice but if you don't have that available, get a wooden pallet somewhere and place the dog house on top of it!
Size of the Dog House — we all want the biggest, tallest and largest dog house for our dogs but when it is winter, you want it to be large enough so your pooch can turn around and stretch, but small enough so your dog's body temperature manages to heat the dog house. Using insulated walls will help to keep the heat within.
Cold Air Streams — it is common sense to never place your kennels in the middle of a cold air stream or next to a door if you keep your dog house indoors.
Dog Heating Pads — probably not enough for dogs spending a lot of time outside the house, dog heating pads are usually enough for dogs sleeping indoors or in a conservatory. They will provide enough heat to have your dog feel comfortable during very cold days. Most of them are adjustable so you can adapt to the weather. However, and it is understandable, many owners do not want their dogs to be sleeping on an electric device even if it advertises a high level of safety.
Top Dog House Heaters & Dog Heating Pads: FAQ
What kind of heater can you put in a dog house?
You can place a dog-friendly electric heater in your dog's kennel. Do not use huge space-heaters that are meant for human houses since they easily harm your dogs or worst, cause a fire.
How cold is too cold for a dog?
You can monitor your dog's temperature by being observant of their gestures. If it's too cold for your dog they will whine, shiver, slow down, and look for a warm place to burrow.

Generally, temperatures that fall below 45° F can make cold-averse dogs uncomfortable. And when it drops to 32°F, elderly dogs, small dogs, and dogs with health conditions are recommended to stay indoors.
Are heating pads safe for dogs?
Purchasing quality heating pads are safer for your dogs. Some of it may be too expensive but this will surely prevent you from any accidents.

Malfunctioning heat pads are known to cause severe burns to your dog's fur or skin, or even kill dogs. To prevent this, make sure that you'll purchase pet heaters that are made of high-grade materials.
What is the difference between a pet heating pad and a human heating pad?
Compared to human heating pads, pet heating pads have subtle heat. Because of this, it's not ideal to use a human heating pad for your dogs because it can damage your pet's skin since it can be too warm for them.
How do you keep a dog house warm in the winter?
Besides installing a dog heater, you can keep a dog house warm by adding a bed, ensuring that the kennel is sealed, placing a dog door, adding insulation, and giving your dog warm clothing to protect them from the cold weather.
How warm should a dog house be?
During winter, the best dog house temperature is between 68°F to 72°F. This temperature will keep your dogs cozy and safe inside their homes. You can also give them an extra blanket and don't set the heater's thermostat lower than 60°F.
Will a light bulb heat a dog house?
Light bulbs can somehow raise the temperature in a well-insulated kennel. A standard 150-watt lamp can raise the heat between 5° to 30° F. But this still depends on the size and condition of your dog's house.
What room temperature is too hot for dogs?
Room temperatures that reach 80° F and above are unsafe for your dogs. Make sure that your heaters are set at the right temperature to prevent any life-threatening heat that can cause danger to your dogs.
These are what you should do right now after you read this post. Everybody can do it and everybody should do it. Your dogs will thank you later…