Grooming is one of the most crucial parts of caring for a dog. To keep your dog's fur shiny and healthy, you must save it from matting, excessive shedding, and drying. So whether you are a professional at grooming dogs or simply a loving owner, here are the best dog clippers for professional groomers.
12 Best Professional Dog Grooming Clippers
We have gathered the best professional dog clippers for your beloved pet. But, before diving deeper into what other users say, pros, cons, and other important information about each product, here's a quick comparison of the top dog clippers.
1. Kenchii Flash 5-Speed Dog Hair Clipper
On top of the list is the Kenchii Flash 5-Speed Dog Hair Clipper with a rechargeable, long-lasting lithium battery. Once fully charged, you can use this professional dog clipper for up to 6 hours. It also has a recovery charge technology that helps care for and extend the battery life. Moreover, you can use this clipper for small breeds and large breeds of dogs.
Additionally, this dog clipper is pet-friendly, with its low-noise technology and gentle trimming. You can also choose from the 5-speed smart motor with Smart Chip Technology that boosts power when necessary and feels blade resistance. The blade will run quieter, smoother, and will last longer than other grooming shears to help your dog stay calm.
If you are a beginner in using any professional dog clipper, start with the lowest speed and gradually increase as you grow more confident. Furthermore, this lightweight dog clipper has a smart LCD that shows the battery life, speed level, and whenever the blade needs cleaning. Since it is cordless, it stays cool, and the blades are not overheating.
According to reviews, it is pricier than other competitive brands. But, it is worth its price because of its functionality and quality. It also prevents burning the socket that may cause a fire in the house.
2. neabot P1 Pro Pet Grooming Clipper Kit
Another best professional dog clipper on the list is the neabot P1 Pro Grooming Kit and Vacuum Suction. It is an all-in-one professional grooming kit with five different tools along with the clipper. This dog clipper includes a de-shedding brush and grooming brush to help prevent damage to the topcoat. It also promotes healthy, smooth, and soft skin and coat.
Additionally, it has a cleaning brush and nozzle head to help clean and collect your pet's falling hair on the floor, carpet, and other furniture. As we all know, old models and traditional dog clippers can bring many furs all over the house. But this P1 Pro Grooming Kit comes with 99% vacuum suction that collects hair into the container for easy disposal.
Similar to the first product, it also comes with guard combs. The clipping comb can be adjusted from 6mm, 12mm, and 18mm to 24mm for a more convenient combing and increased safety for your pet. Moreover, it has a low-noise feature that helps your dog to stay calm. Based on experience, you should brush your dog's hair and give some treats before starting to cut their hair.
This process helps reduce dog anxiety regarding dog clippers and vacuum sounds. According to some customers, it is not cheap but worth the money. Some non-sponsored influencers are even promoting this grooming kit. However, although these dog clippers suggest that it has a low-noise feature, they are still noisier than other products on the list.
3. Artero Spektra Professional Hairstyling Trimmers
Third on the list is the Artero Spektra Professional Hairstyling Trimmers with a 5-speed setting. It can work both cordless and plug-in. This dog clipper has been made faster, easier to use, and has longer battery life. However, it can only last for an average of 4 hours and 15 minutes with continuous use, which is almost 2 hours less than the Kenchii Professional Dog Clipper.
Using the lowest speed, which is 5000 RPM, can last for about 250 minutes. The 5500 RPM can last for 235 minutes, 6000 RPM can be used for 205 minutes, 6500 RPM can run for up to 200 minutes, and the highest speed, which is 7000 RPM, can only last for 190 minutes or around 3 hours. It also has a battery level indicator. Moreover, the charging time can last up to 3 hours.
You can use mineral oil to clean and prolong the blade of this dog clipper. After using it, you can apply at least two drops of mineral oil between the teeth of the blade. You can also use the Artero Oil Spray to protect against rust and ensure the blades are disinfected. Once dry, store the dog clipper in a safe and proper environment and storage to prevent damage.
According to some reviews, it works quietly, keeping your dog relaxed and the grooming process less stressful. Unlike the second product on the list, this dog clipper will do its job calmly and without raising your dog's anxiety.
4. Andis 22340 ProClip 2-Speed Detachable Blade Clipper Professional Animal Grooming
Andis is one of the most well-known brands when it comes to dog clippers. Its powerful 2-speed detachable blade is suitable for all breeds, sizes, and coat types. It runs at 120V for cheaper electricity consumption.
Moreover, it has detachable blades which you can easily clean and change. You can choose from different kinds of blades for the versatility and efficiency of the cut. Its motor has a high power which can finish the job well and easily. However, it is not cordless. It has a 14′ heavy-duty cord for easy movement around objects and other creatures.
Furthermore, this dog clipper has shatter-proof housing, which can protect your dog from debris and other unnecessary broken parts. You can choose the cordless version of the Andis dog clipper for a more reliable and convenient dog clipper.
Some dog owners complain that this dog clipper has no low-noise feature, which can scare their dogs and cause them to hide, making it more difficult to groom them. It is also heavy compared to other products on the list.
5. oneisall Dog Cat Grooming Clippers for Matted Thick Hair
Fifth on the list of the best professional clippers for dogs is the oneisall cordless grooming clippers. This is specially crafted for dogs with matted thick hair. The cordless feature makes it easier and more comfortable to use, especially for moving pets. It is also lightweight, making it more suitable for home use and beginners.
Moreover, it has a low-noise feature, just like the other products on the list. With this feature, your grooming sessions will be faster and more convenient for both you and your dog. Additionally, it has a long-lasting, powerful, rechargeable battery with a maximum capacity of 4 hours. Once all is used up, you can charge for only 3 hours, and it will be ready for another grooming session.
Furthermore, it has a very helpful LCD which shows the charging and battery level status. Its motor is also powerful, stable, and wear-resistant. Also, it is very efficient in cutting through matted dog hair. According to reviews, it is very decent for its price and functionality. Additionally, it has a very quiet motor that you can use at any time of the day (but we suggest to use during the daytime for safety purposes).
6. Holdog Professional Heavy Duty Dog Grooming Clipper
Now, halfway on the list is the Holdog Heavy-Duty Professional Dog Clipper. This grooming clipper has a detachable titanium-ceramic blade that has 33 teeth. It is combined with the moveable blade, long coat, and wavy coat design, making it easier to cut double coats of dogs.
Additionally, it has a traditional 24-tooth cutter head, making the cutting even smoother. The heat dissipates uniformly, resulting in a more durable dog clipper. Moreover, it has low-vibration and low-noise features, which prevent stressing your dog. This dog clipper has only around 50 dB when working, which is safe for dogs.
Furthermore, this product has heavy-duty gear that supports powerful cuts while keeping it steady and stable for added control. This is the best professional dog clipper if you prefer to use a powerful tool without producing too much noise and heat. You can charge it for only 3 hours and use it for up to 4 hours to accommodate full-body trimming for small dogs.
Customers say that it is easy to use, has a good design, and with regular and proper cleaning, the blade will last very long. You can also choose from 6 attachment combs to make grooming time more convenient and safer. However, it is not suitable for large and very furry dogs.
7. Andis UltraEdge Super 2-Speed Detachable Blade Clipper, Professional Animal/Dog Grooming
Another product from Andis is the Super 2-Speed professional dog clipper. Unlike other brands on the list, this tool is suitable for all types of coats and all breeds of dogs. So, you don't have to worry if your dog is small or big, furry or not, because this professional grooming clipper will be available for your dog.
Moreover, Andis Ultraedge has 120V, but with extra care and noise reduction for your dog. It also has a detachable blade design that is easy to clean and change when necessary. Furthermore, it has a super 2-speed rotary motor for high performance, which makes it suitable for fur parents with more than one pet that needs to be groomed.
According to some customers, it has shatter-proof housing. The long cord has its advantages, but they prefer the cordless dog clipper more.
8. HANSPROU High Power Low Noise Plug-in Pet Professional Grooming Clippers with Guard Combs
Hansprou High Power Professional Grooming Clippers has a 12V high-speed, powerful motor. It has a plug-and-play feature that there is no need to charge. Additionally, it does not stick hair and provides a stable and strong power. You can use this clipper to cut through your dog's hair smoothly.
Moreover, it has a detachable ceramic moving blade and titanium alloy blade that provides excellent cutting. These blades are also easy to clean and change. Compared to the ordinary Hansprou clippers, it is more efficient and durable. Hansprou's dog clipper can cut even long and curly hair.
This dog clipper has an ultra-quiet and low-vibration design of only about 50 decibels. It keeps your dog calm and at ease. It also has 4 guard combs and 5 level shifts to easily adjust the angles of the clipper depending on your dog's body. Further, it has two adjusting modes for different lengths of hair.
9. Wahl Lithium Ion Pro Series Cordless Animal Clippers
With its 100 years of service, Wahl cordless professional dog clippers are trusted by many dog owners. This efficient, convenient, and cost-effective dog clipper can be easily used at home or by professionals. It creates a stress-free environment and cleaning session with its low-noise feature compared to human clippers.
Moreover, this dog clipper can be cut from small breed dogs up to large breed dogs. It can also cut smoothly through all kinds of fur. You can also save money, time, and effort if you use it. Another good thing about the Wahl dog clipper is that the precision blades are self-sharpening and provide a smooth and snag-free cutting.
The carbon blades keep your pet safe and stress-free during grooming sessions. If you prefer grooming at home, you can use this professional grooming kit for your dog. For a quick trim, you can charge it for only 15 minutes. However, a full charge can take 3-5 hours. It can only be used for 2 hours. So, if you have multiple pets at home, you must recharge before the next.
10. Oster A5 Hair Clippers for Dog, Cat, and Pet Grooming
Oster A5 Professional Pet Grooming Kit provides more strokes per minute–which are 3,000 SPM and 4,000 SPM. It also has a wider blade for faster clipping and more coverage in less time. It's powerful, and the heavy-duty motor has two different speeds.
This grooming clip is ideal for horses, dogs, cats, and livestock. The Oster A5 is compatible with a detachable Cryogen-X blade, Elite Cryogen-X, and Take Down Quick Wide blade series. The detachable blade system can be easily cleaned and changed.
Moreover, the grooming kit includes blade oil, cleaning brush, clipper grease, detachable #10 CryogenX blade, and other carbon brushes. According to reviews, the major downside of this dog clipper is it gets hot easily, but that doesn't affect the performance of the brush.
11. AIBORS 12V High Power for Thick Heavy Coats Quiet Plug-in Pet Electric Professional Hair Grooming Clippers
Next on the list is the Aibors has powerful 3.5V lithium-ion battery clippers. It also has a high-quality rotary motor that can remove dog hair without pulling or snagging and a premium copper spindle. Additionally, it has a 26-teeth titanium-ceramic blade made with high-tech nanotechnology.
It is 10 times sharper than steel clippers making it suitable for curly, wavy, thick, and long coats. It is better than a traditional steel blade. Moreover, it does not overheat, unlike other products on the list. Further, it has 4 adjustable clipping combs (3mm/6mm/9mm/12mm) that are suitable for different hair lengths.
The trimmer blade can cut precisely (1.0mm/1.3mm/1.6mm/1.9mm), making sheering quick and easy. It can help you cut various hairstyles easily. This Aibors grooming kit has all the tools you will need for pet grooming. It includes guide combs, a cleaning brush, and an electric clipper, perfect for all kinds of coats and breeds.
12. oneisall Dog Grooming Clippers for Thick Heavy Coats
Last on the list is the oneisall Dog Grooming Clippers for thick heavy coats. This cordless dog clipper has stainless steel blades which are more durable compared to ceramic blades. These blades are also made with precision.
Moreover, it has a powerful motor that provides 2-speed options. The motor can support from 6000 to 6500 rpm which is suitable for dogs with short, long, thick, or thin coats. This motor is more suitable for thick coats since it reduces hair-pulling possibilities.
Furthermore, it has an LCD indication that shows the control and how much battery power is left. The battery can last up to 5 hours with 3 hours of charging time. Additionally, it has a low-noise feature that keeps your dog calm and stable.
How to Choose the Best Professional Dog Clipper
Each dog has different needs, including grooming needs. You should choose the right professional clipper for your dog to ensure they are safe and happy. If you have multiple dogs, you should at least have an A5 clipper. If you have small dogs, then you need to use guard combs.
Type and Material of Blade
The type of blade and materials used are very important. Titanium blades are more cost-effective than other materials but can heat up quickly. Ceramic blades can't heat up faster, so it is ideal for multiple pets and longer grooming sessions. However, these blades are more expensive.
When cutting through coarse and matted dog coats, your dog clippers should cut through very smoothly. If not, they aren't powerful enough to clip dense dog coats. Such requirements are usually expressed in Rotations Per Minutes, or RPM. It's basically how many times in a single minute does the motor fully rotates.
The best professional dog clippers often offer a lot of power and high rotations per minute, but very rotary speed inevitably generates a lot more vibrations and noise. If you are using the clippers for a while at full speed, your dog may even be discomforted by the heat emitted by the clippers. So as a dog owner or groomer, you need to find the best dog clippers offering the right balance between power and speed versus noise, heat, and vibrations.
Various Speeds
Professional dog clippers offer different speeds to assist first-time groomers. Moreover, these speeds can help the clipper be more appropriate and safe for your dog. You can select the proper speed for short-haired dogs, curly-haired dogs, and so on. Varying speeds can also help get a clean cut for your dog.
Single-speed clippers are often better for home use as they are robust and lighter, whereas multi-speed clippers can be used for versatility in coat types and precision or speed clipping. One is not better than the other, it depends on what you require.
Guide Combs
These combs come in different sizes for more precise and safe grooming. If you want to trim around your dog's body, guard combs are very useful. Most professional dog clippers on the list come with different guard combs.
Other Accessories
Cleaning brushes, extra blades, cleaning oil, and other necessary accessories of a grooming kit are very important to ensure that you are making the grooming session worthwhile. Other accessories can also help the clipper last longer.
Low Noise Feature
Your dog's peace is also important. To keep your dog calm, you should choose a dog clipper with less than 80 decibels to ensure that it is appropriate for dogs. Additionally, it is one of the big differences in human clippers. Human clippers have more noise and vibration, which can be stressful for dogs.
Corded or Cordless
A cordless dog clipper can be your best choice if you have a small space and your dog doesn't stay still for long. Moreover, it can reach difficult areas and is ideal for finishing and trimming. However, cordless clippers tend to have shorter working times because the batteries can deplete in less than 5 hours.
Cordless dog clippers are also slower, so your dog's coat has to be pretty soft and supple. This is because corded clippers can draw as much electricity to run as they want – energy is not a limitation when plugged in! Think about that before opting for a cordless pet clipper.
That is where the advantage of corded dog clippers comes in. However, a corded dog clipper is heavier and can be hard to use in some parts of your dog. Choose the one with a durable and long cord for more convenient grooming.
Temperature
It is normal for devices, either corded or cordless, to heat up because they release energy. However, overheating is the problem. Make sure that your dog clipper is not overheating because it can burn and irritate your dog's skin.
Durability
A dog clipper made with great material can last longer than the others. You can use a dog clipper for more than a year if you take good care of the blade and it has a shatter-proof housing. Durability is necessary as you do not want to buy a new one every now and then.
Functionality
Each dog has a unique coat length and type. Choosing a dog clipper that can function according to your dog's needs is important.
Safety
Aside from all the physical features of a dog clipper, being safe for your pet should be each company's priority. There are some dog clippers that can clog or jam the pet's hair on the blade while cutting. If this happens often, there are possibilities that your dog's hair will get stuck, and it will be painful for your dog.
Ease-of-Use
Not all groomers are professional or experienced. An easy-to-use or beginner-friendly dog clipper has an edge for first-time groomers. It should be easy to turn on and off, clean, and store.
Size & Weight of the Clippers
Other points to keep in mind are the size and the weight of the clippers as they will both certainly make a huge difference. Most modern clippers and all of the ones listed below have been designed ergonomically so your hand enjoys the hold, for long durations.
A lighter and more compact dog clipper will make maneuvering around the dog a much easier task, and if you are grooming several dogs quite often, this becomes a priority. Lightweight dog clippers allow you to avoid wrist fatigue, for example.
However, the lighter the clippers, the more the dog and yourself will feel the vibrations, especially with powerful dog clippers at the highest speed. Also, in order to provide the pet with a sharper detailed cut, a heavier and more stable trimmer will be favorable.
Maintenance
This is one of the crucial ways to keep your dog clipper in good condition. Buy a professional dog clipper that is easy to clean, has detachable and easy-to-change blades, and comes with a cleaning brush and oil.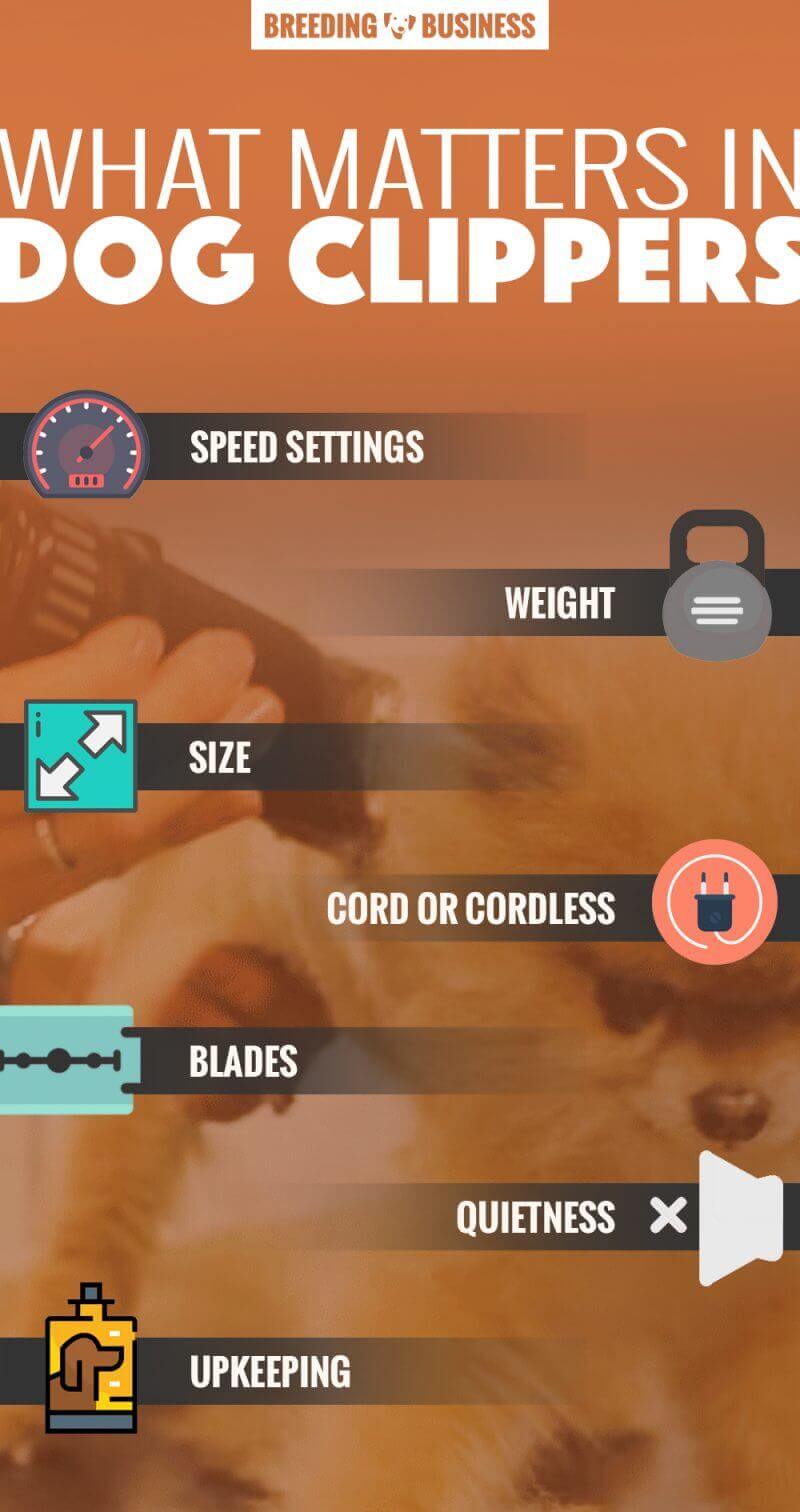 Other Safety Tips from Veterinarians and Professionals Groomers
Again, before buying a dog clipper, keep your dog's safety at the top of your priority. So, here are other safety tips from veterinarians and other professional pet groomers.
Make sure that the blades are firmly and properly attached
Check the teeth of the blade and ensure it's all complete. Change the blade if it has incomplete teeth.
Dog clippers should be used carefully, even if you already have experience.
Be keen on your dog's reaction, especially when grooming sensitive areas such as the face, neck, legs, and groin.
Never use human clippers on dogs.
If your clipper is new, take time to read the instruction manual.
Keep the dog clipper clean and ready to use.
Check for overheating or battery level.
Work slowly to get the result that you want and prevent causing injury to your dog.
Excessive grooming can be considered animal cruelty.
How to Trim Dog Face Hair With Clippers
Firstly, be sure to use smaller, more precise, and quieter dog clippers. There are also a few steps you need to follow.

1. Pick the right clippers. These need to have a low chance of overheating due to the sensitive areas they affect. They should also be quieter and vibrate minimally to bother your dog as minimally as possible. They also need to be small and able to apply a detailed trim to your dog's face

2. Decide what needs to be trimmed and how much. From your pup's mustache to their eyebrows, having a plan helps to speed up the process as to make things as calm for your dog as possible
Start with your dog's ears, trim, and shape the ends with scissors, and then clip underneath your dog's ears to minimize future internal irritation

3. Use scissors to trim the hair around your dog's eyes and eyebrows, make sure that the fallen hair does not go into their eyes

4. Then use the scissors and clippers to tidy and trim the hair around and on your dog's muzzle. We recommend working your way down the muzzle and finishing the hair cut at your dog's chin

5. Neaten everything up and check for any patches you have missed. Make sure their excess trimmed hair has been wiped off their face so it does not bother them

Every individual is different, alongside every breed's fur length and location. Check the AKC for breed standard cuts while also looking at videos for what groomers and other owners recommend.
Dog Clippers: FAQ
Do you still have questions in mind? We got you! Here are the answers to the most frequently asked questions about professional dog clippers.
Using a professional dog clipper can be intimidating at first. But the right dog clipper can help you get through the first stages of grooming your dog. Follow the tips and guidelines above to choose the right professional grooming clipper for your pup.