Wouldn't it be great to buy the best small clippers for dog feet and paws to groom your dog's hairy paws? Dogs are hairy beings, and we love them for that. But it's necessary to trim their fur now and then to keep them looking neat and disciplined.
Your dog also feels more comfortable when its coat is even and smooth. Of course, a thick and messy coat can make your dog feel hot and sweaty. Amid all this care, the issue of safely trimming hair on smaller parts of your dog's body, such as paws and feet. Small clippers for dog paws are the most convenient accessory for this step.
Professional dog groomers are the most trustworthy people to learn from if you're looking for answers on how to trim your dog's fur safely. From the myriad of dog grooming tools available for professional groomers, dog clippers are the preferred option.
10 Small Clippers for Dog Feet and Paws
For all the aforementioned amazing reasons, purchasing a small clipper for your dog's feet and paws is vital. But more importantly, you need to choose the right product. To help you in this process, we've put together a list of the best clippers for dog feet that you'll find in the market.
1. Ruri's Low Noise Electric Pet Trimmer
There are several features that a small clipper for dogs' feet and paws must have. Thankfully, this trimmer has most of them. It is a cordless trimmer that fits in all the small nooks and corners of a dog's feet. Just insert AA batteries for the smooth running of this easy-to-use clipper. Also, dog owners can easily maneuver the narrow stainless steel head. It is professionally designed for better maneuvering around hard-to-trim areas. Not just that, the mute motor in this dog clipper certainly stands true to its name.
What interests me in this clipper is its non-slip handle which adds to its ease of use and safety. Since it has acute-angled blades instead of regular ones, there is no chance of over-shaving your pooch. Moreover, these blades make it impossible for the dog's skin to get cut or bruised in the trimming process. Even the dogs that hate grooming are happy to get a fur trim with these clippers. Best of all, you can travel with this trimmer and groom your dog on the go.
But the only issue you'll have with this dog clipper is that the batteries run out quickly. Make sure you carry an extra pair of AA batteries if traveling with this small clipper to save the hassle.
2. TURN RAISE Pet Grooming Clipper
The next best small clipper for dogs' feet and paws is this one by TURN RAISE. It works on batteries that are rechargeable which means this product is cordless. The blades are 0.5-inch ceramic ones that are also removable for easy cleaning. Because of the small size, these professional clippers are perfect for use on the face, feet, paws, ears, and other parts that are otherwise challenging to trim. With only 70dB noise production, it won't be wrong to say this is an extremely quiet clipper. Also, this dog trimmer is waterproof. You can also detach the top part to wash it separately to eliminate all the hair.
Customers have reviewed this product's blades to work very well in trimming their dog's coat smoothly. So, with this clipper, there's little to no risk of hurting your dog during grooming sessions. Its lightweight body and rechargeable batteries make it a convenient, travel-friendly accessory.
One thing that could have been better in this dog clipper is battery timing. It takes 3 hours to charge the battery, which lasts around 2 hours. However, this is ample time for one complete trimming session.
3. Taiker Washable Pet Clipper
This product by Taiker has 0.15-inch blades for precise trimming. The safety blade design prevents any accidents. The top half of the product's body is detachable and so are the blades. This adds to the ease of cleaning the hair by washing the product. It weighs just 0.25lb and produces less than 70dB noise. What's more, it's cordless, allowing for better user experience. You can recharge the batteries with the USB cable that comes along.
Dogs won't even notice as you trim their paws with these quiet clippers. Also, the glove that comes along makes it easier to remove the trimmed hair. Its micro-serrated blades quickly trim the hair without hurting the animal. You only need a couple of minutes to do the job. It is also easy to travel with this product.
Most of the user reviews are positive about this product. But if you face any issue, the manufacturers offer a 30-day money-back guarantee.
4. Mifine Professional Dog Clippers Kit
No products found.
The Mifine dog clippers for feet and paws are designed specifically for anxious dogs. With less than 50dB noise production, these paw pad clippers won't be noticeable at all. The product comes with multiple accessories that allow different lengths of hair trimming. Not just that, with the unique R-shaped blades used in this model, there's no chance of scratches or cuts. This dog clipper is conveniently rechargeable with a battery timing of 50 minutes.
Users love that this product can work with or without a cord. What's more, these paw pad clippers are a popular choice among professional groomers as well. This easy-to-use dog clipper doesn't require the user to go through a complicated instruction manual beforehand. Clients also love the matte surface of these clippers for two reasons: it is aesthetic and makes the clippers anti-slip.
Some users complained about a faulty product, but a cooperative refund and exchange from the manufacturer satisfied these upset customers.
5. Wahl Professional Animal Touch Up
Wahl's small clippers for dogs' feet and paws are a professional-grade product. It has mini blades and an overall mini body so that it can fit into the grooves of the dog's body easily. This also adds to the travel-friendly nature of this trimmer. In addition, it's shaped like a pencil, allowing for a sturdy grip. The manufacturer includes AA batteries in the package that you can replace when they run out.
I love this dog fur trimmer because it eliminates the hassle of charging the clippers. All you need to do is carry an extra pair of AA batteries, and you're good to go. Also, users find the free blade oil and cleaning brush very handy; it doesn't hurt the dog and trims the hair within minutes.
One thing that could've been better in this clipper is the noise level. Certainly, there are clippers out there that are less noisier. But you can always divert your dog's attention from these clippers' noise by using a few treats.
6. Wahl Professional Animal Touch Up
This isn't just a clipper but an entire grooming kit. You get a narrow clipper perfect for dogs' paws and a wider clipper that can be used for the face and butt. But not just that, it comes with 4 combs, each offering a different trimming length. The package includes a cleaning brush, blade oil, and 3 AA batteries.
People who bought this product loved it for shaving their dog's paw pads, face, and under the eyes. In addition, the cleaning brush proved very handy in cleaning out short hair. Another positive about this dog clipper is that its blades are strong enough to shave a thick coat but safe enough never to harm the dog's skin.
The narrow clipper may be a tad bit smaller for people who own bigger dogs. But it's perfect for puppies and smaller breeds.
7. Wahl Pet Pro Clippers
If you're looking for a complete dog grooming kit that offers a small clipper for the feet and paws and a bigger trimmer for the rest of the body, this is the right product. You can adjust the lever of the blades to get your doggo's desired length of hair. Also, it has a DVD explaining how to use the product in depth.
The self-sharpening blades provide a smooth trim with no hair getting pulled. Users love that these clippers never heat up even after consistent usage.
Overall, the reviews for this product are very positive, but some users suggested that they would have preferred if these clippers were cordless.
8. PetTech Professional Dog Grooming Kit
PetTech offers a complete bundle of dog grooming products. Besides a mini clipper for dog feet, this kit also includes paw nail trimmers. What's more, you get 4 different trimming length adjustment tools. This grooming kit includes a charging cord, cleaning brush, blade oil, nail file, straight scissors, thinning shear, and a comb.
Again, a major plus in this kit is that it has cordless functionality. The blades are very sharp and work great for thin to medium coats. And not just that, the clipper is very quiet, making the overall grooming process much easier. All in all, this bundle is a steal when you compare the quality to the price. However, this dog grooming kit might not be a great choice for people who own dogs with thick coats.
9. Cordless Dog Clipper by Oneisall
In the next product on our list of dogs' small clippers for feet and paws, we have this cordless clipper by Oneisall. It's very narrow, so it perfectly fits between the paw spaces. The product runs on a single AA battery. Also, a low-noise motor is installed in these clippers for minimal vibrations.
Since Ruri's dog clipper is lightweight and cordless, users found it easy to travel with. Even within their homes, this product was super easy for customers. Its sharp blades cut the coat smoothly but never hurt the dog. Users specifically loved these clippers for trimming paw pads.
Some people had a tough time cleaning their hair from the under-blades. If you run into this problem, then use a mini cleaning brush or an old toothbrush to remove the accumulated hair.
10. Dog Nail Clipper by ShookOne
The last small clipper for dog nails worth considering is this one. It charges with a USB cable while the mute motor minimizes the noise and vibrations of the product. It produces less than 50dB of sound. This dog clipper has 0.35-inch ceramic blades, which are sharp and rust-proof.
Customers reviewed that this product didn't heat up even after a full trimming session. Also, they were in awe of this trimmer's sturdy grip and narrow design.
The only negative for this product is that some customers received their package without the blade oil.
Why Should I Use Mini Dog Clippers for my Dog's Paws?
You wouldn't want to cut too much of your dog's fur accidentally. Using regular trimmers can lead to a risk of hurting the dog! Professional groomers use smaller dog clippers for their feet and paws to avoid unintentional harm during grooming sessions. They are also much quieter, creating less anxiety in the dog or puppy.
Smaller clippers offer quick and neat grooming that won't hurt the animal. Such clippers are designed particularly to trim the hair on a dog's feet and paws, even if the animal is fidgety or you have an unsteady hand. These clippers are designed particularly to trim the hair on a dog's feet and paws, even if the animal is fidgety or you have an unsteady hand.
Now, it is understandable why a clipper will be a safer option in comparison with scissors or trimmers. But you may wonder why exactly you need to purchase a separate mini clipper for dog feet:
mini clippers are specially designed for small areas
the blades are much smaller
the vibrations are a lot less intense
Moreover, mini dog foot clippers are simpler to handle. They have a minimal risk of cutting too much hair or hurting the dog. Such products are also called speed clippers since they can do the job before the dog even has time to rebel against it.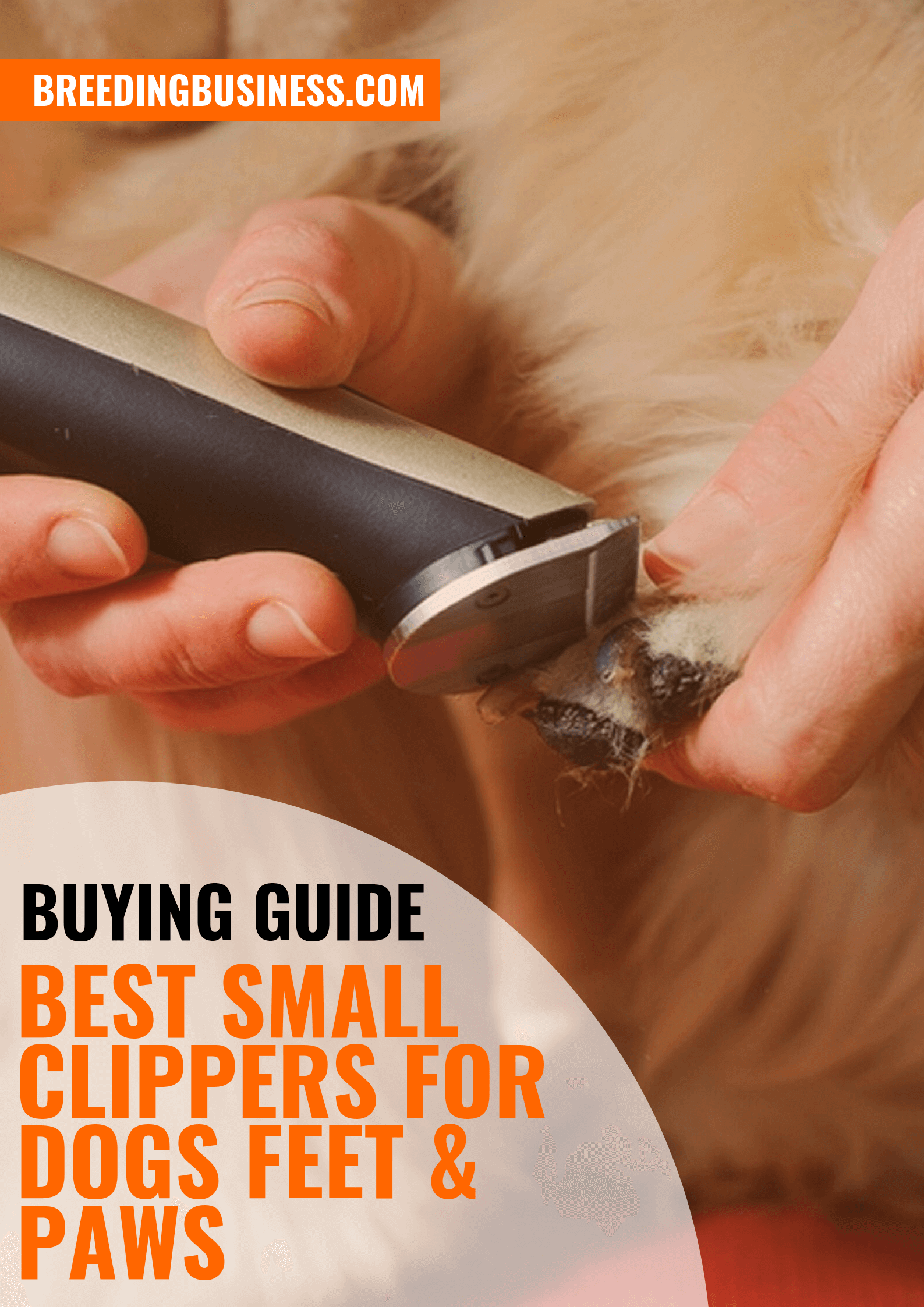 How To Choose Small Clippers for Dog Feet and Paws?
When it comes to choosing the right small clippers for your dog's feet and paws, you must consider a few factors to make the best choice. Here's why each of these qualities is important:
Cord vs Cordless
Paw pad clippers come in three types: corded, rechargeable, and battery operated. To be honest, corded clippers are somewhat a hassle. When clipping the hair in areas such as the paws and face, your dog needs to be in a comfortable spot so it won't move and mess up the trimming.
But this tricky clipping spot might not be near a switch so corded clippers for a dog's feet and paws are not as efficient, especially if the paw shows signs of injury. So, rechargeable and battery-operated clippers work the best.
Accessories
Some dog paws and feet clippers come with accessories, while others don't. What is the better option for you depends on your needs. If you're using the same clippers to trim the face, butt, paws, and other smaller body parts, then it's better to go for a clipper with multiple combs or lever adjustment.
Having that functionality allows you to trim your dog's hair at different lengths. Moreover, if you're purchasing a dog grooming tool for the first time, it's better to go for a bundle that also includes paw nail trimmers, scissors, a comb, etc., so you have all the necessary grooming tools.
Spare Parts
If you use your dog clippers very often, the blades will naturally lose their sharpness. Instead of having to repurchase a new paw pad clipper, you can go for a product that comes with extra spare parts in the first place. This easy replacement factor will minimize the hassle and cost of maintenance in the longer run.
Noise
Most dogs are afraid of getting their coat trimmed. This isn't because the hair clipping hurts them. Instead, it's usually because the dog feels restricted during the process or the noise of the clippers scares the animal.
If you too, own an anxious dog, then a quiet clipper will be the best option for you. With a mute motor, there will be minimal noise and vibration, so the animal won't even notice when its hair is getting chopped off.
Portability
If you travel with your dog a lot, you must consider the travel-friendliness of your dog clipper. Your dog's hair is continuously growing, and there's the possibility that your dog may need a trim while you're on a vacation or visiting a relative.
A portable dog clipper will make things easy in such a case. You can skip trimming the body coat, but the paw pads need to be shaved at all times, or else the dog will keep slipping when walking on floors such as wood or tiles. A cordless clipper that works on batteries wil be the handiest in such cases.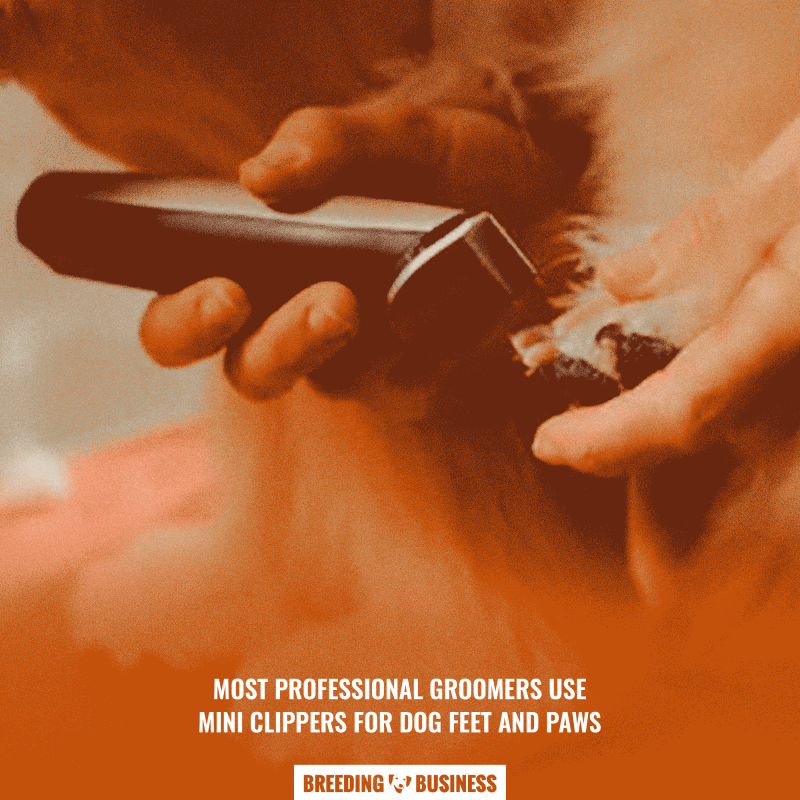 Conclusion
This sums up the list of the best mini clippers for dog paws. There is a wide variety of dogs' small clippers for feet but going through each of them one by one will help you figure out which option is the most suitable for your situation.
As discussed earlier, purchasing a product that includes accessories such as a nail trimmer for dogs is better. Getting a bundle offer is not just convenient but more budget-friendly as well.
Lastly, weigh each pro and con of a potential dog clipper according to your needs. Consider your dog's nature, coat thickness, and other factors before deciding on the ideal small clipper for your dog's paws. Look at videos and blog posts about how to groom a dog's paws to get started perfectly!