Professional dog hair clippers are technological beasts that will smoothly trim any dog's coat for a little over $200. However, sometimes, you just want to buy efficient dog clippers for home use, without frills, and with a lower price tag. Such cheaper home dog clippers are great for occasional use and will suit your dog perfectly, but may not be adapted to other types of coats.
Them marketplace, both for professional and occasional groomers, is submerged by cheap Chinese imports with questionable manufacturing quality. You can spot them on the online store since they all look the same, just the logo changes. In terms of well-known and well-established clippers brands, the podium is filled with Wahl, Oster, and Andis (in no particular order).
Home dog clippers are generally slightly less versatile but will most definitely handle a weekly workload without a problem. They are definitely not suited for a groomer's salon type of use but if you want to give your pet's coat a trim every week, or month, go ahead with the below dog clippers. We've listed the top 7 best dog clippers for home use and give you for each their best advantage, and any cons if there are any.
Professional groomers know the important of blade maintenance, and if required, change. Home groomers never really think about buying dog clippers blades nor they oil them regularly. Remember to do it after every session!
1. Andis ProClip AGC2 Dog Clippers
— Professional-Grade Dog Clippers For Home Use
Andis ProClip AGC2 2-Speed Clippers is a professional-grade 2-speed dog clippers that can run at 2700 strokes per minute and 3400 strokes per minute depending on your dog's requirements. The AGC 2-speed clipper comes with a size 10 UltraEdge blade and clipper oil. However, what makes it a stand-out product is its cool and quiet mode of operation that makes it suitable for even the most sensitive dogs. With shatter-proof housing, this clipper ensures that it functions smoothly for a long time to come.
The AGC2 clipper comes with a fool-proof mechanism comprising a detachable blade and removable drive cap that makes cleaning easy and seamless. Further, there is a locking blade hinge that keeps the blade secure and paves the way for stress-free operation. Suitable for all breeds and coats, it is a versatile tool that boasts of a 2-speed rotary motor that has the power and the potential to work on the thick hairs of your dog.
As truly one of the best dog grooming clippers for home use, it accompanies an encased motor in a break-resistant housing to remain unaffected by harsh chemicals. You also get a 14″ heavy-duty chord and a locking switch that prevents the clipper from accidentally shutting off in the middle of the operation. A tube of blade oil and an extra blade drive comes complimentary with this great product.
Andis ProClip dog clippers facilitate both normal and high-power operation depending on the zone you are grooming and the thickness of your dog's fur. The normal setting is enough for most of the cutting needs, especially sensitive areas, while the high-speed mode should be used only when cutting through your dog's heavy and dirty hair. It is also advisable to oil the clipper blade during and after every use to ensure better maintenance and durability of the product.
2. Wahl ARCO SE Professional Cordless
— Cordless Home Dog Clippers!
The Wahl ARCO SE Professional Clippers is surely going to be one of your most preferred home dog clippers if you are looking for a small and lightweight trimmer for your pup or small dog. The Wahl ARCO Professional Cordless Clipper is versatile in every respect. It comes with a unique 5-in-1 blade technology that allows the clipper to stay cool and safe even during long sessions. The clipper gets recharged in just 75 minutes and can run for 80 minutes at a stretch. Its main selling point is definitely its compact size and lightweight body that makes it easy to be used without exerting undue pressure on your hands and wrist.
The Wahl ARCO SE Cordless Dog Clippers is one of the best low-maintenance products that you can find out there. The clipper has a unique motor that does not require you to oil, grease or even clean it at regular intervals. This saves a lot of efforts on maintaining the product, which is perfect for dog owners, looking for an absolutely hassle-free way of dog grooming. You still need to do some maintenance every now and then, though.
The cordless feature combines with an overall powerful design to make this dog clipper pave the way for a smooth and quiet trim. Also, it is cheaper than most of the other clippers of somewhat similar features and potential. Using it is quite easy even for beginners. As there is no cord sticking out at the end, this clipper can be best-suited for use on sensitive areas like face, paws, armpits, and sanitary cuts. However, it is equally powerful for being used on the other parts as well.
The battery life can be an issue for some users though that is not a concern if you have only one dog to take care of at home.
3. Oster A5 with Cryogen-X Blade
— Heavy-Duty Dog Clippers For Home Grooming!
The Oster A5 Clippers are one of the most powerful ranges of dog clippers for home use available out there. Designed and developed in the United States, it is a high-quality and extremely efficient product that fulfills your dog's grooming needs in an ideal way. The two-speed universal motor has the potential to deliver about 3000 strokes per minute to 4000 strokes per minute while being absolutely smooth on a dog's sensitive skin. With these regular as well as high-speed settings, the clipper can serve both general purposes and precision clipping. The detachable Cryogen-X Blade is a big advantage of this product that is rightly considered to be one of the most precise and reliable dog hair clippers for home groomers.
The Oster A5 2-Speed Clippers boast the Cryogenic Technology that enhances the hardening process of the blades, thereby making them extremely durable and ready for long-lasting performance and incredible precision of cut. Further, the multi-speed versatility of this clipper makes it suitable for both clipping the sensitive areas of your dog as well as shaving the entire body. In both cases, the clipper works quietly, without exerting additional pressure either on your hands or on your furry one's skin.
The Oster A5 clipper has a universal guide comb and additional accessories that may be bought separately. These combs offer extra control and safety for stress-free hair trims, especially with inexperienced dog owners. The combs can seamlessly slide into the slipper and be locked in, making way for a perfect finish each time.
As for the right ways of using this amazing product, always make sure that you prepare your pet's coat by bathing and drying prior to using the clipper. Also, oiling the blades both before and during the grooming sessions is a must because it prevents heat build-up while also extending the life of the blade.
4. Scaredy Cut Silent Home Dog Grooming
— Grooming Scissors For Dogs!
The Scaredy Cut Silent Home Grooming Kit is an ideally designed manual and silent dog clipper that is best suited for the most sensitive and scared dogs. As a great alternative to the electric clippers, this clipper from Scaredy Cut is an absolutely silent one that creates no noise or buzz whatsoever during operation. Because there is also no vibration, your otherwise scared dog can go through a complete grooming session in the utmost comfort. The product comes with a total of 7 attachment combs of varying sizes, paving the way for precise trimming from 0.5 to 1 inch. Additionally, the main scissor has a screw in the center, which can be tightened or loosened depending on the preferred tension level of the scissor.
This manual dog grooming clipper creates no grooming anxiety in your pet because it is neither noisy nor vibrating. As such, it can be used for clipping hair near the most sensitive areas of a dog like genitals, paws, and face. This excellent grooming kit also comes with a removable gel finger to make even the longer grooming sessions equally comfortable.
Using the Scaredy Cut Silent Dog Grooming Kit is pretty easy and straightforward. Put the front edge of the block into the V-shaped groove of the comb before snapping the latch on the back edge. The grooming process should ideally start with a brushing of your dog until it is completely relaxed and ready. Most of the fur can be removed in single cuts with one lock at a time. Rapid cuts are best made by gripping the back of the comb tightly. Make sure clipping the fur between the blades only and not to pull any fur as that might cause pain or hurt your beloved dog. These dog grooming scissors are available for left-handed too.
5. Andis EasyClip Pro 5-Speed Dog Trimmer
— Best 5-Speed Dog Clippers For Home Use!
The Andis EasyClip Pro 5-Speed Clippers are powerful and smart-looking dog grooming clippers that come with several features worth mentioning. With no less than five different speeds to the uniquely designed motor, the product has an ergonomic design and is said to be at least 10% faster than several similar models. These high-end and reliable clippers boast a premium Ceramic EdgeBlade making way for easy, safe, comfortable and highly precise trimming of the densest and matted dog coats. The detachable blades and the anti-slip housing further ensure hassle-free use for the dog owners.
These Andis EasyClip Pro clippers, some of the best dog clippers for home use, are suitable for dogs of pretty much all breeds with different kinds of coats and grooming requirements. This is possible thanks to a versatile five-speed system which can be adjusted depending on whether your dog is comfortable with the high speed and vibrations of the highest setting, or prefers a slow clipping using the lower and softer settings. Andis is a trusted brand releasing new products and small improvements continuously, they are trusted by professionals all around the world.
The only complaint that the buyer seems to have with this product is that it gets a little hot after use and this is particularly when the clipper is made to run at a high speed for a relatively longer grooming session. However, to solve this problem, the manufacturers have come up with a newer and updated model of the EasyClip Pro Animal 5-Speed Clippers. While all the features of this model remain the same, it is designed to stay cooler for a long time. As such, the heat build-up is less and the durability is higher.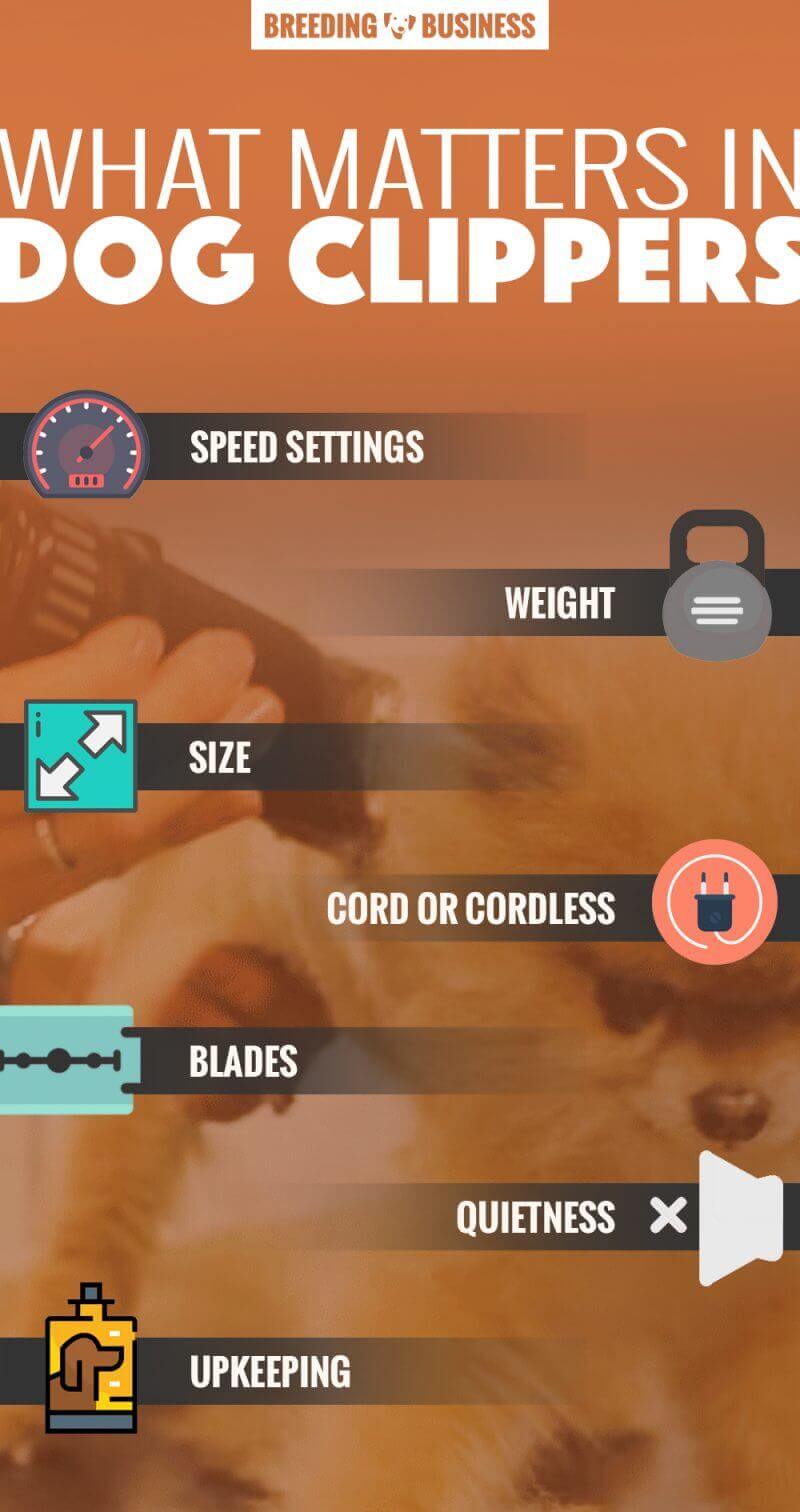 Using clippers is easy but check out our top tips when using dog clippers at home. Just make sure that your dog's coat is brushed properly and that there are no major cuts or burns before using the clipper for the most effective dog grooming.
6. Wahl Deluxe U-Clip Dog Clippers
— Cheap Trimmers For Punctual Use!
The Wahl Professional Deluxe U-Clip Trimmers are one of those dog clippers for home use that might not serve your entire dog grooming requirements but are cheap, plain and simple. Wahl is a trusted brand and their Professional Animal Deluxe U-Clip range offers reliable products that are suitable for dogs with light and easy coats to trim. The clippers come with an ergonomically design, a decent motor that is capable of delivering 7200 strokes per minute, but it is on the heavy side. The outer design is trendy but somewhat bulky.
These cheap Wahl dog clippers are emitting very little noise but the vibrations are definitely felt during trims. It makes the U-Clip clippers more recommended for dogs that are not scared of vibrations emitted by clippers in general. Manufactured and designed in the US, this budget-friendly grooming kit is bundled with 16 different tools including the standard adjustable blades that are needed for clipping, trimming and grooming your dog in the best possible manner, but also brushes and guide combs.
Wahl has several other pet clippers with high-end features and increased potential. The Animal Deluxe U-Clip Clippers might not be the most robust ones but its cheap price makes it stand out from the other products in the same category. It is extremely easy and convenient to use, exerts no additional pressure on your hands or your dog's skin, and operates rather smoothly for non-frequent cuts. There are a 2-year warranty and a 30-day satisfaction guarantee making it a great buy and certainly one of the most popular home grooming clippers for people planning on using trimmers sporadically.
7. oneisall Pet Dog Grooming Clippers
— Low Quality (But Cheap!) Trimmers For Dogs
The oneisall Pet Dog Grooming Clippers are very cheap trimmers that are suitable for the very punctual grooming needs of dogs. These are an example of poor quality trimmers but we're adding them to the list for those who need to do a couple of cuts a year and need a cheap product. The overall design is nice with a lightweight plastic body and an ergonomic handle, both of which combine together to make way for excellent grip and comfortable use. However, if the clippers fall once, it's a farewell!
The clipper comes with an adjustable ceramic blade that is durable and strong enough to work on all types of coats with a good level of precision. The blades can be adjusted depending on the thickness of the dog's hair. The kit comes with two replacement attachment guide combs that make using it even more comfortable and safer for the beginners.
With a great cordless design, you can use these simple dog clippers near sensitive and hard-to-reach areas of your dog with ease of movement. The battery is alright, but don't expect a full hour, and I expect the quality and duration of each charge to deteriorate with time. Overall, the oneisall Pet Dog Grooming Clippers is a worthy buy if you want a cheap product to trim your small dog's coat two or three times this year. It combines good features such as a cordless design, a decent battery life for small dogs, and a lightweight body. The quality of the cut is not the best so you may expect some pinching to occur.
8. Andis 22340 ProClip 2-Speed Detachable Blade Clipper
Another dog clipper from Andis is the 22340 ProClip 2-Speed with a detachable blade. This product is recommended for home and professional use because of its very controllable and easy-to-use features. Moreover, you can use this clipper for any size, coat, and breed of dog. A feature that your dog will surely love is its quiet run. It has less noise and vibration which can trigger stress and anxiety in dogs.
Furthermore, this Andis dog clipper does not easily overheat. You can use it for the rest of your grooming session without worrying too much about overheating and even electrical accidents. Also, the detachable blade makes it easier for you to clean the dog clipper after every use. You can also change the blades conveniently once they wore out.
Aside from the amazing power and easy-to-replace blades, Andis 22340 ProClip also offers 2 speeds which will make your grooming session faster, but safer. This kind of speed is what professionals are after because it also increases the performance of the dog clipper. However, this dog clipper is not cordless. Therefore, it may be hard for you to move around your dog, and may take more of your time to manage the heavy-duty cord.