A regular dog grooming at home is already a tedious process for dog owners. On top of that, dreading this job because of heavy, inconvenient grooming tables is understandable. If you're spending your money on a grooming table, it's better to get a lightweight dog grooming table that's easy to move around.
A lightweight grooming table for dogs is easy to clean as well as carry around. You could probably find one to carry on a trip with you and keep your pet well-groomed on the road. These tables have been winning the hearts of dog owners all around the world and are some of the best grooming tables.
What are Lightweight Dog Grooming Tables
For those who are unaware, a dog grooming table provides a raised podium to position your pet while they are groomed. Lightweight tables allow for ease in movement, cleaning, and portability. These tables, particularly lightweight tables for dog grooming, are extremely popular with not only professional dog groomers, but also pet owners who prefer grooming their dogs at home.
While many of you would be skeptical to invest money, a professional might insist that a lightweight dog grooming table is a practical alternative for the countertop or the floor as it provides much more ergonomic, safe and comfortable for both the dog and the groomer. Since one cannot groom their pet while it is uncomfortable or fidgety, a lightweight dog grooming table that provides comfort is a beneficial investment.
However, not all types of grooming tables for dogs are suitable. Thus, it is important to choose a lightweight dog grooming table over a regular one. This would be a sensible choice as cleaning it wouldn't be a hassle and it can be put away without being physically taxing. Moreover, they can also be put away or easily taken along on your travels.
How to Choose the Right Lightweight Grooming Table for Dogs
Now that you know the advantages of a lightweight grooming table for dogs over a regular one, you need to keep your eyes open for some features whilst shopping.
Weight and Size
One of the most important features to consider when buying a dog grooming lightweight table is its weight and size. You'll see that these tables are available in various weights and sizes, but it's on you to choose the perfect table for your dog. Whilst it is preferable to go for a lightweight table for dog grooming, you should make sure that it can fully support the weight of your dog. Deciding what size to buy can be slightly tricky. You need to take into consideration three things:
The designated spot at home for this table
The size of your dog
If it's convenient for the user to maneuver around that table.
Adjustable Height
Many professional dog groomers would agree that another great feature of a lightweight dog grooming table is the adjustable height. A lightweight grooming table with height adjustability has its merits. It isn't easy to find tables that are suitable for the dog owner's height. Instead, it's better to get one that is height adjustable and suits the user's preference. Moreover, if you are using this table to groom another dog for a change, you can just adjust the height and get on with grooming without any trouble!
Stability
What's the use of a lightweight grooming table for dogs if it offers no stability? A table that moves around too much while you groom would only add to the anxiety of your pet. It wouldn't take a lot of time to go back to grooming on the countertop if your grooming table is an unsteady one. Here's a tip for new dog owners looking for their brand-new stable grooming table: look for tables with rubber feet and you are good to go!
Ease of Cleaning
Another important feature of a good dog grooming lightweight table is the ease of cleaning. Once you are done with the hectic job of grooming your dog, you're going to be left with a lot of cleaning to do. To save time, you should look for tables with a static-free and scrape-resistant board. Hair and fur don't stick to the surface of these tables, which makes them easier to clean.
Additional Features
There are a few more additional features that should be considered whilst shopping for the perfect lightweight dog grooming table. If your dog is prone to getting anxious and fidgety while it's being groomed, you need a table that specifically comes with an adjustable arm and grooming loop to keep your dog in place during the grooming session.
Another useful feature would be a storage basket attached to your grooming table to place and store all your handy accessories and tools. Make sure that you buy a table that offers extra space for your dog; this would ensure that your dog is comfortable in its place. If you are a wanderlust and love to travel, you're probably familiar with the pains of carrying such tables on a trip. Therefore, you must get yourself a portable lightweight dog grooming table that has a foldable design. Not only are such tables easy to carry, but also easy to store!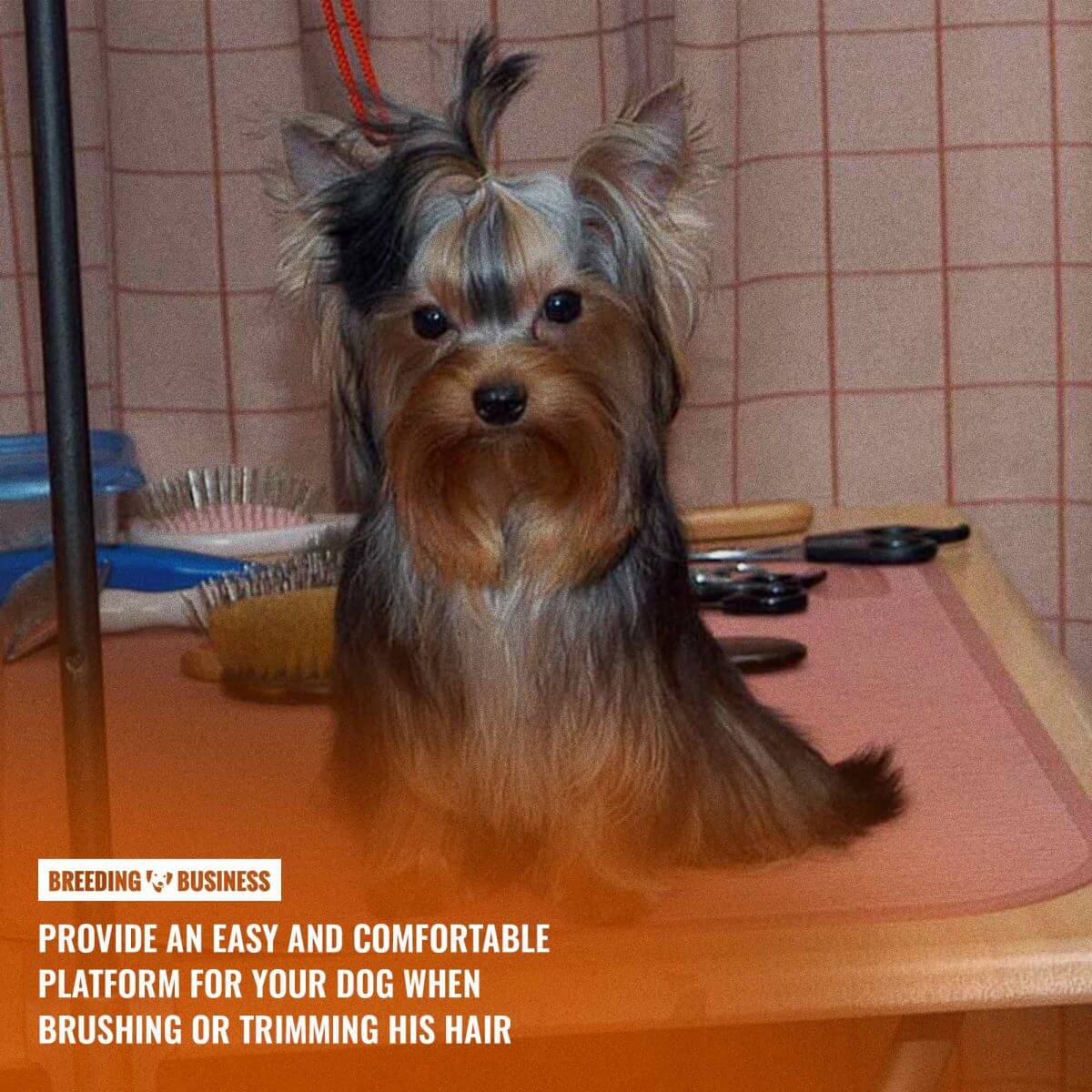 Lastly, needless to say, whatever table you purchase should be of good quality. If you are investing your money on a grooming table, you would want it to last you for a long time. Put your money into a rust-resistant grooming table if you're looking for long-term durability.
10 Best Lightweight Dog Grooming Tables
The following 10 dog grooming lightweight tables, according to our thorough research, are some of the best ones you can get.
1. Flying Pig Mini Grooming Table
The top grooming table picked out for dog owners is the Flying Pig mini grooming table. This dog grooming equipment is perfect for dogs weighing up to 50 pounds. This flying pig grooming table's frame is made of high-quality steel with non-skid rubber feet. The surface of the table has a bone-shaped non-slip texture. In addition, this dog grooming table has a foldable design, consisting of an adjustable grooming arm with a noose. The table dimensions are 24" L x 18" W, with height adjustability settings of 28.75" or 32.25".
The high-quality steel used in the Flying Pig mini grooming table makes it durable, ideal for customers looking for a long-lasting model. Since this table has non-slip rubber feet, it offers stability to the user. Moreover, the tabletop's non-slip texture aids in keeping the groomed dog in place. The downside to this product is that it caters to only breeds of small dogs, as it can only support dogs weighing 50 pounds or less. This makes it unsuitable for medium to large breeds.
2. Go Pet Club Grooming Table
The 22 inches Go Pet Club grooming table is rotatable and petite. It comes in a striking black color, with an extendable grooming arm that reaches up to 28 inches wide. The table is lightweight and weighs merely 16 pounds.
The small size and light weight make it easier to fit the table inside your home. This table is not only ideal for cleaning and working on, but also has a smooth, non-slippery surface which will help your pet stay still during a grooming session. Plus, because it's so lightweight, the table can easily be moved around in the house or even taken along on road trips.
However, it does not come without disadvantages, while it's 360 degrees rotatable aspect is its charm, this feature makes it fragile and susceptible to breaking.
3. Yaheetech Portable Small Dog Table
The next recommended grooming table for dogs is the Yaheetech portable small dog table. This table comes with numerous features:
a storage bottom tray
an adjustable arm (of height 31 inches)
non-slip feet and a sturdy buckle
The tabletop is non-slip, waterproof, and textured
This table is a foldable design, coupled with high-quality aluminum edges. It can hold dogs weighing up to 220lb. The dimensions of the table are 32 x 18 x 30 inches (L x W x H), and the mesh tray is 26 x 15 inches (L x W) in size.
The Yaheetech portable small dog table is popular because of its convenient design. The attached storage basket is designed for users to make storing grooming supplies easier. The adjustable arm helps in catering to dogs of all sizes. The non-slip feet keep this table sturdy. The finesse and neat structure of this table help it stand out among its counterparts. Even though this grooming table is sturdy, it's not the lightest grooming table out there.
4. Go Pet Club Grooming Table
Another great lightweight grooming table for dogs is the Go Pet Club grooming table. This table consists of strong goal post style legs with rubber capped feet. The surface of the table is static-free, non-slip, and pebbled. Moreover, rust-free materials have been used in the manufacturing of this product. On top of having a deluxe aluminum alloy edging, this table also comprises of a grooming arm and a leash loop. The dimensions are 30 x 18 x 32 inches (L x W x H).
The Go Pet Club grooming table is among the most lightweight yet sturdy dog grooming tables in the market. Its goal post style adds to the table's stability and aids in folding it up after usage. The tabletop's pebbled texture allows dogs to rest on it with ease. What's more this table is user-friendly since it has safe aluminum alloy edging. Since this is not a height-adjustable grooming table, dog owners grooming different dogs might face the issue of how easy it is to adjust it.
5. SUNCOO Grooming Table with Adjustable Arm
With the combination of a sturdy and foldable design, goal post style legs, non-slip pure rubber surface, and an adjustable grooming arm, the SUNCOO grooming table has all the features. Furthermore, another advantage of buying from this brand is their top-notch customer service.
This lightweight grooming table for dogs is designed for ease in storage and transport so that the users can save space and get on with the grooming sessions wherever they like. Additionally, the SUNCOO grooming table ensures that the soft rubber surface keeps the dog's feet comfortable. Furthermore, the grooming arm height is adjustable which is beneficial for users grooming different sized dogs. Last but not the least, this table requires minimum effort during cleanup.
It's advised that dog owners make sure that the size they purchase is a suitable height for their pets, as this one isn't a height-adjustable grooming table.
6. Paws and Pals Grooming Table
This lightweight dog grooming table is popular not only with pet owners but also with professional dog groomers. It's got pebbled non-slip rubber vinyl covering its waterproof table surface. Apart from that, galvanized tubing is used to manufacture the steel legs of this table. Along with its convenient foldable design, Paws and Pals grooming table has got an arm adjustability feature too.
A major benefit of buying this model is that it promises your pet's comfort. The table surface, covered with rubber vinyl, is soft enough for your dog's paw pads. This helps in keeping it calm and comfortable. Not only is this grooming table lightweight, but it is also sturdy as its steel legs will not wobble under your pet's weight. Plus, its foldable design makes it convenient for storage as it occupies less space.
However, this model does have a slight rubber smell to it. Some pets, or owners, may be put off by the bad odor.
7. Master Equipment Pet Grooming Table
This Master Equipment grooming table is yet another impressive lightweight dog grooming table. It consists of an easy to clean and non-slip tabletop of 18" diameter. This table also has a coordinating-color grooming loop, an extending square-tube dog grooming table arm, and rubber feet. Moreover, the table rotates to the desired position as the dog's weight anchors the table.
Dog hair and other debris do not to the surface because of its texture and can be wiped clean with a damp cloth. This table stays in place so that you can maneuver around it with ease. The rotating feature allows the table to turn for easy reach. Apart from that, the included harness is easy and quick to put on and take off.
A downside to the Master Equipment pet grooming table is that even though its height-adjustable, its pole does not extend up enough for particularly tall users.
8. Shelandy Professional Pet Grooming Table
Shelandy Professional pet grooming table has an extensive set of features, proving to be a good purchase for new dog owners. It comes with double quality leashes; a no-sit haunch holder and a nylon leash. It comprises of a non-slip surface, along with stainless steel legs, foldable and heavy-duty design. The table's dimensions are 31.5 x 19.5 inches and it comes with an adjustable dog grooming table arm. Its also one of the most lightweight tables in our list, weighing in at just 24 pounds.
Its no-sit leash has double loops which help with keeping your dog in a specific position while grooming, while the nylon leash provides double security. The surface does not only prevent slips but is also waterproof. This makes it all the more safe and comfortable for your dog. Additionally, it is foldable, thus can be tucked anywhere in a corner.
However, the customer service can be questionable, as not only does the table come with no paperwork or manual guide, but it also has no warranty.
9. Polar Aurora Bone Grooming Table
This table consists of a heavy-duty stainless-steel frame and an upgraded aluminum clamp. It is a foldable design that comes along with rounded table edges and an extra metal tray. The tabletop is covered with non-slip hard rubber and the table dimensions are 45" x 24" x 0.94" (L x W x Thickness) and the size of the mesh tray is 26" x 15" (L x W).
This unique grooming table is designed to protect you and your pets from any injury by having rounded table edges. The extra metal tray can be used to keep any grooming accessories. Perhaps a stellar feature of this table is that even though its lightweight, it can hold up to 330 lbs easily.
A minor issue with this table is that the bottom tray can be flimsy and tends to fall off.
10. Go Pet Club Electric Motor Grooming Table
This pristine, sleek and heavy-duty table is all you need, especially if you are a professional. It is innovatively designed, with a Z-lift frame and an H-style base. The black table measures 36″W x 23.6″L while the electric motor can be used to adjust it between 21.5″ – 41.3″ H. Moreover, the tabletop is constructed with aluminum.
Its Z-lift frame and H-style base are specifically designed to keep stability and prevent toppling in case a heavyweight pet needs grooming. The tabletop is easy to clean and prevents the absorption of any chemicals and grooming products due to the aluminum surface. This keeps the table clean and easy to maintain.
Although it has hardly any flaws, one can complain about it being hard to move around, as it weighs 128 pounds.
Lightweight Dog Grooming Tables – FAQs
While the comprehensive guide will be helpful to most when selecting a lightweight dog grooming table, we bring you answers to some frequently asked questions which will make your endeavor further easier and you can know what to consider when buying a grooming table.
How Heavy are Pet Grooming Tables?
Most new dog owners are concerned with how heavy a dog grooming table is going to be, there are both light-weight and heavy-weight grooming tables. Though these tables do have varying weights, it's suggested to buy a lightweight table. However, you must ensure that your lightweight dog grooming table is strong enough to take the weight of your dog.
It should be noted that the best dog grooming table for large dogs might not be a lightweight one. Don't end up buying a table that is lightweight but wobbles under the weight of your dog. Such a table would add to the discomfort of both you and your dog, making it difficult to work with.
Can I keep a Dog Grooming Table at Home?
This is a commonly asked question, and the answer is yes, you can keep a dog grooming table and accessories at home. Even the best dog grooming table for large dogs can be kept at home. The rise in popularity of these tables has come about as a result of dog owners wanting to groom their pets on their own.
It can be difficult to find a suitable and cheap professional dog groomer for your dog, especially when you have a dog that shies away from strangers. Then there's the added benefit of saving costs on regular grooming sessions. Therefore, many dog owners prefer keeping all the essentials for dog grooming right at their home.
However, these tables can also be used for professional purposes. If you own a dog grooming salon, you need to buy a dog grooming table along with other dog grooming equipment.
Are dog Grooming Tables Portable?
Various types of dog grooming tables and accessories are available in the market, ranging from fiberglass grooming tables to electric dog grooming tables. You will surely come across some portable dog grooming tables too. Portable dog grooming tables with a foldable design are a popular buy amongst dog owners. Professional dog groomers recommend purchasing a professional grooming table that has a foldable design as it is way more portable. Plus, you can always pack this foldable lightweight grooming table for dogs with your things when you are going on vacation.
However, when considering a portable table, foldable design is not the only aspect to focus at. Your table must be also lightweight, to be easily carried around with your luggage, in case you travel a lot.
What are Dog Grooming Tables used for?
Dog grooming tables are used to secure a dog and raise them to your height for grooming. Instead of resorting to the floor or countertop for grooming, a grooming table is a much better option. Objectively speaking, grooming tables are comfortable as well as safe for dogs.
Working on a countertop or any other table can be messy. Not only are those tables not specifically built to cater to your dog's needs, but they can be unsuitable for grooming – be uncomfortable for dogs, or have a static surface that fur sticks onto. Grooming your pet on any random table is likely to make things a lot messy compared to a proper grooming table.
If you have a dog, especially with long fur, investing in a good quality grooming table is highly recommended. Considering a lightweight dog grooming table can be easier for portability and storage, it is worth researching them before a grooming table purchase. Go on to check our best dog dryers, stand dryers, and hair trimmers!