Heated dog beds might sound like an unnecessary luxury, but they can be quite useful for puppies and old dogs during winter. Whether you're buying one for your newborn litter or for your old munchkin, it can surely add that bit of extra coziness to his life.
Newborn puppies can find it hard to cope with cold weather. If you live in a cold area, then having a heated bed for dogs can help your puppies survive through the harsh winters. On the other hand, an old dog with weaker joints would also love to retire in a warm, cozy bed for the winters.
In this article, we'll go through all the types, benefits, and uses of heated dog beds and will review some top-of-the-line beds in the industry.
What Are Heated Dog Beds?
Heated dog beds are simple beds with added heating mechanisms. The heating source could be electric or using materials that retain body heat.
With that said, heated beds for dogs are used for keeping them warm, cozy, and helping them withstand extremely cold temperatures. Other devices achieving similar results include heating lamps, kennel heaters, as well as heated dog houses.
Here are a few benefits of heated pet beds.
Maintaining Body Temperature
This is quite obvious. Dogs often do not feel comfortable with temperatures below 45 degrees Fahrenheit. In a lot of places, temperatures can easily drop under 20 degrees. Such temperatures are quite alarming, especially if your dog goes out regularly.
With a proper heating mechanism, heated beds allow your dogs to maintain their normal body temperature between the average 101 to 102.5 degrees Fahrenheit. Don't forget that if the outside temperature is too low, then your dogs are at risk of hypothermia.
Helping Dogs With Arthritis
Old dogs often have weaker joints. That's just natural. But many of these dogs also suffer from arthritis (inflammation in joints).
Arthritis in dogs can be very painful and can reduce mobility to a great extent. So, a dog with arthritis would spend the majority of his time without moving. Now, what would be better for such a dog than to have a nice, cozy place to relax?
But that's not all that thermal dog beds have to offer for dogs with arthritis. They also get more blood flowing into the joints which alleviates the pain and distributes important nutrients in them.
Safety
Have you ever noticed that kids like to cuddle up in a ball? That's because it helps them feel safer. Similarly, heated beds for dogs are also a fantastic way to make them feel safe and loved.
This stands true especially for puppies and needy dogs that get anxious from time to time.
Making dogs feel cozy
And this one's my personal favorite. There's really no better feeling than seeing your dog happily cuddled up in his dog bed. I find that a nice, warm dog bed also makes anxious and attention-seeking dogs feel a lot more independent and satisfied. Not to mention, this makes for AWESOME Instagram pictures as well!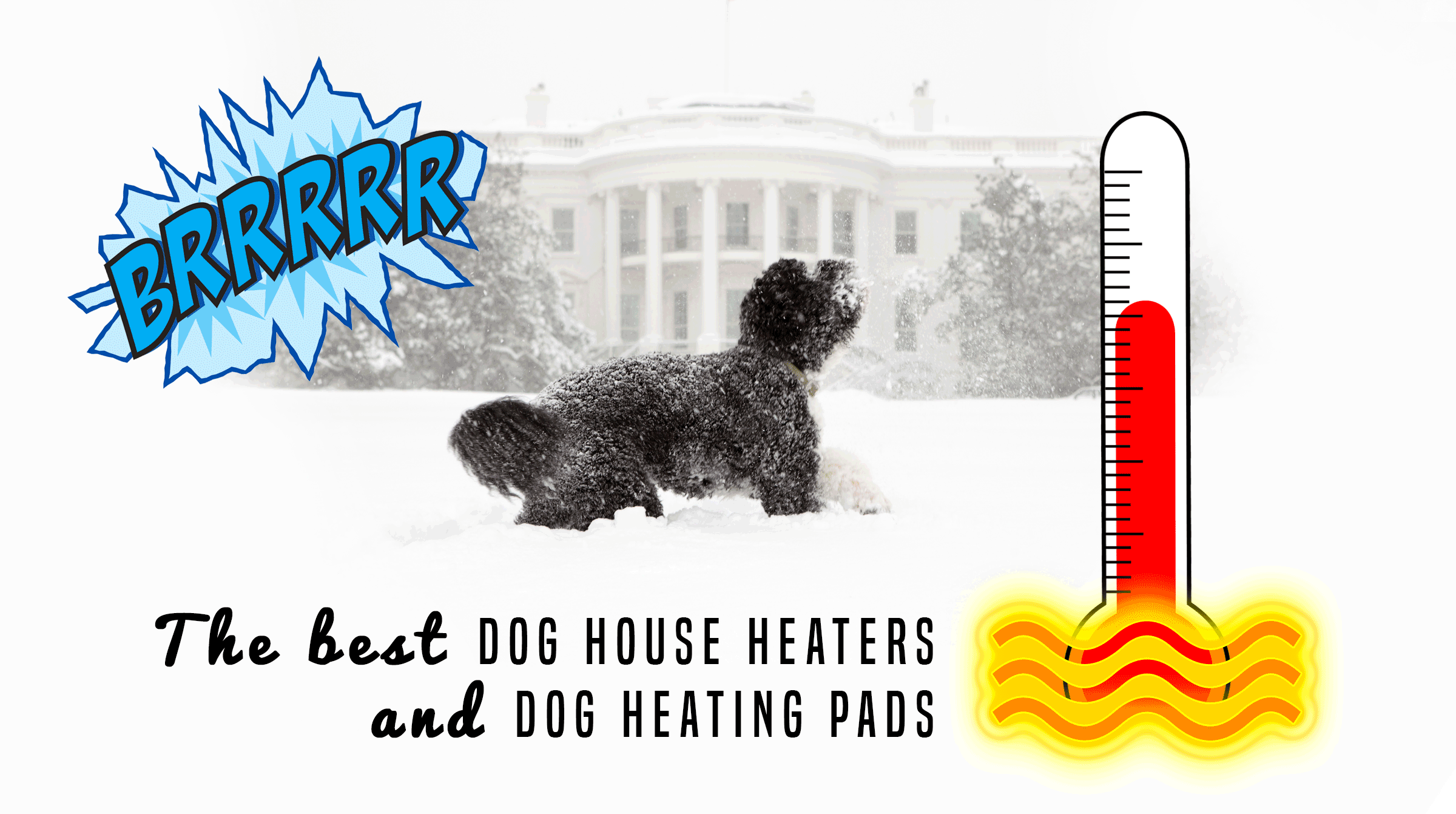 Types of Heated Dog Beds
Before moving on to the reviews, you should be pretty clear about the use and benefits of all the different types of heated dog beds.
Here are the types of heated beds for dogs.
Heated Pads
These are flat pads that often contain an electric heating system. Needless to say, electric heating is a lot more efficient than some of the other methods used. However, since these pads are completely flat, they're not the best sleeping space for dogs that like to keep it comfy. Additionally, some aggressive chewers can potentially ruin these devices.
Outdoor Heated Beds
As the name suggests, you can use these heated beds outdoors. Manufacturers make these beds with materials that can withstand the elements. Also, companies design them keeping in mind the harsh outdoor temperatures in the winter. If you don't want to buy an outdoor heated dog house, you can simply use an outdoor heated bed in your dog's regular kennel outside.
Self-Warming Dog Beds
Self-heating beds for dogs use materials that refract and then entrap body heat. In this way, they use a dog's own body heat to keep him warm. Although this is a much more energy-friendly type of heated dog bed, it's not the most efficient one.
Bolster Beds
Bolster beds are for dogs that love to snuggle and sleep. With their raised edges, they allow a comfortable place for dogs to rest their heads while they take a nap. Also, many of these beds allow dogs to burrow, something that pets love. These do not have much going on in terms of heat source but their thickness is generally keeping your dog's body warmth.
How to Choose the Right Heating Dog Bed
Before we move on to reviewing our top picks, let's first take a look at the factors to consider when buying a heated bed for dogs.
Heating Element
The first thing you should be considering when you buy a heated dog bed is its heating element. The heating element used in electric heating beds is often rods or coils. They're pretty safe to use as long as the product uses a high-quality thermostat.
Some heated beds are self-warming. So, they use materials that refract your dog's body heat and use the same heat to keep it warm.
Safety & Chewproofness
A dog's heated bed should always be safe, especially if you're buying an electrically heated one. First off, notice the cord. If it's chewable, then you should never buy the bed. However, all major manufacturers provide a metal-coated cord that's anti-chew. Also, it's worth checking whether an electric heating pad or bed is water-proof.
Reading reviews mentioning how the product fares against aggressive chewing will help you avoid poor-quality products. Even if your dog is not a serious chewer, you shouldn't take any risk!
Size & Materials
This is quite self-explanatory. You need to obviously ensure the bed is big enough for your dog. Whenever in doubt, I always recommend buying one size bigger instead of smaller.
This is one factor that a lot of pet owners ignore. But doing so can prove to be really costly in the long-run. Ideally, you're looking for pet-safe materials in your dog heating pad. With that said, anything with Nylon, which is one of the most commonly used materials in these beds, is pretty safe.
Easy to clean
Dog beds inevitably get dirty… and stinky. Especially if "accidents" happen. So, you'll certainly need to give it a spin in the good ol' washing machine from time to time. Make sure you check if the dog bed is machine-washable. Also, the manufacturer might provide instructions for drying the bed after a wash, so it's worth reading the product's description and tag.
5 Best Heated Dog Beds
Right, so till now, we've covered all the types of heated beds for dogs and have learned about the factors you need to look into when buying one. But this article would be incomplete without reviewing the best heated dog beds in the market.
Without further ado, here are the top 5 heated dog beds.
1. K&H Self-Warming Lounge Sleeper
Now, this one has a lot of features that I personally love. For one, it's a self-warming dog bed. This means that there's no electricity involved. Also, the fill inside it is made from plastic recycled bottles. So, if you're one for saving the planet, then this lounge sleeper is the way to go. The bottom of this dog bed is non-slip so your doggo can leap into it whenever it wants without displacing it. Not to mention, this dog bed is easily washable, which is extremely important. To top that off, K&H provides a 1-year limited warranty for this bed.
Small dog owners are in love with this heated dog bed. The size is perfect for a puppy or a small breed, but what's even better is the washable nature of this bed. Since it's so small, washing it is a lot easier. But if you're housebreaking a dog or have a really old one that tends to have accidents, then there's good news for you. The K&H Lounge Sleeper easily fits into a large pillowcase. So, if you're worried about your dog peeing in the bed, then just buy a few large pillowcases for the bed. Now, every time there's an accident, all you need is to take off the pillowcase and wash it.
However, a con to this dog bed is that its cushion is non-detachable. So, if you were planning on washing the cushion individually, that won't be possible.
2. K&H Outdoor Heated Bed
This product is proudly advertised by K&H as the only soft outdoor bed which contains a bolster. Now, I know how "softness" is a very relative term, but it's still good to see the company exerting its efforts into making the bed more comfortable for our pets. It contains a steel-wrapped cord which means your dog can't chew through it. Not to mention, it comes with a quality thermostat which ensures that your dog gets exactly the amount of heat that it needs. Another major benefit of this heated bed for dogs is that it contains a removable cover and bolster which makes it a lot more practical.
What impressed a lot of customers is that this heating dog bed doesn't seem to be that hot, but thermal images depict that they're just the right temperature. So, this means that you won't accidentally overheat your dogs. What's more, this dog bed is good enough for outdoor use, which is a major benefit for dogs that like to spend some time outdoors.
However, the product description does not mention the fact that its side bolsters are air-filled. Many customers didn't appreciate this, even though it isn't a major drawback in any sense.
3. RIOGOO Pet Heating Pad
If your dog prefers a heating mat, then this one from RIOGOO is a top-notch choice. It's especially useful for older dogs or those that suffer from arthritis. The electrical heating system allows you to adjust the thermostat according to the temperature at your place. So, this would ensure that your dog gets just the right amount of heat. Also, RIOGOO advertises this product to be completely water-proof and anti-electric shock. Both of these features are pivotal in ensuring your dog's safety. At max, this heating pad can heat up to 104 degrees Fahrenheit.
What's great about the RIOGOO Pet Heating Pad is that this company is very open about its exchange policy. They clearly state that they'll send their customers a new product if they're not completely satisfied. This speaks volumes about their ethics as a company. Dog owners absolutely love this heated pet mat and so do their pets.
With that said, some customers complained that this heating mat was fairly short-lived. However, RIOGOO's customer care swooped right in to provide them with a replacement for their dog heating bed. With such customer service, this dog bed is certainly worth taking a chance.
4. Calming Vegan Fur Cuddler
As soon as you lay your eyes on this faux fur cuddler, you KNOW that it's certainly as cuddly as the name suggests. With a higher rim, this self-heating donut provides support to the head and neck. This is especially useful for dogs that need such support for sleeping. What's more, this heating bed for dogs is available in a plethora of colors that gel in with rooms of all color schemes. You can also easily wash it in a machine and dryer without any sweat. Not to mention, the manufacturer used pet-safe materials like Nylon and faux fur.
Dog owners are in awe of how comfortable this cuddler is. Some of them even said they would be tempted to buy a human-sized one for themselves. Also, dogs love to burrow in the cuddler due to its soft and cozy material. What's interesting to note is that most dogs didn't need time to adjust to their new bed. This can be a problem as dogs often don't like to change the place they sleep in. But with something as comfy as this Vegan Fur Cuddler, can you even blame them for wanting to snooze on it?
With that said, this cuddler doesn't have any cushions in the bottom which leaves a blank space over there. Ideally, the manufacturer should fill it all the way to the bottom. But despite the setback, this doughnut remains one of the comfiest heated dog beds in the market.
5. Homello Pet Heating Pad
This is the second dog heating mat on this list, and it's a great one at that. Homello provides great heating efficiency in this pad which heats up within 10 minutes. At max, it heats up to 104 degrees. Also, the manufacturer uses power-off protection when you reach the desired temperature. This avoids overheating and also saves energy in the process. But not just that, this heating pad's cord is chew-resistant. So much so, that Homello is willing to give customers their money back in case a dog chews through the cord. As if that wasn't enough, this heating bed for dogs is also water and fire-proof.
Customers and their dogs alike loved the Homello Pet Heating Pad. They've reviewed that it provides just the right amount of heat for dogs. Not to mention, the material and stitching are very sturdy so there's hardly any chance an energetic dog could destroy this pad. It's especially useful for dogs with arthritis as it allows them to take regular breaks on the mat while they go about their day.
But if your pet enjoys soft, fluffy beds, then this might not be the best choice for you. The material used in this heating pad is smooth and not that soft which might not be what your dog's looking for.
Heated Dog Beds FAQ
So, there you have it. In this article, we discussed everything about heated dog beds. However, readers often ask us a few regular questions that we'll be answering here.
Are heated beds safe for my dog?
Yes, dog heated beds are completely safe. In fact, they're beneficial for newborn puppies, old dogs, and dogs that live in colder regions. Such beds can play a huge role in maintaining your dog's average body temperature.
The only reason why these beds might throw a scare would be if they short-circuit (in case of electrically heated beds) or if they end up overheating. However, it's safe to say that the possibility of that having is pretty low.
Why does my dog need a heated bed?
Often, dogs don't really need heated beds unless the temperature drops lower than 20 degrees. However, many dogs start feeling uncomfortable at temperatures below 40 degrees Fahrenheit. In that case, having a heated bed just helps them relax which is great to see for every dog owner.
A heated bed can prevent your dog or puppy from approaching hypothermia and its serious consequences such as frostbites.
Do dogs like heated dog beds?
Dogs generally prefer heated beds in very cold weather. However, they'd avoid them as soon as the temperature starts increasing again. Indeed, dogs cannot sweat to get rid of excess body heat so, make sure you buy a heated dog bed only if your dog tends to feel a bit cold in the wintertime.
Does my outdoor dog need a heated bed in winter?
If you live in a cold region where it gets quite chilly and your dog spends time outdoors, then yes, you need an outdoor dog's heated bed. But make sure the bed you're buying is fit for outdoor use. Many dog beds are good enough for indoor as well as outdoor use but never assume.
Can heated dog beds be machine-washed?
Generally, you can wash most of the heated beds for dogs in a machine by removing the electrical parts. However, like with all other specs, never assume. Companies mention this info clearly in their product descriptions. But if you're ever confused, then call customer support and ask around.