When pursuing an active lifestyle such as camping, it is much more enjoyable to do it alongside a dog. Every adventure you have, you can have next to your furry companion. It makes the outdoors a lot more fun and gives you the trip of a lifetime with someone who appreciates it just as much. But what are the best tents for camping with dogs?
We need to make sure that they are happy and cozy. This means providing them with the most appropriate, thermal, and waterproof tents and bedding. But with design, practicality, and price to look at, it can be difficult to decide. That's why we have made a list of the top seven best dog tents for camping!
What is a Camping Tent for Dogs?
A camping tent for dogs is either a miniature, dog-specific, or dog-inclusive tent which you can either have next to or inside your tent. It can also be a tent large enough for you and your dog to camp in side by side.
Firstly, the tent has to be able to accommodate both you and your dog, especially considering what size your dog is. Secondly, dog tents may need to be more waterproof as a wet dog can drag in muddy footprints and wet fur. You also need to consider if you want your dog to lie in the same area as you, when they may be dirty. If not, you may want to get your dog a sleeping bag.
How to Choose the Right Camping Tent for Dogs
There are so many elements that you need to consider when choosing the right tents for camping with dogs from ventilation to insulation. Both you and your dog need space, breathability, and comfort. Here are the main elements that you need to consider in regards to your dog's happiness and comfort.
Size
There are a few factors you need to consider when deciding the size of your tent for you and your dog. Firstly, how many people will be staying in a tent? Is it just you, you and a partner, or you and some friends? Do you need separate sections for different people to sleep in? Are there going to be children in a tent? These are a few questions you need to ask concerning just the people, let alone your pooch!
As for your dog, what breed and size are they? Larger breeds and individuals will require more room to lie down, especially if you wish them to locate in a different area to you. You also need to make sure that they are provided with warmth and proper comfort, which may require more space. Furthermore, if you want a separate section or tent for your dog, you need to make sure that it is appropriate and can allow them to stand up, move and stretch.
Fabric
Fabric considerations may be applied to how waterproof the tents are both inside and out, how warm the materials are, and even whether there are areas to look through at all. These materials can all affect your dog and your experience of camping.
Firstly, if your tent has windows, this may lead to your dog being more prone to being alert, staring out of them and barking. This is all dependant on your dog's nature, personality, and training of course. Consider whether or not this may cause frustration in your dog or not. As for the inner and outside material, it can affect warmth.
Having waterproof material on the outside will keep you, your dog and the tent dry and is common for the production of tents. However, having an inner waterproof base can prevent your dog from dragging in muddy and cold footprints. You should also evaluate whether a tent with thermal materials may benefit you and your dog in colder areas.
Durability
You may need to think about buying a tent with increased durability if you are traveling to an area that has a rockier floor, higher winds or the general possibility of rough terrain or bad weather. Rough terrain can lead to wear at the base of the tent which can result in tears in the flooring. This may lead to extra cold in the tent and even water soaking inside. This can result in you and your dog catching colds, having a weaker immune system at that time. This would ultimately ruin your trip.
Similarly, bad weather can lead to rips in the material with similar effects as before. High winds and storms can not only lead to tears in the tent, leading to the cold winds and rain entering your tent. Also, storms can upright your tent if the connections are not strong enough. This would be very unsafe for both of you.
Ventilation
You may wonder why ventilation is important for either you or your dog. This allows for fresh air to enter the tent and stale air to exit. You need this for multiple reasons such as removing the possible smell of wet dog from your tent, keeping your dog cool in hotter locations and generally making for a more pleasant environment.
Some tents have windows that open or a second door that has holes in the material to allow aeration. If you have a small dog and are going to areas with an average temperature, you may not need much ventilation. This is because the air in your tent will be of average temperature, and therefore should not be too uncomfortable either way for you or your dog. Furthermore, larger dogs may pant more and thereby require more ventilation. Choose what is appropriate for your dog and the environment you are traveling to.
Insulation
Insulation in a tent can take multiple forms. This may mean the flooring and walls have multiple layers of material, some with thicker, thermal layers. These tents can often be much more expensive but are very beneficial at low temperatures. These will maintain heat within the tent and provide a comfortable area for you and your dog to return to. Other tents may have thermal add ons to buy, such as carpeting or wall and door covers.
You may need to have extra thermal areas for those which your dog and you are sleeping in, that is if your tent has separated areas. The time you and your dog are sleeping will be a time period where you lose heat through a lack of movement. Therefore, this area needs more heating than any other.
Padding on the floor
Padding on the floor of the tent brings the benefits of sleeping comforts, floor protection, and thermal insulation. The padding on the floor will minimize the chance of the base floor ripping and leading to a wrecked tent and an area cold can get in. The padding should prevent this and lead to a protected floor even on rough, rocky surfaces.
Most considerations placed on a padded floor is for comfort when sleeping inside the tent. Rocks from the floor will not press into yours and your dog's body when you two are sleeping. This is especially important to consider if your dog is of a large weight and therefore, there will be more pressure on their body onto the floor. This means larger breeds can get back pain or bruise without proper base support.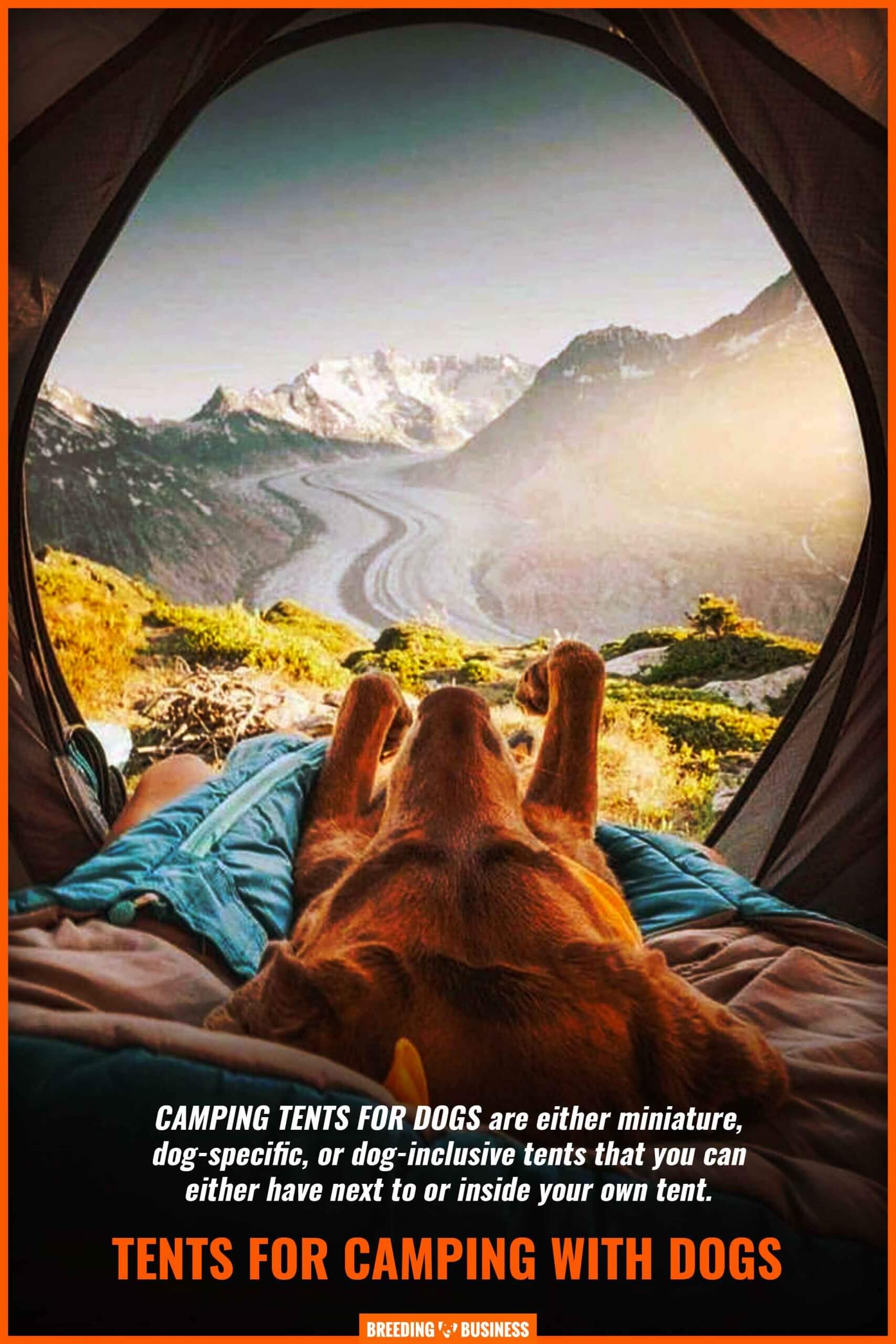 7 Best Tents for Camping with Dogs
It can be difficult to decide what to compare and evaluate when searching for tents for you and your pooch. Therefore, we have composed a list of the seven best tents for camping with dogs. This takes some of the difficulty out of the search for you and gives you an easy comparison.
1. Coleman Dome Tent with Screen Room
This product is different from our previous tents. Coleman's dome tent is large enough for six people to stay in. With this spacious inside, you can easily fit even giant dog breeds in this tent with you. This tent has special seams and protected corners at a tub-based entrance to prevent water entry. This is to ensure that your tent stays water-free and as warm as possible through colder, rainier nights.
From 1,819 ratings, this tent has 4.3 stars out of 5. A positive five-star review was published that detailed how they went camping during Hurricane Matthew in North Carolina. They praised the tent and said it was the only thing in the area to remain dry. However, a one-star review told how the tent pole broke on their first camping trip and the material ripped after two trips.
2. ESK Collection Pet Puppy Dog Playpen
The ESK collection brought out a dog playpen/kennel that can be used as either a pen within a kennel or an outside tent for your dog. With its 45 inch diameter, it provides enough space for your pup to lie down and to stretch. It has ventilation in the form of roof and windowed material to allow for breathable air and your dog to remain cool in hot weather. The material surrounding this is waterproof so is easy to clean and can be placed on dirty surfaces, no problem.
One user stated that it made her dog feel secure, especially with his visual impairment. Therefore you can be sure that in an unknown environment, your dog will be feeling safe. However, it was argued that the product was defective by another user. They go on to state that the customer service was not helpful and gave a one-star review.
3. PetNation Indoor/Outdoor Home for Pets
The port-a-crate by Petnation is the perfect crate to use indoors and outdoors. It is lightweight, breathable and available in four sizes for different dogs. It provides a safe space for your dog to feel secure and stay warm when you are out on an adventure. The product is easily portable and has a zip-up door to provide your dog with privacy or make sure they are safely enclosed.
A review gave this product five stars, called it a 'great crate', and that it was easy to pack and lightweight. Another review, however, said they would not recommend it as it was easily torn by their dog very quickly, and said they should have bought a more expensive crate.
4. Ruff 'n Ruffus Portable Foldable Pet Tent
This portable, foldable playpen by Ruff 'n Ruffus is both collapsible and waterproof. This playpen comes in medium, large and extra-large sizes to account for all dog breeds. The eight-panel design and breathable material windows allow for both ventilation and are easy to move and fold up. They also provide a carry case and a collapsible water bowl, ideal for camping.
A five-star rating was given to the product by one review who called it amazing. They commented on how spacious and sturdy it is. On the other hand, a user argued that there is a horrible smell even after washing the product repeatedly. She expands on her review saying that it also keeps collapsing.
5. Zampa Portable Foldable Pet Tent
Zampa has created a product perfect for taking for your pup during your camping adventures, the portable, foldable playpen. With both indoor and outdoor use, it can be used as an escape area within your tent or a private abode outside. Furthermore, as it has waterproof walls, it can be placed outside on a damp floor without worries. A zip-up mesh door allows for ventilation and keeping your dog cool in areas that are needed.
The review 'spacious and good quality materials' gave a five-star rating. They detail the benefit of having a top you can open as well as a door. A different user argued that you cannot put it in the carrying bag even with instructions and gave the product only one star.
6. Jespet Pet Dog Playpen Tent
Jespet provides a portable and comfortable playpen for your dog. The mesh windows and roof give a ventilated area for your dog to relax in and the waterproof flooring and walls allowing for easy cleaning. With dual zipped doors, their product is easy to enter and exit for your dog. Oxford fabric is used to create a durable tent that even a rowdy dog cannot wreck. Two side storage pockets are also provided for you to enclose leads, coats and any other equipment for your pooch.
One review wrote a thorough five-star review stating the product is great for big dogs. They elaborate that it was good value for the money, durable and easy to set up. They said it's brilliant for their Pit Bull and easy to put away when not in use. A user argued in their one-star review that it was a hazard. Their puppy broke out in ten days and began chewing the wires.
7. Pop Up Tent by Abco Tech
Our final product is a pop-up tent by Abco Tech. This tent is waterproof, easily portable and can fit you and your dog inside. As it is a pop-up tent, it is easy to construct, de-construct and carry it with you. They mention their highly breathable material with two large mesh windows, perfect to use in hotter areas to allow for air circulation. They also have added nylon covers to the windows to keep the tent well insulated from bad weather or keep it cooler and block out the sun.
One review gave a five-star review and said it was brilliant for indoor and outdoor use and the material is very breathable. A concern posted in another user's post mentioned that the tent came with a hole in it that they suspected to quickly progress in size.
Camping Tents for Dogs – FAQ
Here are the five most searched questions regarding tents for camping with dogs. We have answered them to make sure you have all the knowledge to choose the best camping tent for you and your dog.
How do tents for dogs work?
When you go camping with your dog, you may need to consider different practicalities concerning tent purchases. Such as whether they should have their own tent, ventilation and further insulation. Often, owners will use tents for humans and just make sure the size is large enough for them and their dog.
However, considerations must also be made depending on your dog's coat and even the location you are traveling to. This is to make sure they are happy and healthy during the adventure. Therefore, any tent can be a tent for dogs when proper considerations are placed for its design and your pooch's needs.
Can my dog sleep in my own tent?
Your dog can absolutely sleep in your own tent! Co-sleeping is all about personal preference. You need to consider a few factors to check that it is right for you and your pup. Firstly and most obviously, does your tent have enough room for both you and your dog to sleep comfortably. It will obviously need to be larger if you have a bigger breed of dog.
Furthermore, you need to consider what coat your dog has and if your tent will need extra provisions. If you have a greyhound traveling with you, you may require a ten with more thermal insulation or a heated bed to keep them warm alongside their coat. However, if you are traveling to a hot area with a dog with a thick coat, you will probably require a tent with more ventilation.
Can dogs scratch and rip a tent?
This depends on your dog's strength, size, behavior, and the tent's materials. If your dog has a high hunting instinct and hears a noise outside, it is possible they will scratch the tent to try to get out. In these cases, you will want to buy a tent with a strong and durable material.
Smaller dogs will obviously have less of a chance of destroying material because their claws are smaller and their strength and power is less. Be aware of your dog's capabilities and behavior before purchasing a tent.
Are pop-up tents waterproof?
Pop up tents can be waterproof, but just because they are pop up does not guarantee they either are or are not waterproof. Tents are waterproof based on the outer materials used and what seems and other prevention methods are put into place.
With each tent, research their reviews, descriptions, and materials if you are going somewhere where you will require a waterproof tent. Usually, most tents are made using waterproof material as it is a common requirement when camping. However, pop up tents have different seals in order to ensure their ease in portability. Therefore, many may not be as waterproof as other products. Consider which factors you consider the most important.
Are there different types of tents for dogs?
There are different options when buying the right tent for your dog. You can firstly consider a tent to share with your dog. Other options include a tent with a separating section for your dog or even their own smaller tent or playpen.
This all depends on your preferences and what your dog finds most comfortable during your journey camping. If you are considering to buy your dog their own tent, be aware that many playpens have generally waterproof materials but not a waterproof roof. This is because many owners locate the playpen inside their tent as their dogs own separate sleeping area. Be sure to check that any dog-specific tents apply all the practical requirements needed to keep your pet safe and happy.
Camping with your dog can be a fun and exciting experience. To make sure your dog is enjoying it as much as you are, checking for the right tent for your dog will aid in this. Check out the seven tents in our article's list and consider the elements your dog and you need for your future journeys.