A dog playpen is the best way to train your puppy or dog in a fun yet safe space, protected from anything potentially harmful. Managing your young dog at home while you are outside or even inside can be tricky, even with an attentive puppy proofing of all the rooms.
Leaving your pet alone in the area you have delimited and feeling worry-free while you aren't supervising your dog is priceless. I hate when I've got to let my babies home on their own, let alone if I am not sure to find them alive when I get back.
Benefits of Dog Playpens
A puppy playpen is a tool helping you raise a well-behaved puppy. Puppies instinctively seek presence: yours, other dogs, children, anything that moves and that makes them feel safe and amused. You must remove that instinct from within your dog's brain and sooner than you think, he or she will be actually happy to have some alone time to relax and sleep peacefully.
Not just that, it is also a safe confined area where you can leave your dog worry-free. Playpens are your most important tool if you can't afford to supervise your pet all the time, perhaps because you work long hours, even from home.
If you have a safe garden and want to allow your puppies and dogs to go from yard to home, and vice-versa, investing in a quality dog door would be more judicious.
All in all, a puppy pen is a must-have for everybody even if it will not be used every day forever. It refrains your dog or puppy from chewing on dangerous outlets, and teaches them to be happy alone with great toys to play with! What's not to love?
Besides these, using a puppy playpen can give you and your dog 3 major benefits. This includes the following:
Freedom
Compared to cages, a pet playpen will give your dogs more freedom to play and roam. Most dog pens provide a wider free area where your fur buddies can relax and play with their indoor toys and even other dogs.
Just make sure that you'll purchase the right size especially if you're planning to place two or more dogs inside. Though dog playpen limits your dog's access inside your home, they can still have enough space for playtime.
Portability
Most puppy pens are foldable and portable which means you can carry them almost anywhere. If you love to travel or take a long vacation with your pets, you can bring the dog's indoor playpen and place it in your RV. No worries because it's very easy to assemble and disassemble.
Reduce Anxiety
Dog playpens are available in different styles but most of them are see-through and semi-open so your dogs can still see you on the other side. This factor will help to reduce your dog's anxiety even if they're inside the pen, unlike placing them in dog crates with limited space and few holes.
Dog playpens vs. Crates
Unlike crates, dog playpens do not provide a flooring or tray system. Both, dog crates and puppy playpens, are effective containment systems for dogs. While both products are enclosures, playpens generally can be extended by attaching more panes.
Crates are recommended for indoor use and housebreaking due to their tray helping with the cleanup. Playpens are ideal for larger dogs and outdoor use. Regardless, make sure the crate or pen is comfortable using dog blankets, comfortable bedding, and always some fresh water available.
Types of Dog Playpens
There are plenty of puppy pens available in the market. Some features modern, minimalist, and aesthetic designs with high-quality materials. When purchasing a dog pen, make sure that it will suit your style at home and of course, will serve its purpose. Here are the different types of pet playpen to choose from:
Plastic Dog Playpen
Some owners preferred a plastic dog playpen since they're heavy-duty and won't rust. It can also be used indoors or outdoors without worrying about it getting wet. It's also easy to clean and dry so maintaining its quality is effortless.
Heavy-duty metal exercise pens
Metal dog pens are also sturdy and portable. Most of these are foldable so it's easy to store when not in use, you can also assemble this type of dog pen indoors and outdoors. Heavy-duty metal exercise pens are also bite-resistant, perfect for puppies who are still in their biting or teething phase.
Cloth and mesh covered pens
If you want a waterproof and breathable pen for your fur babies, the cloth-covered playpens are perfect for your pets. Usually, cloth pens have see-through nets and velcro doors that are closed via zipper. And since you can use it indoors and outdoors, eventually it will become dirty but no worries because it's completely washable.
Indoor/Outdoor Dog Playpen with Removable Top
Usually, this type of dog pen is the same as the cloth-covered ones, the difference is they have a zip-off top and waterproof bottom for owners to clean it easily. This type of pen is also recommended for newborn puppies and whelping dogs. It's also portable and lightweight so you can carry them during your travels.
How to Choose the Best Dog Playpen?
Although they all look the same, there are several points that make a huge difference between a low-quality pen and a top-of-the-range exercising pen. If you're a first-timer and have no idea what pen to buy, here are the important factors to consider when choosing the best dog playpen for your fur buddies.
Size and Height
Obviously, space is something to start the selection process. Of course, you want your dog to have enough room to walk around, stretch, and grow while always having enough space.
There must be enough space for you to place a training pad or fake grass so your dog can toilet without it being too close to the bed area. The bed area must be comfortable and somewhat different: try covering it, or separating it from the rest of the pen.
When it comes to the dog playpen height, below are the recommended pen dimensions for different dog breed sizes.
| Dog Weight | Dog Playpen Height |
| --- | --- |
| 4 -11 kg | 24″ |
| 12 -18 kg | 30″ |
| 19 – 31 kg | 36″ |
| 32 – 40 kg | 42″ |
| 41 – 50 kg | 48″ |
Recommended Dog Playpen Height
Materials/Toughness
The construction of the playpen should make you decide between two good models. Prefer a sturdy plastic model if you have small dogs or if you'll leave the playpen outdoors in the rain. It will prevent mold and rust. Prefer metallic wired pens if you have larger dogs and want something that will last even if it rusts a little.
Doors, Panels and locks
Safety is another point manufacturers have greatly improved over the last years, and it's good. A dog playpen should remain steady, firmly attached to the ground, panels safely locked together, and the gate extra secure. If not, well, chances are the panels will fall down like a house of cards.
Also, some pet pens have two doors for easier access especially if you're planning to place two or more dogs inside.
Covers
Dog pen covers are important especially if you're planning to place your pet playpen outdoors. Top covers will simply give shade to your dog during sunny days while they're playing inside. This is best for owners who camp with their dogs or even go on a beach and fishing trip.
Versatility
It's suggested to purchase a dog playpen that you can use indoors and outdoors. Of course, you want to make the most of your money so better choose pet pens that are versatile. Some owners even use playpens as a whelping pen for their pregnant dogs. Just make sure that you'll placemats, clean cloth, or newspaper inside your dog whelping box/pen.
Portability/Storage
Almost every dog pen is foldable but not all of them are easy to assemble and disassemble. When purchasing a pet playpen, ensure that you can set it up within minutes without any struggle. And since you won't use the dog pen forever, make sure that it's space-saving and can be convenient for storage.
How to Introduce the Puppy Playpen
The best start is to introduce the playpen to your puppy from the first weeks so it sees it as part of life and grows extremely happy being in it. Older dogs, however, will take some more encouragement to get inside and remain there calmly.
Just like crate training, it has to start gradually with a few minutes here and there, with you in the room, then without, then with increments of the duration.
Toys and treats are amazing to give that extra push, especially with stubborn dogs. However, you don't want to abuse treats as they may become the gateway drug to get your dogs to do anything. Toys, however, should always be in the pen and you can throw in a new one sometimes when you've got to disappear for some time.
A Playpen Is Not a Prison
Something too many dog owners and breeders do is to force their dogs into the pen or put them in it to punish them for undesired behavior. This is a massive error: it makes your dog associate the playpen with a bad experience. Never force your dog to enter the x-pen.
Instead, simply take the time to gradually get your dog to love it, and actually, want it. What I did with my Border Collie is to sometimes put her food in the pen, and close the door so she cannot access it. It made her crave the food and being inside that pen. And now, she loves it :)
Crying and Whining: Don't Give Up!
It is horribly hard to ignore your dog's pitiful look, and it becomes harder when it starts whining. Some will go as far as insistent loud barks. DO NOT GIVE UP.
Even more… Don't even pay attention, don't look at your dog, don't pronounce a word, don't mumble, don't puff, don't have any reaction. By doing so, you are showing how useless crying is, and all dogs will stop doing this, you just need to be constant over a few days or weeks to succeed.
When you are ready to open the gate to let your dog(s) go, ask them to calm down and sit before opening the door. It won't be easy at first as both the dog and yourself will be impatient to hug each other ha!
Top 10 Best Dog Playpens
Here are our winners for the best dog playpens. Look through the top 10 and pick the one you think will suit you the best for either outdoor or indoor use.
1. Parkland Pet Playpen with Carrying Bag
If you need a top-quality soft-sided playpen, this is a top choice indeed. Setting this one up takes a couple of seconds thanks to its steel-framed pop-up. Made using 900D Oxford polyester canvas fabric, this pen is accompanied by two very useful accessories:
a washable pad – for enhanced comfort within the soft-sided playpen
a carry bag – for storage and travel-friendliness
Thanks to its premium engineering, this playpen will resist gentle scratching. Obviously, aggressive chewers and scratchers still need a heavy-duty crate rather than a soft playpen.
Coming in two sizes, this soft crate is ideal for puppies and up to medium-sized dogs. You can use it as a private den or as a training pen. A lot of customers also take it along on various travels, but mostly short journeys or to go camping.
You can try it risk-free thanks to the 60-day warranty which you can get all of your money back if you are not satisfied for any reason – no questions asked!
2. BestPet Heavy Duty Pet Playpen Dog Outdoor
This is the best outdoor playpen for dogs, but unfortunately, it will not do well indoor (read scratches and not super foldable.)
It is a heavy-duty playpen so weather and elements won't affect it much even after a couple of years. I would simply suggest a quick disinfection every few days or week and you'll be fine.
Thanks to the 8-panel construction, you can shape it differently without buying any extra parts. It can be octagonal, squared, or L -shaped. The 8th panel being the actual door, it has a little panel that will remain so puppies can't escape even if the door is left open.
The BestPet Dog Playpen is ideal in the long run because of its modularity. You can buy two and make an even bigger space, or three, or four, or as many as you need for your dogs. Whether you buy an extra panel or just several playpens, the pieces match so in a few clicks you can have a spacious safe area for your dogs!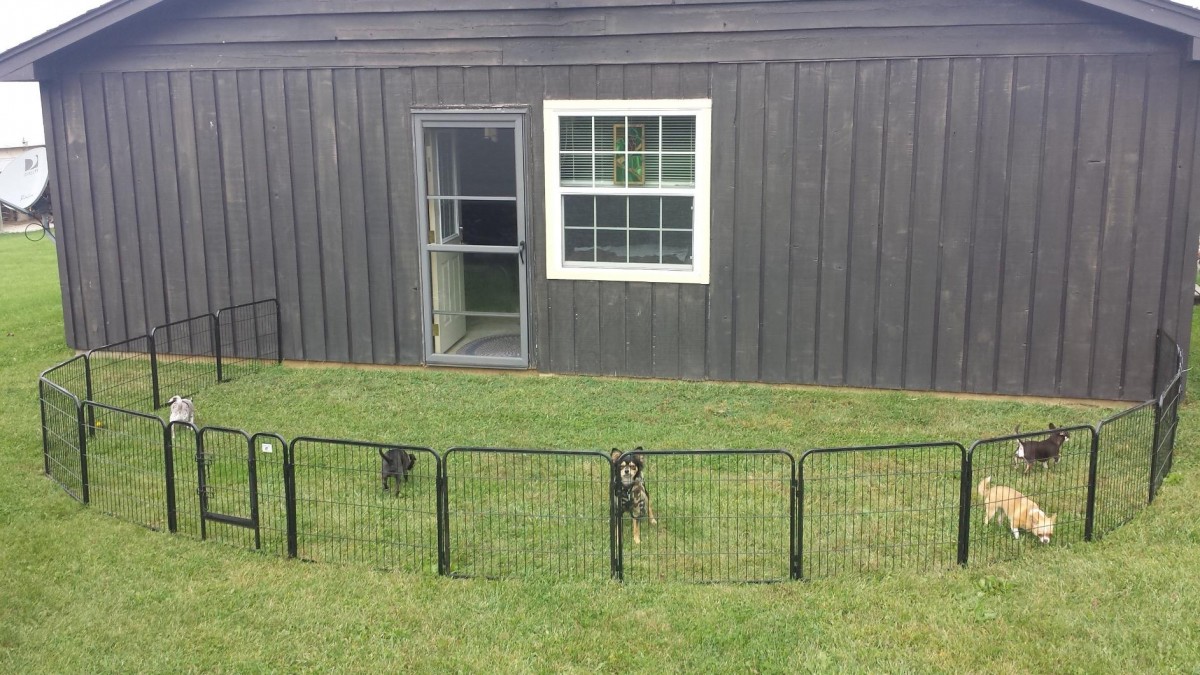 BestPets manufactures exercise pens of various sizes and heights to suit all dog owners. Make sure you get the right size, and one piece of advice: you rather want a bigger and taller pen than the opposite… Dogs can jump!!
3. MidWest Exercise Pen Outdoor
A famous brand for pet equipment, MidWest offers a quality playpen for dogs with double-latch door access, ground anchors, and corner stabilizers.
This is solid and sturdy equipment that, for all the travelers amongst you, folds nearly flat. There is no bag or packaging, so it will have to be transported as is if you go on the road.
There are 5 different heights available for the panels: 24in, 30in, 36in, 42in, and 48in. As always, go for taller than you think, simply to be on the safe side.
No tools are required for this pen, you simply need to assemble it. It may be a pro for many but I know breeders aren't afraid to get their hands dirty so no tools could mean a not super sturdy pen. The BestPet seems stronger once anchored in the ground but this MidWest playpen is from far the best for people needing a mobile pen (camping, for example.)
To quote a reviewer on Amazon, "The metal bars are not the flimsy type like you see in pet cages, but thick no-nonsense bars with impeccable quality in their golden zinc finish. The playpen has 8 panels that fold in any direction so you can shape the 16-foot long product into a room divider, or snap the ends together with the included golden spring clips to form a rectangle or octagon."
4. Precision Soft Side Play Pen Indoor
Wow. When I started studying the best playpens on the market, I never thought I would actually recommend a soft-side playpen for dogs to you. Yet, the Precision Soft Side Play Pen proved me wrong and I admit defeat.
Those who already have it know how sturdy and strong this pen is, unlike what we may think at first sight. There have been cats jumping on it, big dogs running against it, and this soft playpen took every challenge perfectly without a scratch.
It is obviously an indoor exercise pen, and would better suit small and medium dogs. Giant breeds would probably not feel super comfortable in it. The speed at which it unfolds is pretty insane, and it folds at the same speed… It is the best option for the ones traveling, especially for holiday rentals. The carrying case is included.
The bottom panel is zipped so you can take it off and wash it as often as you want plus, everything has been built using water-resistant materials which helps if you have it set up outside temporarily.
5. IRIS Indoor & Outdoor Plastic Pet Pen
Built in the United States, this puppy pen is very well suited to mixed indoor and outdoor use. It is made of durable heavy-duty molded plastic so you can rest assured that this playpen will never rust, even in the frequent rain.
The 8-panel construction is solid and comes with non-skid rubber feet to protect your flooring, especially for indoor uses as metallic pens tend to scratch floors. The panels interlock together securely with full-length connecting rods.
We love this dog playpen because you can easily fold it and transport it anywhere. It is light and sturdy. The plastic material makes it extremely easy to clean and disinfect — ideal when left outside and needs to quickly be put indoors.
For the look, this playpen comes in two sizes of either 4 or 8 panels, and different colors such as chocolate, white, green, blue, chrome, and more!
6. Richell Convertible High Pet Playpen
Those who say a pen is a pen never enjoyed the perks of having the Richell Playpen. Surely it looks like a simple playpen but it is full of ingenious features that will simply make your life a lot easier.
First, it is made of extremely durable plastic that can be used inside or outside: no mold, no germs, and no contamination can survive on it. It comes delivered with a mat to provide extra comfort to your dogs but you can also use it as a cover if the conditions are not ideal outside. The plastic is completely water-resistant, with no rust!
Simple but so efficient, the bars are vertical so dogs can't try to climb — no horizontal bars means they can't keep trying! For extra sturdiness, the Richell Convertible Playpen comes with its own specially designed caps to safely lock the panels in place at 90°, 120°, and 180° angles. It really provides so much extra stability, it's crazy.
The door also has a safety lock so your kids or your smart dog can't escape. Too many pens and gates are easy to open and catastrophic situations can occur; well not with this pen!
Like most pens, the panels can be laid out as a rectangle or square or even as a hexagon. Good to know: it can convert itself into a pet gate and room divider easily.
As a hobby breeder of some toy breeds that like to climb, I have tried out quite a few play yards. Richell has designed one that is made to hold up and gives our little monkey dogs no place to get a purchase on so they can't scale the walls because there are no horizontal bars. Also is super easy to wipe clean the 6 plastic panels, unlike many other models that have lots of small openings that collect grime.

Reviewer on Amazon
7. Ruff 'N Ruffus Portable Foldable Pet Playpen
When you purchase the Ruff 'N Ruffus pet playpen, you'll receive a FREE travel bowl and carrying case that you can use for your campings. It can be easily set up in your garden, lawn, or any spacious room in your home.
Unlike other dog pens, this features a modern and luxurious design that will perfectly blend in with your home decor. It's also has a pet-friendly design that will ensure your dog's safety since it has velcro-fastened sturdy rods that keep the playpen rigid.
It's made with waterproof and durable materials that are made with tough, weather-resistant nylon that is chew-resistant, and an 8-panel design that has protected seams and reinforced corners. The roll-up front doors provide easy in and out access for your pets and a 360-degree open-mesh for a clear view of the surroundings.
The Ruff 'N Ruffus sturdy dog playpen has a built-in non-slip floor mat and is available in two sizes: Medium (36x36x23 inches) and Large (48x48x23.6 inches).
8. MAGINELS Pet Playpen
Featuring high-quality steel panels and resistant plastic connectors that make the playpen firm and safe for small pets. The MAGINELS pet playpen has cable ties that can help build doors and slopes, it can also connect panels at any angle depending on your desired design.
It also has anti-slip mats that prevent connectors from moving so your dog pen will stay in its place. And since it has multi-angle connectors, you can easily attach and detach the cubes and assemble them within minutes.
Besides dogs and puppies, you can also use this playpen for rabbits, kittens, hamsters, guinea pigs, and other small animals.
9. EliteField 2-Door Soft Pet Playpen
A quality and portable pet playpen that you can set up and fold down in seconds, perfect for indoor and outdoor use. The EliteField is a well-ventilated, stylish, portable, lightweight, and sturdy dog playpen that you can use almost anywhere.
This dog pen has two doors with locking zippers for your dog's security and safety. It also has two pockets for your dog's accessory and a water bottle pocket and a holder on the side.
Its floor mat and top cover are both removable and washable which makes it easier to clean and maintain.
Its dimensions are 52″ x 52″ x 32″H, 4″ to 8″ higher than other brands. It also has a FREE carrying bag and ground stakes. Available in 8 combination colors – beige and green, beige and navy blue, black and beige, brown and beige, maroon and beige, purple and beige, royal blue and beige.
10. X-ZONE PET Portable Foldable Pet Playpen
This foldable dog pen requires no assembly and can be set up in seconds. You can easily fold it back flat and store it safely when not in use. The X-ZONE pet pen has locking zippers to secure your dogs and prevent unwanted wild animals from entering inside.
It's made of durable 600D Oxford fabric and mesh panels – the 8 mesh windows provide proper ventilation for your dog. Its top cover is removable if you want your dogs to play under the sun. While the floor mat is washable to make sure that your pen is always clean and sanitized.
Available in four sizes; small (29" diameter x 16" height), medium (36" x 23"), large (45" x 24"), extra-large (55" x 30"), it also has three colors to choose from – black, blue, and pink.
Best Dog Exercise Pens: FAQ
We gathered the top frequently asked questions about the best dog playpens, below are the best answers to your inquiries.
Is a dog playpen a good idea?

Pet playpens are a great help to make sure that your dog is playing safe. You don't have to worry whether they're digging in your yard or eating something that they shouldn't. It also helps your puppy to feel secure and play freely. Compared to dog crates and cages, a dog playpen is definitely better.
Are dog pens good for puppies?

Yes, since puppies are new to the world they're often curious about all the things around them. If you want to prevent any chewing on furniture and footwear, a dog playpen is recommended. And since they'll be staying inside the pen for hours, make sure to place enough food or even an automatic water fountain bowl for fresher water.
Is a playpen better than a crate?

Yes. Though dog playpens and crates have different purposes, a pet pen will give your dog extra room to run around. It gives them more freedom to play with their toys or with other dogs. Heavy-duty dog crates do work well during the night when your dog is sleeping but playpens work best.
How much time should a puppy spend in the playpen?

Your puppy can spend 30 minutes to 6 hours inside the dog pen. But this still depends on the age of your puppy and your situation at home. Some owners choose to place their puppies on a playpen during the day and let their dogs out to sleep with them during the night.
What do you put under a dog's indoor playpen?

Most dog playpens have built-in anti-slip mats but you can still place a rubber protector or a clear garbage bag under the mat if you'll be placing it indoors – this protects your carpets indoors and prevents any wet dog smell. Take note that it should be bigger than the playpen to make sure that your floors are protected.
When can you stop using a puppy pen?

When your puppies are more than 6 months old and are house trained, you can now let them roam around your homes. But you can still use your dog's playpen from time to time or if you're going camping or other outdoor activities. This will secure them and keep them safe while having enough space to play.
These are clearly the best dog playpens on the market. Some are more expensive, some less, but they are all offering amazing value for their price tag.
The Richell is the one that looks the best while offering inventive features that simply make your dog's life safer. If you are going to set up the dog playpen outside, you may prefer a sturdy, less sexy, metallic pen like the BestPet Heavy Duty Pet Playpen. For dual-use, the MidWest playpen is definitely a good value for money.