Dog gates allow you to set limits and boundaries when required. Unlike dog doors which allow the dog to go in and out of your home freely. Quality gates for dogs will contain your puppy or pooches while you are unable to supervise them.
Gates for dogs can enforce the safety both for your pups and for anyone vulnerable in the household. It can also be useful during potty training or owning a new puppy. Check out all the beneficial uses of dog gates in this easy to read guide.
Why Buy a Dog Gate?
Dog barriers are something every dog owner should have even if many favor a dog crate or puppy playpen. The main difference is the size since crates and playpens are very small cages. While dog gates put a barrier between an entire room and the rest of your home. There are numerous reasons why you may start using an indoor or outdoor dog gate:
If you are going out and want your dog to remain contained in his safe area
If you welcome a new animal and want your other pets to slowly get accustomed to it
You may have a teething puppy or aggressive chewer and you want him to stay in one proofed room
If you want to train your dog to be happy alone while you're busy at home
If you want to jump directly to the recommendations, here are the best in each category:
General-Use Dog Gate — great if you have no specific requirements
Super-Wide Dog Gate — for super large areas to cover
Best Looking Dog Gate — practical and very nice looking
Large Gates For Big Breeds — extra tall gates for larger pooches
Freestanding Dog Gate — no setup needed with freestanding barriers
Portable Dog Gate — easy to move from room to room
Expandable Dog Gate — use it to block a doorway or half a room
Foldable Dog Gate — use in awkwardly shaped entryways
Packable Dog Gates — for temporarily-placed gates
Internal Dog Gate — Dog gates bought for purely inside use
Regardless of the reason why you decide to finally purchase a gate for your dogs, these are a perfect solution. They are very easy to set up even for the average inexperienced individual. Furthermore, the ones recommended below are extremely sturdy and reliable. Feel free to add a lovely chew-resistant dog bed inside the confined area to offer maximum comfort to your dog.
Uses of Dog Gates
Most gates for dogs are used indoors while boxed kennel runs are mainly used outdoor. Decide what purpose you need a dog gate for as you will need weather-resistant materials that can be durable outside.
Indoor
Indoor dog gates are regularly used for safety of the pup, control, and safety of vulnerable family members. Certain household rooms pose more of a risk to your pup than others. The kitchen has knives and hot surfaces when cooking. An indoor gate can prevent your dog from entering the kitchen whilst you are cooking to prevent them from becoming injured. They could easily knock a hot tray out of your hands or boiling water. However, indoor dog gates will prevent their entry during possibly dangerous times.
Indoor gates can also be a wonderful tool to use if you have vulnerable members in your household such as grandparents or children. If you own a springy puppy, providing an indoor gate on family members' bedrooms can prevent them from knocking them over when you can't help. Your kids' bedroom can have a gate to keep your dog out or your living room could have a gate to keep a dog in. If you were to leave the house briefly and an elderly family member needed to stay home, you can use these gates to prevent your dog from jumping up on these family members whilst you are not there to help.
Outdoor
Outdoor gates can help you to prevent your dog from entering your home, prevent them from leaving the home, or even prevent them from leaving your yard. If you have just taken your dog on a long walk, they may be muddy and dirty. Using a dog gate can prevent your pups from entering the home and dragging muddy paw prints everywhere. You can leave your dog outside until you are able to get a towel to clean them without the worry of them sneaking past you into your house.
You may also worry about your dog escaping from your home generally or sneaking into the backyard. This can be quite a concern if you live in an area with large carnivores such as coyotes. This means you can keep your dog inside and monitored whilst still allowing your door open on a hot day for some air circulation. You could also use this gate if you are gardening and don't want your dog to come to dig up all of your new plants. This will give them time to grow roots into the soil and stop your dog from destroying your hard work. You can also use dog gates in your yard fencing to allow for easy entry and exit when you decide.
Types of Dog Gates
There are multiple types of dog gates that you can use in your home and garden. Here is a list of the five kinds of dog gates.
Freestanding Dog Gates
If you are interested in a dog gate you can move at any time, you may want to consider a freestanding dog gate. It does not connect to walls or fences and instead stands up by itself without support. These gates are often made of heavy wood in order to allow them to stand alone and prevent your pup from pushing them over.
However, these gates are most effective with puppies or smaller breeds as they are not connected to any fixed positions. Therefore, a large dog could shove these gates out the way. They may fall and damage your floor, or worse, fall and injure your dog in some way. Therefore, if you have a large breed of dog, this gate may not be appropriate. They are great if you do not have the room for a fixed dog gate though as you can simply remove them and not have to worry about shimming through them every time, which can become quite an inconvenience.
Adjustable Tension Gates
Adjustable tension gates are ideal if you wish to attach a dog gate between two fixed points, such as between two walls or sides of a staircase. These gates simply attach through two to four tightening screws with protective rubber covers on them. Place the gate between the two fixed points and tighten each screw so it holds your gate firmly in place. The protective rubber covers should prevent any marks or dents being made to the walls, so these can be used in rental properties too. The gates can be very strong and even used for medium to large breeds of dogs.
Repeated shoving or hits taken to this gate may cause it to dislodge slightly, leaving black surface marks on your fall. Or if you have a very strong dog, repeated weight may cause the gate to completely dislodge. Make sure that your dog is well trained enough that it will not try to jump or shove the gate away.
Hinged & Fold-Able Dog Gates
Hinged and fold-able gates are ideal for the space-cautious owner that needs to be able to store a dog gate quickly and easily. These gates have multiple hinges on each panel of the gate, allowing you to fold them into stack-able panels and easily store them away. This means if you are having guests over, you can grab the gate out of the closet, set it up and you're done. These can be great if you have children and are organizing a play date as you can easily set up the gate to keep the pup away from the kids during playtime.
However, the downside of these gates is their strength. As they are not attached to anything sturdy, these gates can easily be pushed over. Therefore, hinged and fold-able gates should not be used by excitable dogs, and instead by small breed or relatively well-behaved pups. Depending on the material, puppies may even be able to knock over these gates.
Walk-Through Dog Gates
Walk-through dog gates are the most common do gates to purchase. The mainframe attaches to fixed structures such as walls but the gate can be opened for you to walk through. The gate is usually attached with adjustable screws with protective rubber coating on them. The screws are tightened to hold the gate in place between tow walls and the rubber coating prevents the wall from being dented. Some walk-through gates can be attached permanently with hinges and screws to the wall. You can open the middle of the gate to pass through by pressing in a button or latch, unhooking it and pushing the gate open. This prevents your dogs from opening the gates.
These gates can be very strong and good for many breeds. However, they can pose as a tripping hazard as they have to have a supporting frame along the floor in order to remain strong when connecting the two fixed structures. Therefore, you and your pup will have to be careful when passing through this gate initially.
Wall-Mounted Dog Gates
Wall-mounted gates are those you can permanently attach to one or both sides of your wall. Each design works slightly differently though. Some have permanently fixed hinges with easily removable or fold-able panels. Therefore, you can connect the gate quickly and easily whenever you need to. Removable parts can be great as you can easily store them in closets or storage bins. Others allow you to fold up the gate and push the sections to one side. These gates combine high strength with great storage so can be useful to many breeders.
However, there are issues with this type of gate. You can fix some gates permanently which can be very inconvenient. Others you store from folding can still get in the way which can be frustrating. Furthermore, although they are relatively strong from being attached to the fall, they cannot be removed without huge difficulty, therefore you will have to decide the one area you want the gate to be located or buy another.
10 Best Indoor Dog Gates
There is no perfect dog gate that is a one-size-fits-all type of product. Instead, you've got to start with understanding the kind of dog that you have, and what challenges your dog's behavior could potentially give you. These can be chewing, jumping, and pushing.
Once you got that risk assessment all figured out, our below review of the top 5 best indoor gates for dogs will surely satisfy your need. Each product is more suited for a specific scenario that we have clearly indicated.
1. Carlson Extra Wide Walk Through Gate
— Best General-Use Dog Gate
Built to last, this wide pet gate is made of durable, lead-free, non-toxic and chew-proof steel. This gate includes two extension panels to make it measure 29 inches without or 44 inches with. The robust gate is perfect for doorways and hall entrances, and whenever implemented with the four included wall cups, it can be hooked up at the very top of stairs. This gate for dogs stands 30 inches high, stopping agile dogs from jumping over.
This gate offers a very convenient and well-thought-out one-touch release handle to allow you to walk through without having to pull or push through a heavy mechanism.
If you have a cat or small dog that you want to allow in and out of this confined room, you can use the little door on the bottom of the gate. That simple yet useful door opens to allow small pets to pass through the gate while keeping larger pets where you want them to be.
2. Regalo Super Wide Gate and Play Yard
— Best Super-Wide Dog Gate and Playpen
Unlike other dog gates, the Regalo Super Wide Gate can easily morph into an actual spacious playpen, and a robust one that won't fall apart! It is also made of sturdy steel that is chew-proof, lead-free and non-toxic. A screwdriver or drill is required if you decide to go for a wall-mounting installation.
Measurements are unreal yet modulable thanks to its 8 removable and configurable panels that enclose 19 sq. feet. Used as a gate, the Regalo can expand to an impressive 192-inch wall-mounted gate or free-standing barrier. You can easily split your entire living room or decide to create a spacious playpen area. If it is not large enough, buy two of these and attach them together!
Note that this gate is also a baby or child gate so it is definitely built with high standards of safety and using materials and mechanisms that are strong enough to resist dogs, cats, and active kids. The opening door offers a very convenient walk-through system, providing easy access for adults with a simple one-touch safety lock release lever.
3. Carlson Walk-Thru Gate
— Best Looking Gate For Dogs
We've been through so many pet gates and this one is a great winner for those who want a nice looking but still very solid gate. The wood finish is very stylish and it does look beautiful when added to a decorated home. Your dog can shake it and it remains in place but because it is made of hardwood, intensive chewing may eventually damage it.
Official measurements are 34-inch tall, and fitting openings of up to 37.5 inches wide. The extra-wide hinged swinging door opens in either direction. The gate uses a one-hand-operation latch and uses pressure pads at the top of the bottom of each end. This gate also includes extra removable sections to adjust to different sized openings, and the wall mounting cups are also here to help fine-tune that width.
The price is a little higher than the competition but it is justified in my opinion: it looks nicer and it is made from fancier materials than other gates. This pet gate will blend in your home a lot better than other PVC puppy gates.
A friend's sums up this gate so well that we're just going to share it with you:
Great level of details in this dog gate. Initially, the expansion panels on each side do fit super tightly to the wall and gate to stand as a solid unit, structurally prepare to endure multiple attacks from dogs. And visually, it's clean. Then, the gate itself – it's wide in comparison to other products available, making it natural and easy to walk through. Third, the look and feel is smooth thanks to a beautiful dark finish and the wooden forehead on the gate.

I have been using this gate for a couple of years, in order to keep my three dogs away from rushing down the stairs when we have people visiting us. Otherwise, both dogs just rush down and accidents would surely happen. This is definitely one of the best dog gates out there.
4. Carlson Extra Tall Walk Through Gate
— Best Gate For Large Dogs
Sibling to the extra-wide Carlson gate, this model is focusing on height rather than width. It's a great gate offering the same quality of construction as the extra-wide model with a lead-free chew-proof steel base.
This extra-tall dog gate is perfect for giant and large dogs or agile dogs with jumping tendencies. This patented doggy door measures 41 inches high x 30 inches wide. With a 6-inch extension kit, this gate is able to fit openings between 29 and 40 inches wide, in increments. It's also 2-inch thick, doubling its wide cousin gate for more sturdiness overall.
Just like its wider counterpart, the Carlson Extra Tall Gate allows smaller pets to travel through the gate with ease when you decide to leave the small door opened at the bottom of the frame. The main opening system is extremely convenient to use, even frequently, as described by Carlson themselves:
The gate features a convenient design that allows adults to walk through with a simple lift of the lever-style handle that includes a safety-locking feature. The motion requires only one hand, making it easy to operate while carrying items or holding back an eager pet. Prevent your pets from wandering into areas in your house where they can make a mess or get hurt.
5. Richell Wood Freestanding Pet Gate
— Best Freestanding Dog Gate
For those who dislike handy jobs and other wall-mounting fixing works, the Richell Wood Freestanding Pet Gate becomes the absolute best option. This gate is very sturdy and built using high-quality wood, it boasts amazing side panels for better confining along with a wider base to prevent the gate from tipping. The base also has rubber feet to make sure your flooring is protected. This gate folds very easily for storing purposes.
This dog gate by the famous manufacturer Richell offers an adjustable width from 39.8 to 71.3 inches, with both front panels expand to your desired width by simply adjusting the screws.
Freestanding gates are recommended for small dogs since larger breeds will simply bypass that either by jumping, chewing or pushing against it. Small dogs will definitely be safely contained in these!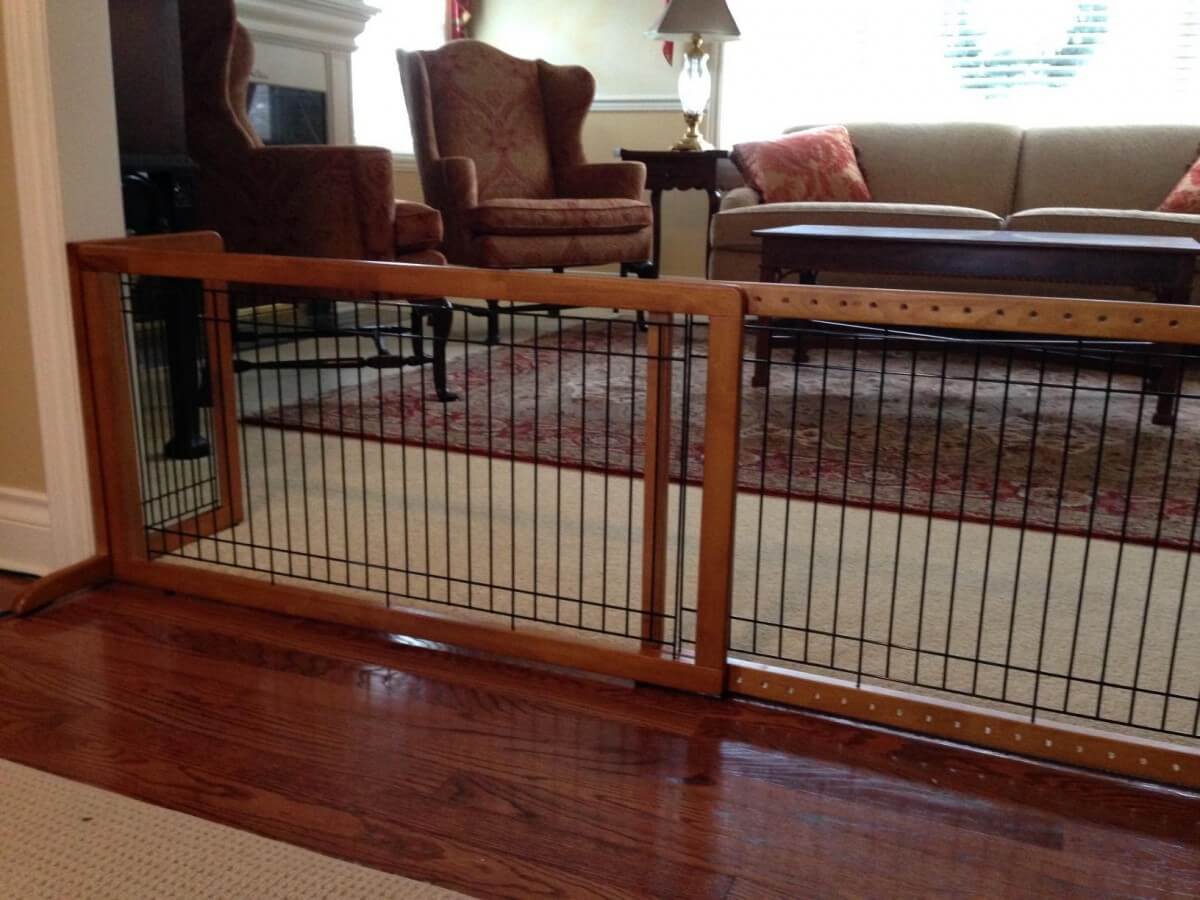 6. North States Portable Pet Gate
– Best Portable Dog Gate
North States Pet created our decided best portable dog gate. This gate has been designed with the toughest plastic and a beautiful finish so it can support both durability and good aesthetics. Furthermore, the product comes with rubber bumpers to protect your walls and anything you attach this gate to. This gate can fit many different gaps including openings between 26″ and 40″ wide.
Many owners have confidently boasted about the durability of this product both upon arrival and months after ownership. This gate will not break according to many positive reviews. Furthermore, the gate has been mentioned to lock very tightly. This is great for those excitable pups that claw and push to try and get somewhere they shouldn't.
On the downside however, some owners have said this gate's lock seals too tightly. This can make it difficult to open and can be quite frustrating when you have an excitable pup jumping at you the whole time. Another negative point is that the gate has been deemed not very secure by many users and that it can move around a lot, even after the screws have been tightened.
7. Lil' Tuffy Expandable Gate
– Best Expandable Dog Gate
This amazing dog gate can expand to fit the opening you need it to. It can expand from 26 inches to 38 inches wide. Therefore, the widest doorway can be blocked off with this gate. This door is pressure mounted and is sure to leave no marks on your walls if used internally. Furthermore, this gate is easily adjusted in size and requires no tools to build.
Owners adore the shorter height of the frame so they can easily step over the gate to the other side. This gate works very well for an untrained puppy. Some users have used this gate to allow their cats some space to themselves and it has worked perfectly. A final bonus mentioned in the reviews is its attractive aesthetics.
A reoccurring flaw for this gate is the spacing between the gate, owners have repeatedly complained about their smaller breed dogs getting stuck between them. From getting their heads stuck to their paws, this issue can result in anything from a minor paw injury to major.
8. PRIMETIME PETZ 360˚ Configurable Pet Gate
– Best Fold-Able Dog Gate
This 4-panel wooden gate is both aesthetically pleasing and very easy to move and store. Because of the four panels, this dog gate can expand up to 72 inches and be easily moved around whatever kind of door frame you have. This gate even has an easily unlock-able door if you'd like to leave it in a more permanent position.
Positive reviews adore the wide span of the gate alongside how light-weight it is. This means it can be moved in front of any doorway easily both in shape and lifting weight. Furthermore, many buyers adore the varnished color of this wood and mention repeatedly how aesthetically pleasing it is to have this gate in their home.
Unfortunately, users have mentioned that this gate is not the strongest. Multiple reviews have stated that the gate has either broken after a few months or come apart during use. Durability has been questioned with this product so if you have a large breed dog, this probably is not the right gate for you.
9. Wooden Pet-Gate Collection
– Best Dog Gate For Storage
This three-panel dog gate is easily folded into a lightweight, movable, and store-able product. It is advertised as sturdy enough to not require installation in your home. Furthermore, this dog gate is said to be much more attractive than many baby gates you find available for purchase. With its modern, wooden finish, this dog gate won't stick out in your home.
Many users discuss how this dog gate has done its job wonderfully in containing little dog or those that are well trained. The lightweight design of this dog gate makes it easy to move in front of any doorway or stairwell that you need to. Furthermore, owners adore the color of this wood and how it doesn't stand out as looking odd in their home.
Negative responses are targeted towards this product's price and the quality it is delivered in. Multiple complaints have targeted this dog gate's finish. Apparently, it has been stated to arrive with scratches and an incomplete finish, which can be quite frustrating when aesthetics are a large influence for you. Furthermore, this influences many owner's expectations with the price as it is deemed too expensive.
10. PAWLAND Wooden Freestanding Foldable Pet Gate
– Best Internal Dog Gate
This freestanding, fold-able gate is brilliant for internal use. This product has an easy assembly and is simply unfolded to create a separator both in and between rooms. It has an attractive white wood finish perfect for a home that isn't interested in a natural wood exterior. Furthermore, this gate is advertised to be sturdy and freestanding which makes its use much easier.
Users mention how the folded design can easily spread out to block any entrance. Furthermore, it is constructed with strong materials to keep it freestanding and durable. The stand is surprisingly heavy to keep it upright and prevent your dog from easily pushing it over.
Its benefits are also its downfalls. The heavyweight of this product is a danger as it has fallen and nearly injured smaller dogs. Make sure your dog is not too small for this product or too excitable that it could be knocked over onto them. Furthermore, be careful if you have children around this product for their safety as well.
How To Choose Your Dog Gate?
We've handpicked and reviewed the best outdoor and indoor dog gates currently available and made sure to recommend you models designed for practicality, functionality as well as aesthetics. So that when you put them in place, you can walk away without worrying that anything bad may happen. Here are the key elements to pay attention to when buying a dog gate. They may seem simple but your dog's safety and your own sanity depend on it, so the level of quality has to be high.
Size
You have to consider both the height and width of a gate to ensure it can do its job. If you have a large breed of dog, purchasing a taller gate is a necessity. Big dogs could step, climb, and even jump over a gate if it is too small. If you have a Great Dane, you may want to pay more attention to the height of the gate. You also need to consider the width of your gate. If your house has narrow or large entryways, you need to make sure the gate you are purchasing will fit or be long enough to work. It can be very frustrating to purchase a gate that then cannot work because of its width.
Furthermore, although most gates will be used in regular room doors, some dog separators allow you to split a very spacious lounge or room into two distinct spaces! So consider what are you wish to separate and how much of it before picking a size.
Placement
Placement considerations must be decided before making a purchase for multiple reasons. Firstly, a lot of dog gates are not one size fits all, therefore, if you are picking a small doorway to place the gate in, make sure the size of the gate matches. Furthermore, you need to make sure the placement of the gate effectively blocks off the area you wish to. This means that if your living room has two entrances, consider whether you would need two separate gates or one extended gate depending on the layout.
Furthermore, you need to consider if the placement of the gate would be impractical or frustrating. For example, if you place a walk-through dog gate in the living room, will it become frustrating to open the gate whenever you enter and exit, or could it get in the way of the main door?
Purpose
If you need a temporary door just for a few weeks of use, you may favor a self-standing dog gate; if you need a long-term solution then a wall-attached gate will be needed. Furthermore, if the purpose of the gate is to separate two dogs whilst eating then you will need to make sure the bars have narrow gaps. This will prevent possible biting or scratching. Furthermore, the material will have to be strong in case one dog tries to get to another.
If you are a breeder and are considering a dog gate to prevent puppies from leaving a room, be sure to consider the gaps in the bars. Even if a puppy could not fully escape, consider if there is a chance they could get their paw through but not get them out.
Materials
Manufacturers are being very creative these days and do make an effort with the gates' material and design; PVC is the easiest to clean, metal-based the sturdiest, and wood the nicest in appearance. Take your pick depending on your aesthetic preferences but also the size of your dog. Obviously, the quality of the material matters so it can be resistant to intense chewing and attempts of destruction.
A heavier gate is also important if you have a large or strong breed of dog. If a gate is weak, a large dog may break it by jumping at it or even leaning on it. A strong, reinforced Furthermore, you need to consider the breed of your dog as taller breeds or those with stringer, more agile physiques will be able to jump higher.
Installation
Depending on whether you enjoy construction or are a novice with tools, this may have a big impact on which dog gate you choose. If you enjoy constructing things then you may not even have to consider this worry. However, if you struggle, you may want to look and see if the dog gate you are purchasing has simple or clear instructions. Product descriptions will usually mention if the dog gate comes with instructions or not.
If you are unsure if the product comes with instructions or if they are well laid out, always look at the reviews. Customers are sure to have mentioned how difficult it was to construct and whether the instructions were well explained or even present.
Safety
This is one of the most crucial elements you have to consider before purchasing a dog gate. You need to consider your dog's individual differences in both personality, breed, and physique. If your dog has a high jumping radius, you may have to consider how safe a gate would in case the fell on it or got their paws stuck mid-jump. Therefore, if they behave in this manner you should consider a gate with narrow bars to prevent trapped paws and a tall gate to stop them climbing and hurting themselves.
You should also consider how strong your dog is. If you purchase a dog gate made of weak plastic and your dog is very strong, they could possibly break through the gate and injure themselves doing. Therefore their safety can be influenced by more than one factor.
Security
Security can relate to how well the gate keeps your dog in as well as how well it can keep others out. A good dog gate needs to prevent a dog from escaping a certain area. If you have a puppy in your yard, you want to make sure they cannot escape through their outdoor dog gate. However, if this gate is not secure, your pup could push or crawl through it.
Furthermore, if a gate is weak of does not sure well, dogs may be able to break them or push them over to escape. This can be a huge problem as a dog could run out into a road or get lost. Be sure that external dog gates are not at risk of being opened by strangers as well. This may mean you need to reposition them to avoid this worry or look for one with a firm internal locking system, which is rarer.
Quality
The quality can pertain to the materials used in construction, the aesthetics, and the use of any functions such as the hinges when being folded. A high-quality dog gate is essential for everyone as otherwise, it will not work effectively. Check the material in the descriptor of dog gates to make sure that it is strong and not likely to break under pressure. Also, check the reviews of every gate you consider buying to make sure that all elements of it are working as they should such as hinges, clips, and latches.
Many owners are also concerned about the aesthetics of a dog gate. If you are worried, be sure to check out the different material and color options for each product as well as comparing products. Some gates will offer different color ranges so you can find the perfect dog for your home.
Durability
Although a dog gate may work initially, wear and tear may soon cause it to break. If your dog's gate is repeatedly bashed or shoved into and the material is not strong, you may need to reconsider.
Wood and metal are much stronger materials usually than plastic, but if you are ever unsure about the material's strength, check out the reviews of other buyers. They are likely to have mentioned how tough the product is and which breeds have worked well with it. You should also consider how waterproof a material is if you wish to have an external dog gate. Any outside dog gate will be rained upon and be vulnerable to all types of weather so make sure the material is appropriate for that purpose.
Portability
You may want a dog gate that you can remove and use in different areas. Check for non-permanent dog gates or ones that can be removed and stored easily.
If a dog gate has been designed for storage ability, it means it should have been designed to remove repeatedly and easily. Therefore you have the added bonus of smooth movement alongside storing it if you don't require moving it.
Door
Some pet gates offer several doors, one main entrance and a tiny door for cats only. It is not a major worry but if you are going to use the gate for months or years, you may want to have a very convenient system that is also safe when locked.
Some doors operate on a system activated by collars, others work by you unlocking a clip. You can decide how simple or advanced you wish your dog gate to be.
DIY Dog Gates
Perhaps each of the mentioned gates are too weak in an area you require. There is an alternative. Consider making your own DIY dog gate so it matches all your desired criteria.
What You Will Need
Tape measure
Decking screws
2-3 hinges (depending on the length and weight of your wood)
6-8 planks (usually 3-4 inches in length, you can decide the height best for you)
A saw, electric or handheld
A latch of your choice (not necessary)
Varnish or paint (not necessary)
Preparations
Firstly you should measure your doorway. You need to decide how many planks you want to incorporate into your gate along with the gaps between the gate posts. You require two boards to be the width of your door. Next, decide the gap size you would like between each board. It should be large enough that your dog can see but not too wide to allow your dog to become injured, such as reaching their paw through. These measurements, therefore, depend on your dog's size. Balance the board placement with the alternating pattern of board and then gap. Usually, a gate will have four to six longitudinal boards and two boards to connect these together. Work out how many boards you require.
Next, decide what hinges you need. A stronger more excitable dog will need more hinges with more holes. The more holes in a hinge will allow you to connect more screws to reinforce the gate's strength. Choose the number of screws depending on the number of holes in your hinges (one each) and one to two screws in each plank. If you decide to purchase a latch, make sure to buy enough screws to attach this. Choose the latch based on the strength of your pup. Finally, you just need to buy paint or varnish if you want to spice up your new dog gate.
Method
After following the preparations, make two planks of wood the width of your door and lay them down horizontally and parallel. Do so so the base length of one plank to the top length of the other makes the desired height of your gate
Cut the remaining planks to the desired height of your gate. Place the planks on the two base boards vertically to create the gate's frame. Be sure that each gap between the planks is the same distance
Screw or drill two decking screws in the top and bottom of each plank. Therefore, each horizontal plank should have four screws in it, two connecting them to each vertical plank.
Now you have the base of your gate! Before adding the hinges and latch, if you want to paint or varnish your gate, do so now. Remember to let it thoroughly dry before proceeding, adding a second coat if needs be.
If you have decided to use two hinges, place them at the top and at the bottom of the gate, the third should be placed in the middle if you have three. Screw the decking screws through the hinges to join one side to the gate
Add the locking side of the latch to the top of the gate
Screw the other side of the hinges into the wall you wish to block off, make sure there's not too large or little of a gap between the floor and the gate
add the second part of the latch so it can attach to the wall and you are done!
Dog Gates: FAQ
To complete our article we have answered the nine most queried questions about dog gates.
How tall should a dog gate be?
Your dog gate should be a minimum of as tall as your dog, if not a little bit taller. This so your dog cannot jump or climb the gate. If your dog has high separation anxiety, excitability, or the ability to jump, you may need a taller gate. Always be sure to take your dog's individual differences into account to influence the height. A shorter gate will not only possibly allow your dog to get over to the next room, defeating the whole point of the gate, but also cause injury. your dog could jump badly and land with all their weight on the gate or get a limb stuck in the gaps of your gate.
Can I use a baby gate for my dog?
Although you can use a baby gate for your dog, there are some elements you need to consider. Firstly, are the gaps in the gate too large? Your dog may be able to fit their paw or even head between these bars, this could lead to anything from minor to severe injuries. Furthermore, the gate may not be tall enough or strong enough for your dog. This gate is designed to stop children and may not have the durability required for some large dog breeds. Furthermore, very agile breeds may be able to leap over the gate, so just consider your breed's individual characteristics.
What is the tallest dog gate?
The tallest off-the-shelf dog gate is the Carlson Extra Tall Walk Through Gate. It stands at 36 inches tall. It is number four on our list of the best dog gates and is ideal for large breeds of dogs. However, if you create your own dog gate, you can create it as tall as you feel is fit. This is especially useful if you have a giant breed of dog.
Are retractable baby gates safe for dogs?
Retractable dog gates can be safe for dogs, it depends on the type of dog you have. Some retractable baby gates are soft and therefore fragile. This means that larger and stronger dog breeds have the potential to easily push past them and even break them in one move. If you have a small dog they can be quite suitable for them.Retractable dog gates can be safe for dogs, it depends on the type of dog you have. Some retractable baby gates are soft and therefore fragile. This means that larger and stronger dog breeds have the potential to easily push past them and even break them in one move. If you have a small dog they can be quite suitable for them.
How does a dog gate work?
A dog gate works as a blockage to prevent a dog from entering an area or leaving an area. It works by specifically blocking an entrance or exit to prevent a dog from passing through. They can just be placed across the exit or joined to the area for more strength. Some dog gates prevent a dog from reaching a new area even by jumping or pushing. The height of a gate and strength can prevent these methods of exit.
Is there a specific dog gate for staircase use?
There are specific dog gates to place for staircase use. These usually have gates with latches and adjustable screws to tighten to the sides of the staircase. They have rubber covers on the screws to prevent scratches and dents on the staircase. They also help to keep the staircase dog gate in place.
Why do dog owners need a dog gate?
Not all dog owners need a dog gate, it is useful if you have a dog that needs training, children in the house, or multiple dogs. If you have a rescue dog or a pup that is yet untrained, it can be unsafe to allow them in certain rooms. For example, an excitable pup that doesn't know the command down in a kitchen is a worrisome idea. They could easily knock a pan of boiling water out of your hands and become scolded. Placing a dog gate between you and them can prevent this.

Furthermore, dogs can also potentially knock over children when you are not watching. They may be playing and your pup could get carried away. Placing a gate in the doorway of your child's bedroom will prevent your dog from getting in there when you cannot monitor their behavior. Lastly, a dog gate can help to care for multiple dogs. If you have a dog with food-aggressive behavior, then a dog gate can separate them. Feed one dog in one room and one in another, you will not have to worry about one dog stealing your other dog's food and possible fights ensuing.
Is it hard to install a dog gate?
This all depends on the product you buy. Some types of gates are more complicated to assemble than others. Also, some brands include detailed instructions and some may include nothing. Check product descriptions as well as reviews to gauge the difficulty of a dog gate's installation. Thorough instructions with picture-based guides are ideal, so see if these are included if you wish to install a dog gate.

Usually, dog gates are not too complex to install if you wish for the most simple though, we recommend purchasing a freestanding dog gate as this requires little assembly. You do not need to attach this to the wall so it can be considered a little easier to install.
Can I use a large dog gate for my small dog?
Large gates can pose a problem for a small breed of dog because of the gaps between the bars or posts. The gaps will pose an injury risk to your smaller dog in case they attempt to push their head or paws through the gaps. This could lead to your dog becoming injured by getting their paw or head trapped. Alternatively, if you own a little puppy or a tiny dog breed, they could squeeze their way through the gate. This would make the purchase of the gate impossible.

Lastly, you need to consider the price. A large dog gate will be heavier, taller, and stronger. This often means the gate will be more expensive because of the quality and amount of materials needed. Therefore if you do not need a large gate, it may not be worth purchasing it.
Once you know your dog's profile, you know what pet gate to purchase in order to have it last for a long time while always keeping your dog safe. Some dogs may dislike staying alone at first but there are several ways to get them to actually enjoy it. If you're after outdoor dog gates, I would recommend our article about kennel runs and outdoor playpens. We've also got so many great reviews that you'll find useful, so please check them out before you go!