With pet obesity on the rise in the USA, you might be wondering about low-fat dog food. Or, maybe your vet has recommended this diet to control a medical condition that your dog has. So, what does this kind of dog food contain? And why can't you simply eliminate all fat from your dog's diet?
Fat is an essential component of your pup's diet. As such, low-fat food for dogs aims to reduce the number of calories that your dog gets from fat, rather than completely eliminating it. Ready to find out more about fat in dog food? Read on with us!
Why Choose Low-Fat Dog Food
Most dogs benefit from eating high-quality, complete, and balanced commercial dog food. However, in some circumstances, your vet might recommend low-fat dog food in place of regular dog food. Your vet may recommend this dietary change to combat obesity or chronic pancreatitis. This is because meals that are high in fat can cause these conditions to worsen. However, do not swap your dog's diet to one that is lower in fat without consulting with your vet first. Your vet must supervise your pet's treatment to find which methods work best for them.
Although it may seem like a good idea to completely eliminate fat from your dog's diet, doing so does more harm than good. Your dog still needs some fat in their diet to stay happy and healthy. This is because fat is a macronutrient with several functions in the body. These include supporting cell growth, maintaining body temperature, producing hormones, and absorbing some essential nutrients.
What Is Considered Low-Fat Dog Food
As a general rule, dog foods that derive under 17% of their calories from fat can be considered low-fat. In contrast, regular dog food may derive anywhere from 20% to 60% of its calories from fat. Dry dog food tends to rest on the lower end of the scale, while canned foods are often on the higher end. But how can you tell how many calories in your dog's food come from fat?
First, consider the total calories in the food. These come from all of the protein, carbohydrates, and fats in the food. Then, consider the total amount of fat in the servings. This total amount can be seen as grams. Multiply the amount of fat by 9, because there are 9 calories per gram of fat. So, for example, if the dog food label states that there are 5 grams of total fat, times this by 9 to equal 45. This number is the number of calories from fat. Then, locate the number of servings on the packaging – this could be cups or ounces. Multiply the calories by the number of servings to find how many calories come from fat. To get a percentage, divide the calories from fat by the total number of calories in the dog food, then multiply the number by 100.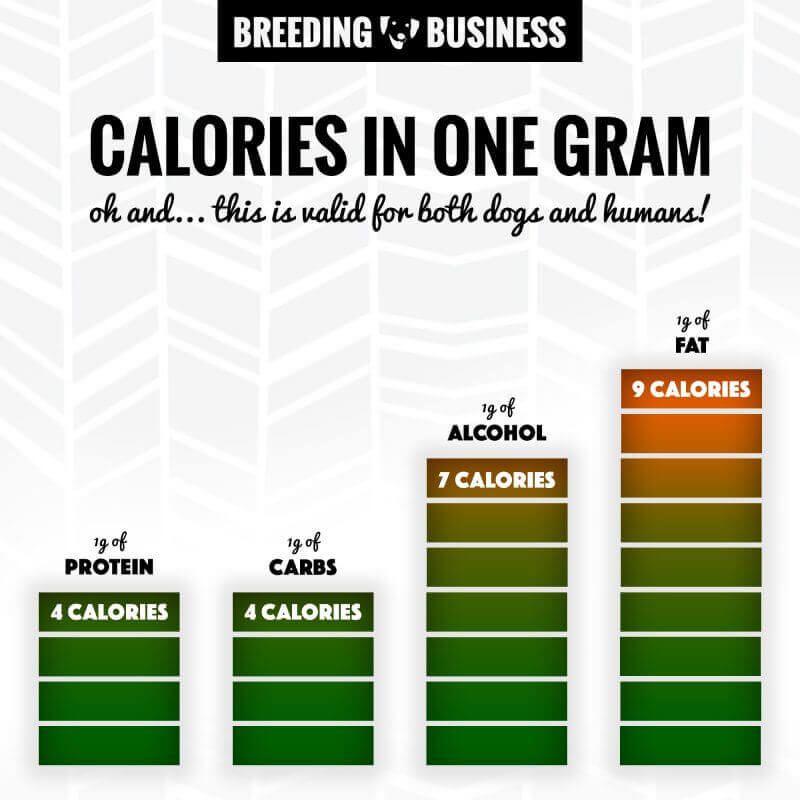 Low-Fat Dog Food – FAQs
Have any more questions about low-fat dog food? Feel free to browse our Frequently Asked Questions for more information. If in doubt about your pet's diet, always consult with a veterinary nutritionist for advice.
To combat obesity or chronic pancreatitis, some vets will recommend a diet that is lower in fat. Such diets derive less than 17% of their calories from fat. Your dog needs fat regardless of their condition, so you cannot simply eliminate all traces of fat from their diet. Be sure to consult with your vet about your dog's progress on their controlled diet.