Less than 4% of pet parents brush their dogs' teeth. In line with this, 80 to 89% of dogs suffer from periodontal disease after the age of three. As a responsible owner, you want to know more about how to prevent painful dental problems for your pooch. But what options are there? Is toothbrushing the only way to keep your dog's teeth clean? One lesser-known option is tooth scaling at home, which comes with some benefits and a lot of risks. Here, we discuss some of the best dog tooth scalers, so that you can make an informed decision about your pet's dental care.
A dog tooth scaler is a tool that some pet parents use to remove tartar from the teeth. The sharp or pointy edge works by scraping tartar away from the teeth, preventing plaque build-up. While this tool is extremely useful for this purpose, it can also be difficult for inexperienced owners and owners of easily stressed dogs. Not all dogs will stay still to allow for accurate cleaning, potentially leading to injuries and stress. Because of this, many vets will use anesthetic to thoroughly scale and plane your dog's teeth.
What is Tooth Scaling
Tooth scaling involves removing plaque from the teeth with a surgical instrument. In a professional dental scaling, a vet will use special tools to scrape the plaque away from the teeth.
A vet will remove plaque both above and below the gum line, making sure to clean all the way to the bottom of the gum pocket. After this, a vet begins root planing. This involves smoothing out the tooth roots to help the gum reattach to the tooth.
Tooth Scaling At Home
Dental scaling at home is not usually recommended for people with no experience or with dogs who will not stay still for such a procedure. The use of any instrument on the tooth enamel can cause tiny scratches, which eventually damage the tooth surface. Because of this, a professional veterinary dentist will always polish the teeth after removing plaque with dental instruments. In-between dental cleanings, however, some owners will use a tooth scraper to remove plaque until their next vet visit, where the teeth will be polished again.
Is it Safe to Do It
Generally speaking, it's always best for your vet to carry out any dental procedures that go beyond simple tooth brushing on your dog. If your dog already has gingivitis or periodontitis, any dental work could be extremely painful for them. Because of this, your vet may need to put your pet under a general anesthetic to get to the painful areas of your dog's mouth. Tooth scaling at home can also put your pup at risk of gum injuries and broken teeth, especially if you have no experience in dental cleaning yet. Some tooth cleaners may be very sharp, which is great for removing plaque, but potentially dangerous for your dog. This is especially a problem if your dog is unlikely to stay still for cleaning. For dogs who are calm and allow you to handle their mouths, dental scaling may be less risky.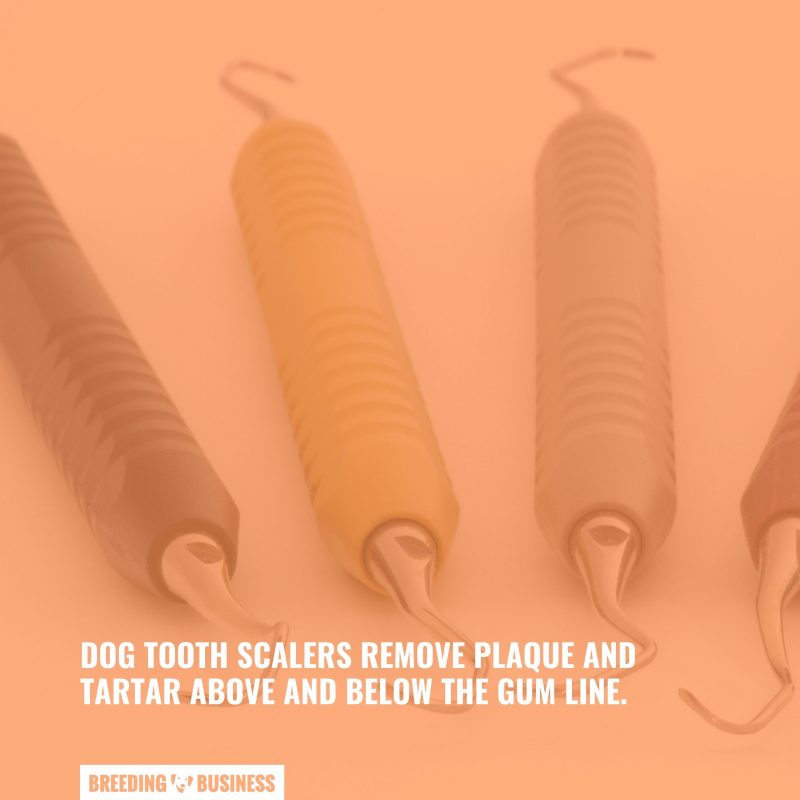 10 Best Dog Tooth Scalers
Looking for the best dog tooth scalers? The best dog tooth scalers will be durable, effective, and easy to use to reduce stress for your dog. Here, we list some of the most popular options on the market today, and discuss what makes them great, or perhaps not so useful.
1. Joy Pet 6-1/2-Inch Double Headed Tarter Remover
Keep your pup's teeth tartar-free with this super-effective scraper. This tooth scraper is made with stainless steel for easy cleaning and durability. Its octagonal handle is knurled to improve your grip as you scrape, giving more confidence as you work on your pup. This scraper is also double-ended, allowing you to use it for longer by simply flipping it – no fuss and gets the job done in one sitting!
Happy pet parents love the effectiveness of this scraper. Even with regular brushing, some owners find that this scraper is still able to remove tartar from their dog's teeth. This is because the edges are sharp enough to scrape off tartar and the angles of the edges make for easier scraping action. The scraper is also excellent value for money as it is long-lasting and washable.
Some customers bring up the fact that the two ends are the same size, and that they would prefer to see a scraper with two different ends to try. This scraper may also be too large for a small or toy breed, making it awkward to use. So, for owners of smaller dogs, a smaller scraper may be needed to get the most out of the tool.
2. OdontoMed2011 Tooth Scaler
This great-value listing is for two OdontoMed2011 Tooth Scalers. Made with stainless steel, this tooth scraper is double-ended and has a knurled handle for an easy grip. While one end measures 4mm, the other measures a slightly wider 5mm.
The OdontoMed2011 Tooth Scaler does not have any reviews yet, but the stainless steel material makes it durable and long-lasting, while the double-ended design makes it easier to get the job done in one sitting.
The main downside to this tooth scraper is that both ends are the same shape and very similar sizes. This offers less versatility than other scrapers. You may want to pair this scraper with another scraper for the most effective cleaning.
3. Mind up Kenko-care Pick&pick Double Header Tarter Remover
Get rid of stubborn tartar with the Mind Up Kenko-care Pick&pick Double Header tooth scraper. This pick is made with titanium-coated stainless steel and comes with a silicon rubber protective sleeve. The two ends are ground at a different angle for a more versatile clean.
Customers love how sturdy and easy to use this scraper is. They also love how the ends are angled rather than sharp, allowing more confidence as they worry less about hurting their furry friend.
This product is not for extremely heavy plaque and tartar as the ends are not sharp enough to remove heavy deposits. The lack of sharpness may also cause some less experienced owners to scrape harder, causing injuries to their pet.
4. Mars Stainless Steel Tooth Scaler for Dogs and Cats
Mars Stainless Steel Tooth Scaler is an excellent option for the more experienced pet parent. This scraper may be sharper than others on the market. It is made with a textured handle for better grip. Unlike the other scrapers on our list, this scraper is one-sided.
For customers who want a sharper tool to use, the Mars Stainless Steel Tooth Scaler is a perfect choice! Coupled with the tool's durability, many owners find that the scraper stays sharp for years. The angled edge also makes it easy and effective to use.
On the downside, this scraper is one-sided, making it less versatile than others. You may not be able to remove enough tartar in one sitting just using one side unless you already have experience using a tooth scaler.
5. Cherioll Pet Teeth Cleaning Kit
Looking for an all-in-one kit for your furry friend? The Cherioll Pet Teeth Cleaning Kit comes with six instruments that can be used on your dog. The tools include a dental mirror, tartar scraper, dental probe, dental scaler, toothpick, and dental tweezers. Each tool is made with stainless steel for durability.
There are only two reviews for this product, both stating that the tools are well-made and effective. The scaler and tartar scrapers are made with grips for easy handling.
There are some potential concerns with using this kit. The main concern is that it comes with tools that only a professional veterinary dentist should use, such as a dental probe for checking the depth of any gum pockets or cavities. Done unprofessionally, this can cause injuries to the gums and stress your dog.
6. NICARE Ultrasonic Tooth Cleaner Dental Calculus Remover
NICARE Plaque Remover is not designed for dogs, but some people use it regardless. Rather than using mechanical scraping action, this tooth cleaner uses ultrasonic technology to remove plaque. The package comes with three different heads.
For customers who use the product on their dogs, the main positive comment is its effectiveness. Tartar may come off easily with this tool, but for those with more build-up, the procedure may take much longer. It's also not possible to clean the inner surfaces of your dog's teeth properly without anesthetic.
The main issue with this product is that it is not designed specifically for dogs. Although your vet might use ultrasonic tools on your pet, the vibration from this instrument may be distressing for them whilst conscious. Your vet will use anesthetic if they need to thoroughly clean your pet's teeth.
7. Atmonas Plaque Remover for Teeth
Atmonas Plaque Remover is not specifically made for dogs, but the manufacturer claims that it can be used for them. This tooth cleaner comes with four replacement heads, uses three working modes, and is battery-powered.
Customers love the easy use of this product, and one reviewer used it on their own dog with good results. The different power settings also provide a range of choices for cleaning. However, there are not enough reviews or claims from pet owners to suggest just how effective it is for dogs.
Less satisfied customers state that the tool consumes power too quickly and is low-quality. For some, the product breaks as soon as it is used. This may make it unsuitable for dogs who are not used to having their teeth cleaned, as any aggressive movements may damage the product or cause harm to your dog.
8. PetEdge Stainless Steel Dental Pet Big Bow Scaler
Get a more precise clean with the PetEdge Stainless Steel Dental scaler! This dental instrument is made with surgical-grade stainless steel and knurled handles for accuracy and comfort. Unlike other dental scrapers, this tool has a pointed, curved end to allow for access to smaller spaces in the mouth.
Firstly, the durability and surgical-grade material of this tool make it ideal for long-term use. Its unique shape also makes it great for reaching smaller spaces in the mouth. Coupled with other tools on our list, your pet is sure to get the best cleaning experience.
On the downside, this tool is one-sided with just one option to use. Because of this, this tool may be best to use alongside other similar tools with different edges.
9. Boao 9 Pieces Dog Teeth Cleaning Kit Includes Tooth Scaler
Looking for a kit that does it all? The Boao 9 Piece Teeth Cleaning Kit includes tweezers, a mirror, two scrapers, a toothpick, finger toothbrushes, and long-handle dual-headed toothbrushes. These tools allow for an all-around dental cleaning.
Happy pet parents love how easy the tools are to use! For these owners, it's easy to remove tartar from the teeth in between professional dental cleanings. The tools are also versatile and offer plenty of ways to clean your pup's teeth.
Less satisfied buyers state that the tools are dull and cheaply made. For these owners, the tools are too dull to remove enough plaque from the teeth. The toothbrushes that arrive with the kit sometimes arrive flattened, too.
10. BreedomMade Dog Toothbrushes for Dogs & Cats
Need something extra for your dog's dental care regime? The BreedomMade kit comes with a 360-degree dog toothbrush, a tooth scaler, scraper, and finger toothbrush. It also comes with a storage tube.
The manufacturer recommends exactly how to use the tooth scaler and scraper, which makes it easier to use and suitable for beginners. It also comes with other tools that help to clean your dog's teeth and tongue!
On the downside, no reviews currently describe how effective, sharp, or grippable the tooth scaler and scraper are. While this scraper may be effective, it's not yet clear if it is indeed one of the best dog tooth scalers.
Dog Tooth Scalers: FAQ
Have any more questions or concerns about the best dog tooth scalers? Feel free to refer to our Frequently Asked Questions section for more details. If in doubt about your dog's dental health, always ask your vet for advice!
Dog dental care is often overlooked, leading to high rates of dog periodontitis. Fortunately, there are plenty of dog toothbrushes, dog toothpaste, and veterinary dentists that can help to keep your pet's teeth clean. With enough experience, a steady hand, and a calm dog, some of the best dog tooth scalers might just be a welcome addition to your dog's dental care regime.