A shedding hairbrush for dogs can ease your life by minimizing the pains of cleaning the fur from your furniture & clothing. An essential for a dog parent's grooming kit, a deshedding brush ensures that your dog's coat stays healthy and hygienic.
But with hundreds of excellent products to choose from, we agree that it can be hard to decide which one to get. Well, this guide is the antidote: we'll show you how these brushes work, their buying considerations, and seven top products dog brushes for shedding Let's get going.
What are Dog Brushes for Shedding and How Do They Work
Deshedding brushes are a type of dog hair brushes designed to get rid of the shedding dog hair in your dog's undercoat. When you brush your dog regularly, you decrease their chances of shedding and keep their coat clean, thus, keeping your house clean.
How's a deshedding brush different from a regular one? These brushes have more tightly packed or dense bristles that detangle your dog's coat and remove all the loose hair. Some higher-end deshedding brushes even have a blade to expedite the process. Here are some additional advantages of using a shedding brush for dogs:
Reduces deshedding (removes hair before they shed)
Keeps your couches, clothes, and floors clean
Helps detect fleas or ticks, timely
Reduces fur matting
Results in a healthy and shiny coat
Since not all dog hair brushes have the same powers, we have to invest in those that have the features that'll make our lives a bit easier. This brings us to our dog brush buying guide – what to look for in a dog hair brush?
Factors to Consider
If you've ensured that your brush is usable, durable, and portable, then congratulations, you have your long-lasting dog deshedding brush – here's how.
Usable
Your dog hairbrush is usable when it's of the right design and bristle type. Different brushes are designed for different purposes, so you need to identify your dog's needs. Does your dog have a thick undercoat? Go with the undercoat rake. Does it require topcoat brushing only? Use a slicker brush.
Similarly, bristles too have many types. Make sure to get a brush with bristles that your dog is comfortable with. For example, your dog may be more sensitive to a metal slicker brush than a bristle brush. In this case, you need to buy the latter. So, assess the needs properly before buying and target the right problem.
Durable
You don't want the brush to fall apart after a week's usage, do you? Some materials are more durable than others, and they should be your preference.
Generally, stiff plastic brushes with metallic bristles and rubber grips should be your preference. However, if you're concerned, you can even go with eco-friendly options like brushes made of bamboo.
Portable
Some brushes are big and heavy, and they don't bode well with people that are often traveling. An easy-to-carry, lightweight brush will do wonders for you. Additionally, smart-sized brushes are easy to handle and brush with, making your job easier.
7 Best Dog Hair Brush For Shedding
How do brushes work? Check. What are the buying factors? Check. Next on the list is the list of the best dog hair brush for shedding dogs in 2021. Let's start brushing!
1. Pet Neat Professional Deshedding Tool for Dogs and Cats
Top of the list is this plastic, rubber grip, 90-degree deshedding tool by Pet Neat that the brand claims can remove up to 95% of the shedding fur in 10 minutes. Its detachable head allows for a quick cleanup.
Measuring 6.49 x 2.95 x 1.73 inches, this dog hair brush with a 4-inch rust-resistance blade comb weighs a meager 4.48 oz, making it an ideal lightweight option.
This No. 1 Bestseller on Amazon has the best price to quality ratio – affordable & durable – and actually sets the standard for our buyers' guide!
2. Oster ShedMonster De-shedding Tool
Oster's ShedMonster is based on a professional undercoat rake design with rounded edges that can work on short and long coats. Its stainless steel bristles penetrate the dog coat, detangling and dematting all tangles and knots swiftly. (Use special clippers for matted coats to bulk-remove excess matting!)
With dimensions, 8.5 x 4.0 x 1.5 inches, this 3.88 oz brush is made out of plastic and has an ergonomic non-slip handle for extra comfort and control.
If you own dogs and cats both, the ShedMonster is an even better option for you as Oster has designed it for both.
3. SleekEZ Grooming Tool
A unique and patented invention by SleekEZ, this anti-tugging wave-patterned blade helps you deshed your pet's fur, be it a cat or livestock, flawlessly. Its ergonomic cylindrical handle is made of premium grade poplar wood, while the blade is stainless steel.
This 100% made-in-US dog hair brush weighs only 2.40 ounces and measures 5.5 x 3 x 1.5 inches. It comes in three sizes (2.5, 5.0, and 10.0-inch blades), with a 30-day money-back guarantee to help you be confident about the purchase.
All in all, fantastic at winter dog coat deshedding, SleekEZ's grooming tool is an essential shedding brush for dogs to have.
4. Furminator Undercoat Deshedding Tool
Furminator's Undercoat Deshedding Tool is perhaps the most ergonomic 9.60 oz rubber handle deshedding brush on this list. It comes in different sizes for different sized dogs and different fur lengths ('Long Hair' and 'Short Hair' models).
For easy cleanup, Furminator even installed a convenient 'FURejector' button, too, that releases the front clipper, allowing you to remove the shedded fur.
This brush measures 6.75 x 5.50 x 2.50 inches, and its clipper is curved to flow well through the pet's coat, along with the contours of their body. Not only does its unique design make grooming more effortless for you, but it also makes it enjoyable for your furry friends.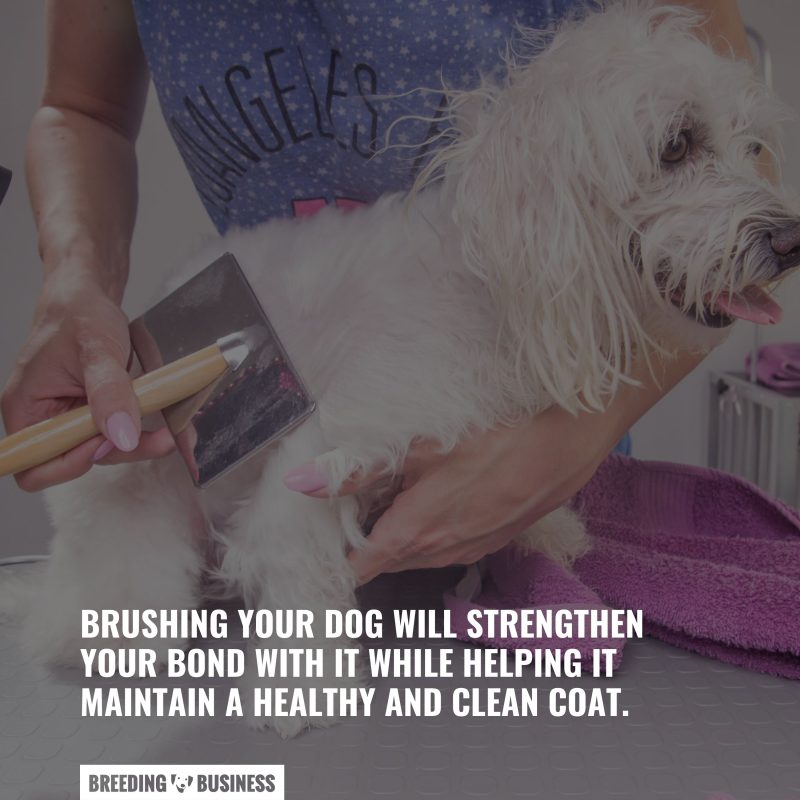 5. Safari by Coastal Dual-Sided Dog Shedding Blade
A no-nonsense deshedding brush by Coastal Pets, this 1.59 oz product is for medium to large dog breeds with its 1.25 x 4.75 x 12.75 inches dimensions.
With a double-sided blade that has fine and coarse edges, this shedding tool's loop can be broadened or narrowed, as required. Its simple design allows you to deshed a lot of fur in one go – but this makes it ideal for dogs who regularly shed in large amounts.
This Coastal Pets product is better suited to outdoor grooming due to its voluminous deshedding quality. One promising candidate for the best hair brush for shedding dogs office – would you agree?
6. Pet Craft Supply Dog Shedding Brush
No products found.
One of the best hair brushes for shedding dogs, Pet Craft's durable shedding tool comes with a stainless steel clipper that you can remove for cleaning. Like Pet Neat's brush, this brand, too, claims that their brush can clean up to 95% of the dead hair in minutes.
Also, this deshedder prevents the dog's coat from hurting further due to its rounded edges and can be used on pets with sensitive skin. Its dimensions are 5.91 x 2.36 x 2.36 inches and weighs around 3.2 oz, making it super compact and portable.
A product with excellent reviews. People love it because of its anti-slip handle design that helps you brush your dog without much force.
7. Burt's Bees Dog Brush Made From Bamboo
One for the environmentalists: Burt's Bees' double-sided bamboo brush finely desheds the fur with the rake and removes loose hair using the bristles. Its sturdy build comforts the pets so well that they fall asleep!
This 2-in-1 eco-friendly rake brush measures 2.17 x 4.35 x 7.75 inches and weighs 15.52 oz. Incredibly durable, this Burt's Bees' brush makes for a long-lasting and affordable dog grooming investment.
However, if you're used to tools like Furminator that have easy-cleanup features like FURejector, you'll have a tough time cleaning this brush's bristles. Make sure you're up for the labor before purchasing it!
Shedding Brush for Dogs – FAQs
Here are some frequently asked questions about dog shedding brushes.
Convinced or not, using deshedding brushes lands you in a win-win situation with your dog. They get to be healthy and hygienic, and you don't have to be worried about fungal infections, parasites, and skin allergies later on. Perhaps the best dog hair brush for shedding dogs that we came across in this review was Pet Neat's deshedding tool – an Amazon Bestseller that's usable, affordable, and durable. If you find a better option that fits these criteria, then let us know in the comments below. Until next time, happy brushing!