We want to give our dogs the best lives – the best quality of food, great toys, and lots of time and love! So when it comes to sleep – even if we know that dogs can sleep anywhere – it is crucial that we provide them with the same freshness, warmth, and comfort that we gain from our comfy beds. And what better than to get them their dog bed with a canopy!
These cute dog beds with canopies are not just fun to look at – they've got a lot of advantages. For one, they're very versatile and you can use them both indoors and outdoors, owing to their strong durability. They're lightweight and portable, the canopy provides for much comfort and protection from rain, heat and cold on bad days. They're the perfect gift for your little(or big) buds, allowing them their nook, corner, and comfort. Let them laze in the garden, on the porch or in the backyard or watch as they settle for a snooze in the middle of the living room on their very own canopy beds, all warm and happy.
Considerations for the Best Dog Canopy Bed
You can use dog beds with hoods inside and outside the home. Hence, we can categorize them into two types – protection and style – based on their purpose. The beds manufactured for protection are typically outdoor beds with a certain level of elevation and a shade (or canopy). This gives it cooling protection against rising temperatures and strong winds. Meanwhile, the stylish canopy beds are suitable for indoor use only given their delicate design and dainty material.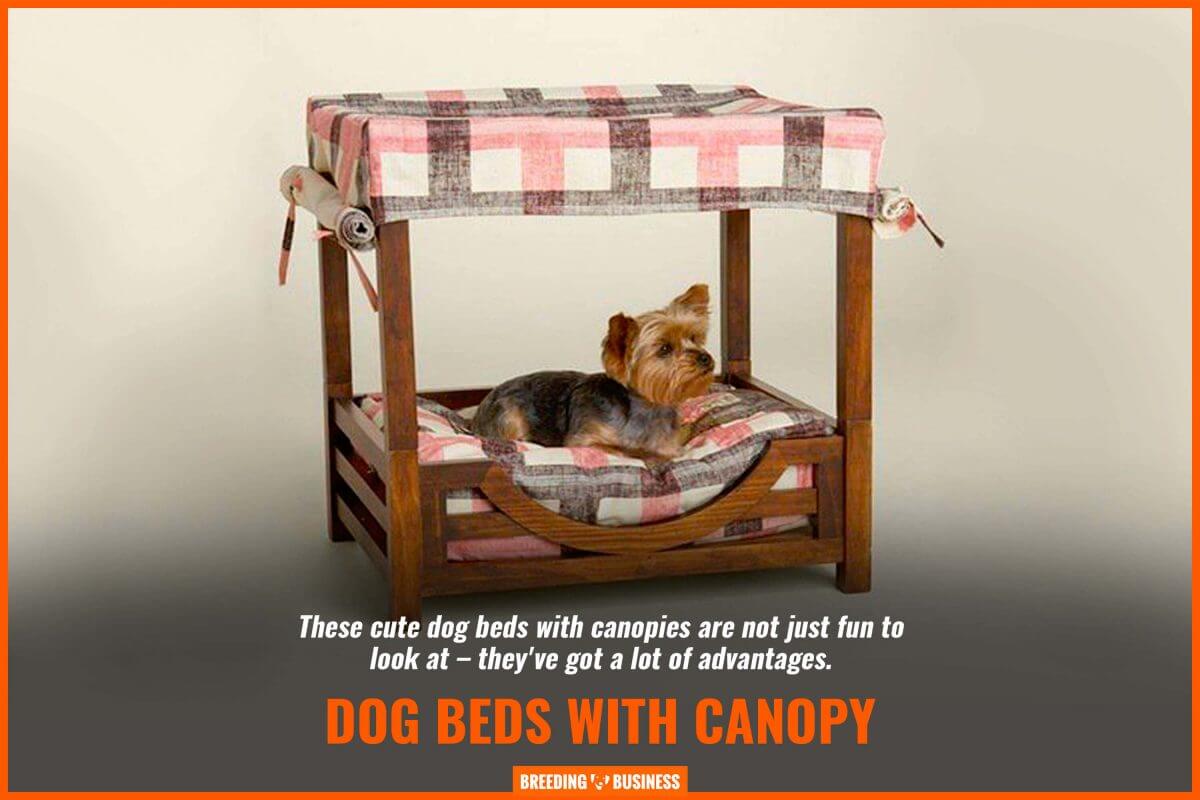 Material
The actual purpose of buying a separate bed for your dog is to provide comfort and coziness. For this, the first thing that you have to ensure is the quality of the material. The structure can be of steel, metal or wrought iron frame, and wood poles. While the fabrics are often nylon, cotton, or polyester which offer premium comfort. There are other materials available to choose from too, in keeping with your budget and requirements.
The one thing you must take care of is the breathability of the fabric. It is even better if the material is mold/mildew resistant, and water-resistant for the dogs during camping and hiking. An important point to keep in mind when choosing a canopy bed for dogs is to make sure that the material is machine washable. Since you will have to keep washing it.
The bed's shade must also be opaque enough to block sun rays and the heat that comes with these.
Level of Elevation
A lot of people think that the level of elevation for canopy dog beds only matters for outdoor beds. However, this is far from the truth. Elevated dog beds are to be bought respecting your dog's requirements, their size, and sleeping habits also. For an indoor dog bed, buy one according to the size of the space you are going to put it in. The dog must have enough space around the bed to jump in and nicely cozy up. If the bed is to be put in a corner where it might get uncomfortable for your dog to jump and get in, buy an elevated bed with a lower height.
The same goes for canopy dog beds for the outside. However, for outdoor beds, the minimum elevation should be somewhere around half a foot to one foot. This is to protect your dog from insects and crawlies on the ground. As well as to prevent them from getting dirty also. Make sure that the bed can withhold your dog's weight and doesn't droop down to the ground. If it defeats the purpose of it. If the bed droops, buy one with a higher elevation.
Size
The size of the canopied dog bed can be chosen as per your dog size and their sleeping habits. It, of course, has to be larger than your dog to comfortably accommodate them. If you frequently move the bed in and out of the house or carry it around, then a lightweight, portable/fold-able bed is always a great idea. The design of the bed contributes significantly in size. Also, keep in the mind the size of the room you will put the bed in.
Design
The design of a canopy dog bed is very important. It should be no-fuss and simple, easy to maintain, and convenient to move around if need be. Usually, these canopy dog beds can take up a lot of space around the house. so try and go for a sleeker and more compact design. A fold-able one or a detachable bed is also a great option. Beds that you can use both indoors and outdoors will prove beneficial in the long run, so try and go for one of these. The design of the bed should be visionary and of course, structurally sound. The bed should not droop or sag or break or tear. It should also have anti-slip bearings, so it doesn't move when the dog tries to climb up or down from it.
Type of Filler
You can stuff the insides of the bed with foam, memory foam, or mesh. These make the bed more fluffy, soft, and cozy for your pet pooch to get their beauty sleep in. Some beds also have cooling gels to make a miserable hot summer bearable for the dogs. Certain types of mesh material also prevent doggy odor and build-up of fleas and ticks for the dogs. Choose the filling wisely as a wrong, synthetic filler can trap the dog's body heat making them uncomfortable and unable to sleep due to the hotbed. Beds with special fillers are also available in the market, to suit the needs of old dogs or dogs with joint problems and permanent or long term injuries.
10 Best Canopy Beds For Dogs
Tented dog beds, hooded dog beds, or canopy beds for dogs – call them whatever you like, they each have a different, unique feature to ensure that your pet pooch enjoys a super comfortable nap each time.
We've compiled a list of dog beds that you can buy, keeping your dog's requirements in mind. Remember – these are literally just a click away – you can order them online and study the features of each of them right here.
1. Floppy Dawg Just Chillin' Elevated Dog Bed
Floppy Dawg Just Chillin' dog beds are elevated cot beds designed for small-sized dogs for outdoor and indoor usage. The cot is made of lightweight fabric and steel making it easier to move from one place to another. The raised height helps the air-flow and keeps the dirt, bugs, and mold away for the better health and clean surrounding of the dog.
The canopy is removable and washable. Unfortunately, it is not fold-able. But the sturdy frame makes it durable even for the dog who is a chewer. Although it is a fine product for small dogs and pups, it is not big enough for the large breeds.
A great buy for even the pickiest of pooches, this comfy snug bed is both – for outdoor and indoor use. Dogs love it for how comfortable it is and their parents love it for how easy to put together it is. The one problem with the bed is durability, which many find diminished after a few months of use.
2. PawHut Elevated Dog Bed With Canopy Shade
This elevated cot bed for dogs is one fitting outdoor choice. The open elevation allows the air circulation from all sides permitting a cooling effect. The fabric mesh is strong and breathable. Although, the fabric can be hand-washed only. The frame is of powder-coated steel which leaves it a lightweight object easily to be moved. The overall cot can take up the weight of a small to medium dogs but cannot fit a large or a bulky canine.
The main feature of this cot bed is its removable and fold-able canopy to restrict sun and heat in the open. All these features ensure a comfortable, cooling, and laid-back sitting arrangement to your dog on sunny days which makes it a good preference. The bonus is that it comes with a traveling bag for easier storage and transportation.
With a good amount of elevation, this bed has won hearts because it is easy to put together, can be used outdoors and indoors, and because it is oh-so-comfy for most dogs. However, some customers have reported that it isn't as durable as you'd expect it to be and within a month, falls apart at the seams if used roughly.
3. SUPERJARE Elevated Dog Cot with Canopy
As the name suggests, this bed is extra-large in size hence, the best option for large dogs too. This canopy cot bed is prepared with lightweight, washable mesh fabric, making the lounging of the dog more stress-free and happier. Its four legs are skid-free and hold it in one place.
The thoughtful design consists of two more supportive beams under the cot making it durable to support the weight of the heavy dogs. The canopy can be attached with a simple mechanism and is also water as well as UV rays resistant. Inside or outside, this bed becomes a versatile choice with its easy portability and durability.
This bed is great for outdoors as well as indoor use and is a favorite among pets and their parents. It is great for large breed dogs and very durable and sturdy. It doesn't even bend after use. A few customers have complained of the bed's stitching not being very strong.
4. Reliancer Elevated Dog Cot with Canopy Shade
The best part of having a canopy bed for your dog is that it doesn't only protect them from the sun, dirt, and rain but also allows them to enjoy the perfect breeze of the evening or a beach. This Recliancer Elevated Dog Cot with Canopy Shade with extra support in the middle is yet another best choice for the large dogs.
The variable sizes available in it provides a vast choosing option to the dog owner for their dog. The given bed provides an elevation of 7.1 inches off the ground, keeping the body of the dog well away from the hot, cold, or hard and gravel surface. While the oxford fabric used in the cot makes it durable and scratch-free. The canopy of waterproof polyester taffeta prevents sand and sun equally and just needs to be fixed into the hole in each corner. the huge bed can also be easily folded and placed in its provided traveling bag for carrying.
Pet parents who love to take their dogs for a hike or camping love the bed for how lightweight and roomy it is for their pooches. The tent comes with a separate elevated bed, which makes it really easy for pet parents to carry around. Those customers who are unhappy with it have complained of really poor stitching that comes off within months of use.
5. Pet Tent Soft Bed for Dog
Best Pet Supplies, Inc from New York Design this range of soft tent beds. The closed designing of the bed keeps it insulated during the chills and keeps the body heat intact for the dog. This plush indoor tent comes in choices of nine colors and three sizes to align with the interiors of your homes.
This bed is made with faux suede, linen, or corduroy, soft poly-foam lines it from inside. It also has a detachable cushion inside making it easy to clean. You can also hand wash or machine wash the tent without distorting its shape. Light in weight and crate-size folding makes it the best option for travel purposes too. These soft tent beds are a fine option for cats too.
While a majority of consumers have loved the bed for its cutesy appearance, soft material, and convenience, a handful have complained that the bed is flimsy. Some found that despite following instructions to wash the bed, the stitching began to come off. This could be a one-off incident, considering most others have loved it. If you face an issue of this sort, you can always call into their reliable customer service.
6. FurHaven Pet Dog Bed
FurHaven offers a wide range of beds for your pet. Their Hideaways and Burrows section consists of some amazing options for your lazy, loving dogs. The Snuggery Burrow Bed is just for the dogs who like to snuggle in for a better part of the day. The round-shaped bed is lidded with a soft blanket working as a cover and a plastic hoop attached with a zip for easy care and wash. Available in 4 different sizes and 5 color choices, it is perfect for any size of a dog. The think mattress underneath has options of Orthopaedic foam, Memory foam and Cooling Gel foam to address joint health and posture concerns.
Another product of the section that cannot be missed is Felt Cubby – a two-colored rounded pet bed. The two-part zipper makes a bowl-like bed with a cover. The compressed felt fabric ensures insulation for warmth sound absorbent. It is also non-shedding fabric, making it easy to keep it clean. The lightweight fabric and the detachable sides make it a convenient bed to carry while traveling.
This super cute offering has customers posting pictures of their dogs happily peeking through the covers of a bed. While a lot of people are very happy with how cuddly soft and durable the bed, quite a few have complained about the plastic tubing. This is what makes the canopy of the bed stand upright. A lot of disappointed pet parents have mentioned that the tubing was flimsy and the bed – not worth the hype. However, you can always get in touch with the company for an exchange.
7. Tofern Igloo House
We do agree that it is a peculiarly long name for a dog bed but believe us when we tell you that this is also a super comfy and a snug option for a dog that loves to be cuddled. It is a tent looking bed with no steel or metal in its structure. This makes it safe for the jumpy dogs from getting hurt providing only softness and warmth. Prepared with cotton fabric, PV fleece, and cotton padding is eco-friendly too.
A special type of plastic used at the bottom makes it non-slippery and waterproof. you can easily remove the cushion from inside and wash it along with the whole tent itself. It is available in a medium-size, it is the right fit for a small and medium-size dog. You might have to drag your dog out of this one each day!
This super cute puppy bed is cute and cozy and makes for a great prop to take pictures in! Many customers have said that their pups couldn't stay away from this bed. The few unhappy reviews that this bed has gotten, state that the shipping wasn't right and that the bed arrived crumpled, wrinkled, and in some cases even broken.
8. Arkmiido Pet Teepee Dog & Cat Bed with Cushion
No products found.
This teepee style bed is comfort and beauty at its best – it is super cute to look at and is also very, very cozy for your dog to sleep in. Well, just a look at this Pet Teepee dog bed will clear all your doubts and make you want to crawl inside too.
Light-weighted and colorful this teepee bed amps up the style quotient and brands it a fabulous luxury item for your small size dogs. The durable, soft fabric held with poles in a cone-shaped tent enables a cozy feeling for the comfort of the dog. The cushion at the bottom is again detachable and you can easily machine wash it. It is also convenient to carry at places as it can be effortlessly assembled and dissembled.
The teepee style appearance of the bed obviously adds to its charm. Not to mention the cozy comfort of the furry lining. It is sturdy and looks awesome too! A next-to-none, the number of customers have complained about receiving their bed with missing parts, so make sure you check your delivery properly.
9. Little Dove Pet Teepee Dog (Puppy) & Cat Bed
While this is not exactly a canopy bed, it is still a cute and convenient bed option for the small dogs. This cozy little, love dove is an indoor nook for your dog who prefers enclosed spaces. The simple design and structure are more focused on the look and convenience than other comfort nitty-gritty.
Occupying little space, the pine poles and quality fabrics of the teepee are easy to wash and is fold-able. The standard version of the bed does not include a bottom cushion and has to be bought separately. So, this dog canopy bed is a bright choice for someone looking for elegance in a dog bed.
Yet another teepee bed that comes with a super comfy blanket apart from other things. This one's a favorite with a lot of pet parents. It is easy to wash and maintain too. Some customers have said that it is a tad pricey for the kind of material in the bed. But other than that, there aren't any major issues.
10. Creation Core Romantic Pet Bed House with Canopy
Ever imagined a miniature sized four-post bed for your pooch? Well, this is exactly a version of a small four-post bed out of a barbie house with more bright colors and an adorable net. Your fluffy pup/dog may just get to live their fairy-tale fantasy in it. Hold up on four pipes and a sliding shade, it is covered on all three sides and a mosquito protecting net on the fourth opening side. You can move the sides easily and whenever you want to.
The material used is of home cotton fabric giving your dog cushy feeling inside. There is also a personalized small pillow filled with soft feathery cotton for the headrest of the dog. It is indeed an unmatched, colorful snug corner for the small dogs.
Yet another super cute bed, with not that many buyers. This bed hasn't seen too many buyers, except those who fell in love with its bright pink canopy. A big problem with the bed, however, is that the brand name flashes across its canopy and if that's a problem then maybe you should skip buying this one.
Dog Beds with Canopy – FAQs
Buying a canopy bed for dogs can be an investment and a hefty one – so it is normal to have questions and apprehensions. We've given you some extensive dog canopy bed reviews already. We're here to sort you out. Here's a comprehensive list of questions you may have about buying your first hooded dog bed.
How do you Make a Dog Canopy Bed?
For a regular canopy, you will need four sturdy poles, a piece of good quality fabric, and some string to tie it all up. Ordering a ready-made canopy dog bed is always a great idea, but it can be quiet heavy on the pocket. If you're not ready for a big spend, you can make a canopy dog bed at home using many YouTube tutorials available online. From fancy, princess beds to straightforward ones.
What is the Best-Elevated Dog Bed?
A best-elevated dog bed is raised well above the ground – at least. It should be made out of sturdy, durable fabric so that it doesn't sag or break due to your dog's weight. A proper elevated dog bed provides all-weather protection and can be used as an outdoor dog canopy bed or even as a dog bed inside the house. It should be high enough to protect your dog from any insects or crawlies outdoors and yet be comfortable enough for them to jump onto it. The beds should have a sturdy, no-slip flooring for your dog to perch onto it easily.
What is the Best Dog Bed?
The best dog beds are those how they make your dog feel. They have to provide your dog with comfort and warmth and is adjustable in any weather. It is a place where they are going to rest after their tiring activities and so the bed has to provide that ease and aura to feel safe and relaxed. The materials used also matters as they must not affect the health of your dog adversely. For old dogs or dogs with joint problems – soft, with memory foam, cushioned beds are more preferable to help them in their weak bones.
A canopied bed provides added benefits of shade and protection against the sun and heat making it suitable for inside as well as outside the house. A perfect beg is a blend of hard and soft materials. Also, what is best for a particular dog depends on their preferences. Like, a soft bed is good for senior dogs while hard beds are a good choice for adult dogs.
Are Cots Good for Dogs?
Compared to any other types of dog beds, cots prove to be a more convenient type of bed. They are light in weight and no extra attachments which make it easier to move it around in or out of the house. The cots can even be placed on a sofa or bed to seat your dog nearby and still not in your furniture. They are also easy to maintain, clean, and occupy less space. Elevated style design also offers a relief to the dogs with arthritis or joint pains to the dogs or senior dogs.
Are Dog Beds with Canopy Safe?
The beds with canopy are a very safe option for your pets. Dogs love outside activities and staying out in open for longer times. For this, an outdoor dog bed can ensure their relaxing time too. This relaxing is enhanced when they get a cooling cover from a canopy too. It protects them for the red-hot sun, blowing wind and dust.
A dog bed with canopy offers many benefits to your dogs. Take time to evaluate what benefits your dog would most need and which you should invest your money into. Also, be sure to check customer reviews before making a purchase!