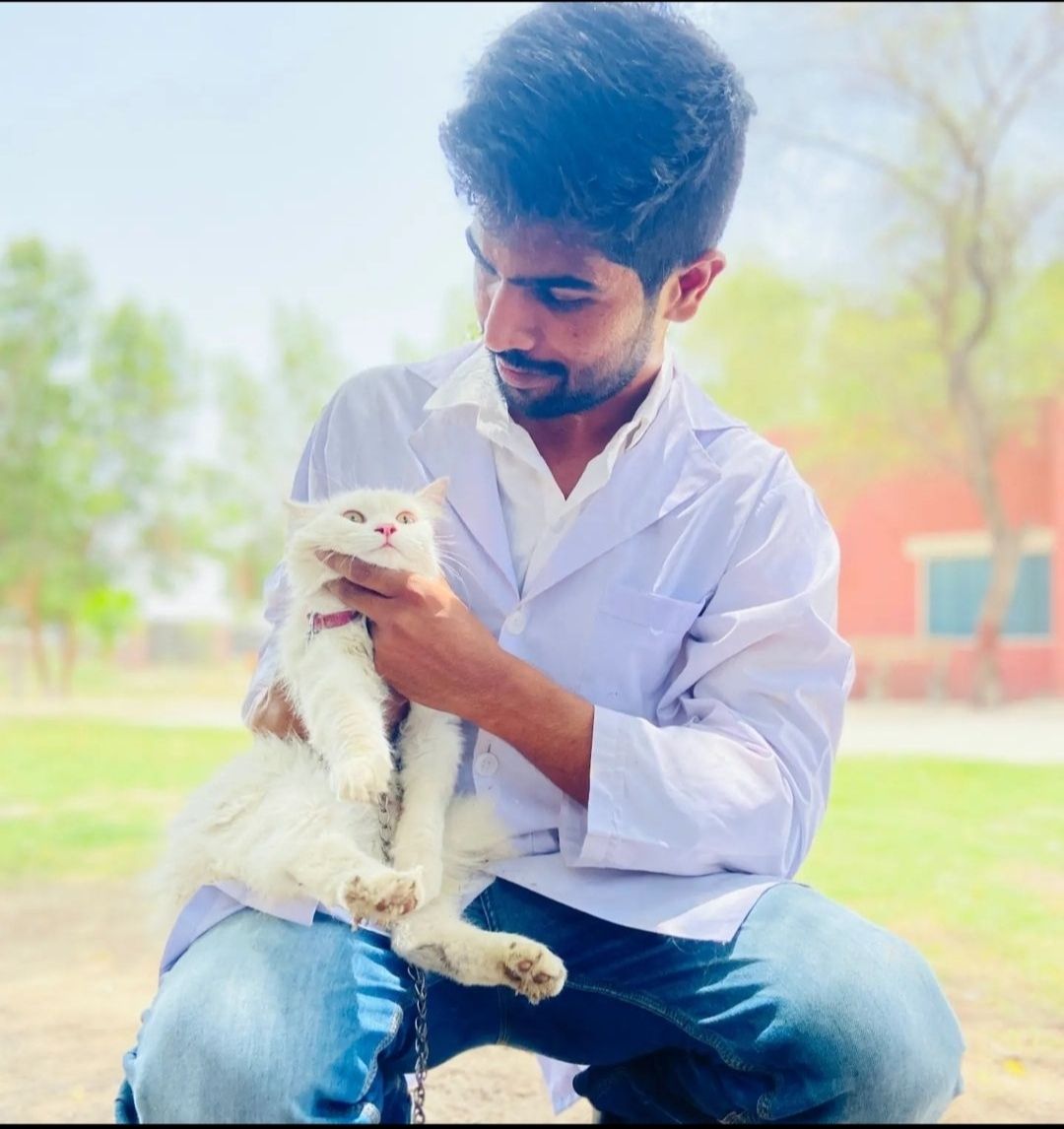 Jawad Ahmad
Jawad Ahmad is a final-year veterinary student at the University of Veterinary and Animal Sciences, Pakistan, with a significant background in both veterinary medicine and content writing, influenced by his rural roots and love for animals. With four years of hands-on experience in institutions like his university's clinic, Tahira Animal Welfare Foundation, and Poultry Diagnostic Lab, he's honed skills in surgery, diagnosis, and treatment. An advocate for animal rights, Jawad has organized welfare campaigns, completed an international externship with the University of Brawijaya, and written extensively for platforms like 'Just Answer' and 'Dogs Naturally' to educate on animal care. He boasts a decade of commitment to animal welfare, over 20 publications, and accolades in research, continually striving for animal well-being as a dedicated veterinarian.
Expertise
DVM, University of Veterinary And Animal Sciences, Pakistan (2019-24)
Veterinary Medicine, Virtual International Student Exchange Program, University of Brawijaya (2022-23)
Antimicrobial Resistance Course by Technical University of Denmark (2023)
Animal Behavior and Welfare by University of Edinburgh (2021)
Introduction to Animal Behavior by the University of Edinburgh (2021)
Equine Welfare and Management by University of Edinburg (2021)
Experience
Pet Practitioner at Todd's welfare Society
Internship in Poultry Diagnostic Lab at Arifwala
Veterinary Technician at Tahira Animal welfare Foundation
Veterinarian at the Outdoor Clinic of College of Veterinary & Animal Sciences
Veterinarian With JustAnswer
Academic Writer at Livingston Research
Medical Content Writing
International Paper Competiton Winner organized by University of Brawijaya
More about Jawad Ahmad
Introducing Jawad Ahmad, a final-year professional Veterinarian pursuing his studies at the distinguished University of Veterinary and Animal Sciences, Pakistan. In addition to his academic journey, Jawad has successfully embraced the role of an accomplished veterinary content writer. Jawad's path in veterinary medicine was influenced by his rural upbringing and deep affection for animals, especially pets.
With an impressive four years of practical experience, Jawad has skillfully developed his expertise through hands-on work at various institutions, including his college's outdoor clinic, Tahira Animal Welfare Foundation, Todd's, and the Poultry Diagnostic Lab in Arifwala. His proficiencies span surgery, diagnosis, and treatment, making him a valuable contributor to the veterinary field.
Jawad is a skilled practitioner and an ardent advocate for animal welfare. He has diligently organized various welfare campaigns and events, striving to be the voice for voiceless creatures. His unwavering dedication earned him an International Virtual externship with the University of Brawijaya.
Beyond his practical work, Jawad is a prolific writer, producing articles that enhance awareness among pet owners and fellow veterinarians. He has collaborated with local clients' websites such as 'Just Answer,' 'Dogs Naturally,' showcasing his versatility in the field.
With a remarkable decade-long commitment to pet welfare and rescue, over 20 publications to his name, and a notable victory in a research paper competition at the University of Bariwaja, Indonesia, Jawad Ahmad exemplifies a dedicated veterinarian whose mission is to ensure the well-being of our beloved, voiceless companions. His ultimate goal is to attain genuine happiness through his steadfast dedication to the animals he serves.