Who hasn't been fascinated by a video of a random dog's antics? Nowadays, you can capture life not with your human eyes, with your dog's very own perspective. You just need the best action camera for dogs, a harness/mount, and you're all set for hours of fun.
What is an action camera, and how is that different from a regular camera or camcorder? Many will wonder if their regular holiday camera or even smartphone could do: the answer is no, they can't because they will break and offer a bad video quality.
Typically small, light, waterproof, and shockproof, so they can handle whatever activity you throw at them, action cameras have been built to face elements and outdoor activities. They are adapted and specialized in daylight and sudden changes of direction. They will offer a crisp quality of image out of the box, without the need for lengthy fine-tuning.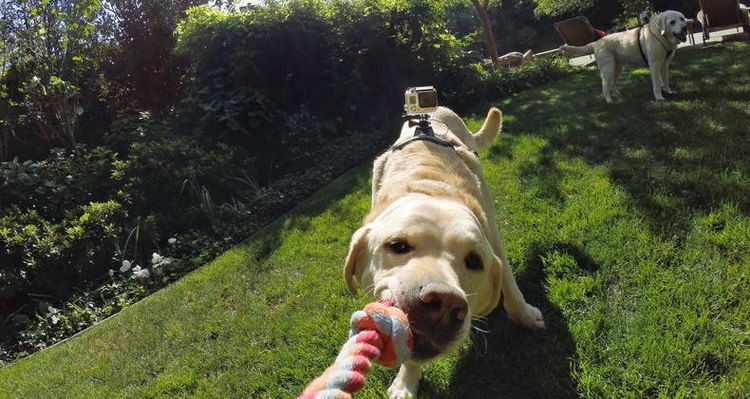 How To Choose The Right Action Camera For My Dog?
There are few key features and characteristics to have in mind when choosing an action camera for dogs, especially if you intend to publish these videos online or share it with your friends and family.
Video Quality & Resolution — obviously, you want to have a crisp, bright and vivid quality for your various footages; some will be in the evening, some by the beach, some during a cloudy day so it is important to have the best quality available out-of-the-box
Frames Per Second — great slow motions and time lapses are possible only if you have over 60fps, but bear in mind that the greater the resolution, the lesser frames per seconds so it is all about the balance between quality of the image and the quantity per second
Photo Quality — old school users will enjoy a great photo mode with burst mode, the three action cameras here all have great photo quality
Connectivity (WiFi?) — videos are the heaviest files on your harddrive, you want to have a quick and seamless way to transfer them from your action cam directly to your computer (Mac or PC), this process must be hassle-free!
Waterproof & Shockproof — it goes without saying that an action camera can only be one if it has been built to resist shocks, falls and scratches but also swims, rain and splashes
Housings & Mounts — an action camera in itself is quite pointless, you need the housings and mounts to attach it to yourself, your dog's back, your dog's chest, or on your bike, etc.
Accessories — we all like to see a few extra features and tools thrown in there!
As you can see, design and style aren't on this list simply because a beautiful camera won't really do well against rain and shocks. We don't think the style of an action camera should matter much when deciding to buy one and to be honest, they all look pretty nice.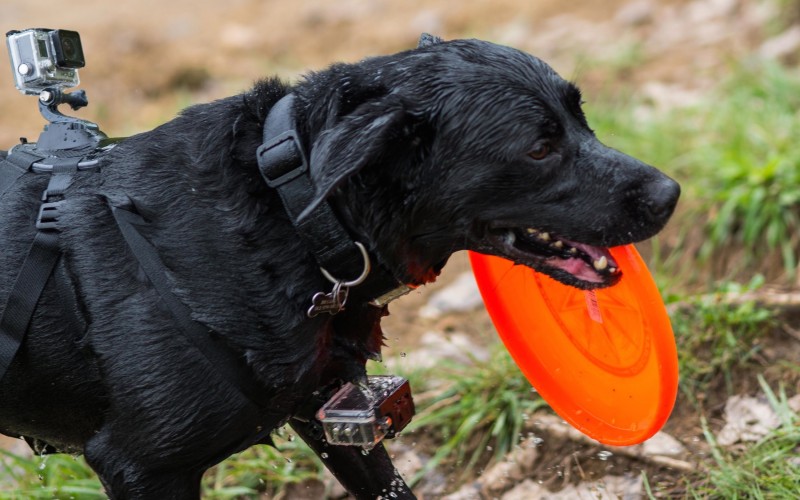 Top 5 Best GoPro For Dogs
GoPro's lineup as of September 2015 boasts five action cameras: the Hero, Hero+ LCD, Hero4 Silver, Hero4 Black, and the Hero4 Session. Although their looks are pretty similar, the prices are not… A basic Hero starts from $129 (£100, AU$169) to $499 (£370, AU$649) for a high-performance Hero4 Black.
Capabilities differ on the video and photo quality mainly, since all of them have a solid housing ready to face pretty much any situation and activity. We'll dismiss a few in the GoPro range right now by saying goodbye to:
The GoPro Hero — cheapest of all, it would not be smart purchase with its lower video quality and its absence of a screen, the videos will only be viewable on your smartphone
The GoPro Session — non-removable battery and no screen at all which makes it difficult for you to monitor its status, you have to use an iOS or Android app to manage its status; just not worth it
So now we dismissed the GoPro you probably should not buy to capture your dog's action, we can focus on the GoPros that would be perfect as action cameras for dogs.
1. GoPro HERO6 Black
The HERO6 is sturdy and very much rugged making it the best GoPro for dogs even without any protective case. Being the latest model, the GoPro HERO6 is packed with technology but also shows a big price tag. Shoot your footage in 4K at 60 frames per second for great slow-motion effects, or go with an insane 1080p240 video. Image stabilization is hugely improved from the last years' models HERO5 and HERO4.
If your dog loves ponds or beaches, needn't worry. This GoPro for dogs is waterproof without any accessory to a depth of 10m or 33ft; and no need but any housing or case. Use the GoPro Mobile App to manage your different films, photos, and captured moments; and share them with friends and family super easily.
2. Hero+ LCD
The Hero+ LCD is a bit pricier than the Hero, and, like the Hero, it has a non-removable battery and is also blocked in its waterproof housing. Unlike the Hero, the Hero+ LCD offers a crisp touchscreen to manage settings and modes, and for preview and playback.
A useful addition is its Wi-Fi connectivity so you can wirelessly control your camera from afar but also upload and transfer your new videos to your devices or to upload websites and sharing platforms. If you want to have a fully hands-on experience, you can edit (read trim) your video clips directly from the GoPro Hero+ LCD screen.
The video quality although being good is not good enough to watch your clips comfortably on the large screen or TV. Instead, it is rather adapted for smartphones and tablets viewing. The shooting mode offered by the Hero+ LCD are minimalistic, maxing out at a 1080p resolution and a frame rate of 60fps. Photos are at a modest 8-megapixel.
The Hero+ LCD is an all-around better choice than the entry-level Hero in terms of features and video quality. But, you'll still have to live with its built-in battery and being stuck in its housing.
Perfect for: nondemanding users who still need good video quality and straightforward out-of-the-box filming experience. The touchscreen and Wi-Fi both are making it a great buy.
3. Hero4 Silver
An ideal balance of great features and top performances, all of that for a reasonable $400, £290 or AU$550. Indeed, for that sum, you are going to record beautiful 4K videos at 15fps, or for a smoother experience, 2.7K resolution videos at 30fps. For regular users, 1080p videos are saved at an impressive 60fps, and 720p clips at 120fps. It goes without saying that slow motions will look crisp and vivid with such capabilities.
The Hero4 Silver's image sensor and processor allow you to enjoy on a very large screen superb videos with an image quality that surpasses some regular (yet expensive) cameras and camcorders.
Its style is indistinguishable to its pricier top-of-the-line brother, the Hero4 Black, except for one exception: the Hero4 Silver has an extremely useful LCD touchscreen built-in. The Hero4 Black does not have a preview screen but it has a settings screen, crazy… Right from your Hero4 Silver, you can do the same as you would with the Hero+ LCD: trimming video clips, changing settings, preview videos, etc.
Perfect for: probably the best choice for whoever wants top-notch video quality at a decent price, the shooting modes are insanely attractive and you even get an LCD touchscreen for $100 cheaper than the top-of-the-line Hero4 Black.
4. Hero4 Black
The Hero4 Black is the ultimate action camera for dogs: the quality is extremely high, the highest actually.
Unlike the Hero4 Silver that also has 4K video shooting, the Black version shoots 4K videos at a usable frame rate of 30fps, doubling the shy 15fps of the Hero4 Silver. Meaning, the action camera will perfectly record moving dogs, animals, and objects. The Hero4 Black excels even more at lower resolutions, doing 1080p at up to 120fps for full HD slow-mo footages or 720p at 240fps so you can slow down your videos even more.
These incredible performances explain why the touchscreen isn't possible on the Hero4 Black, but if you need less quality but more user-friendliness, you should go for the Silver model discussed above.
Perfect for: if you have a YouTube channel, or if you want to document your adventures with your dog, this is the ultimate companion to have thanks to its peerless video and housing quality.
5. GoPro Dog Harness
An action camera for dogs requires a harness/mount to be attached to your dogs and used to capture the worlds with your dog's perspective. Most manufacturers of dog harness with camera mounts are trying to accommodate all camera sizes and frames which results in a fiddly setup.
GoPro came up with its very own high-quality and inexpensive GoPro dog hardness that works marvelously well with their action cameras.
It is a fully adjustable GoPro dog harness and fits dogs from 15 to 120lbs (7 to 54kg.) The harness itself is padded at all adjustment points to make your dog even more comfortable.
It comes with two mounting locations (back and chest) to allow a variety of perspectives depending on what you want to shoot. If you have two GoPros, set them all up and make amazing clips. If you've got a small dog, the chest mount is removable so it does not bother your dog's comfort.
Not a GoPro Fan? Check Out The Competition
Although GoPro offers the most updated action cameras for dogs and dog breeders, some of you may prefer to go with cheaper options or with other brands. Here are a few great dog action cameras that will most certainly be lower to GoPro in terms of specs, but they will flaunt their own advantages.
Sony Action Cam 4K
The Sony Action Cam Mini HDR-AZ1 is a lightweight and very small model with built-in WiFi and NFC for easy pairing with your smartphone. It also has a removable battery so just buy a few extra batteries to bring on a trip to film hours of footage.
The Sony Action Cam Mini has electronic image stabilization and comes with a waterproof case up to 5 meters, a tripod mount compatible with most Sony mounts. This is a dog action camera that fights the GoPro Hero+ LCD in terms of shooting quality, although the Mini HDR-AZ1 does not have an LCD screen…
The Live View Remote makes up for the lack of touchscreen by having the LCD screen on your wrist: pretty easy to set up, it has a nice wide display with an easy-to-use menu and straight forward settings. Easy to connect to your Sony action camera, the battery will last you quite a long time, around 4 hours per charge.
Sony Action Cam FDR-X3000 4K
If you need higher video recording resolution and a high bit rate recording and image stabilization, then the Sony Action Cam FDR-X1000V/W is the dog action camera to go for. This Sony Action Cam will capture videos at an impressive 4K resolution for the best viewing experience on (very) large screens, at a good 30fps so moving animals, dogs and objects will not result in a drop of quality.
With a built-in stereo mic for quality sound, you will even enjoy an embedded wind noise reduction system to have a clear sound outdoors during your dog's run, chase and play. Image-wise, the SteadyShot(TM) image stabilisation system has been conceived with aerial and bike videos, so a running and excited dogs will definitely cause no problem!
Here again, you must use the included LiveView Remote Kit to have the LCD preview touchscreen on your wrist. Sony's X1000V Action Cam provides power and performance that go head-to-head with the GoPro's top-line models, Silver & Black.