Oral health is just as important for dogs as it is for us owners. In some ways, it's extra important because dogs explore everything with their mouths. Tartar is the most common dental issue that dogs experience, and it is easily avoidable! But with so many options out there to choose from, it can be hard to know which one is best for your dog. This buying guide will take you through our 12 best dog tartar removers currently on the market.
So what is tartar, how do we remove it and how do we prevent it? Let's explore everything you need to know and answer the most frequently asked questions about how to remove tartar from dogs.
What is Tartar
Tartar is a build-up of plaque. Plaque is a film of bacteria that forms whenever we eat or drink. It is a result of the natural bacteria in our mouths reacting to our food. Cleaning the teeth removes plaque, but it can harden to become tartar when left on the teeth for as little as two days. Tartar buildup can lead to bad breath, tooth sensitivity, cavities, and gum disease. The bacteria in plaque also produce acids that react with our food. This can destroy tooth enamel and cause yellow or brown teeth.
Tartar is much harder to remove and in humans, can only be removed by dentists with a professional clean. As dogs don't visit the dentist, it's important to clean your dog's teeth regularly, and there are several ways to do that.
How To Remove Plaque & Tartar From Your Dog's Teeth
First of all, owners should keep an eye on their dog's teeth the same way they keep an eye on their own; by regularly having a look at the color of their dog's teeth and gums. Vets will also check on their dental health at annual check-ups. It's also worth mentioning that small breeds and elderly dogs are more inclined to have dental problems than others. Most older dogs will have some tartar build-up. As long as you keep their mouths clean as best you can and they aren't experiencing problems with it, don't worry too much about removing it.
As mentioned above, there are several ways to remove plaque from your dog's teeth and keep their mouths clean. Removing dog tartar is a lot more difficult as it is much harder. It will require a vet to remove it fully. However, some of the things we can use to remove plaque can be effective in removing some tartar.
Dog dental health products are not one-size-fits-all. For your dog, it may be a case of trial and error. Thankfully, there are a lot of different ways to keep their mouths clean. Let's take a look at some of the most effective ways of removing and preventing plaque and tartar at home.
A Good Diet
The first line of defense against dog dental problems is a good diet. A natural, balanced diet of nutrient-rich kibble, high-quality meat, and dog-safe fruits and vegetables that are low in sugar and acidity is the simplest way to prevent day-to-day plaque build-up in dogs. That said, it's not the only thing you should be doing to keep your dog's teeth healthy.
Tooth Brushes
Dog owners can buy toothbrushes made specifically for dogs. They use soft bristles and pet-safe materials, a long handle for easy use, and an angular head that comfortably moves around the shape of the canine mouth. They're a great way for owners to make sure every corner of their dog's mouth gets clean. However, they aren't necessarily for every dog.
Toothpaste
When using a toothbrush for dogs, owners should never use human toothpaste. Most human toothpaste contains Xylitol, which is poisonous to dogs and can cause damage to the liver as well as drops in blood sugar.
Instead, opt for toothpaste specially formulated for dogs that contain dog-safe, enzymatic ingredients which remove bacteria, plaque, lessen tartar build-up, whiten teeth, and encourage fresh breath. Alternatively, you could make your own dog toothpaste at home using baking soda and coconut oil.
Gels & Sprays
There are also oral gels and sprays that don't require toothbrushes, which is a good option for dogs who aren't a fan of the toothbrush.
Water Additives
A relatively new invention and incredibly convenient, some pet health brands now offer tasty water additives that freshen breath, whiten teeth, and reduce tartar build-up, simply by mixing the product into a dog's water bowl. No brushing required! This is an excellent alternative for dogs that don't like having their teeth brushed, and is just as effective.
Dental Chew Treats
Daily dental chews scrape away plaque and tartar as your dog chews them. They are designed with deep ridges to reach down to the gumline, with some proven to reduce tartar build-up by up to 57%. Many of them also contain breath-freshening ingredients and as well as those that promote good dental health such as calcium.
They're a super simple and tasty way to clean your dog's teeth, but make sure you choose dental sticks with no filler ingredients if you're going to give them to your dog every day.
Chew Toys
Chew toys are a fun way to remove plaque from your dog's teeth. Chewing stimulates saliva production which rinses away food and bacteria. You can buy chew toys specifically designed to thoroughly clean teeth and gums.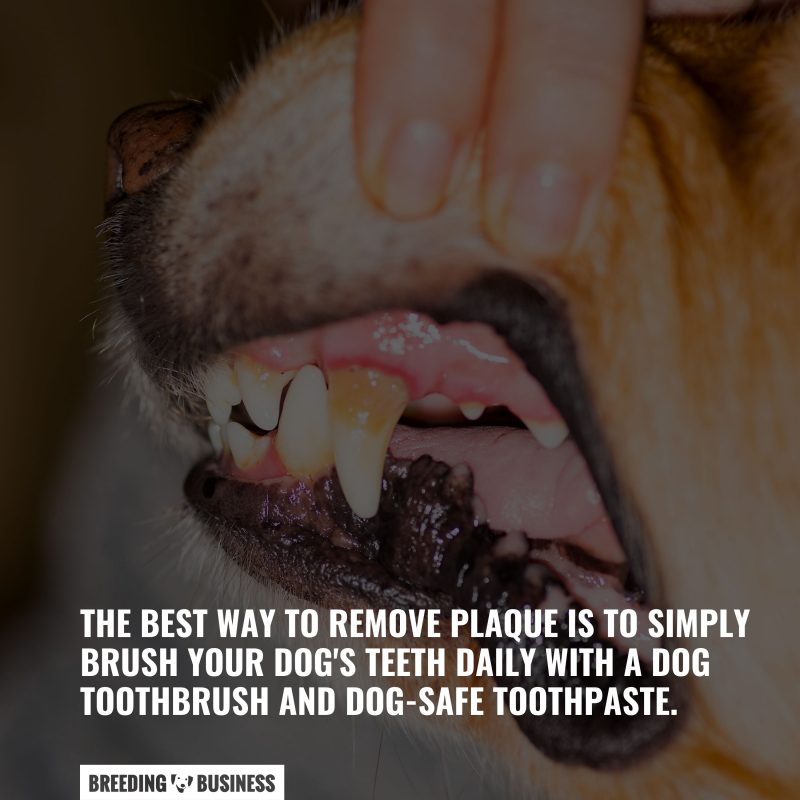 How to Choose the Best Dog Tartar Remover
Here are some things to keep in mind when browsing for tartar removers.
Type
As mentioned above, there are several methods of removing plaque and tartar from your dog's teeth. The initial thing to consider is your dog's personality. Brushing their teeth is probably the best way for owners to make sure that every inch of their dog's mouth is clean, but not every dog likes it.
Rescue dogs may be particularly opposed and it could even distress them. If this is the case – consider using a simpler method of cleaning such as a water additive or dental treats and chew toys.
Size
Toothbrushes, chews, and toys need to be in a comfortable shape and size for your dog's mouth. Smaller dogs have smaller mouths and need smaller products. Similarly, large dogs need something that is big enough to provide a thorough clean.
Materials & Ingredients
When buying anything for your dog, especially something that goes in their mouth, look for products made from non-toxic materials. For edible items, look for healthy, natural ingredients. It will usually say what's what on the label or product listing. You can even buy products that use only natural, eco-friendly materials, and ingredients.
You also want the materials used in non-food items to be high-quality and durable to avoid breakage. Nothing lasts forever and certain dental products should be replaced every few months. That said, you don't want to be replacing them before you have to, as it can become costly. You also don't want anything breaking in your dog's mouth and becoming a safety/choking hazard.
This will vary from dog to dog, but the hardness of dental products should also be a comfortable level to avoid tooth and gum damage. Puppies, elderly dogs, and dogs with dental issues will need softer products, but not so soft that they're ineffective.
What To Avoid
Inedible items, try to avoid anything containing:
Grains
Alcohol
Fluoride
Grapefruit seed extract
Methylparaben
Sodium hexametaphosphate
Artificial colors, flavors, sweeteners, and preservatives
In material items, try to avoid anything containing:
Polyvinyl chloride (PVC)
Phthalates.
Bisphenol A (BPA)
Lead
Chromium
Formaldehyde
Cadmium
Bromine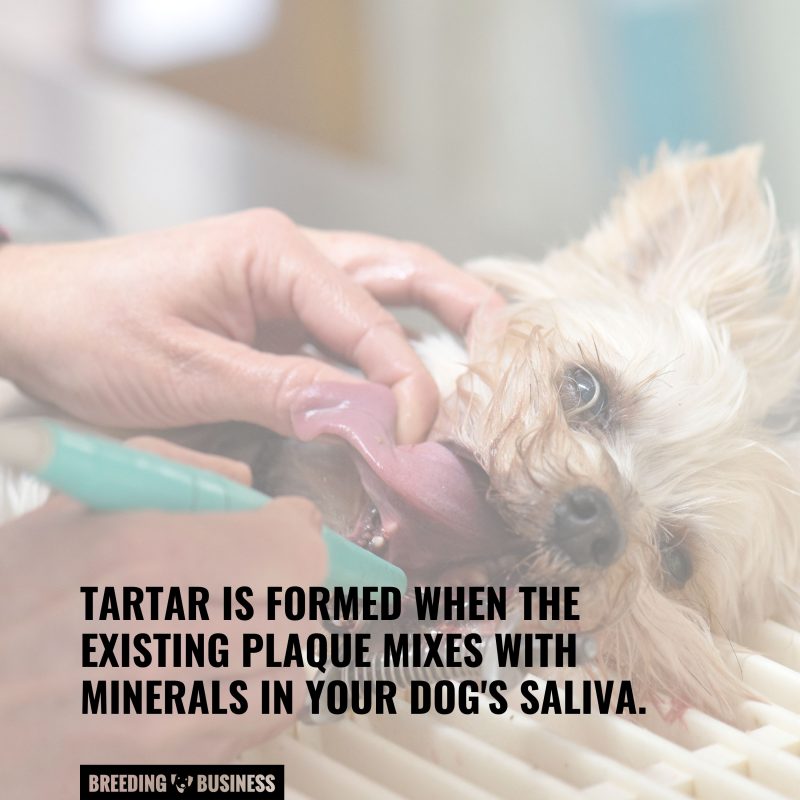 12 Best Dog Tartar Removers
Let's take a look at our 12 favorite dog tartar removers.
1. Arm & Hammer for Pets Dog Dental Care Fresh Breath Kit for Dogs
This gentle but effective dog toothbrush by Arm & Hammer is 10.03 x 4.4 x 1.06 inches in size and comes with an all-natural enzymatic tasty toothpaste, available in beef, banana mint, or vanilla ginger. The brand is widely recognized as a leading one in personal and home cleaning products.
The orange brush is dual-sided with different-sized angular brushes for different sized dogs. It is the #1 best-selling dog toothbrush on Amazon. It is super affordable and reviews praise the effectiveness of both the toothpaste and brush.
2. Nylabone Advanced Oral Care Liquid Tartar Remover
This mint-flavored water additive by Nylabone comes with a vet-recommended stamp of approval. Its Denta-C formula is scientifically proven to reduce plaque and freshen breath. It also doesn't require any extra brushing and is made in the USA. Owners can simply mix a tablespoon of the additive into their dog's water bowl and use it regularly to see results. It's a little on the expensive side, but a little goes a long way.
Reviews praise the product's ability to freshen breath and keep their dog's dental hygiene in check. That said, some buyers warn that it may not be the best for dogs that are fussy about flavor.
3. OTAN Toothbrush Chew Toy
This dental chew toy by OTAN is made from dog-safe, all-natural thermoplastic rubber, and 100% cotton rope. It's heavily ridged & textured for deep cleaning, right down to the gums.
The sizes of the ridges and "molar" bumps are designed to match and thoroughly clean every aspect of your dog's mouth. It's also got gaps that owners can put tasty toothpaste or treats in to encourage chewing and turn it into a fun game.
The toy is bright blue and 5.91 x 1.97 x 1.65 inches in size. It's affordable, durable, and designed with heavy chewers in mind, which makes it a great toy for teething puppies too.
4. Dingo Tartar And Breath Dental Sticks For All Dogs
These dental chew treats by Dingo consist of mostly rawhide, rice, and real chicken. They're natural, healthy, and a great source of protein – as well as great at removing plaque and tartar.
The chews are a tasty chicken flavor and contain enzymatic baking soda and parsley seed to remove bacteria and freshen the breath, while the texture scrubs your dog's teeth and massages their gums.
The chews are very good value for money and come in a large pack of 48. Reviews are mostly positive, but some buyers warn they are not for dogs with sensitive stomachs.
5. Arm & Hammer Advanced Care Dental Water Additive
This water additive by Arm & Hammer uses all-natural ingredients including a baking soda enhanced formula to fight plaque build-up, freshen breath, and whiten teeth. It's inexpensive and super easy to use, simply requiring owners to mix a capful into their dog's water bowl daily.
It is odorless and flavorless which is perfect for picky pups, and comes highly recommended by buyers with overwhelmingly positive reviews. The only concern some have is that the product is made in China, where quality control is not as strict as it is in the US.
6. Oravet Dental Hygiene Chews
These mint-flavored dental treats by Oravet dissolve in the mouth as dogs chew them, and contain delmopinol, a surface-active anti-plaque agent. They also prevent bad breath and form a protective barrier that stops bacterial attachments from forming on the teeth and gums.
Purchase options include a pack of 14 and a pack of 30 and are a little more expensive. Some buyers do alert others to read the warning issued on the packaging; do not break chews up into smaller pieces as it could pose a choking hazard.
7. Pets Are Kids Too Premium Pet Dental Spray
This alcohol-free mint-flavored dental spray by Pets Are Kids Too contains enzymes that corrode plaque and freshens breath. It's a great oral health alternative for dogs who don't like brushing and are also fussy about drinking water with an additive. The brand claims it works better than other oral hygiene methods, and owners simply add 3 – 5 sprays into their dog's water bowl every day, and 2-3 sprays along their gumlines to fix bad breath.
Each purchase also comes with the option to give to a good cause. When the bottle arrives, you'll be given the option to send the company a picture of your dog, and if you do, they will donate a portion of your purchase to a pet with cancer to help with their treatment.
The product is affordable, cruelty-free, and made in the USA! It comes with positive reviews all throughout. Many buyers say that their dogs love the taste of the spray and that they've seen quick results, including whiter teeth and fresher breath.
8. Dental Fresh Water Additive – Advanced Plaque and Tartar Formula for Dogs
This super-affordable water additive by Dental Fresh is clinically proven to freshen breath, protect gums, and easily remove plaque and tartar buildup with its odorless antimicrobial formula. It has been one of the top-selling pet oral health products since 1999 and comes in an 8-ounce bottle and a 17-ounce bottle. The product comes highly recommended by reviews.
9. Petrodex Advanced Dental Care Enzymatic Dog Toothpaste
This dog toothpaste by Petrodex uses a patented enzymatic recipe to fight tartar and plaque buildup. It is not too expensive and comes in a tasty poultry flavor that dogs love, with a recommended usage of 2-3 times a week.
The toothpaste comes with overwhelmingly good reviews that rave about the effectiveness of the product.
10. Fresh Breath by TropiClean No Brushing Clean Teeth Dental & Oral Care Gel
This oral care gel by TropiClean is formulated with a unique blend of natural ingredients including green tea that work together to remove plaque & tartar safely and effectively. It also freshens breath and whitens teeth, with no brushing required. Owners can simply squeeze 2 drops of the gel onto their dog's gum lines daily to see effects.
The gel comes in a range of sizes and flavors including berry, peanut butter, and vanilla mint, as well as an option for puppies. It has mostly positive reviews, aside from a few warnings that it may not be well-suited to dogs with sensitive stomachs.
11. Virbac CET Enzymatic Toothpaste
This enzymatic toothpaste by Virbac is specially formulated using an enzyme system for dogs and cats to reduce tooth plaque and freshen breath. It comes in beef, poultry, and vanilla mint flavor, and is safe to swallow. It's inexpensive, vet-recommended, and comes with a satisfaction guarantee from the brand.
There are some poor reviews due to a manufacturing issue in 2018, but apart from that, most buyers praise the product's effectiveness and their pet's likening for the taste.
12. PEDIGREE DENTASTIX Dental Dog Treats
Dentastix by Pedigree are the most popular dental dog treats on the market. Their deep-ridged 'triple action" chews work to clean teeth and freshen bad breath, and are clinically proven to reduce plaque and tartar buildup.
They can be consumed daily and come from an internationally loved and trusted pet brand.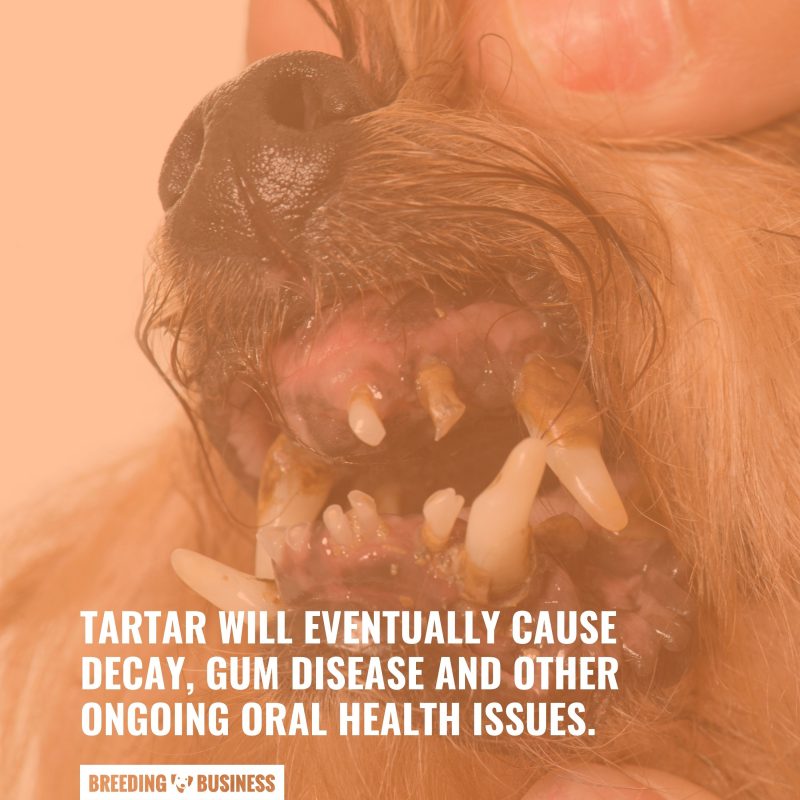 Dog Tartar – FAQs
What is the best type of dog tartar remover?
There is no one-size-fits-all when it comes to doggie oral hygiene. However, the first line of defense against almost any health problem for dogs is a good diet. A high-quality diet that is low in sugar and acidity will help to prevent dental health issues, as well as regularly feeding your dog dental chew treats and providing good chew toys.

For guaranteed protection against plaque build-up, consider using a toothbrush and some doggie toothpaste or a water additive or gel alternative. Water additives are probably the best products as they are the least invasive but just as effective as brushing.
What are some natural remedies to remove tartar?
There is no one easy solution to removing tartar at home. In fact, it's very difficult to remove naturally and requires a vet to remove it fully. That said, dental hygiene products such as specially designed chew toys may help to remove some tartar at home.
Will dogs get diarrhea from ingesting oral care products?
Most dogs should not get an upset stomach from swallowing doggie toothpaste or any other ingestible oral hygiene products for dogs. However, if they do, it may just be that the product is not suited to them if they have a sensitive stomach.

Always check the ingredients list on a product and if your dog has a sensitive stomach, don't give them anything with rawhide in it, or anything containing rich flavorings.
Those are our 12 best dog tartar removers. Will you be trying out any of our recommendations or have any doggie dental hygiene tips of your own to share? Let us know.