Alright I know, it started raining and you're coming home with your dog leaking liters of unclean water. It smells. It's dirty and you need a solution. Eureka, dog raincoats with hood exist!
Fashion stylists for dogs aren't very common. Most raincoats for dogs you will find are built to be practical and not beautiful. Indeed, small and large dog raincoats that look very fashionable and glamorous are usually not efficient at protecting your dog from the rain.
Buying Guide for a Dog Raincoat with Hood
Buying the best waterproof dog raincoat with hood is not difficult. However, there are loads of fake, cheap, useless products available out there. We want to first give you what to consider when picking a raincoat for your dog.
Waterproofing & Fabric Material
First and foremost, you do not want a water-resistant fabric but a waterproof material. That way, once you are done with the dog parka you can simply shake it around to get rid of the water and pack it up!
Most dog raincoats are usually made of a blend of durable and nontoxic polyurethane and PVC. They mix them so they are extremely comfortable for your dog while remaining almost untearable.
Dogs, as you surely know by now, go everywhere and their body can come to contact with grass, stones, wood, water, ground, and pretty much everything else. This is exactly why you need a very resistant fabric material for your dog's rain jacket. And most "water-resistant fashion dog coats" will fail you right here.
Size & Breed Morphology
Getting the right fabric won't be helpful if it doesn't fit your dog. By fitting, I mean two things principally:
the dog's size — make sure the raincoat is matching your dog's body size
the dog's morphology — some breeds are the same size but have different morphologies (bigger heads, thicker bodies, etc.)
For example, a malinois and a greyhound would both fall into the M or L size but they are completely different in shape and morphology. Usually, the best waterproof dog raincoats offer some elastic leg straps and velcro closures to fit 99% of all dogs falling into a given size.
Mainly focus on the size but bear in mind the fitness and physique of your four-legged friend!
Packing & Pouch
The packing system and the pouch of a dog raincoat should be hassle-free and intuitive. Ideally, you want to compress it within seconds and fold it in itself with some sort of button or velcro to close it. When the dog rain jacket includes a hood, it usually is what plays the role of the pouch.
This is an easy one as most dog parkas have this available so no need to worry too much about it.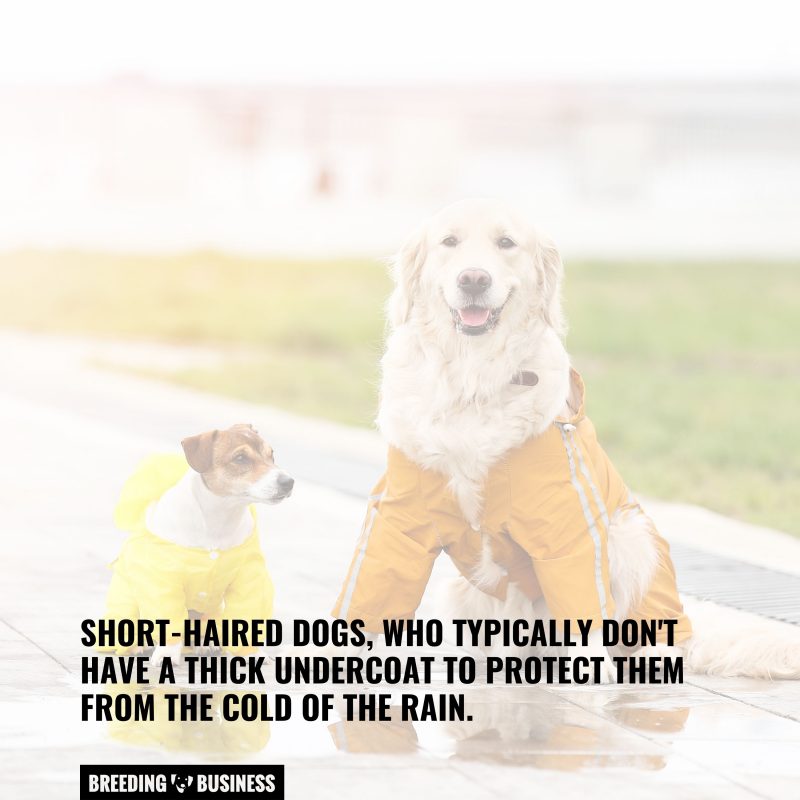 5 Best Waterproof Dog Raincoats With Hood
Now we've covered what matters, let's see a shortlist of the best waterproof dog raincoats with hood. These are straight-to-the-point reviews with no bullshit.
1. NACOCO Dog Raincoat
Probably the go-to choices for most people, the NACOCO rain jacket with hood covers all angles successfully and is not even pricey.
For around $20 depending on your dog's size, you get an all-in-on waterproof dog raincoat that will last you for years thanks to its ultra-resistant PVC and Polyurethane material, sturdy velcro closures and straps. There is a D-ring compatible with pretty much all leashes and an added wind and snow proofing using a hooded slicker.
2. ThunderShirt Outerwear Raincoat
ThunderShirt is very popular amongst vets who look after scared and anxious dogs, especially with fireworks and thunderstorms. But the same company also manufactures a great value for money raincoat for dogs from 8lbs all the way up to 110lbs. Just pick the right size so you won't have to complain about the fit later.
This is a simple model that isn't going to be the most protective and most efficient raincoat ever but it will most certainly do a decent job.
3. iPet Waterproof Dog Hooded Raincoat
The pricier item but the one that offers the most protection against all elements, not just heavy rain. First, this model offers a double layer of protection:
Outside layer: 65% Nylon & 35% Polyester waterproof fabric
Inside layer: Polyester mesh material
It is similar to the big windbreakers hikers use. This jacket offers high protection and unrivaled comfort for the long hours it may be worn, even for the legs. There is also super insulation. Meaning, the heat your dog generates is kept in for a perfect temperature even during winter's coldest walks!
4. RC Pet Products Packable Dog Rain Poncho
Clearly not the most durable Taffeta shell raincoat your dog will wear. But if you have a short rainy season, it should do the trick and it's cheap!
It's quite flimsy and thin but it is definitely protecting against the rain. This is better suited for long-haired dog breeds. Those who just need protection against the pouring water, and don't require much-added heat. This parka for dogs is available in XXS, XS, S, M, L, XL, and XXL so there's one for everybody! And obviously, it comes with a carrying pouch!
The bottom line, there are a couple of items priced around $20 that are clearly better than others. Yet, you may prefer a dog raincoat with hood that offers decent protection for half the price.
5. TOPSUNG Dog Raincoat Jacket
Perhaps a little flimsy, this waterproof raincoat is for small dogs who just need a punctual solution to protect them against the elements. It is not the sturdiest but it should work just fine for sporadic uses, such as a couple of times a month. For more regular outings, you will need one of the abovementioned dog raincoats.
The TOPSUNG Dog Rain Jacket comes in XS, S, M and L sizes, and four different colors: blue, green, pink, and white. It is made of plastic materials so not the most breathable or well-ventilated rain jacket for dogs. The plastic design is very good as a windblocker though!
This dog raincoat is rather lightweight and comes with a storage pouch for when it's sunny outside. Use the bottom strap to tighten the raincoat around your dog for a better fit.