We've been looking at dozens of infographics about dog food and nutrition for this article! All of them had something rather interesting to bring to our attention but we picked the absolute best ones for you!
Tables, databases, and raw statistics are boring, hard to read, and hardly interesting. This is why we all love infographics, they are a sexy visual representation of information and data, much more appreciable and they go straight to what we want to know, understand, and share.
Best Infographics About Dog Food & Nutrition
Some of them are well-presented, some of them are very interesting, some of them are simple and straight to the point, but all of them are amazing. You are on the verge of learning fascinating facts about our lovely canines' diet, food and nutrition.
Last thing before the awesomeness begins: don't forget to download our free ebook packed with 21 delicious homemade dog food recipes! If you love breeding dog, you will also enjoy our 200+ page dog breeding guide!
Most Dangerous Foods for Dogs
Compact and packed with useful information: avoid giving these foods to your dogs unless you want to poison them, but you would never do that, right? We also have our own infographic on this topic, presented very differently, we put it at the end of this page as it is not the place to self-promote our work!
[optinform title="FREE — Enjoy more dog infographics!" subheader="Receive our latest infographics as soon as they are published! Totally free!" background-color="235,235,235″ text-color="0,0,0″]
Canine Superfoods
Alright, let's be super-serious here, use these superfoods to turn your dog into a super-dog, super-fast. We super-promise.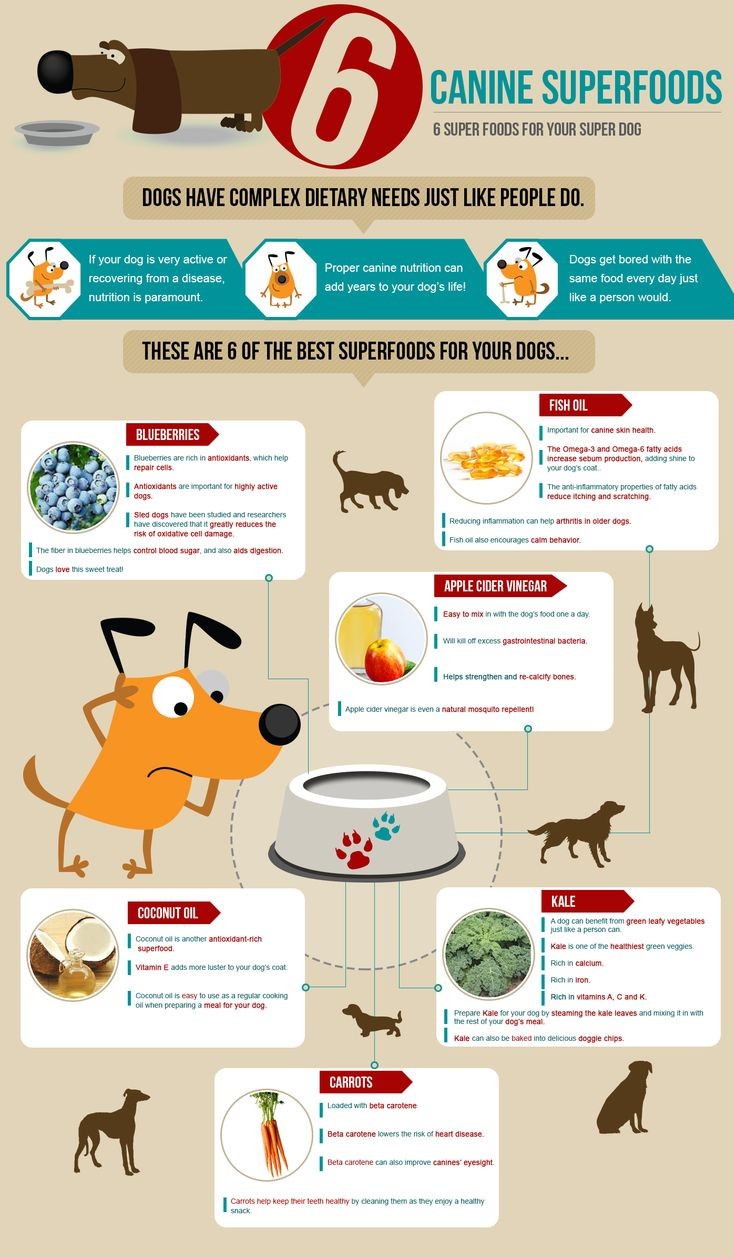 Dog Treats or Dog Poison?
Rewarding our dogs is something we all enjoy, especially when they really deserve it! We like to vary their treats so they keep their motivation high, but be very careful, you don't want to give your dog poison instead of a treat.
The Canine Ancestral Diet
Consider these interesting facts and statistics in the infographic below describing what is in today's commercial dog food, compared to what should be, based on the Canine Ancestral Diet.
Choose The Right Food Bowl
A food bowl is not just a bowl you pick randomly on a shelf while doing your groceries. Both food and water bowls must be selected careful depending on your dog's physical attributes and features. We have written an article about the best high-quality designer dog bowls available out there, check it out too!
Too Much Choice and Not Enough Quality?
Stores, whether they are supermarkets or pet-specialised shops, are offering a wide range of different dog foods: dry kibble, canned dog food, frozen raw food, and even organic products. On top of that, they come up with different qualities and purposes: premium dog food, allergy-friendly, weight loss, puppy food, etc. The problem is more about what's in it than the shape and form it takes once it is on the store's shelves.
Canned Pet Food vs Dry Kibble
A question bothering plenty of busy dog breeders and owners: should I feed my dog(s) with dry kibble or canned dog food? Both of them have various brands, quality and ingredients that differ from one to another, but here is a great infographic to help you find answers to this every-lasting interrogation.
Homemade Dog Food Nutrition Guide
First, if you haven't got it, go download our free ebook "21 Delicious Homemade Dog Food Recipes". Then, use this infographic as a simple guide for when you prepare your dog's meals at home, in your own kitchen. If you hesitate on quantities of meat, veggies and carbs, you won't anymore.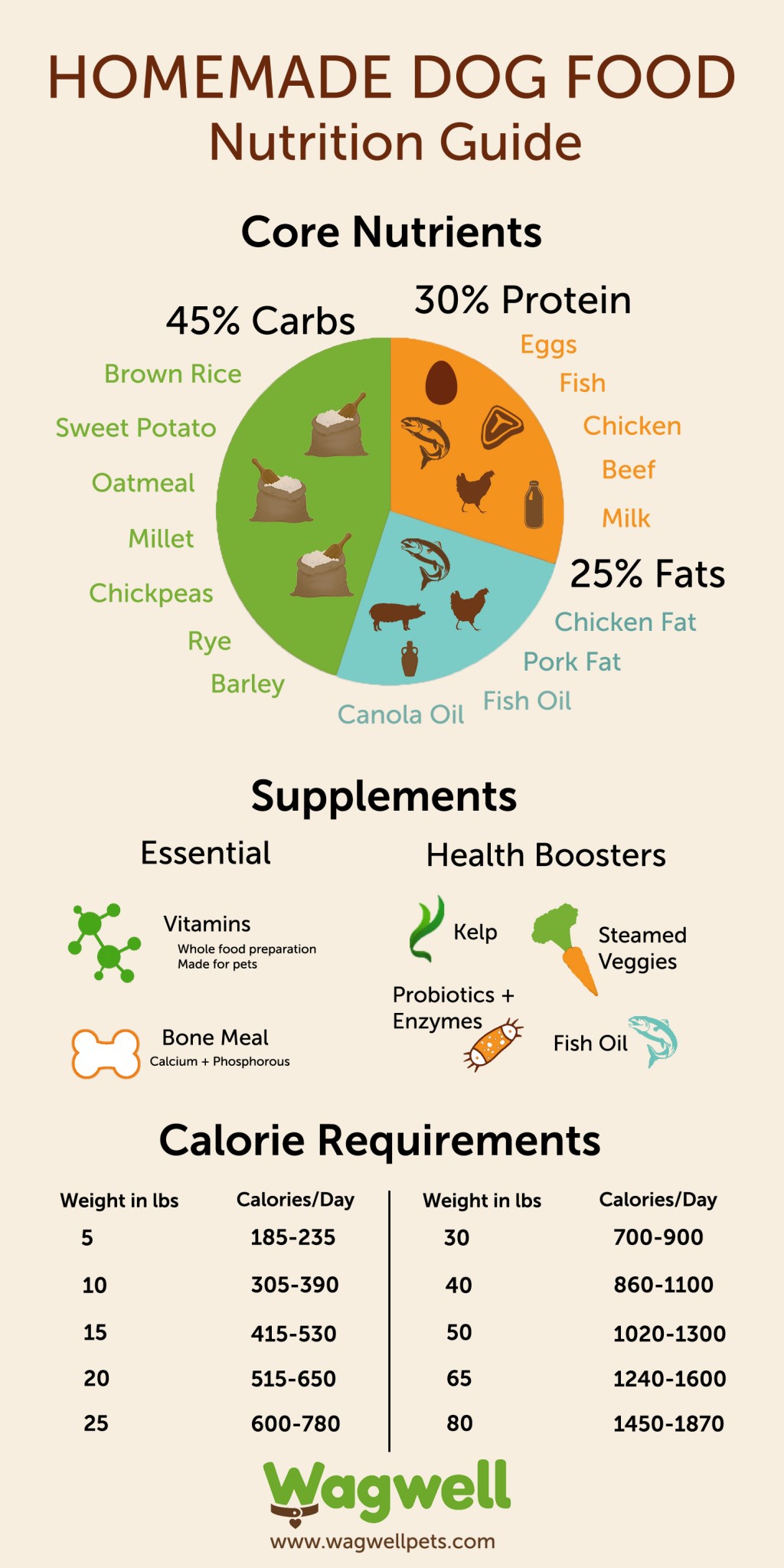 Pet Food Comparison Chart
Sadly, thanks to capitalistic dishonesty, every pet food company boasts how healthy they are for your companions when in reality, they are not. This chart quickly compares the quality of several popular pet food brands including Pedigree, MediCal, Eukanuba, IAMS, Purina, Nature's Recipe, Blue Buffalo, Pulsar, Acana, Orijen, and many others.
Dangerous Fruits and Vegetables For Dogs!
This is our very own infographic, and it tells you about the dangerous fruits and vegetables for dogs. Not all of them are lethal (such as garlic for instance) but in large quantities, they could have a devastating effect on your dog's health. Enjoy this little marvel and from now on, you what's good and what's not!
We are finished with our selection of best infographics on dog food, diet and nutrition! Hope you liked it, come back each Sunday to see another selection of dog infographics on a new topic!