Being a reputable breeder means that even if there is a one percent chance of an accident to happen, you want to be ready and you will do anything possible for years, even if nothing happens, to prevent accidents to happen.
A lot of people think that it is a waste of time and that their time and money is better invested somewhere else. Wrong, very wrong. One accident can ruin years of hard work, and most accidents can be easily avoided using common sense, regular reviews, and by simply taking precautions.
Welfare
The well-being of your dog walks on two legs: its physical and its mental fulfillment. Right from the start, you will need to design your farm with those points in mind.
Many scientific studies are now demonstrating that the welfare and quality of life of many pedigree dogs are seriously compromised because of selective breeding, resulting in exaggerated physical features and inherited diseases. This is why official organisms prefer breeders to prioritize their health, temperament, and welfare over their physical appearance. You can obviously have the appearance of your litter in mind when planning a mate but make sure it does not emphasize an already existing condition within the breed.
Fire Prevention
All appropriate steps should be taken for the protection of the dogs and any other animal in case of fire or another emergency. As the main responsible person, you must carry out and regularly review a fire risk assessment of the premises.
Once your farm is built and running, you need to regularly go through every single centimeter of your installations to detect hazards, identify animals and people at risk and then evaluate to eventually remove or reduce all those risks. Document yourself at your local authorities to know what are you legally accountable for and act upon it. The United Kingdom government created a great PDF for animal premises and stables, so make sure you read through it and review your dog breeding areas regularly.
The Five Steps of a Fire Risk Assessment for a Dog Breeding Establishment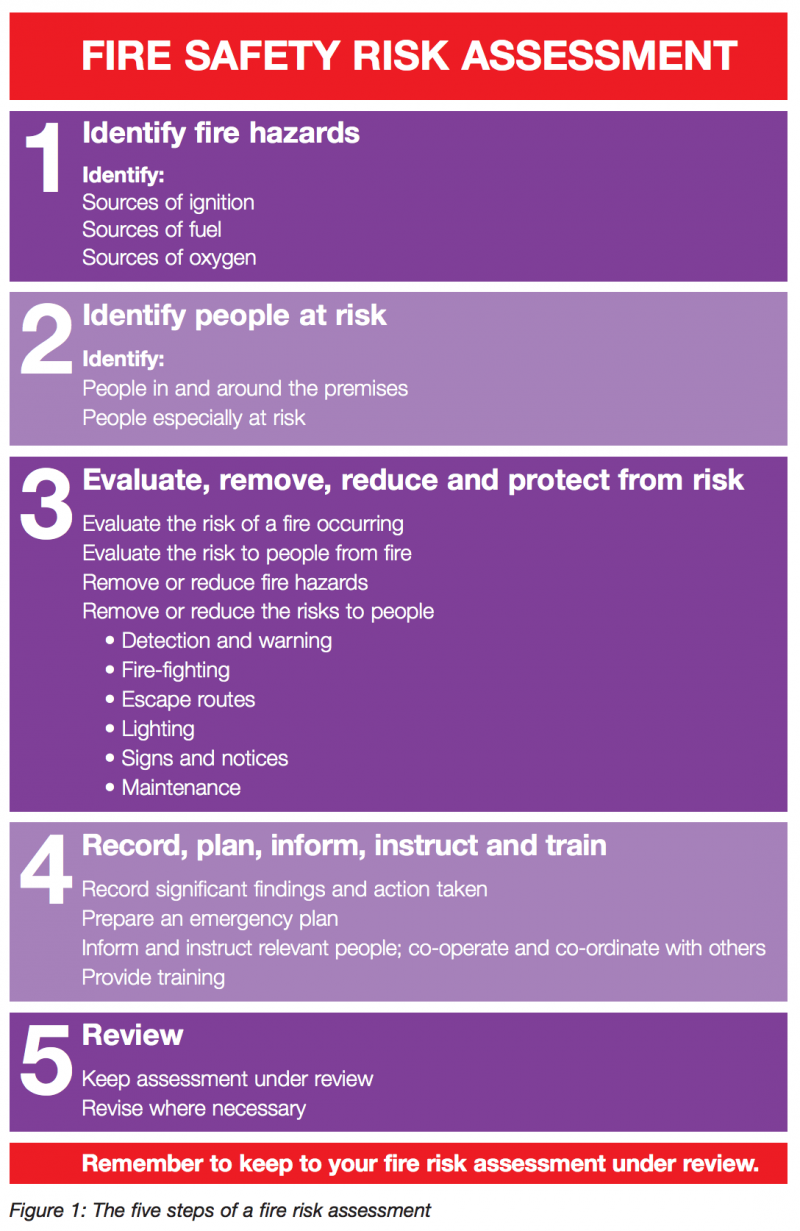 Identify risk hazards
Identify people at risk
Evaluate, remove, reduce and protect from risk
Record, plan, inform and train
Review
Click on the illustration on the right to download and read through the official fire safety risk assessment for animal premises. Make sure your establishment and property comply with the obligations listed in this (quite long) document. Most of the content comes from common sense but it is always a good reminder.
Emergencies
A fully stocked first-aid kit suitable for use on dogs and puppies should be available and accessible on the premises at all times. Another kit to use in case of biting or scratching on yourself or a visitor should be easily at reach to disinfect and avoid contamination of any disease.
It is vital to have all the numbers needed at reach from your vet to your local emergencies or fire station. You may need to use the numbers once, but you need to be very quick that one time.