Redbarn is a family-owned and operated company that aims to provide high-quality dog foods and treats to enhance our dogs' quality of life. You may have heard of or even bought their products and learned for yourself that they really care about quality and safety.
About Redbarn
Redbarn has been in the industry for over 25 years. The founders, Jeff Baikie and Howie Bloxam, decided to keep the family ownership as they continued the business.
Redbarn boasts of their natural, single or limited-ingredient, fresh, and premium quality dog treats and their popular, high-quality dog foods. They choose the highest quality proteins from 90% or more real meat to ensure that your dog's needs are met. Moreover, all their products are manufactured in the USA to maintain overall safety and quality. Furthermore, they are proud to present their SQF certification, which not all pet food manufacturers have.
Redbarn Dog Food Reviews
Redbarn offers a wide range of dog food products that pet parents and their dogs will surely love. You can choose from their Rolled Dog Foods, Grain-Free Dog Foods, Air Dried Dog Food, and Whole Grain Dog Foods. Let's talk about each of these products in detail below.
Redbarn Whole Grain Dog Food
Redbarn's whole grain dry dog foods' first 5 ingredients are from animal proteins, such as poultry, fish, or meat, depending on your chosen recipe. They are rich in probiotics, prebiotic fiber, and miscanthus grass to support a healthy digestive system.
Additionally, their whole-grain dog foods are rich in sunflower, flaxseed oils, and omega 3 and 6 fatty acids, which are good for your dog's skin and coat. Moreover, they contain taurine, l-carnitine, and methionine to make sure that your dog's heart is healthy. Plus, they are rich in vitamins A and E to keep your dog's immune system strong.
You can choose from the Whole Grain Ocean Recipe, Whole Grain Land Recipe, or Whole Grain Sky Recipe, depending on your dog's taste preference. Furthermore, they recommend whether your dog is a light chewer, moderate chewer, or power chewer.
Pros
Promotes healthy heart and digestion
Improves your dog's immunity
Has a good flavor variety
Rich in essential fatty acids
Cons
Not suitable for dogs with grain allergies
Redbarn Grain-Free Dog Food
Next on the list is the Redbarn Grain-Free Dry Dog Food. If your dog is not a fan of grain-based food, then this is a good variety for them. They offer similar flavors to the Whole Grain Dog Foods so your dog will surely not miss out on anything.
The Grain-Free Sky Recipe contains chicken, turkey, chicken meal, duck meal, and turkey meal as the first 5 ingredients. The Grain-Free Land Recipe has beef, lamb, as well as lamb, beef, and pork meal. While the Grain-Free Ocean Recipe contains salmon, trout, ocean fish meal, salmon meal, and menhaden fish meal.
It's easy to choose which one will be best for your dog because Redbarn is honest with what's in their dog food products. Their grain-free recipes are free from exotic and artificial meats. Moreover, they are rich in probiotics, vitamins, and minerals that will surely boost your dog's overall health.
Pros
Free from meat by-products
The Ocean and Sky recipes can cater to all life stages in dogs
Rich in vitamins and minerals plus prebiotic fibers
Promotes long life
Cons
It's a little pricier than the whole-grain varieties
Redbarn Air Dried Dog Food
Another dog food product from Redbarn is their Air Dried Dog Food, which contains six pounds of meat before roasting in the oven for its slow cooking process. Whether you are buying a poultry, fish, or meat product, Redbarn ensures that they use up to 90% pure ingredients.
The beef recipe is made of 96% real beef, beef liver, and beef lung. The chicken recipe contains 90% real chicken. And, the fish recipe is made with 85% real fish. You can use air-dried dog food as a kibble enhancer, a full-feed meal, or a good treat.
Furthermore, air-dried dog foods are rich in nutrients and flavors, which even picky dogs will love.
Pros
Made with up to 90% natural ingredients
Can be used as a full meal or as a treat
Picky dogs will enjoy
Can be used as training treats
Cons
You need airtight containers for long-term storage in case you can't use the original packaging (it comes in a resealable bag, so you can store it long-term in it)
Redbarn Rolled Dog Food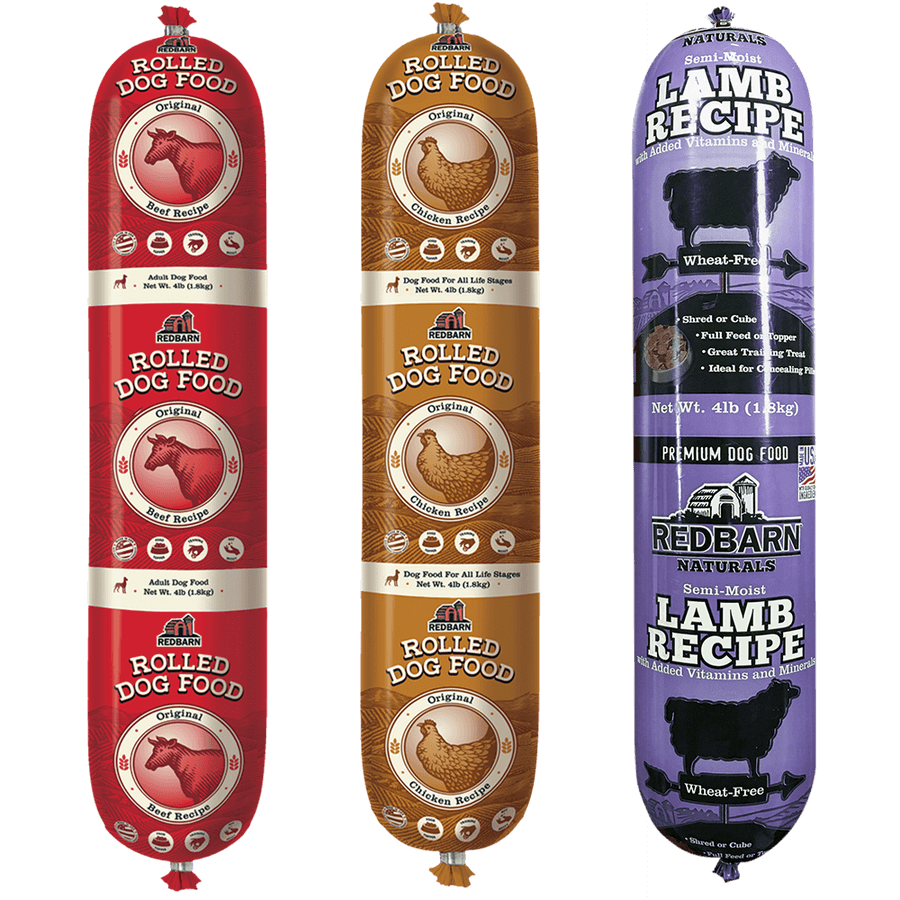 Lastly, we have the Redbarn Rolled Dog Food made with 40% real poultry, lamb, and beef. It also contains premium and garden-fresh ingredients. These rolled dog foods are cooked slowly at low temperatures. This cooking process allows the rolled food to retain its vitamins and minerals.
Moreover, unlike the rest of the dog food in this review, the rolled dog food is semi-moist. It can be sliced and given as a treat or you can feed it to your dog as a full meal. Additionally, you can use the rolled dog food as a food topper or a pill concealer when administering medication.
Furthermore, rolled dog foods come in both grain-free and with grain varieties. You can choose whether you want to feed your dog a grain-free meal or a grain-inclusive meal.
Pros
Semi-moist texture to enhance palatability
Can be grain-inclusive or grain-free
Slowly cooked to retain nutrients
Cons
Can spoil easier than dry dog foods
Redbarn Pet Products: FAQ
Here are answers to the most frequently asked questions about Redbarn dog food products.
Is Redbarn good for dogs?
Yes, Redbarn is good for dogs. Since they put a premium on safety and quality, you can be sure that what you're giving to your dog is also high quality. Moreover, the first five ingredients in each recipe are from animal proteins. Their ingredients are approved by AAFCO.
How much is Redbarn pet food?
Redbarn's dog food is well-priced, with the Whole Grain Dry Food starting at $19.99 and the Grain Free Kibble at $21.99. Prices for Air Dried Dog Food start from $4.99, while you can purchase Redbarn Rolled Dog Foods from as low as $2.59. Prices vary according to the quantity you purchase and the size of packaging.

For even better value, you can avail of many large-quantity packs and multi-product bundles, which offer significant discounts. It's also worth noting that Redbarn's online store runs regular sales throughout the year, offering an excellent opportunity to stock up on your dogs' favorite foods and treats while benefiting from special deals.
How long does Redbarn dog food last?
The Dry and Air Dried foods both come in resealable bags and have a shelf life of 18 months. They can last for about two weeks once opened, depending on the type of food. To maintain the bag's freshness during storage, ensure it is tightly sealed and that no insect can come inside.

The Rolled Food has a shelf life of 18 months. Once opened, it can last 2 weeks in the refrigerator or 6 months in the freezer.
Are Redbarn pet products made in the US?
Redbarn products are all made in the USA.
Redbarn has been a well-known industry leader when it comes to dry dog food, rolled dog food, and of course air-dried dog food, as well as for its popular dog treats. With a focus on taste, quality, nutrition, and safety, each one of these product types is designed with your dog's health and happiness in mind.