Although it is acceptable to use a dog shock collar or dog training collar on a puppy from 10 weeks, it is highly recommended to go ahead only in very exceptional cases.
A puppy, like a child, has a learning curve and needs to be taught the basic concepts and commands before behind coerced into adopting them. Try different training methods such as positive reinforcement, negative reinforcement or reward-based training, before using the harshness of the dog shock collar.
There is some controversy about the use of dog shock and training collars but we won't be addressing this here.
YOU May Be The Cause!
Have you ever wondered that perhaps you haven't trained your puppy properly and not everything is your dog's fault? Indeed, very often the owner does not offer consistent and effective socialization and training to his puppy and prefers the easy solution of an e-collar to curb the undesired behaviors.
A radical solution might sometimes be suggested for an adult dog with a recurrent issue that required urgent removal. However, a still-learning puppy really needs you to read training books and try different techniques. Methods you have used until now have to be reconsidered and rethought if they are seemingly ineffective.
Discuss with your vet, your friends and read online forums to discover simple solutions to incredibly annoying issues; make sure you test gentler puppy training methods possible before resigning yourself to the use of a dog shock collar — there are simpler and softer solutions you may have not tried yet.
From What Age Can I Use a Puppy Shock Collar?
There are different devices qualifying as shock collars and some are more usable with young specimens around 8-10 weeks, it is the case with the anti-bark collars that deliver a little shock and vibration when your puppy starts barking.
The most common undesired behaviors include barking, running away, chewing on furniture, and anything else the owner deems undesirable.
The disagreeable sensation felt by the dog will make him stop and after a few attempts, your puppy will learn to simply not bark again to avoid receiving the same treatment. Those are particularly adopted by dog owners who leave their puppies at home for long hours and cannot afford a barking dog for various reasons (neighbors usually.)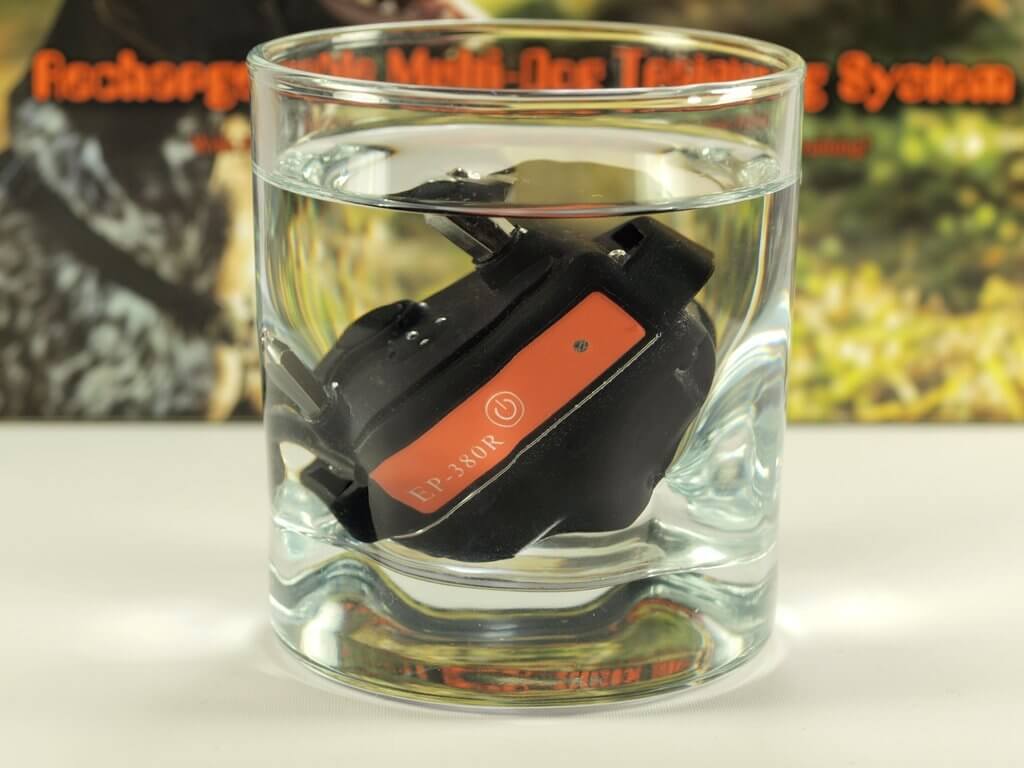 Dog Shock Collar: More Dangerous On a Puppy?
A bit like everything, if you abuse it, the shock collar will have a negative effect on your puppy and will surely have him growing up stressed and anxious – this is certainly not what you want. It is your duty to use it with parsimony only when the situation requires it. You can't hurt a pup misusing positive reinforcement, you can traumatize one by misusing a puppy shock collar.
We all have a unique puppy, life, and environment so there is no rule set in stone. Go slowly and make sure you try other common training methods before using a puppy training device.
Best Dog Training Collar For Puppies

A device of exception, the EasyPet EP-380R 1200m Training Collar is a waterproof, fully submersible, 1000m long-range, multi-dog remotely controlled trainer. Its price is tiny considering how extensive its features are, around £70.00 ($110.00) and with extra receivers, up to three per transmitters, you can train several dogs at the same time.
This little gem has 50 warning tones, 10 levels of static vibration and up to 99 static stimulation levels: these numbers are insane. The device is delivered with long and short prongs for long-haired and short-haired dogs, the EasyPet EP-380R 1000m is a wonderful tool that every dog owner should own. Important note: this device is only suitable for dogs and puppies of 6 months and over!
The EasyPet EP-380R is delivered with long and short prongs for long-haired and short-haired dogs, it is a must-have for every dog owner thanks to its unbeatable value for money.
Out of all the collars we compared, the EasyPet EP-380R triples the average range covered at an outstanding 1200m or 1350 yards. You can also train up to three dogs with one transmitter if you buy additional receivers or the value pack available on Amazon.
allows for positive reinforcement
over 150+ levels (static, vibration and tones)
battery indicator and crisp LCD display
very long-range, perfect outdoor
really waterproof
amazing quality
Conclusion
Puppies are learning, puppies are fragile and you need to be patient with them. Puppies need time to process everything that is happening around them and adding stress to that will certainly not help.
If they have aggressive behavior or any trait that needs to be removed as soon as possible, then, think about a dog shock collar or a gentler solution such as the dog spray collar.