The magic of Christmas is here and our favourite festive nights are only a few days away. It is everybody's favourite time of the year, and mainly because there is no much on our plates! Let's prepare the same feast, in a healthy doggy version. Christmas dog treats and dog christmas dinners are amazing and recommended to keep your dog(s) satisfied during such a festive period.
One advice though, perhaps not popular but realistic: do not get yourself involved into big dog cooking projects as you will surely be extremely busy with your guests and your own human Christmas celebrations. Dogs like when it's simple and tasty.
Dog Christmas: Do's & Don'ts
Dogs are members of our families and households, they also feel all that happiness floating around during Christmas. But they smell it even more during those big meals we're all going to have, and they will come to you, begging.
Although you will be tempted to give them a few scraps, not everything on your Christmas menu should be given. You don't want to wake up on December 26th and urgently drive to the local vet, do you? So let's start with a few things to be cautious about when it comes to your dog's Christmas dinner!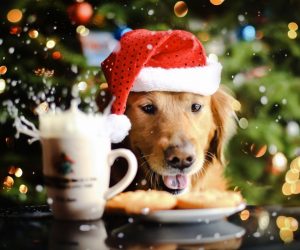 FATS — avoid a pancreatitis (inflammation of the pancreas) by giving bits of high-fat foods such as sausages, bacon, poultry skin, gravy; instead, give red meat or turkey breast
ALCOHOL — bad enough for us humans, this is too dangerous for dogs so make sure it does not stay near any snout!
FRUITS — don't give syrups or juices, prefer real chunks of various fruits that are seedless and pitted to avoid accidents; raisin is harmful so it's a no-no, whereas strawberries and clean apples are lovely for dogs during Christmas
BONES — never give a cooked bones from any animal, they splinter and can perforate your dog's oesophagus; raw meaty bones are amazing for your dog's teeth and jaws, chicken necks are delicious and it will keep your dog busy for long minutes
MEATS — boneless pieces of meat are all fine, just make sure you set aside your dog's portion before adding seasoning, butter, oil and any other ingredients; dogs like it plain and simple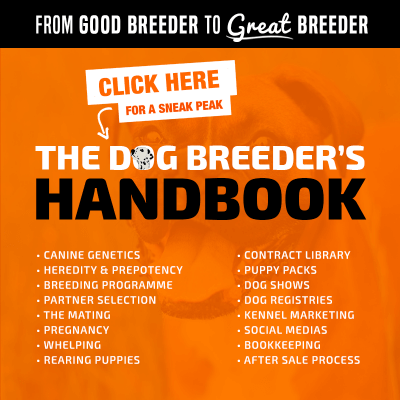 SALMON & FISH — raw, cooked or tinned are fine, only smoked salmon and fish should be avoided because of bacteria risks; just like meat, no seasoning!
VEGETABLES — winter vegetables are awesome for dogs, but you should avoid feeding them scraps since these will contain oil and condiments
NUTS — although they are on everybody's Christmas table, you should avoid giving nuts to dogs as many of them, including macadamia and walnuts, can be toxic
CHOCOLATE — theobromine is found in any type of chocolate and isn't digested by dogs, it eventually accumulates in the dog's body and becomes harmful or lethal; prefer fruits to be on the safe side
XYLITOL & SWEETENERS — a lot more harmful than chocolates, these lower your dog's blood sugar level and should absolutely be avoided
DAIRY — most dogs are lactose intolerant so you want to avoid any milk or high-in-lactose dairy products; ricotta cheese and and plain yogurt are usually great
DESSERTS — there are too many to list them all, but never give your dog a processed dessert, only whole ingredients such as a chunk of fruit; too many cakes now have ingredients dogs can be intolerant to so this would be too risky… Vanilla ice cream is fine though :)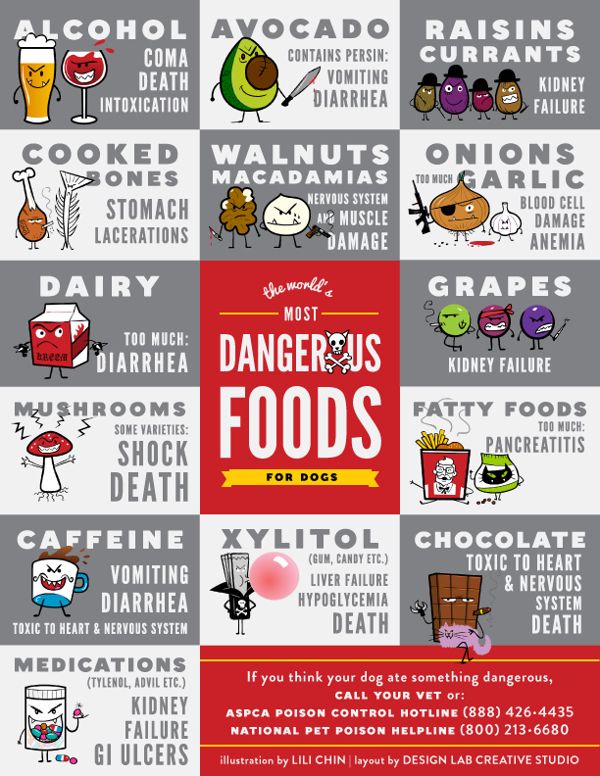 There are too many possibilities to get them all here but as a rule of thumb, do not give processed foods. It will always be safer to give real and whole foods, neat of seeds, skin, and so on. See our selection of the most informative infographics about dogs and nutrition.
Make sure you prepare some ahead to avoid being taken by surprise once you are at dinner with everybody. Every person around that table must know that nothing should be given to the dog(s), only you can hand food over to the pets. That way you will know how much and what has been given in case of upset stomach the next day!
Dog Christmas Dinners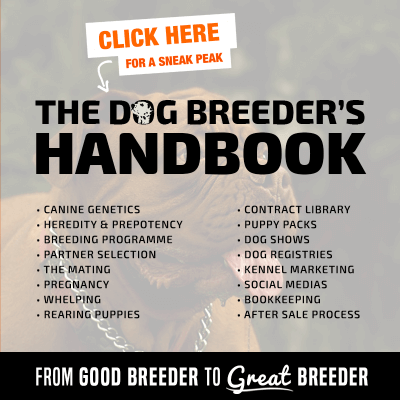 Another way to make your dogs happy during festive nights is to prepare their own dog christmas dinner with the same care, love and passion you are putting into yours. Obviously, there are some rules but you can definitely get creative! Plus, dogs don't care about how you present the dish on the plate ha!
Christmas Doggy Din' din'
100g chicken breast, roasted skinless
30g canned pink salmon
200g potatoes, boiled and mashed
50g swede, boiled
50g Brussels sprouts, boiled
1tbsp apple sauce
5tbsp giblet stock
And this is where it gets funs (and quick)… Just prepare the ingredients, mix together and place in the dog bowl. Now you've sorted the dinner, I hope you've got some nice dog christmas gifts to make it even more magical!
Christmas Dog Treats
Many people find that a little over the top but I am spending my Christmas along with my dog so yes, I would feel bad if only I was eating something special.
If you want to be all fancy, you can buy ready-made Christmas dog treats at your local supermarket or online. They will be ready to be given and your dog will love every bit of it. You can even buy different brands, sizes, flavours, shapes, and mix it up throughout the festive period.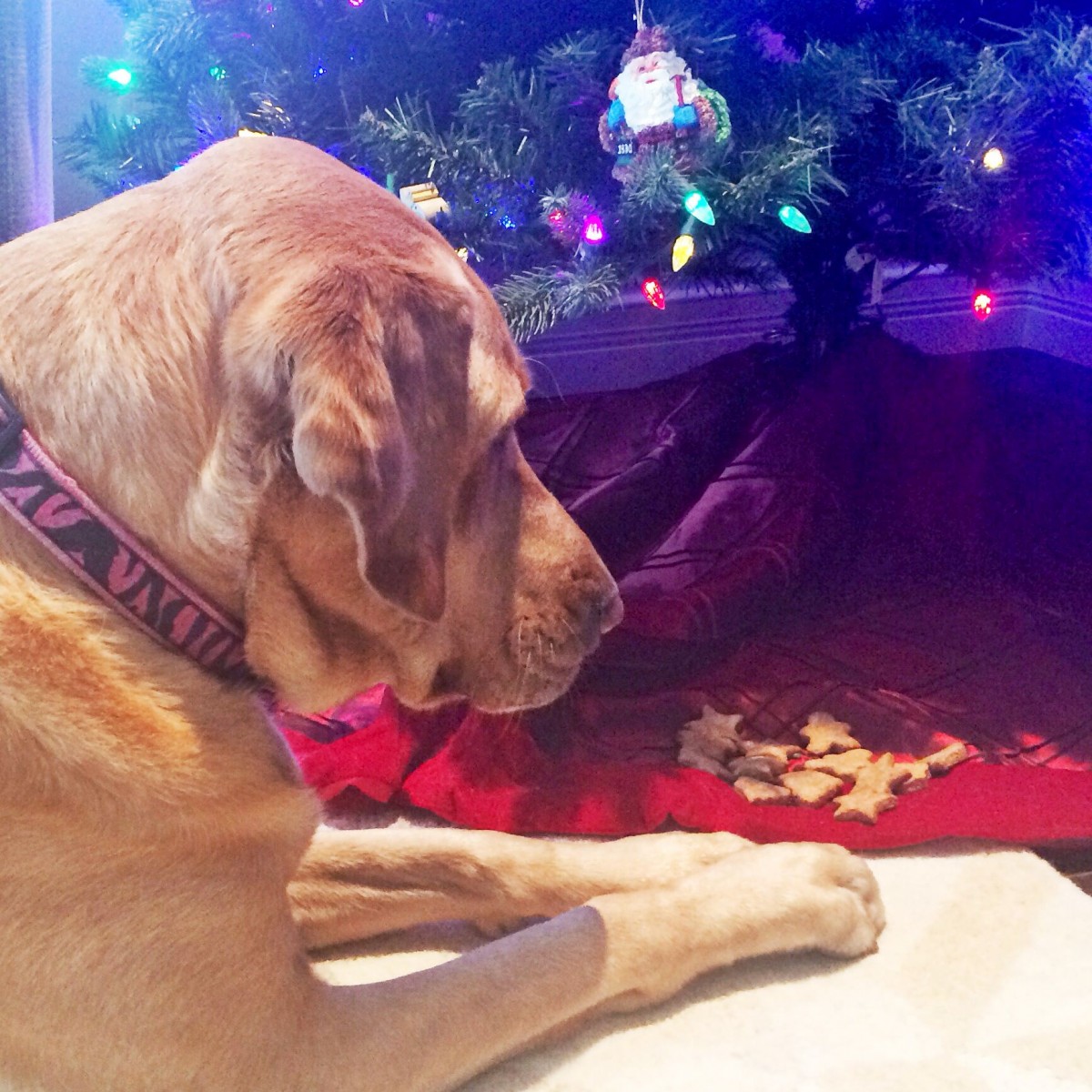 What I like to do though is giving pretty much the same treats I tend to give throughout the year, but just upgrading massively. For example, my Border Collies are going crazy about rawhide; so I give them delicious all-natural stag antler chews. If you dogs like mini treats, make sure you buy an all-meat no-carbs pouch of treats. If you feed your dog a raw diet, get some premium pieces.
Visit the butcher for your own needs and ask for something special your dog will like. Get some liver and bake it for hours to dry it up, and then slice it. Limitless! Just make up your mind about what it is you want to give and go get it.
Have you got some yummy christmas dog recipes? Share them with everybody in the comments below!