Dog treat pouches are useful training bags as long as you pick the right one. These are typically going to be used every day, or if you pick the wrong treat pouch, never be used and left in a drawer for long eternity. We don't recommend a do-it-yourself pouch because they just don't last.
The ideas behind every training treat pouch are clear:
allow for quick access and quick reward
keep treats fresh and tasty for longer
storage of extras (poop bags, clicker, etc)
Only buy a treat pouch that will be able to accommodate and store plenty of your favorite dog training treats (pay attention to the size and volume!)
4 Best Dog Treat Pouches
Very cheap and very easy to manufacture, dog training pouches are plaguing most e-commerce websites simply because the demand is strong. Most dog owners own one and the very low price of the product makes it an easy candidate for an easy buy.
We've reviewed some of these items ourselves, compiled customer reviews, and scoured the web in a quest for the most severe and unbiased reviews of all. Here are the winners and there are some for everybody: cheap dog treat pouches, but also very sturdy and premium products.
1. EzyDog SnakPak Pro
— Premium Treat Pouch For Dogs
Some accessories do not offer much visual appeal because manufacturers stuck to their practicality and wanted to keep costs low. EzyDog attempts something different: a premium dog training pouch that looks goods and that's practical. It's a success, but it's pricier than the previous items reviewed here.
There are two accessory pockets and a main compartment for your 25 ounces of treats with a magnetic enclosure so it's easy to open and close. The SnakPak has a waterproof lining so it's not just water-resistant this time—that makes it super easy to clean as you simply need to wipe it after you've used it.
The EzyDog SnakPak Pro is the ideal treat pouch for active dog owners because it's lightweight and safely attached using an adjustable webbing waist strap. As a matter of security for your night sessions, the highly reflective threads used in the fabric allow for high visibility in dark conditions.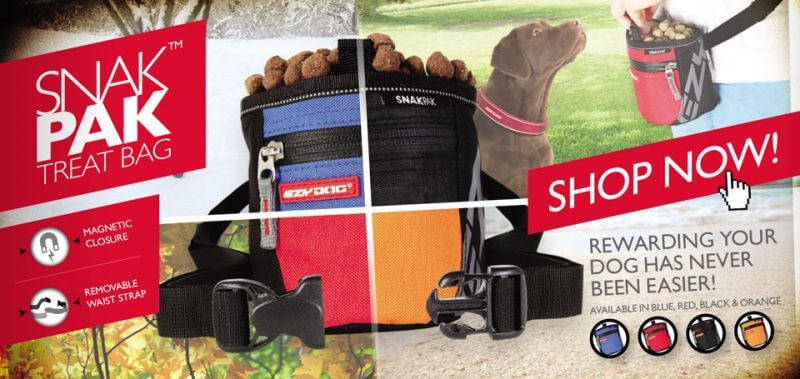 2. PetSafe Treat Pouch Sport
— Very Practical Dog Treat Pouch
Just a couple of dollars pricier than the previous training bag, the PetSafe Treat Pouch Sport pretty much offers the same but better. It's a cost-effective upgrade and the only thing that could make you go for the Dexas Popware is if you prefer silicone or its design.
Thanks to its water-resistant lining, you can keep treats fresh for longer in all conditions. The hinge stays completely open but can be closed with a simple touch. There are a couple of compartments and some add-ons:
Inner pocket divided into two compartments
Front easy-open flap pocket to store poo bags or phone
Carabineer key-ring for attaching clicker, keys, whistle
Overall, the PetSafe Treat Pouch Sport is a good training tote; it's not the most durable and sturdy pouch out there but you get what you pay for. It's rightly priced for what it delivers: a good pouch, but not a fantastic one.
3. Tuff Mutt Dog Treat Pouch
— Sturdiest Dog Treat Pouch
Now we're talking about serious quality that is lasting for years and used by professional trainers in agility for example. The company Tuff Mutt is a very popular manufacturer of heavy-duty dog equipment and accessories. Their dog treat pouch is awesome, too.
With three compartments, this training pouch offers all the space you need for treats and extras you might have:
1x main drawstring pouch — hold 2 cups of kibble
2x zippered pockets — add Clik-R, keys or even more treats
2x D-Rings — ideal to attach further accessories to the bag
1x built-in poop bag dispenser
Compared to many dog treat pouches, here the top edge is reinforced so it can remain open for easy access. And on top of that, cleaning has never been easier thanks to the inner lining and the quality of materials used all over.
The pouch can be attached using the lightweight detachable belt (around 42″ waist) or you may also carry it over the shoulder. This training tote is a favorite amongst dog trainers.
Oh, and there is a 100% money-back satisfaction guarantee through Amazon.
4. Dexas Popware
— Best Value-For-Money Treat Pouch
Made of silicone rubber, this dog treat pouch will not warp or stretch even after intense use. It is priced at $10 and there is no actual enclosure or closing mechanism at the top so the freshness may dissipate after long minutes. It's okay for quick walks or at home where you can keep the treats in their own bag and just put a few in the Dexas Popware.
Definitely not the product of the year, this clipped-on pouch does well for unfussy dog owners. Another good point going for it, the Dexas Popware is easy to clean and dishwasher safe thanks to the silicone.
Although we provide you with several options, if you are after a quality product you should only consider the last three. There is a clear lead for the EzyDog SnakPak Pro but it's also the priciest. A good compromise in terms of value for money would be the Tuff Mutt Dog Treat Pouch.
How To Pick The Best Dog Treat Pouch?
Obviously, totes and pouches keep our pockets clean as well, and that's very welcome… First and foremost, before even recommending any dog treat pouch to you, let's see the very few things that make the best of the best training pouch.
Clearly, dog training pouches are not rocket science and not the most complicated dog accessory out there. However, you should not grab the first pouch and go! Luckily, even the premium treat pouches are relatively cheap at around $30 so it's worth spending a few extra bucks in order to get a quality product.
So, let's point out what to be careful about when buying a dog training pouch:
Material — silicone is easy to clean but most are made of fabric and polyester
Compartment — some trainers prefer a single big compartment, others like several
Size & Volume — do you need a small pouch or a small bag?
Attachment System — are you more clip on, waist belt or sleeve?
Water Resistance — rarely waterproof, it should at least be water resistant
Extras — anything goes in here, from key rings to poo bags, and so on
Many dog breeders and owners will treat wet using pieces of meat or cheese for example. The best way to keep any pouch clean and hygienic for wet treats is to cut cheap freezing bags to line the training pouch's compartment.
Image credits to squishyfacestudio.com.