Dog DIY ramps for a bed is an excellent solution for dog companions who are having issues getting on or off the furniture by themselves. Whether your dog is a small breed like a Boston Terrier, a short-legged Corgi, or is a senior with mobility issues, jumping on or off the bed is troublesome.
What's worse, accidentally falling from such a height, even just from your bed, can cause injury or exacerbate any current medical issues that your dog has. Helping them get up or down the bed, each time does not only bother you but also your dear pet.
The best DIY dog ramps for a bed will give you both the confidence, ease, and independence to move around. It is also a fun DIY project your pet will love. Does your dog enjoy cuddling or sleeping on your bed? Your companions adore being close to you as it strengthens the bond, gives them a feeling of security and love.
12 Best DIY Dog Ramps for a Bed
Making a DIY dog ramp can be as easy, affordable, and multi-functional as you like. You have the choice to buy the best dog ramps if you don't have the time to build it yourself. The only advantage of making it yourself is that you get to choose what goes into your project, how it will appear, and adjust it to suit your requirements. To get some idea on how you can accomplish this, here are twelve of the best DIY dog ramps for a bed and other furniture that we have curated for you.
1. Collapsible Ramp by FamilyHandyMan
These bedside DIY folding dog steps by FamilyHandyMan are excellent for your short-legged friend to use. It has lots of benefits both for you and your pet. For one thing, the carpeted ramp is easy and comfortable for your dog's paws. The surface provides them with excellent traction to climb up or down the bed carefully and quickly. In contrast with non-protected surface ramp, they would be less likely to slip or hurt their paws.
Moreover, it is easy to store underneath your bed, sofa, or inside your closet. If you need to move the ramp out of the way quickly, you can fold down the ramp and stow it away. The rounded edges and corners of the actual ramp add to the safety of this furniture. Also, there are no sharp corners to chew or get hurt. For this project, you'll need a few materials like plywood, lumber, some screws, and a piece of carpet.
While having a collapsible ramp is convenient, it may, however, pose a few risks. For one thing, there is no locking mechanism to secure the ramp. It may fold onto itself accidentally if bumped too hard.
2. DIY Dog Ramp by Instructables
Need an easy to do ramp you can use anywhere? With this specific project by Instructables, there are no tools or woodworking required. All you'll need are some materials that are readily available in any Home Depot or hardware stores. And it is also cheap. Purchase or prepare two six-feet length closet shelves, zip-ties, and a 6×2-feet piece of carpet. The closet shelves serve as the main structure of the ramp.
For the first step of the construction, you would need to interlace them to add integrity to its structure. Next, use the zip-ties to secure the pieces together. You have to ensure that the cut ends of the ties are out of the way as they can easily scratch your skin or your pet. Finally, cover the ramp with the carpet as smoothly and neatly as you can. It is that easy!
You can use this DIY dog ramp for your bed, couch, car, or even boat! But, you have to make sure that you don't prop it on a slippery surface. The ramp may slip and fall while your pup is on it. So, you need to be careful and not let your dog use it without supervision.
3. Simple Dog Ramp by This Old House
It is a fun and easy woodworking project you can do for your companion created by This Old House. Cutting the wood pieces for the ramp and the leg supports requires minimum precision, so even beginners can make it. Most of the work goes to making the frame and other parts of the ramp. This collapsible ramp doubles as a convenient storage box for your dog's toys and other stuff.
Shorter plywood covers the bottom part of the box. The longer piece, on the other hand, serves as the top part and also a lid. You'll need a piano hinge to attach the cover to the ramp. Then, you'd be drilling holes to both sides of the box where you will be attaching the legs. A toy box hinge supports the legs when it is propping up and also allows it to collapse to the sides when not in use. Moreover, folding the legs will enable you to slide the ramp under your bed, so it is easy to access and put away.
The toybox hinge is a nice safety feature. However, the joint and legs might not be sturdy enough to support the contents of the box and the weight of your dog together. Just make sure not to put heavy objects in the box to be safe.
4. Chic Indoor Dog Ramp by Irresistible Pets
Your dogs need a ramp to prevent back injuries when jumping on and off your tall bed. This DIY dog ramp's design features a gentle slope, created by Irresistible Pets. Also, it has a carpet covering and a solid base. You can make the rug covering and the paint to match your interior.
To make this dog ramp for high bed, you will need plywood for the sides, wood strip for support beams, screws to put the pieces together, a rug, and paint. Above all, it has a minimalistic design, which is neither obtrusive nor is it an eyesore. Using the right colors and textures will allow it to blend right into your bedroom design.
The only setback to this design is the absence of railings. Your little dog might accidentally fall on to the side of the ramp. It may also be tempting for them to jump right off the top when they get too excited.
5. DIY Dog Ramp by Fox and Brie
Dogs love to spend time with their pet parents and cuddling with them on the bed. The problem is, most dogs loathe being picked up but can't do it by themselves. An easy and affordable solution would be to make a dog ramp for them. This project by Fox and Brie is plain and simple to put together. What you will need are wood planks, a beam, wood casings, paint, and screws.
It differs from other ramp design because it includes speed bumps to help your dog maintain traction. There are no legs to support the structure. All you have to do is rest one end of the ramp to your bed and the opposite side to the floor. It allows you to use the ramp no matter the height of your bed.
This ramp is a simple and straightforward project. What it lacks, though, is a feature that would prevent it from slipping off the bed or the ground. It needs a device or part to keep it locked in place, especially while in use.
6. Dog Ramp by Make Something
Make Something DIY dog ramps are great builds because you can customize it depending on the height of your bed or the space available. Like other multipurpose ramps, this one comes with built-in storage too. The only difference is, the lower part of the ramp has a hinge.
It allows you to lift the bottom part of the ramp off the floor so you can vacuum or clean the space beneath. This DIY ramp for small dogs is excellent for bedrooms that don't have much floor space.
Dogs with short legs might find it hard to get on to the ramp at first. The high of the entry of the slope is not very ideal for small dogs. Making the ramp entry a bit lower to the ground can help with this issue.
7. Simple Dog Ramp by My Repurposed Life
Making an indoor ramp for your dog does not have to be expensive or complicated. If you have an extra cabinet door lying around, you can create one under one hour using My Repurposed Life's guide. Other materials required to accomplish this project is a piano hinge, screws, piece of rug, and plywood, roughly the same width but half the length of your cabinet door. Start by laying the plywood and cabinet door end to end on a flat surface. Then, position the piano hinge between them. Use screws to secure the hardware on the underside of both the door and the board.
Lastly, using a staple or carpet tape, cover the cabinet door with the rug. So, how do you use it? You take the uncovered part and tuck it under your mattress. It will secure the ramp in place so your pet dog can walk over the ramp up or down your bed.
The problem with ramps like this is that it doesn't quite reach the top of your bed. It is difficult for small dogs to find their way over the bed from an angled incline. This design would not be advisable if you have a tall mattress.
8. Pet Ramp by Instructables
Do you have a few wood scraps lying around? Before you throw them out, why not use it to build a bed ramp for your companion. You will use one piece of 32-inch by ten-inch plywood, 15 feet of two-inch width half-plywood, five-inch of scrap wood, nails, wood glue, and carpet when following Instructable's guide. Likewise, if you don't have all of these at home, just collect whatever leftovers you have from a previous project.
The DIY dog ramp plans are straightforward to follow. Most importantly, keep in mind that the height and length of the ramp can be adjusted. Customize it to fit the height of your bed, and the width should be proportional to your dog's size. For instance, a ten-inch wide ramp suits small to medium size dogs. Similarly, if you have a medium to a huge dog, you can choose to make it broader to accommodate their size better.
It is a straightforward ramp that, unfortunately, has no railings or a landing. Your dog may have difficulty approaching it when they need to get down from the bed. If your pup has mobility issues, you can soften the angle a bit by adding on to the length of the ramp.
9. Dog Ramp by Casita Munoz
This elegant DIY dog ramp by Casita Munoz is collapsible and an adjustable height. For example, you can use this single ramp no matter how tall your bed is. Also, it has a safety railing so your dog won't fall off the side when in a hurry. The ramp goes to the left side of the bed. Finally, a landing is situated on top so your pet can smoothly go up or down the slope.
They added speed bumps into the design to provide more traction. It allows the dogs to slow down a bit so they wouldn't slip off the ramp too fast. You can use any soft and durable cloth to cover the slope. The covering will provide cushion on their paws and prevent their nails from hitting or scratching uncomfortably on the surface of the wood.
It is a well-thought-out design that is functional and aesthetically pleasing but requires a lot of experience and expertise in woodworking to accomplish. This ramp is not a type of DIY project that you can start on your own without the help of power tools and lots of skills. Don't forget that it is also time-consuming.
10. Simple Homemade Dog Ramp by Dapper Animals
Don't have enough time? This dog ramp by Dapper Animals is straightforward. You can go on a short trip to Home Depot to get the items or use whatever materials you have available at home. This DIY foam dog ramp has two parts, the base, and the slope. For the most part, all the manual labor goes to the construction of the ramp. It will then be attached to the storage cube.
Four beams make up the frame for the slope. A piano hinge on one side allows you to fasten it no matter how tall your storage cube. The U-bracket secures the hinged end of the board to add stability. To make sure your small dog wouldn't slip down the ramp, they used adhesive cork to cover the surface. This ramp design is suitable for small dogs as it can support their weight sufficiently. You can also use the storage cube to put away your dog's blanket, toys, etc.
You have to be sure, though, that the storage cube has the same height as your bed. It would be pointless if your puppy can't get into the mattress from the top of the ramp. Measure the height of your bed first before purchasing your items and starting the project.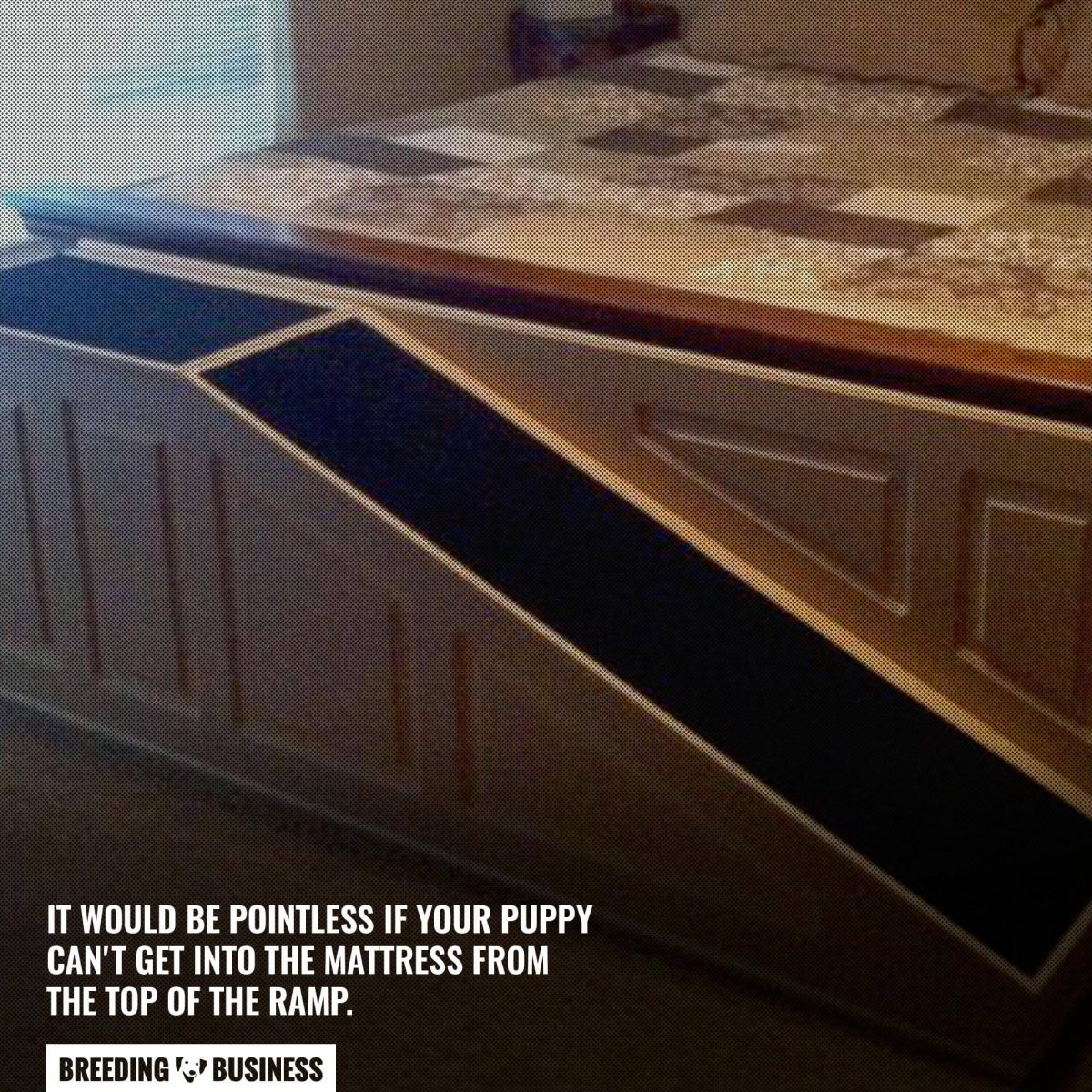 11. DIY Dog Ramp by Oxford821
Depending on your time, resources, and skills, you can make a dog ramp easily. This collapsible, portable, and convertible DIY dog ramp for your bed by Oxford821 is everything that you need. It is easy, fast, and very affordable, too. It is a two-part ramp that can be quickly assembled and disassembled anytime and anywhere. The eight-feet primed board is cut into two pieces, in an angle to form the ramp. With the four metal brackets, you fashion yourself a hook.
You will then attach two of each bracket hooks, at the uncut end for each board. In the opposite end of the ramp, you cut four slots to where you will install the hooks. This accessible and easy DIY dog ramp for a bed enables you to adjust and position the ramp however you like. Whether it is beside or the foot of the bed, you can choose whatever is convenient and comfortable for you and your companion. You can disassemble the ramp in just seconds to travel with or keep out of your way.
Aside from the lack of proper railings and sufficient landing, some parts of the design are unnecessarily complicated. Going to the hardware store can give you a better option than fashioning your hook from a metal bracket. It would not also be the best ramp for larger breeds.
12. Doggy Bed Ramp by JMMJ Productions
You'll find lots of DIY dog ramp instructions online. It gives you a wide range of ideas to choose which will best suit your needs. The Doggy Bed ramp by JMMJ Productions has a very sturdy structure. It will support the weight of not only your regular-sized Dachshunds but also bigger dogs. However, you may want to set the width measurements a little wider to accommodate larger breeds better.
It has a smooth-out railing that looks beautiful and would keep your pet safe from falling at the side of the ramp. The solid base and stained sides give it a luxurious finished look. You can personalize the color and rug selection the way you like to improve and customize it to match your taste.
This DIY ramp looks excellent, but a few improvements can make it better. For one thing, changing the railings on the landing to let you use it for either side of your bed is an excellent option. Or, you can use the hollow base as storage, only by adding a door on the bottom of the ramp.
About DIY Dog Ramps for a Bed – FAQs
Ready to start your DIY dog ramp? We have here some of the answers to the questions you might have about building your loveable dog their bed ramp at home.
How do I make a dog ramp for my bed?
First, to make a ramp for your dog, you need to create a plan, design, and take the measurements for your project. You have to make sure that the height and rise of the slope are comfortable to navigate for your dog. The overall structure should reach the top of the bed safely. Second, you can decide on the materials you want, like metal, wood, or PVC dog ramp. Third, add into its features like speed bumps, cushioned or carpeted surfaces, railings, extra storage, etc. A carpet, rug, and other anti-skid help add traction to prevent them from slipping or falling from the ramp. They should also be able to move around the ramp with ease. Last, what is essential is that the structure should be able to support their weight and size.
How do you make an adjustable dog ramp?
You can make an adjustable dog ramp using plans and designs for collapsible or foldable dog ramps that have hinges or joints. It will enable you to change the height of the dog ramp, depending on your needs. You just have to ensure that you have the correct angle or rise, so it wouldn't be too hard for your pet to traverse the slope. The easiest route for you to make an adjustable dog ramp is to look for a DIY dog ramp instructions that use two boards that are joined by a hinge or hook. You secure the shorter part of the construction under your mattress or cushion and let the other half's end rest on the floor. For taller beds or furniture, you can add more to the length of the board to lower the angle of elevation.
Are stairs or a ramp better for dogs?
It all depends on your dog as an individual. Dog stairs or steps are easily portable and take up less space than a ramp. However, it requires them to have excellent skills and balance between traveling up and down the stairs safely. If your dog has an agility or mobility issues or just isn't comfortable in using the stairs, a ramp would be best and safest for them to use. The gentle incline of a dog ramp is easier for tired and old joints and bones. It will also be a lot more comfortable for you to train your dog to come up or down the slope compared to the stairs. Steps are steeper, which is why your beloved dog might find it intimidating or dangerous.
How do you build a ramp over existing steps?
You can transform your existing steps into a ramp by fixing a board on top of the steps. Use a board to cover the edges of the steps and cover the surface with a non-slip material to provide grip. Depending on the make of the stairs, you can either choose to use screws, nails, or glue to attach the ramp. Lastly, make sure that there are no nails, screws, staples, or any sharp object that may scratch or stab your pet.
Don't let your dog's size or age stop you from enjoying your bonding moments. Projects like DIY dog ramps are excellent for helping your companion to overcome their issues and live a healthy and comfortable. To sum up, the best dog DIY ramps for a bed is an incredible gift for your pup and yourself.