The Missing Link Ultimate Hip & Joint Dog Supplement is a non-prescription joint support supplement that has received thousands of positive feedbacks on various websites. Arthritis, osteoporosis, hip and elbow dysplasias are all concerns for senior dogs.
There are two ways to deal with such joint pain and muscle stiffness:
preventively – gentler supplements building up resistance over time with virtually no side effects
curatively – very high doses of glucosamine, chondroitin, and MSM with side effects
In an ideal world, a dog owner would start building up his dog's frame and joints using a balanced diet along with a specific joint supplement. The Missing Link Ultimate Hip & Joint is one of them and is manufactured using only the best ingredients. It's delivered in a sturdy pouch and comes as a powder to sprinkle over your dog's meals.
However, what most people do is reach the stage where joint and hip problems have already struck the dog, and now the supplementation has to be much stronger, therefore resulting in more severe side effects. Prices, too, tend to increase here.
Highlights: The Missing Link Ultimate Hip & Joint
When we asked The Missing Link for some sample to try over a month, we didn't expect much more than a tasty treat for our tester-in-chief, Nala the very active Border Collie. Many joint support supplements will make lovely claims but they rarely back them up with observable results.
So we went on and received the box in the mail. It goes without saying that Nala started sniffing like a police dog who found a stash of weed. But anyway, we put Nala on this supplementation, and she is rather active (hours of exercising daily) so joint problems are a concern of ours.
Obviously, results for such products are less obvious than with perfume for example. This is a supplement she is now on for a while in order to avoid bad structural pain.
So what are we going to say in this review? Well, first of all, you must know that I will never give my dog something I don't trust. And because trust is not enough nowadays, I review the content, the ingredients, the nutritional values, and obviously, after a few days, the side effects.
Great List of Ingredients
First the ingredients list. Most supplements and treats claiming health benefits fail at this very first step.
It's a different story here: 28% of healthy fats (Omega-3 and Omega-6), 18% of proteins from praised sources such as freeze-dried beef liver, and a normal amount of carbs. The full list of ingredients is shown below and some key ingredients are at the top:
Flaxseed — high levels of lignans and Omega-3 promoting skin and joint health
Glucosamine — most important molecule to strengthen a dog's joint support over time
Primary Dried Yeast — immune system booster, rich in protein and packed with Vitamin B12
Obviously, there are plenty more ingredients so I highlighted the top tier below; many other ones are recommended but I only highlighted the top of the top in my opinion.
Over 400mg of Glucosamine per Tablespoon
Let's focus on Glucosamine. It is a compound that both dogs and humans naturally embed in the joints' cartilage. At a chemical level, it is a chain of proteins and sugars bound together. Glucosamine plays a huge role in making our mobility as smooth as possible:
it is naturally anti-inflammatory
it serves as a lubricant to avoid too much friction
it is a primary shock absorbent in our joints
When dogs age, mobility reduces and stiffness is accompanied by pains. Dogs walk slower, they gradually jump a lot less onto the sofa, and they groan when moving too much. Vets will recommend glucosamine supplements which will reduce pain and facilitate smoother movements.
This dose of 400mg of Glucosamine Hydrochloride is great and will allow your dog to avoid a lot of severe side effects often accompanying a heavy glucosamine supplementation. It's a perfect dose to be given continuously in order to build preventive protection against the aging effects on a dog's joints.
A Gram and a Half of Omega-3 and Omega-6 Fatty Acids
The Missing Link Hip & Joint Supplement contains over 1.45 grams of Omega-3 and Omega-6 fatty acids. Also called, linoleic and linolenic acids, these are fats our body cannot produce so they must be provided through our diet. We call them Essential Fatty Acids or EFAs.
Having enough linoleic and linolenic acids as well as having them in a good ratio (more Omega-3) is beneficial to dogs on various levels:
healthier and shinier skin and coat with reduction of itch and irritations
anti-inflammatory properties (hip dysplasia, arthritis, allergies)
better cognitive functions and overall health of the brain
Flaxseed and sunflower seeds are both super important here since they are amongst the very best sources of essential fatty acids; and TML Hip, Joint & Coat supplement is full of them!
Downside: Not The Best Curative Supplement
The only issue with this product is that you may get disappointed if you use it as curative supplementation to reduce your dog's joint pain significantly. As explained above, 400mg of glucosamine is great for regular use and to build up your dog's joint support. On the other hand, it is a little bit low to fix an existing pain condition.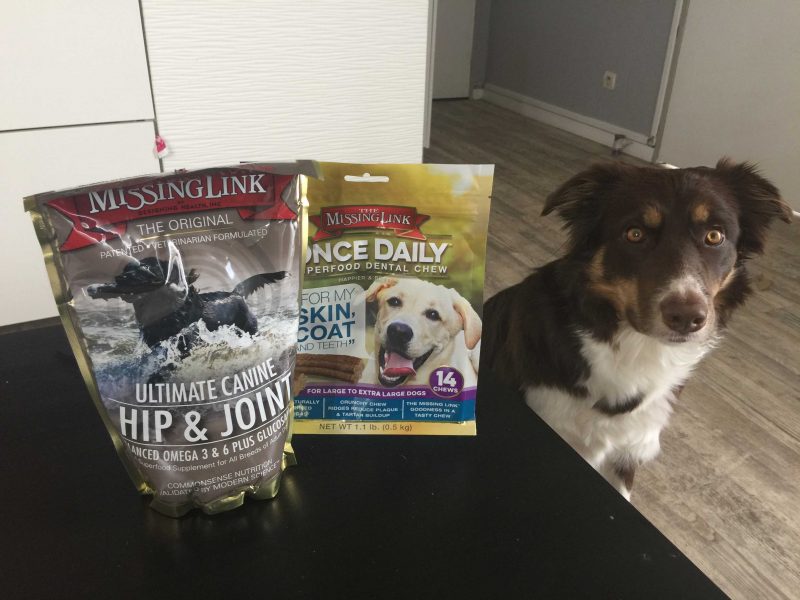 Add to that the lack of chondroitin and MSM, you quickly know this supplement is not here to solve a problem but rather to avoid it in the first place. It's how I believe all dog owners and dog breeders should think. Don't wait until it's too late, tackle the issue beforehand.
However, if you prefer a supplement with a lot more glucosamine, you will inevitably expose your dog to some potentially severe side effects. You cannot have it all, he!
Verdict
Overall, it's a no-brainer at this price: it will boost your dog's joint support without being bundled with several side effects. Additionally, the essential fatty acids will promote much healthier skin and coat. All of that with a great ingredients list which is rather rare in the business of pet supplements.