Timber Chopper Kennels is proud to breed, raise, and care for genuine Redbone Coonhounds from the award-winning Timber Chopper bloodline. These incredible dogs excel at coon and bear hunting and make excellent family companions. Wayne Campbell and everybody that boarded with him on this adventure have worked over 30 years to ensure the finest conformation, hunting ability, and temperament in their coonhounds.
We're feeling privileged to managed to send him several questions to which he happily replied. Enjoy!
How did you get to know about Coonhounds and why did you decide to breed them?
I grew up coonhunting in the Blue Ridge Mountains with my Uncle Jesse Bridge and have coonhunted my entire life. In 1966 I moved to Richmond and met up with Max Hunter. We began hunting redbones together five to six nights a week, sometimes we even cheated and hunted the seventh night. After all of these years of hunting, I believed the Timber Chopper Redbones were a superior line of dog, and Max Hunter and I decided to breed them together at that time.
What are the differences between the different types of Coonhounds, there are quite a few! Is it just about the colors?
I have hunted with all of the prominent coonhound breeds and each of them has their own unique skill sets. In my opinion, the Timber Chopper Redbone turns out to have one of the highest percentages of proficient tracking and treeing dogs for the number bred. With many breeds, it seems that you have to go through four or five dogs to find a good one, while with the Timber Chopper Redbones we don't find that trial and error necessary.
The Timber Chopper line of dogs has a very laid back and docile temperament about them; they are very easy going. To me, this is a very special trait for a dog to have, both as a hunting and as a companion dog.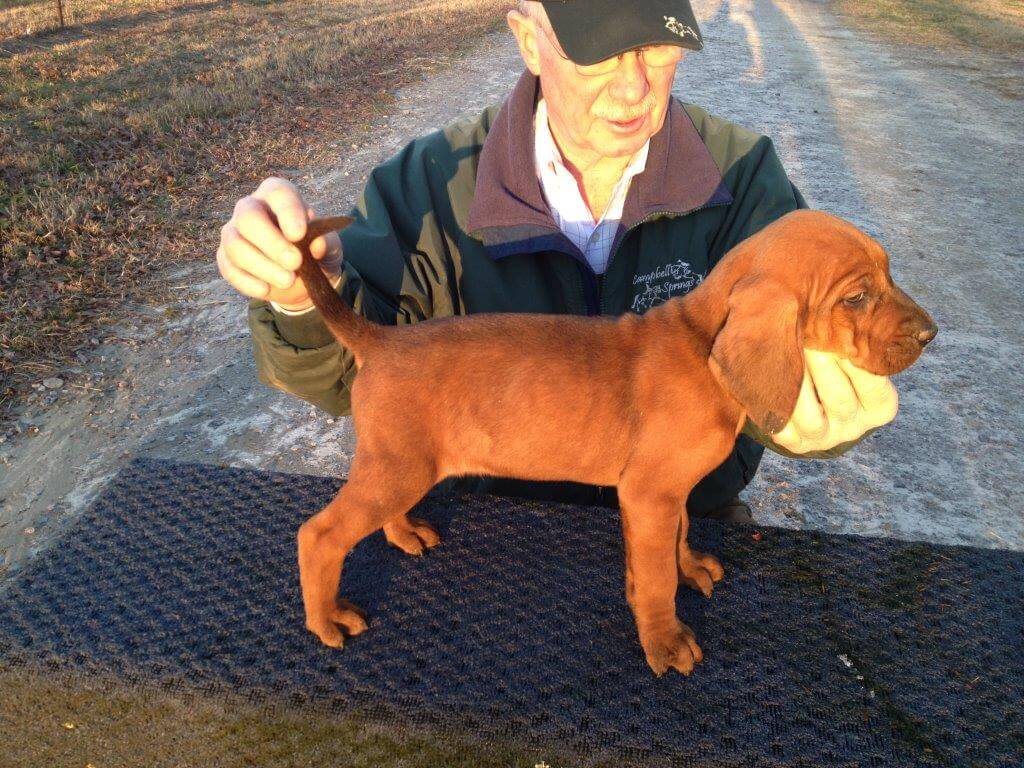 [adwithin]
Over your dog breeding career, what has changed in terms of breeding programs?
Today with the newer breeding technologies such as artificial insemination and frozen semen, dogs can be bred across entire countries without any dogs being shipped. This enables the best dams and sires to be matched, no matter the state they're in, increasing the quality of dogs with ease.
Since I began the breeding business, I have bred for the old fashioned hound look, with the broader head, long ears, broad chest, and dark red color with a black muzzle.
What about medical conditions?
With the Timber Chopper line of dogs, we have encountered very few medical conditions. If there would be any known hereditary treats, we would not breed that male or that female. As a breed, overall, they are extremely healthy dogs.
With extreme breeding and the demand for very small or very big dogs, how is the demand going for Hound dogs? What's the average cost of a Coonhound? What does it depend on?
Overall our male dogs average somewhere around 75 to 85 pounds full grown, while the females average 55 to 65. Most of our dogs are medium to large in size, and generally, this is what our customers are looking for. Our puppies have been sold for $500 for the last 5 years and we always have a waiting list. We try to breed the best males and females we can get our hands-on, which is what drives the cost of our dogs. The market for adult dogs is wide open, as the price is dependent on the individual dog's skill level, wins, hunts, and what people are willing to pay. I know of adult Redbones which have sold for as much as $18,000.
[adwithin]
Do you only inbreed and linebreed?
While we acknowledge that there are many bloodlines of Redbones, we have solely bred Timber Chopper to Timber Chopper with outstanding results. We believe in line breeding. We always breed for the tracking and treeing ability in each cross that we make. Our feeling has always been if it ain't broke, don't fix it.
What should Coonhound breeders do in order to improve the breed, overall? How do you honestly see the future of the breed?
I think it is our responsibility as breeders to be mindful of the crosses that we make. You should never breed a dog that has a trait, such as shyness or meanness, as this characteristic will be present in most of the puppies that are born.
Breeders should always be breeding for a better dog, being mindful of the tracking and treeing abilities of the dogs, as well as their disposition. As we all know, the Redbones are one of the smaller groups when entered into hunts, and as such their percentage of wins is smaller than those of other breeds. That being said, I think more and more people are now hunting Redbones in the titling events, and I think this trend will continue.
How did you build your reputation and found your first owners when you first started? How do you find forever homes nowadays?
Our reputation over the years has been built on honesty and treating others the way we would want to be treated. We breed to make the best crosses that we can, and unless the person who buys the dog is satisfied, we are not satisfied. We love having people come back for their second or third dog because they were so happy with their previous purchases and their experience.
Our policy has always been that we would give a full refund if the new owner was unhappy in any way, and this has been our policy for the past 45 years. We always ensure that our dogs are eating premium dog food and receiving recommended veterinary care, which means our customers get the healthiest dogs possible.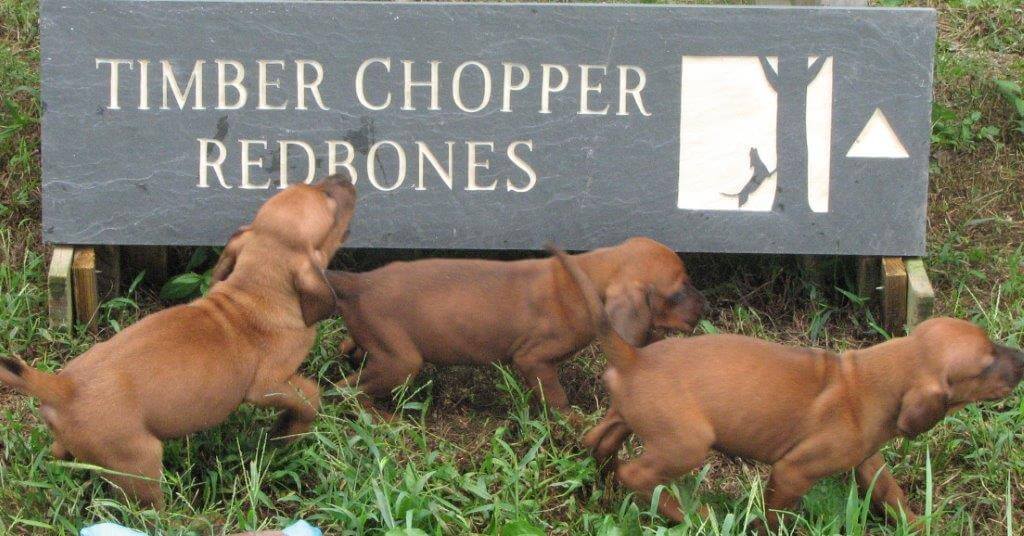 Who should and who shouldn't consider getting this breed of dog, what's the perfect Coonhound owner in your opinion?
What we have enjoyed about the Timber Chopper line of Redbones is that they make outstanding hunting dogs as well as companion dogs. Whether you're looking for a hunting dog or a companion, you can't go wrong with a Timber Chopper Redbone. Years ago we used to sell exclusively to the hunting world, but now approximately one-third of our dogs are sold as companions.
Lastly, what are your most memorable client and sale, and why?
We breed for the crosses that will have the best temperament, tracking, and treeing abilities possible. These crosses come from any number of our dogs and are available throughout the year.
We take great pride in seeing each puppy or dog having a bond with its new owner. We love getting pictures and hearing stories from each client. That said, one of our most memorable clients was a couple from Sweden who purchased a puppy a couple of years ago to hunt lynx and other wild game. They are planning to return to get a female from us shortly so that they can begin breeding their own Timber Chopper line in Sweden, and we feel this speaks very highly for the Timber Chopper Redbone.