Are you looking for the best dog treadmills on the market? They are exceptional training tools for your dog that can help you with weight management or even skills training and setting up a special fitness plan for your pet.
We are going to talk about all the crucial aspects, such as the dog treadmill size, the ideal speed, the best safety features, and the optimal platform height. Furthermore, we are also going to talk about the different types, such as the dog-powered treadmill and the electric version. Everything you need to buy an excellent treadmill for your pet, so you can understand the process we have followed.
What are Dog Treadmills?
As the name clearly implies, they are special treadmills for dogs that have features to bring our pets a good exercise session while keeping them safe. They are a great alternative when you cannot walk your dog. They allow your dog to walk, run or even sprint, and they come in the following types:
Motorized dog treadmills: Automated, plenty of settings to regulate speed and incline as well as the duration of the workout; however, they are expensive and can be dangerous because the dog is not in control
Mechanical dog treadmills: They are safer as the dog is in control and they can regulate the speed as they please. Furthermore, it promotes a natural height, and therefore, it will help your dog to maintain a proper posture
Both types have pros and cons, but the cons of the motorized dog treadmill can be solved by supervising your pet during the entire exercise session. The benefits of dog treadmills for the life of your pet are multiple:
Ideal for exercise when the day is rainy
Perfect for dogs that are undergoing physical therapy
It makes weight management easy as you can bring your pet a workout whenever needed
They help your dog to form an adequate gait (however it only applies to the dog-powered treadmill)
Excellent for customizable fitness plans, as you can even get a dog sprinting on a treadmill, which is ideal to develop the explosive power of your pet, in case you are training it for a competition or show
As you can see, these treadmills are special and packaged with plenty of benefits. However, you need to learn how to choose the right one.
How to Choose the Right Dog Treadmill?
Now that you know why dog treadmills rock, it is time to learn what it takes to choose the right one. Below, find our instructions to buy the perfect choice for your pet.
Speed
The speed settings are limited to motorized treadmills because when it comes to mechanical treadmills, your dog decides the speed and pace. Therefore, if you decide to buy an engine-powered one, make sure that it includes enough levels to meet the demands of your pet. As you have seen, the range of speed settings should be generous, and ideally, you should look for the following features:
Start speed: 0.5-1 MPH
Maximum speed: At least 5 MPH
Ideal speed increments: 0.5-1 MPH
Such settings will bring you enough room for customization while keeping your dog safe. You can set up all sorts of programs ranging from mild cardio to intense high-intensity sessions to train the aerobic power of your pet. Only remember that, when using an electric dog treadmill, you need to be present to supervise your pet, because they can be dangerous as your dog is not in control. However, when used correctly, they are phenomenal.
Safety
Proper speed settings are essential, but so is safety. Therefore, we recommend you to buy a treadmill that includes most or all of the following features:
Solid and sturdy build: the machine, be it mechanical or electric, should be heavy and sturdy so that it can remain in its right place during the entire workout even at high speeds
Raised sides: to ensure that your dog remains on the right track when it is using the treadmill
Emergency safety stop system: which will allow the machine to stop in the case of an accident, and it is especially important for an engine-powered treadmill to have this feature
Precise incline control: so you can adapt the angle to the needs of your dog because, for dogs that suffer from hip dysplasia, you need the find the sweet spot so that your pet can work out without pain
Emergency key: so that the treadmill only works when the key is in place
Dog chain holder: to help your dog remain in the right place no matter how fast it runs
These features will allow your dog to get a good and healthy workout at any time.
Platform Height
The height of the platform is critical as well, and once again, we are going to talk about safety. Low-profile dog treadmills tend to be safer and easy on joints, and therefore, they are an overall better choice.
For example, the GOPET PetRun PR720F has a very low running platform, which makes it ideal for any kind of dog, even the shiest or those with multiple joint issues.
Therefore, you should aim for a low-profile treadmill, ideally in a range from 40 to 70 inches, so that your dog can walk and run comfortably.
Size
It will depend on the size of your dog, but it should bring your pet enough space to run comfortably. As you are going to see in the reviews section, we have picked treadmills that offer your pet plenty of space.
For example, even a portable option like the dogPACER LF 3.1 brings your dog a generous area to run at 42.28 inches long and 22 inches wide.
However, as we said, it will vary depending on the size of your pet. Therefore, make sure to read the specs properly before buying. We are going to bring you all the info you need in the next section.
Top 7 Best Dog Treadmills (Reviews)
Now that you have learned about the benefits and choosing a proper treadmill, let us check the top seven picks on the market this year.
1. DogTread Premium
The DogTred premium treadmill has been specially designed for small breeds. It features an LCD console to set speed, distance, and time of the workout, a recessed treat holder to encourage your dog to move forward, precise manual incline options, and a natural running platform, to bring your pet an enjoyable and safe exercise session.
Furthermore, it is portable and compact in size, making it easy to store as it does not occupy much space, all while featuring a sturdy and solid build. In addition, the engine is silent and promotes an optimal gait when running.
According to reviews, it is excellent for either dogs with special needs or high-energy dogs. Furthermore, after getting used to it, the owners report that dogs actually enjoy running on it. The only con is the assembly instructions, which are hard to follow.
2. DogPACER Fitness Dog Treadmill
No products found.
The DogPACER is a simple, lightweight treadmill that features a strong build, a patented folding system, a smooth running surface, and customized running programs. Furthermore, it can be used for small and big dogs alike, due to its generous weight limit that ranges from 1 to 179 pounds.
The main highlights of this treadmill are the patented folding technology and lightweight, which makes it easy to store and transport whenever you go. Therefore, it is ideal for dog owners who live in small houses or apartments.
According to reviews, despite being lightweight it is fairly sturdy and heavy-duty, being perfect for light or heavy dogs. Furthermore, the controls are easy and dogs get used to it fast. The only con is that it tends to make some noise.
3. GOPET PetRun
The GOPET PetRun is a low-profile treadmill that features excellent security measures such as a dog chain holder, an emergency stop system, and an air-cylinder auto fold system, that guarantees both safety and a vigorous exercise session. It also includes a speed and timer control, with a speed range that goes from 0.6 MPH to 7.5 MPH.
The main benefit of this treadmill is the low-profile running platform, which makes it easy to train any dog, and specially ideal for dogs that suffer from orthopedic diseases such as hip dysplasia or arthritis. Furthermore, its engine is very silent even at top speed.
According to reviews, the treadmill is an excellent choice even for big and high-energy dogs that need lots of exercise. Furthermore, the owners comment that it was very easy for the dogs to learn to use it and actually enjoy it. They all mention that the low-profile running platform is key.
4. PETSITE Dog Treadmill
The PETSITE Dog Treadmill has been especially designed for small and medium-sized dogs. It features a solid security system that includes a security key that makes the machine stop whenever your dog pulls out the key and an emergency stop button, to shut down the treadmill whenever necessary.
You can use it via remote control and allows you to modulate the speed, time, distance, along with a display that shows you all the information regarding the workout such as calories burned and distance covered. Furthermore, it includes 12 preset modes, so you can always have a go-to workout for your dog.
According to the reviews, it works very well, the dogs get used to it quickly and it is very easy to assemble, and it works especially well with puppies that need to burn a lot of energy. The only con is that it lacks options to adjust the incline angle.
5. BINGBING Dog Treadmill
The BINGBING Dog Treadmill provides a generous speed range that goes from 0.5 MPH to 7.5 MPH, and an incline angle range from 5 to 9 degrees. Furthermore, it includes a security system that switches off the machine every 30 minutes.
The main benefits of this treadmill are the ease of use, the sturdiness of the running platform, and the dog chain holder. The machine goes straight to the point, so you can bring your pet a good workout whenever it needs it.
The reviews comment that the machine is notoriously easy to use and assemble, and that dogs love to use it. They also comment that the platform is fairly stable and suitable for even heavy dogs.
6. GOPET Treadwheel
The GOPET Treadwheel is a different take to dog treadmills since it is a wheel that allows your dog to run inside it leash-free. It features an infinite running surface that allows your dog to walk or run for several miles even without supervision, a surface mat to bring comfort to your pet and a physical outlet to withstand the requirements of even heavy, high energy dogs.
The main benefit of the GOPET Treadwheel is the advanced security since your dog can run inside it without problems, as it is powered by your own dog. It is ideal for dogs no matter how fast they run, since it can match the energy requirements of your pet.
According to reviews, it works exactly as advertised, because dogs can get inside it and run as fast as they wish and for all the miles they want. Furthermore, the owners comment that it is made from high-quality material, and therefore, it is worth the price.
7. PetZen Dog Treadmill
The PetZen Dog Treadmill features a low profile, easy-to-use settings for speed, distance, and time, as well as a sturdy build and a comfortable running surface. Furthermore, it is ideal for small and medium-sized dogs thanks to its weight limit of 60 pounds. In addition, it includes a treats holder to encourage your pet to move forward.
The main benefits of the treadmills are the easy take they have taken on the machine, bringing you a simple, easy-to-use exercise machine, which uses the power of motivation to keep your dog moving forward.
According to the reviews, the dogs get used to it quickly thanks to the treats holder. Furthermore, the running platform is comfortable and the settings are easy to configure. The only con is that it lacks advanced security features such as an emergency stop system, and therefore, constant supervision is mandatory.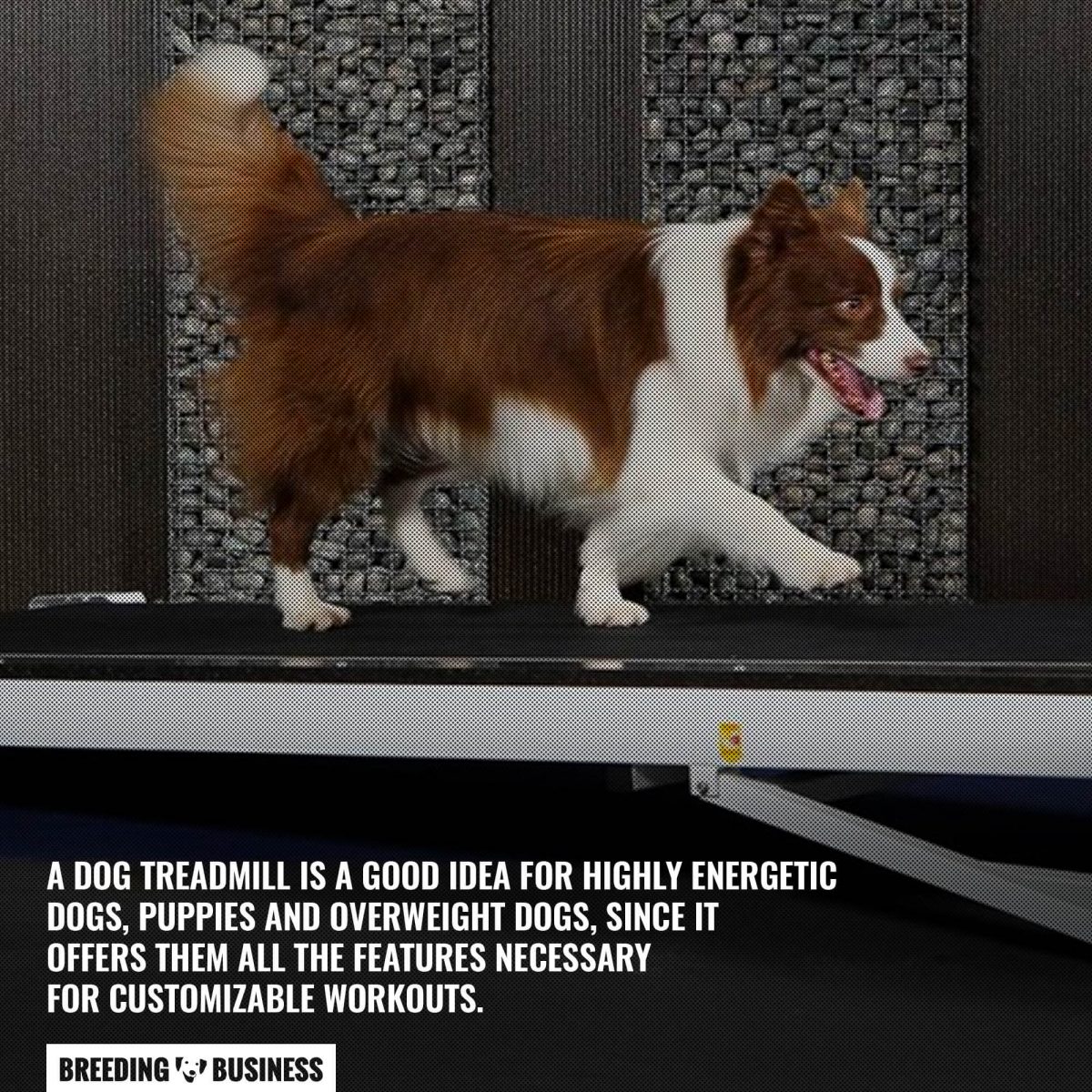 Dog Treadmills – FAQs
During our research, we found that many owners have frequent questions about these machines. Therefore, we decided to compile them in a single place, to bring you the answers you need.
Can Dogs use Human Treadmills?
Dogs can use a human treadmill as long as it is electrical, because they are not capable of generating the power and motion necessary to make a mechanical human treadmill work. However, you need to ensure that you are using the right incline angle and speed settings, to keep your pet safe.
Furthermore, allowing your dog to exercise on your treadmill requires permanent supervision, because it lacks the security features from a normal motorized treadmill for dogs, such as sturdy raised sides, a dog chain holder and an Emergency Key.
Are Dog Treadmills a Dood Idea?
A dog treadmill is a good idea for highly energetic dogs, puppies, and overweight dogs, since it offers them all the features necessary for customizable workouts. Furthermore, it is also a good choice for dogs undergoing physical therapy, as long as it is a low-profile treadmill with an adjustable incline angle.
They are also convenient, especially during the days that you cannot go out due to the weather conditions or because you are busy working at home, because it allows you to bring your dog a good workout regardless of the situation.
How Long Should a Dog be on a Treadmill?
It depends on the endurance levels and exercise requirements of your dog. For example, breeds like the Border Collie, Jack Russell Terrier, and Siberian Husky will need a lot more exercise than breeds like the Saint Bernard or the Basset Hound.
However, a good range goes from 5 to 30 minutes. You should start slow and see how your dog takes it, so you can add more time, increase the speed or incline angle to bring your pet a more vigorous workout. For highly energetic breeds, you should aim for 20-30 minutes, whereas low-energy breeds can get away with 5-15 minutes.
How do you Start a Dog on a Treadmill?
For starters, you should choose a low-profile treadmill because it will make it easier for your dog to adapt. Once you have it, you only have to apply the following steps:
Put a leash on your dog
Ask your dog to get on the treadmill
Once it has done it, reward it with its favorite treat
In case it is electrical, start at the lowest speed, which should be between 0.5 to 1 MPH
In case it is mechanical, hold the leash firmly and walk as you would normally do when taking your dog outside
Motivate your dog to go forward by holding a treat in front of it
When your dog starts walking slowly and keeps the momentum going, feed it the treat
You have to repeat the process over and over so that your dog can integrate it and follow it mindlessly whenever you order it.
Dog treadmills can be a truly wonderful add on for any dog's enrichment. It can aide dogs that are overweight or hyperactive and many other types of pups. Truly these treadmills for dogs are a worthy purchase.